Hello, gorgeous humans and welcome to Christmas! (Don't look at me like that – as soon as the shops move the Halloween decorations, they start stocking up on biscuit tins. We're in firm run-up to Christmas territory.)
So: 2020. It's . . . well, it's been a real interesting year and it's hit most of us financially. I'm sure I'm not the only person who's somewhat dreading the dent holiday season is going to put in my pockets. Fortunately, there are a whole bunch of things you can do to make sure you're saving money this Christmas. And I'm going to show you them. Let's get to it!
1. Use a cashback app
First and foremost, my biggest tip is to earn money back on whatever you have to spend. Are we going to cut down the amount we're spending? For sure – but where's it's unavoidable that you need to spend money, use a cashback app so you get some of it back!
RAKUTEN CASHBACK – For any person that signs up through your link and makes an eligible purchase, you earn $30. (And they get a bonus $30 in credit too!)
If you haven't used cashback apps before, here's the rundown: they're completely free to join, you just install a browser extension and, whenever you make a purchase through an eligible website, you get a percentage back of the money back. Rakuten has big names like Ebay, ASOS, Urban Outfitters and more!
In a similar fashion, there are also credit card providers that offer cashback on purchases. For example, SoFi offer 2% cash back on all purchases when you redeem it. This is another great way of earning some money when you do have to inevitably spend some!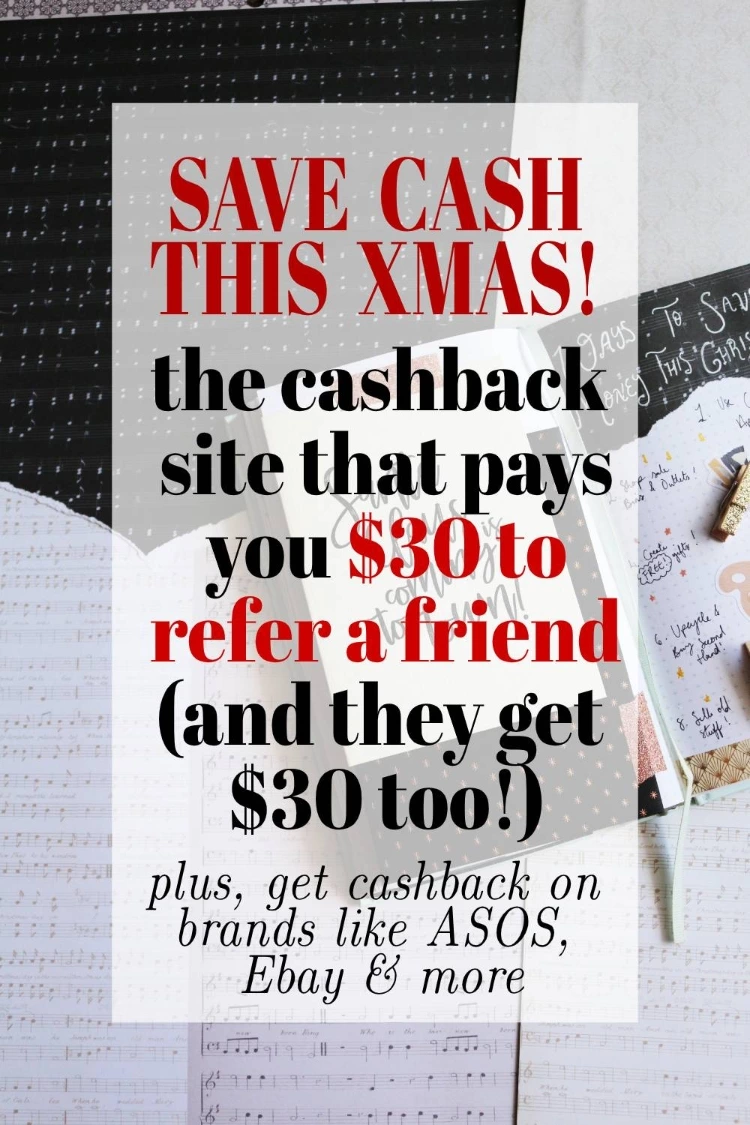 2. Shop sale sections and online outlet stores
Another great tip for spending less is to buy straight from the sale bin! If you know where to look, you can find some absolute steals. So where you were previously spending $40 on a hoodie as a gift . . . you're now spending $12. It's a little difference, but it adds up!
Outlet stores are another firm favourite of mine. Rather than being strictly a sale section, everything in outlet stores is discounted – and normally for 45-50% of the RRP. The purpose of outlet stores is to get rid of old stock, so take it off their hands!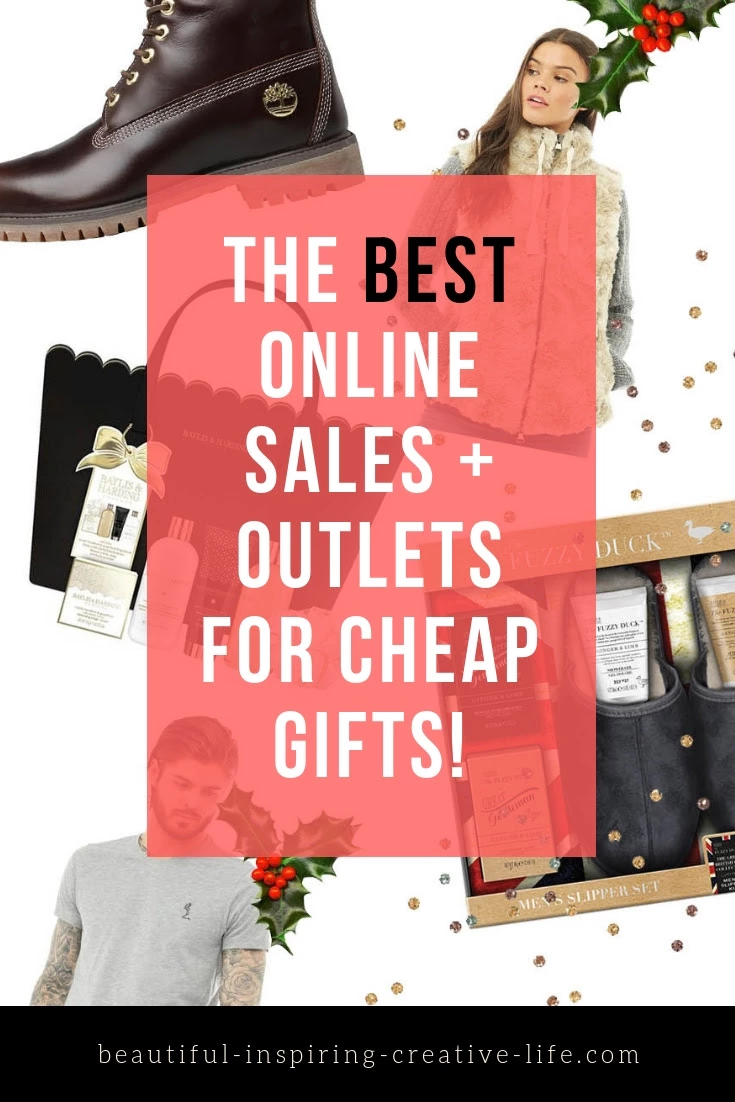 I actually wrote an entire post about my favourite sale bins and online outlet stores – feel free to check it out for recommendations and gift ideas! Here are a few favourites of mine:
3. DIY your gifts
Another fun idea is to DIY your gifts! Handmade gifts are creative, affordable and way more personal than something storebought. (Plus, it's a really festive way to spend an afternoon! There's nothing more Christmassy than sitting down, popping on some holiday tunes and creating presents for people!)
I especially love DIY-ing gifts as little stocking fillers – take a bath bomb from LUSH, for example. You're looking at $10 a pop, right? Well with my DIY recipe you can make a pack of 10 for about $2 each. (Also . . . they're super cute.)
4. Try some of my completely free gift ideas
If you're a regular reader of this blog, you may already be familiar with my previous post . . . 9 completely free DIY gift ideas! Yes, you read that correctly. Free.
I decided to challenge myself to make 8 gifts out of things I already had at home. They're all pretty cute – so if you're a crafty person yourself, make sure to check them out! They're a great way to recycle and a great way to keep costs down over Christmas.
You can head on over to that post for a read, or you can watch the full tutorial down below!
5. Utilise referrals to earn extra cash
An easy way to earn extra cash over Christmas is to utilise referrals! Referrals are great because all you have to do is suggest a service you use to friends and family . . . and you get a little bonus cash if they sign up! I've already mentioned it in this post, but my favourite scheme is:
RAKUTEN CASHBACK – For any person that signs up through your link and makes an eligible purchase, you earn $30. (And they get a bonus $30 in credit too!)
6. Buy second hand and up-cycle
Thrift flipping is another fabulous idea for saving money over Christmas! If you're a savvy enough shopper, you might be able to find things in the thrift store that work as gifts on their own . . . but you can also easily upgrade thrifted finds into gifts.
I'm planning to do a whole post on thrift-flip gifts you can make, but for now here are of my favourite thrift flips using things every thrift store has!
You can also scour places like Facebook marketplace and Ebay for high quality, second hand goods.
7. Buy from Aliexpress
You guys are going to be glad I posted this one early! Aliexpress is the ultimate place to find big savings because you're actually ordering directly from factories in China. This means, rather than paying the retail price of $10, you'll pay $1 instead! Plus, most of the products come with free worldwide shipping!
(The catch with free is that it can take a while – hence why this list is up so early!)
I actually wrote a pretty extensive Aliexpress Gift Guide For Her post you should have a read of – and that covers some great tips for finding high quality stuff too.
Velvet Scrunchie – $0.50 // Green Velvet Pyjama Set – $4.98 // Gray Mini Backpack – $6 // I Like You A Latte Enamel Pin – $0.97 // Disneyland Polaroid Enamel Pin – $0.99 // Festive Socks – $1.06
8. Sell your old items – one man's trash is another man's treasure!
This is good practice all year round, for the planet and your wallet. If you have old clothes, furniture or gadgets lying around . . . get onto ebay and sell them! Utilise apps like Facebook Marketplace and Depop. Over Christmas especially, people are looking for deals – so pop some up yourself!
9. Start selling crafts or printables on Etsy
Admittedly, this may not be for everyone – but if you're a creative person, Etsy is a great place to earn some extra cash. Depending on what you've got available to you, you could make crafts to sell. That said, there's also a massive market for printable designs. They require no start up costs, you don't have to keep any physical designs on hand . . . and the profit margin is massive!
10. Shop at small businesses
Another great way to save cash over Christmas is to shop at small businesses. Not only is the price point lower, the attention to detail is usually way better – and any purchase you make from a small business is guaranteed to make someone's day!
Of course, if you'd like to shop at a small business . . . well, fell free to check out mine!
Etsy is, of course, my top recommendation for finding high quality small businesses online. Every purchase you make is protected, you can read reviews about sellers before spending and the community is worldwide so you can find local sellers wherever you live.
Oh, and while you're here, make sure you check out my latest Youtube video!
Alright lovelies, that's this post wrapped! (Pun very much intentional, we're starting the cringey holiday humour early doors!) I hope you enjoyed these suggestions for saving money this Christmas. Are you planning to use any of these tips? How do you plan to keep your costs down over the season? Let me know your thoughts down below!
Peace,
Instagram // Twitter // Bloglovin' // Youtube // Pinterest