Hello, wonderful, gorgeous, sexy, amazing human beings! Are we all feeling great? Feeling pumped? Excited for life?
No? You're tired? Well . . . okay, yeah, me too – but go grab yourself a mug of hot chocolate and settle down to read a rather Autumnal tale.
(Now, this would've been a far better intro for my Pumpkin picking post that you guys are going to see in a few days time. This post has no tale. No story. No real moral substance. Lots of pretty pictures, though, so we've got what's important!)
Long story short: I bought a watch. I bought a beautiful, shiny, gorgeous watch that you're all going to love – and you're going to lie to me if you don't love it – that is perfect for Autumn and I decided to share it with you.
Rose gold. Rose bloody gold. The colour of the season for the past, what, 8 seasons? The colour that has slowly sunk into our souls and torn away our love of traditional colours.
I love it.
I think the warm, coppery tones are so Autumnal (gold is summer, rose gold is autumn and silver is winter.) – in decor, clothing and . . . accessories.
Here's the thing, I love vintage. That kind of grungy style – into it. Anything even slightly 90s? Onto that. I've recently been buying a few vintage sweaters that we may or may not see in the coming posts.
 So when I stumbled across this beauty in my quest to write a gift guide for this year:
CASIO – Rose Gold – Amazon US – $59.92
CASIO – Rose Gold – Amazon UK – £69
I. Was. Hooked.
It's rose gold, it's Casio, it's bulky and it's just so perfect and beautiful.
Now, as a responsible adult, I realised: "Mia, you don't wear watches – why spend the money?"
And then, as an even more responsible adult, I realised: "Mia, you don't wear watches because you don't have any. If you want to wear watches – quite frankly, a very responsible adulty accessory – you need to buy one."
So, duh, I bought the damn watch – and I regret nothing.
Honestly, it goes with pretty much everything and I've very quickly become so used to wearing it that it feels weird not to.
I really love the glitter effect the face has and, while chunky, the watch doesn't overpower outfits or look clunky. So this is a definite 5/5 for me . . . and I think more watches will need to be purchased in the future.
I need to get my tattoo touched up and that dotwork cherry blossom (that looks distinctly non-cherry-blossom-like) covered.
In the spirit of blogging (God, the things I do for you guys) I'm going to – totally unwillingly – show you a few of the watches on my lust-list. Because apparently I'm a watch lover now. Yeah, that's happened.
Olivia Burton Floral Watch – £82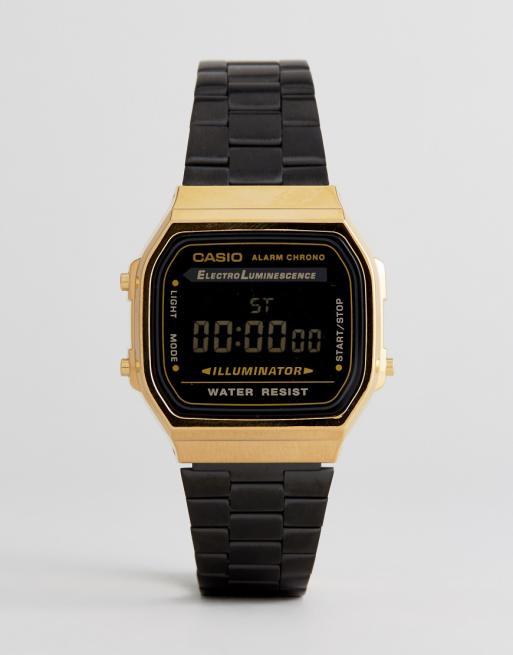 Casio Black and Gold Watch – £65
Okay, kiddiwinks, that's this post done! I hope you enjoyed this epic tale of . . . watch purchasing . . .
Well, when you put it like that, it doesn't sound all that epic, but I digress.
Did you like this watch? Are you guys watch people, or are you a firm "my phone tells the time, so what is the point"? Would you wear the watch I bought – or any of my wishlist ones? Let me know your thoughts down below! (Also, I feel like there's been a lot of fashion on my blog recently and I just want to let you guys know . . .  there's more coming up. Sorry, kids, I need a way to justify my spending habits.)
Peace,
Instagram // Pinterest // Twitter // Bloglovin'