Oh, you sweet balls of sunshine, how are you all?
Hi beautifuls – today I have a really fun post to share with you. And it's fun for many reasons: Isabel (spoiler alert: a total queen.), La La Land (didn't cry this time.), outdoor cinemas and . . . pancakes. Delicious butterscotch stacked pancakes. With chocolate chips, coconut shavings and fruit salad.
Are you excited yet? Good. You should be. Let's do this.
So last Tuesday I had the absolutely wonderful opportunity to meet with the gorgeous Isabel (from MyWildSpace – linked), who is also a Londoner, and we took a little trip to Kensington to go watch La La Land in the outdoor cinema the Rooftop Gardens are currently hosting.
From the moment we met . . . well, she was wearing mustard. That was instantly a great start – and it only got better! Have you ever met one of those people who you just instantly click with? From the get-go we were laughing and having a great time. Big relief considering how awkward meeting someone for the first time can be!
This was my face the entire time!
The actual movie started at 9.30 and we met around 7.30, so our plan was to grab food first. Of course, as responsible adults, we were thinking something healthy and filling – possibly Italian. You know, real grown up shit. Until . . .
We walked past a pancake parlour.
In an instant, the test has been issued. Does the other person say yes to pancakes? It's a tense moment – a make or break. Are they a decent human being with a trustworthy moral code? Or a cold husk; a shell devoid of light and warmth?
Quickest decision ever – fuck Italian (or get Italian after) and get pancakes. Most important friendship test = passed.
Look at the pancakes, guys . . . Look at them! They were so delicious and pretty. By the way, guys, this place is called My Old Dutch and it's a. linked and b. amazing. If you're ever near Kensington, go!
Also, look how cute Isabel is. She fits in with the aesthetic!
After a life-catch-up and a lot of laughing (and eating. Of course.) we decided to make our way to the Rooftop Gardens. This has actually been a spot that I've wanted to visit for a really long time; if you live in London, I highly recommend that you go. Entry is free (to visit the gardens, not to go to the cinema), but you have to register beforehand online for the slot you want to visit in – there are a lot of events and the space gets hired a lot, so there's usually particular days it's open too.
It was pretty easy to find (what am I saying; Isabel did literally all the work, my phone screen didn't even turn on) and when we got there we were encouraged to explore the gardens before going to the cinema.
You know me – any excuse for plants.
It's much smaller than I'd previously thought (and for some reason I thought it was a greenhouse – that was completely wrong) but a nice, cosy small. Everything's laid out almost as a pathway; you can walk around the the outside of the building, so it feels very spread out and you aren't cramped with other people. Which is great because we all hate people. There's still a lot to see, which is the important thing!
(Also, I'm not going to lie, I didn't take any good photos. I apologise, I was too busy ooh-ing and aah-ing.)
Oh – and there are flamingos. Real life, non-blow-up pink flamingos. They're so cute. And such utter tarts – I'm telling you, they were posing for photos!
Side note: one of those has a file name of "flam fam" and that might be entirely useless information, but nobody would've appreciated it if I didn't bring it up, so there we go.
As I mentioned, we went to go and watch La La Land . . . which is where my photos stop because my camera was dying and my phone doesn't currently work. I've seen it already and hated it. Okay, so, I didn't hate it – but the ending made me cry and I didn't sign up for that shit. I thought I was going into some light-hearted romance, musical, comedy film . . . not some depressing make-me-re-evaluate priorities, sad as shit film.
How I Met Your Mother already did that to me once; I wasn't prepared for it twice.
No, seriously though, the last time a movie 360'd me like that was Marley and Me (where I bawled like a l i t t l e  b i t c h) and my emotions weren't ready. On a second watch, without being so focused on the storyline, I could really appreciate the cinematography and choreography a lot more. Like that opening scene – amazing. The use of colours and the really artistic shots (especially the way the colour scheme changed with the emotions of the film and as the seasons and relationship changes) are very, very well done.
Take a moment to watch that and be blown away. And if you aren't particularly: that looks like it was taken in one shot. (Even if it weren't that was some amazing editing to get it to look that way.) If it was one shot . . . seriously imagine the camera-work there. Capturing everything so seamlessly and perfectly. Then think about how many people are involved – and not doing simple things, they're jumping over and around cars, timing all these complicated steps perfectly . . . Ugh, it just blows me away. Plus, I don't know if anyone noticed, but in the last part of the sequence when they're all dancing on top of cars (again choreography!) look how far back the dancers go – and how in sync they all are.
Again, look at the camera shots and the choreography – but when Emma Stone is singing to herself all sad, notice how the tint is red? Often in the film when they argue, or she's feeling down, that red tint will be used. It's just one of many ways that the use of colour is a really big thing – and it all just adds to the visual feast.
Like purple. Here. Screencap from this scene (linked):
At this point, they don't even like each other – but look at the flowers in the background. Purple. In most scenes where they're building their relationship (and when Seb is thinking about her; I'll link some videos below) there's that thread of purple – it's really subtle in some scenes but it adds a lot!
One. Shot.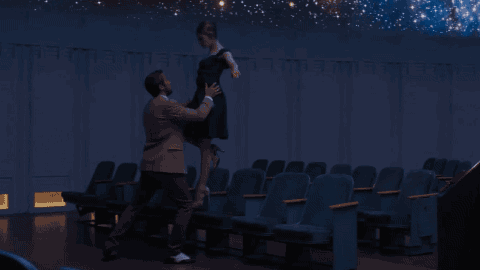 Oh – and when you bear their colour scheme in mind doesn't it make the final scene more fucking heartbreaking?
Okay, I'm going to stop here because I can go on and on about things nobody else notices and/or cares about for years. Moral of story: it's pretty. And because that went so long I'm not even going to mention what my opinion the meaning of the ending is.
Side note: found a funny – check it out.
Well . . . This post overran. I apologise; I hope it wasn't too dreadfully boring for you. Don't forget to check out Isabel's post about our trip! (Linked, bro.) What did you think of Kensington Rooftop Gardens and their flamingos? Or those pancakes? And are you a fan of La La Land? Let me know your thoughts down below!
Peace,
Instagram // Pinterest // Twitter // Bloglovin'