A curated list of the 12 best IKEA desk hacks the internet has to offer. Perfect for sprucing up your home office on a budget.
Hello, beautiful people, and welcome back to my corner of the web! I hope you are all feeling fabulous today. Oh, me? I'm doing just fine – how kind of you to ask.
Now, I know you guys are probably sick of hearing about my office makeover. Well, brace yourselves. Because I'm mentioning it again.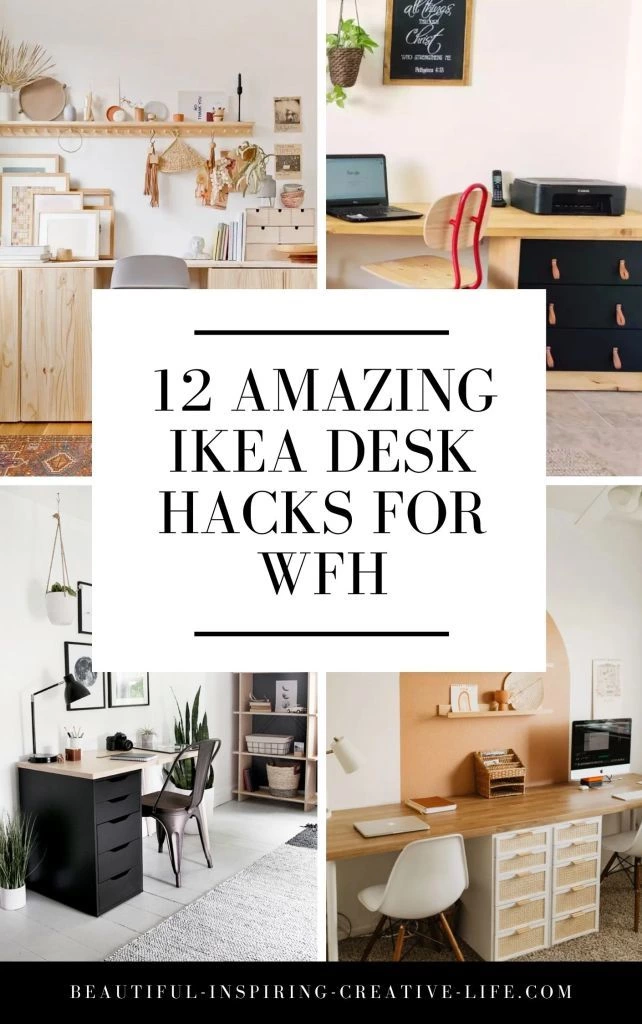 Since COVID came in and decimated our social lives, most of us have switched to working from home. And, while it's been great, (easy access to the fridge and constant snacks? It's a yes from me.) it's definitely a learning curve. Not to mention a logistical one – it can be tricky to stay productive while working from home.
Having a dedicated workspace is one of the biggest factors for productivity. So the first step in my office redecoration was to find a cute, but functional desk. And, of course, that led me to creating my own DIY IKEA desk hack.
Now, we all know that nepotism is rife, so I'm dedicating the first spot on this list to that. Enjoy.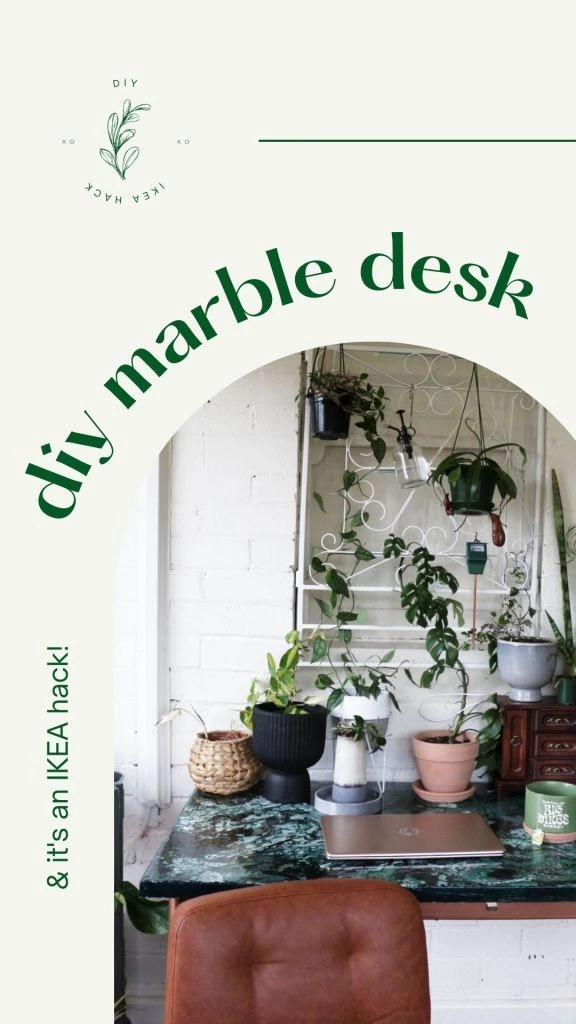 You guys already know how obsessed I am with this desk. It's spacious and beautiful – but so easy to recreate! You can check out the tutorial for this desk (as well as how it looks in action) in my room makeover video below!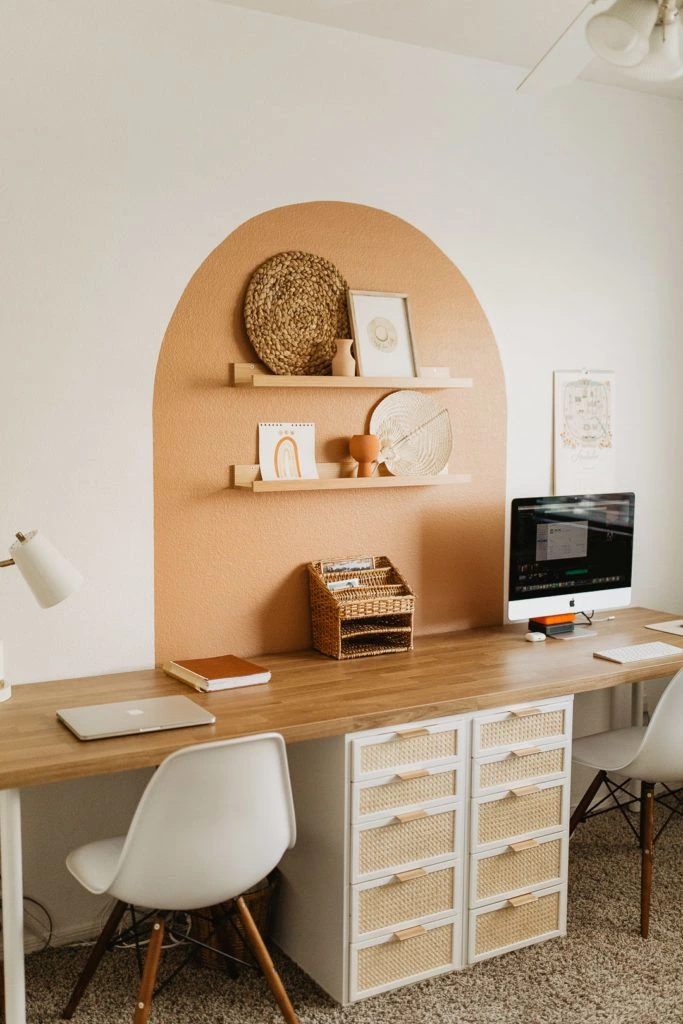 Is it an IKEA hack if there isn't rattan? I think not.
If you're a fellow boho home decor lover, this warm-toned desk setup is a must-try. Plus, it's perfect for couples who work from home and don't have enough space for separate offices.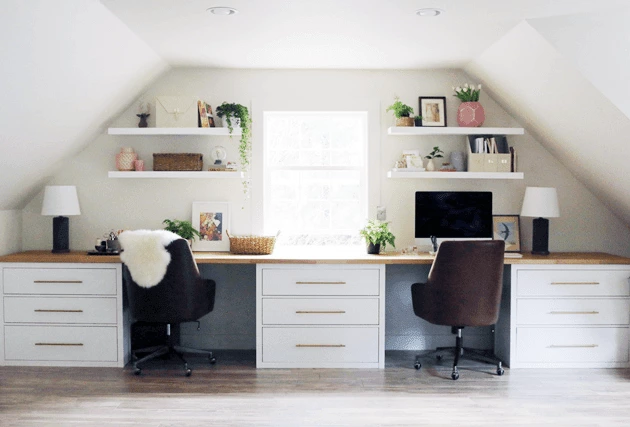 This is another doubles desk any couple would love. It's a bit more mid-century and less feminine – plus, hacking the HEMNES dresser gives you tons of storage space.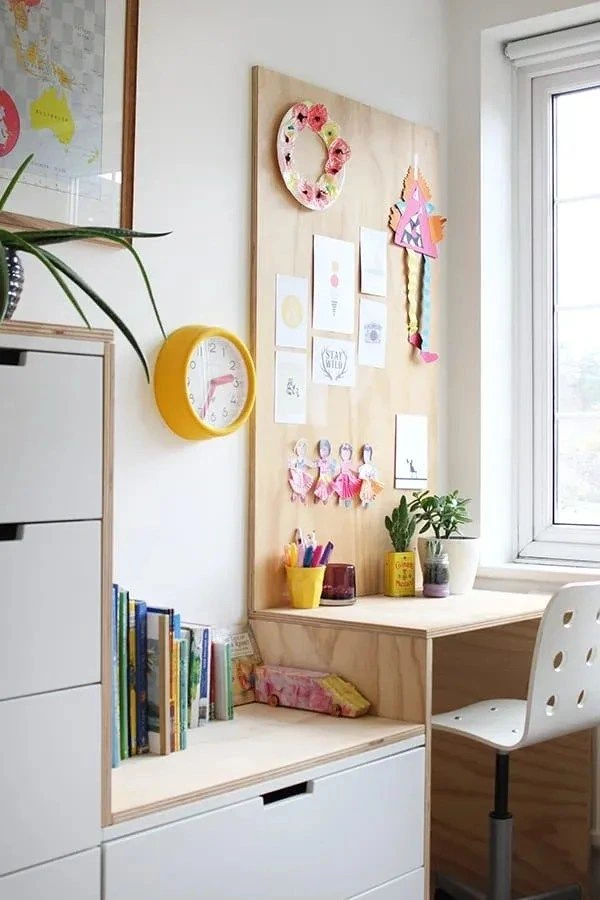 With the sudden shift to work from home, a lot of us were suddenly left having to convert small spaces into mini offices. This corner desk hack is absolutely perfect for that! I love that there's also a pinboard space – it really makes the most out of every inch!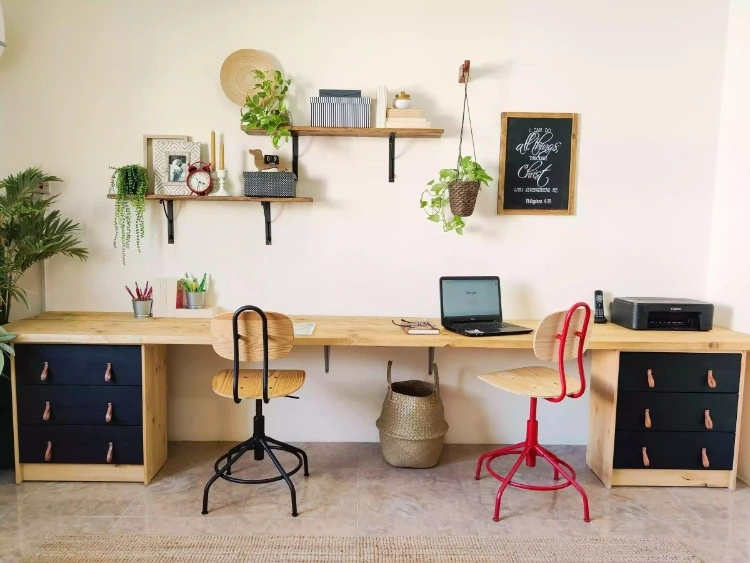 This beautiful desk is perfect for creatives that need a large workspace. The tutorial is a little tricky to find – it's on the highlights of the linked Instagram profile.
DO YOU ENJOY HOME DECOR? WHY NOT CHECK OUT MY HOME OFFICE MAKEOVER?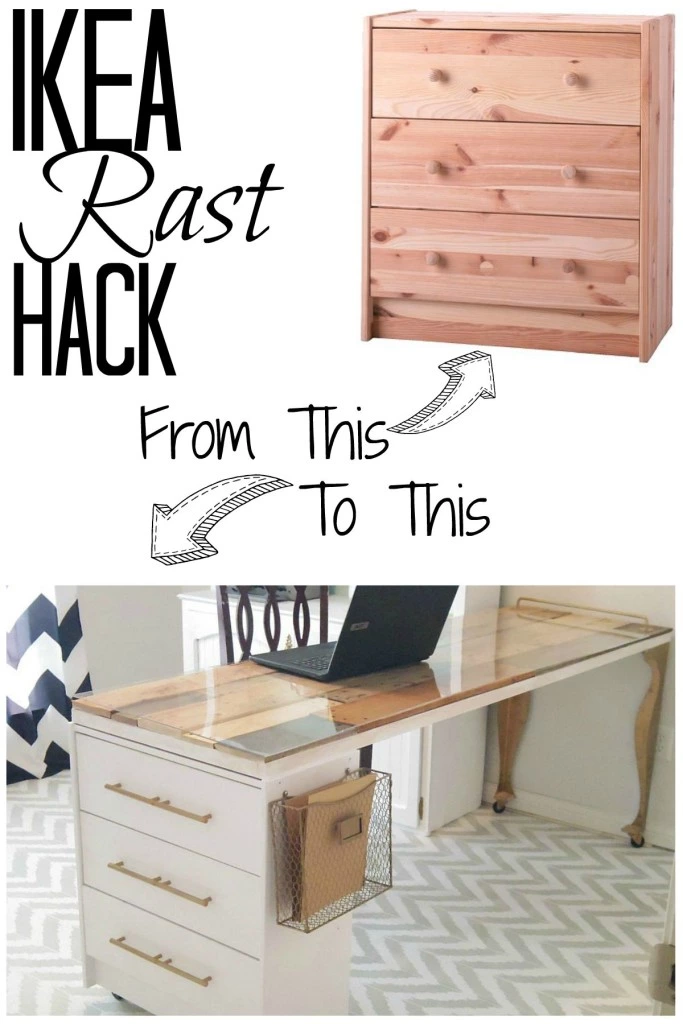 Guys, allow me to be real for a second here. All these beautiful desk ideas have me considering whether I should have added some storage space to my desk. There's still time, I suppose . . .
Anyways, I love how classy and sleek this project turned out. It's definitely a hack I would try out myself!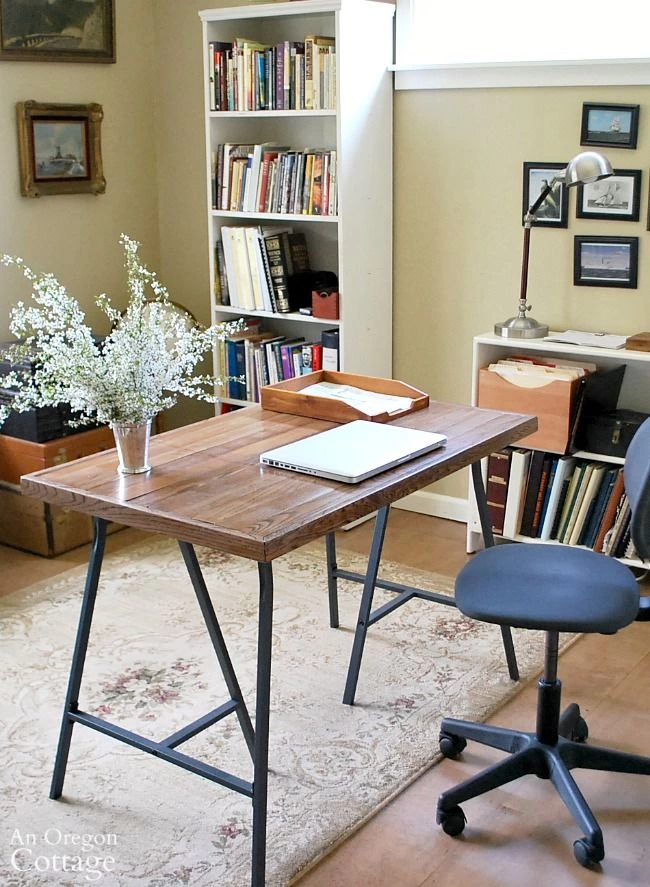 This desk is very easy to recreate – and it gives a room a bit of vintage character!
Our next IKEA desk hack is for all my fellow cottage core lovers! Not only is this incredibly easy to recreate, but it's a super cute addition to any room.
Oh – and, if you like cottagecore style, make sure to check out my 8 cottagecore DIYs. Gotta accessorize that home office, right?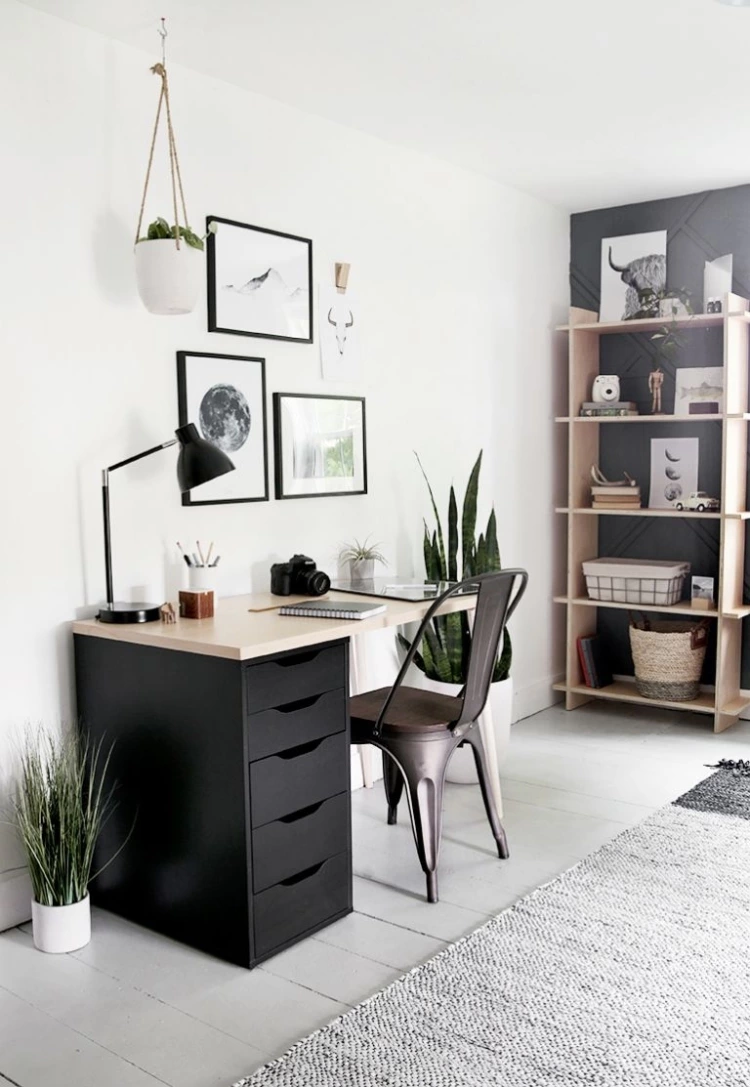 Our next addition to the list is gorgeous – it's sleek, modern and monochrome. (Admittedly, none of the things I normally go for! But it would be fabulous for my partner.)
DO YOU NEED SOME MORE MONOCHROME OFFICE INSPIRATION? WHY NOT CHECK OUT MY OFFICE MAKEOVER FOR HIM!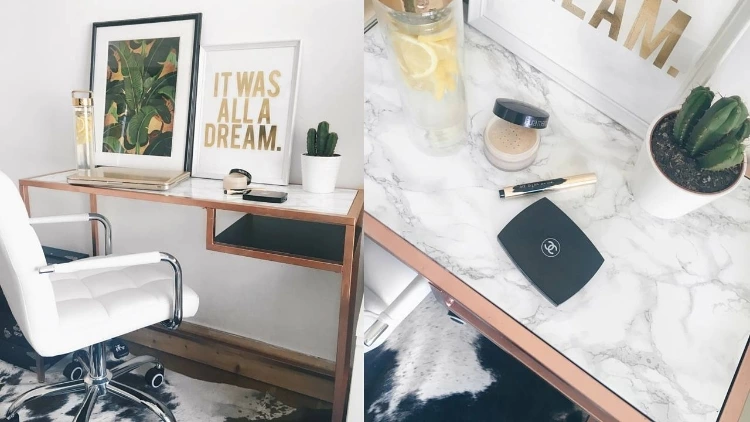 This chic IKEA hack is perfect for even newbie DIY-ers. It's super stylish and would be perfect as a dressing table too!
11. Hop On The Tile Trend!
Is anyone else just obsessed with the tile trend? It's so fun and quirky! You can easily IKEA hack a tile desk in a few steps. Admittedly, this isn't the cheapest option . . . but doesn't it look beautiful?
12. Is It A Sideboard? Is It A Desk? It's Both!
DIY Danie is one of my favourite Youtubers because she is always bringing us the best projects. And this dark wood desk/sideboard combination is one such case!
While this is bigger piece of furniture, I think it's great that it combines two items – so if you are working from home with limited space, this could be a good option!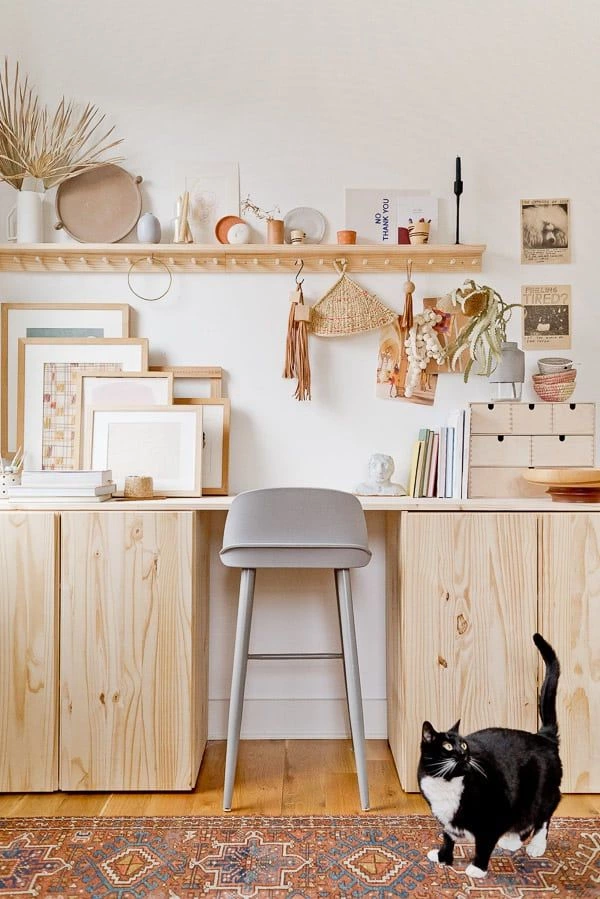 And our last addition to this list is a total winner! One: it's perfect for small spaces. Two: it has tons of storage. And three: just look at it. How beautiful is that set-up?
I used to predominantly work standing up and it's so beneficial for your posture. So if you want a standing desk, this is the IKEA hack for you!
Alright, my loves, we shall end at the end! I hope you enjoyed (and were inspired by) this roundup of IKEA desk hacks. I know I sure am. If you haven't already, make sure you check out my faux marble desk. Which of these desk setups is your favourite? Would you try any at home? Let me know your thoughts down below!
Peace,

Instagram // Twitter // Bloglovin' // Youtube // Pinterest // TikTok