Hello, you gorgeous creatures and welcome to the first of 12 vaguely-Christmas themed DIYs! In case your powers of common sense have failed you, this mini-series is exactly what it sounds like: I'm going to be sharing 12 different festive (ish) DIYs with you over 12 different days, in preparation for the holiday season.
Yes, I'm aware it's November; what's your point? Oh, you think that's ridiculously early? Well, my friends, if you're a DIY gifter (or you want to be) then you will know that it is all about being prepared. Getting your supplies in gear, testing things out and actually having the time to make stuff is way more difficult than you might imagine.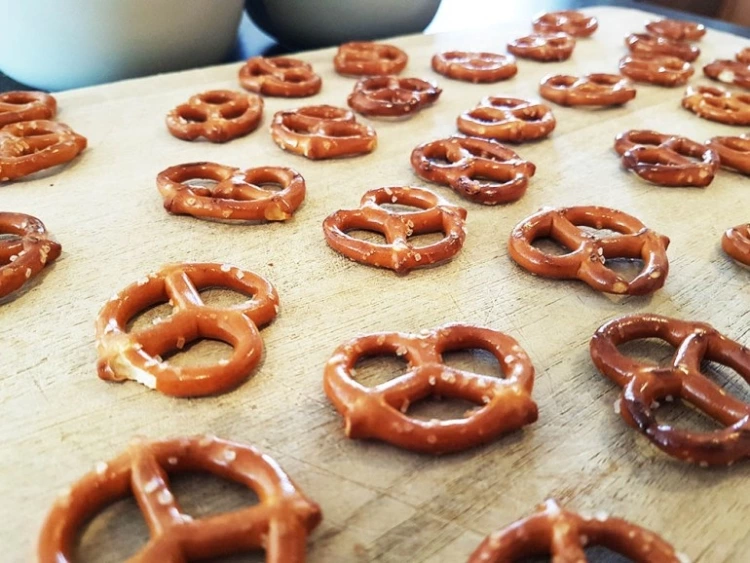 Put it like this: we only have 7 more weekends until Christmas. 7. 7. Assuming you actually have some semblence of a social life, you're going to be using a lot of them going out and having fun (especially around Christmas). Now, yes, you could make things after work or school etc . . . but let's be practical. You won't want to; no, you'll be tempted into going out for drinks, or lured in by Netflix. It's not your fault – serial killer documentaries are just so damn interesting. And that martini bar serves Nutella martinis – what are you, a saint?
My point is: there actually isn't that much time to gather supplies (especially if they need to be ordered online), test DIYs out and make things good enough to gift to people. (Or, in my case, sell.) So your fairy godmother Mia is starting the Christmas prep early – which means that, if you like any of these DIYs and want to try creating them for yourselves, you'll have plenty of time.
This first project is super easy, fun and not too inappropriately festive. Oh – and it tastes good too. Man, I really spoil you guys. Today, we're going to be making chocolate covered pretzels . . . get excited! Side note: so I know I haven't caught you guys up yet about what I'm doing and where I'm staying (working on a post about it, promise), but part of my current job is looking after a 3 year old and making/eating these was a smash hit.
You can decorate chocolate pretzels and have them as a yummy holiday snack, or (if you put more effort into yours than I did) you could gift them to people over the holiday season! Just look at these bad boys . . .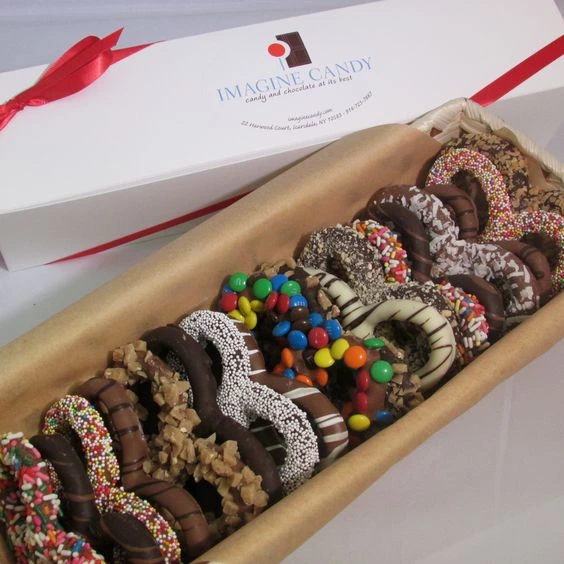 With the right toppings, these would be pretty simple to make – and who wouldn't love recieving them?
You Will Need:
1. A big ole' bag of pretzels. Now, if you're somewhere wonderfully convenient like the UK or USA, you could just buy these in bulk online and get them delivered. Australia's shipping times are less forgiving, however, so I actually ventured out into the world to get mine.

2. Chocolate – or chocolate candy coating. If you're using normal chocolate, that's totally fine – but just remember that it'll start to melt in normal room temperature. As long as you eat them straightaway, though, there's no problem! If you're going to be gifting them, chocolate candy coating might be a better idea.
3. (Optional) Toppings. To give your pretzels some extra jazz, you can add toppings like nuts, coconut, sweets, etc. As it's not actually Christmas yet and I'm lazy, I didn't bother with the toppings.
Method
Now, ideally, I would have been at home for this where we have an almost unlimited supply of weird cooking tools my parents have accumulated throughout the years that would make this a lot easier – but I'm not. So this is my makeshift method.
1. Melt your chocolate
I chose to use milk, dark and white chocolate because . . . uh, well to be honest, because I thought it would look better in pictures. But also taste, variety, etc. If you're making these as a party favour or cheap DIY gift, variety is always a good idea!
2. Drizzle chocolate over your pretzels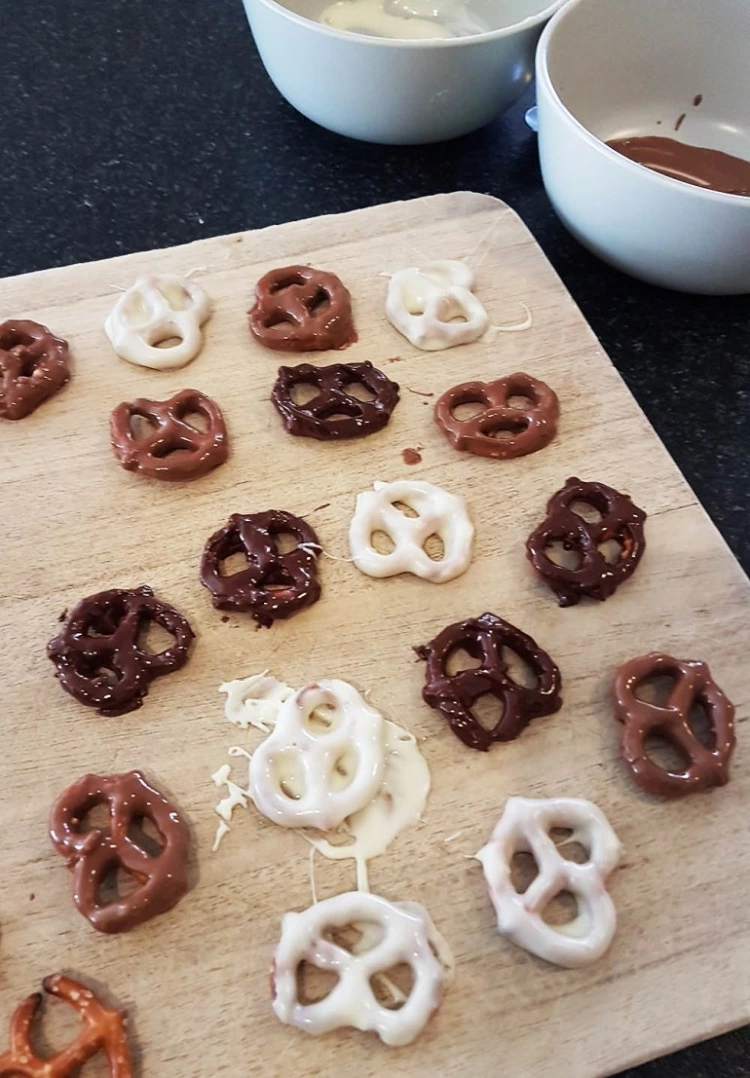 3. Leave to set
I left mine for about an hour and they were all done!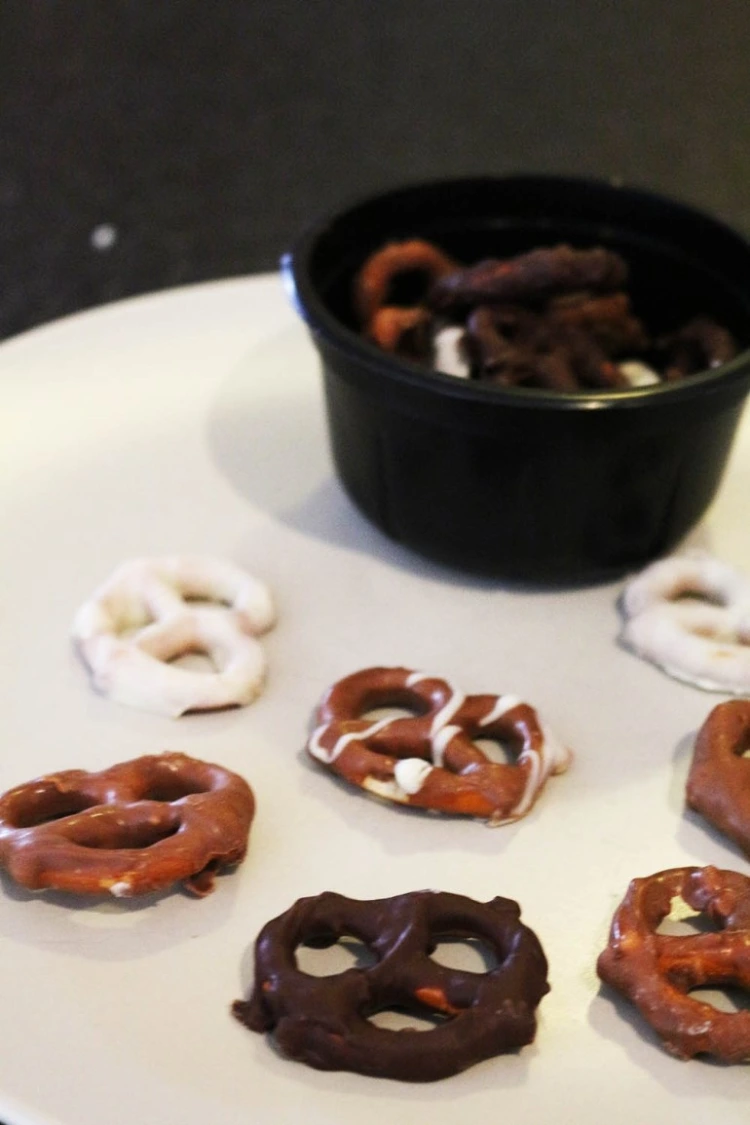 Well, I won't say these went perfectly – but they did end up being the perfect way to introduce this series. Why, you ask? Because, if I want to make these as a gift or something for Christmas, I'm definitely going to need to practice them. Hence why we're starting early!
Okay, kids, I hope you enjoyed the first part of my 12 days of DIY. We've got some really cool projects coming up, so make sure you stay tuned! Have you ever tried chocolate covered pretzels? Would you give these a go? Let me know your thoughts down below!
Peace,

Instagram // Twitter // Bloglovin' // Youtube // Pinterest