The latest drain on my account is a little trip to Valencia for the Spanish festival Fib.
I'm fucking excited. Like, unbelievably excited. Like to a point that my heart could go "fuck this, I can't take the anticipation", stop beating and die. (I'm home now, sadly, but I wrote this post in advance hoping to get OOTD pictures in Spain. I failed on that front. Miserably.)
Okay, I mean, hopefully not. But still.
I'm going to see Red Hot Chilli Peppers, Kasabian and The Weeknd in the Spanish sun for four days . . . I mean, what more could a girl ask for? The Killers, I could ask for The Killers.
Now, we've already spoken about my love for music festivals in my Download Festival 2k17 post, but it bears mentioning again: I fucking love music festivals. I mean, come on, where else is it completely socially acceptable for me to run around in a Pikachu onesie or half naked?
Old people's homes don't count.
Anyway, the only "problem" that I have with festivals is the money. This one (although cheap in terms of ticket price; they cost me about £98 for the full festival) cost me more than I'd pay for a back-street kidney altogether. Even if you're staying in the UK, festivals like Reading, Glastonbury and Download are eye-wateringly expensive just for the bloody tickets.
And then, on top of that, you need to buy clothes and supplies. Yes, I get that you don't technically need to – but of course you do. If there's an excuse for me to run around looking like a fairy, I am damn well going to run around looking like a fairy and there's nothing you can do to stop me.
I mean, other than force me to look at my bank statement. You could do that, cripple my will to live and I'd in all likelihood not end up looking like a fairy due to stringent budgeting – but still.
However, I decided that I couldn't be the only one struggling with this. Right? I mean, it's festival season; everyone's going to be scrambling to find some cheap threads. So I set myself a challenge – a clothing limit. I gave myself £40 and said "with this, you can buy whatever festival-related goodies you want."
And here's what I came up with:
(I tried to actually edit this video and it's only a minute long, so check it out!)
Outfit 1 – Velvet Sun & Moon Motel Dress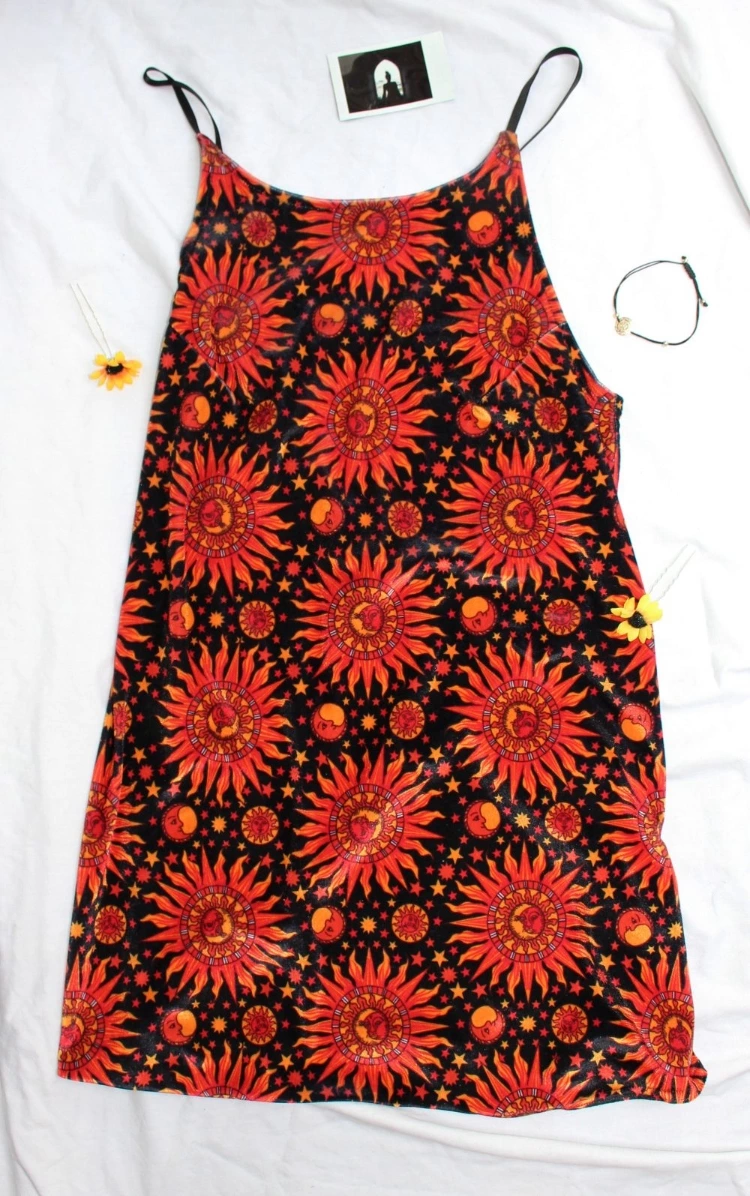 This velvet dress is to die for. As you can see in the video, my weight fluctuates quite a lot; the difference between the first and last outfit is that the first was taken pre-holiday and the last was taken after I got home. I hover at a six (trying to get to an 8!) but frequently drop down to a 4.
Whenever I drop a bit of weight, I always find that I hate how my clothes fit and feel like everything is incredibly unflattering – however, this dress is actually really, really flattering.
Also, the print is stunning – and it's in velvet. I managed to snag this for £8 (P+P included) from Depop.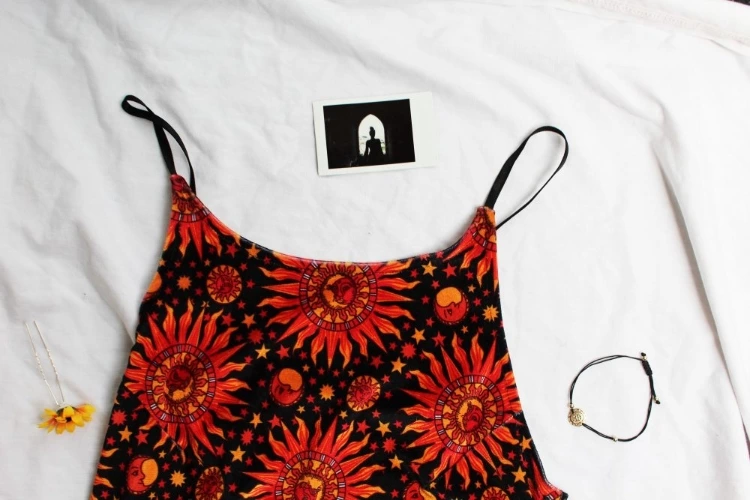 Outfit 2 – Purple Floral Co-Ord
Annoyingly, I can't photograph this set together for you (thanks for that, foresight) because, while gorgeous, it was far more my friend's style so I gave it away. However, this was an absolutely stunning two-piece set that was originally from New Look – that I snagged for £10 off Depop!
Outfit 3 – Hamsa Hand Dress
(I couldn't find this whilst filming because I'm useless, so it's not in the video but it cost me £10 from Depop, so it was a complete bargain!)
Oh, I have so many great memories of this dress! This is the one thing that I actually wore at the festival (I'll be filming a festival lookbook at some point) and . . . well, it was a hit!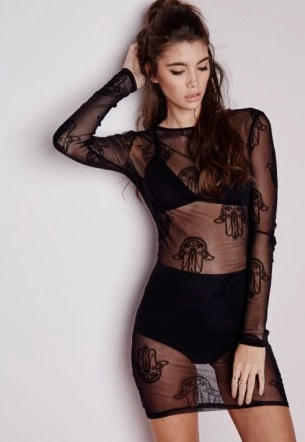 Outfit 4 – Sun-flower co-ord
This co-ord . . . is surprisingly high quality! I bought it more as a test because it was £6, but I was very pleasantly surprised. Aliexpress is not somewhere I'd recommend buying clothes from (stationery, however – go forth and prosper) but for cheap holiday co-ords I may reconsider!
Also, I mean, sunflowers. Who doesn't love a good sunflower print? Seriously, tell me what people don't so I can stay away from them. They clearly aren't right in the head.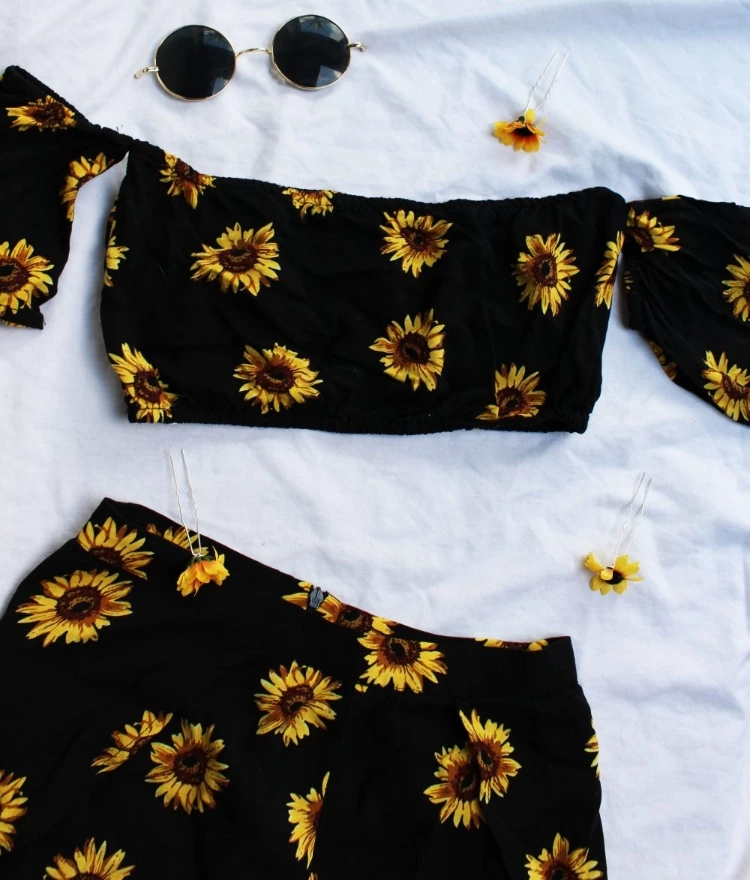 So these were my 4 outfits for under £40 in festival style! What did you think – would you wear any? Which was your favourite? Let me know below!
Peace,