Happy New Year my beautiful souls!
My name is Mia and I'm a #NewYearNewMe junkie.
Seriously – I am one of those people that will scream "New Year Motivation!" from the rooftops; one of those people that will stuff and cram and squeeze every last drop of motivation and productivity from January. My New Year lasts until March. If you even say the words "New Year Resolutions don't mean anything, you aren't going to stick to them anyway" in my general vicinity, I will melt into an over-dramatic puddle of horror and disgust.
Jokes aside, though – why all the hatred towards New Year Resolutions? You are never going to change and improve if you don't bloody try. Yes, New Year is a wildly overblown occasion used by the media to sell you all gym memberships. Yes, you could make all these resolutions at any time of the year – you could change your entire life tomorrow, regardless of whether tomorrow is the 1st of January or not . . .
But if you can't be bothered to change your life in New Year – where motivation is at an all time high and people are not only more likely to support you, but actually attempt to change with you – you're going to have a really hard time convincing me you're going to do it at any other point.
So I'm going to keep my #NewYearNewMe hashtags and my motivational images and my new gym membership and, while you are smugly rolling your eyes from the same place you've been in for the last three years, I'm going to set me some goals and resolutions and I'm going to make this year my bitch. Just like I did last year – and just like I will all the years to come. Because change and growth is 100% achievable, but how on earth are you going to get anywhere if you aren't willing to put one leg in front of the other and move?
Hello, my gorgeous and limitless people, today I'm going to be sharing how to set New Years resolutions to kick the world's ass – and, even better, how to stick to them. (And I'm also going to be showing you my resolutions because I practice what I preach.)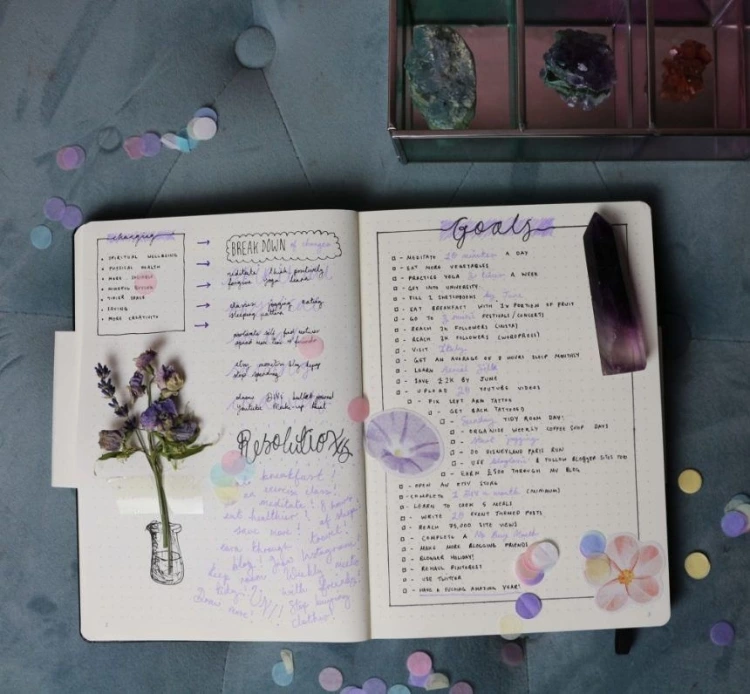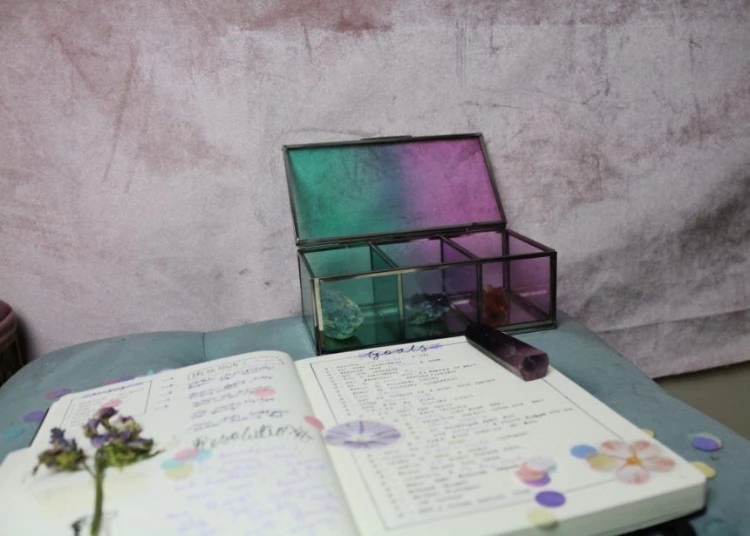 Also, if you're feeling for some cute room decorations, this ombre box is from Urban Outfitters – and on sale at half price for £12 (linked).
Who Do You Want To Be?
Look, this sounds weird as shit – but, trust me, it works. Don't set goals because you think you should; if you don't want to go to the gym, why set the goal to go?
Take a moment to think about who you want to be. Your end vision of yourself. Are you fun and outgoing? Every Saturday night a party? Serene and content? Enjoying your life, having a nicely decorated space, filling your days with painting and reading? Maybe you're a traveller – maybe you want to be ultra-stylish and on trend, the person everyone looks at and goes "daaaamn". Super healthy? Vegan? A total boss-bitch queen blogger?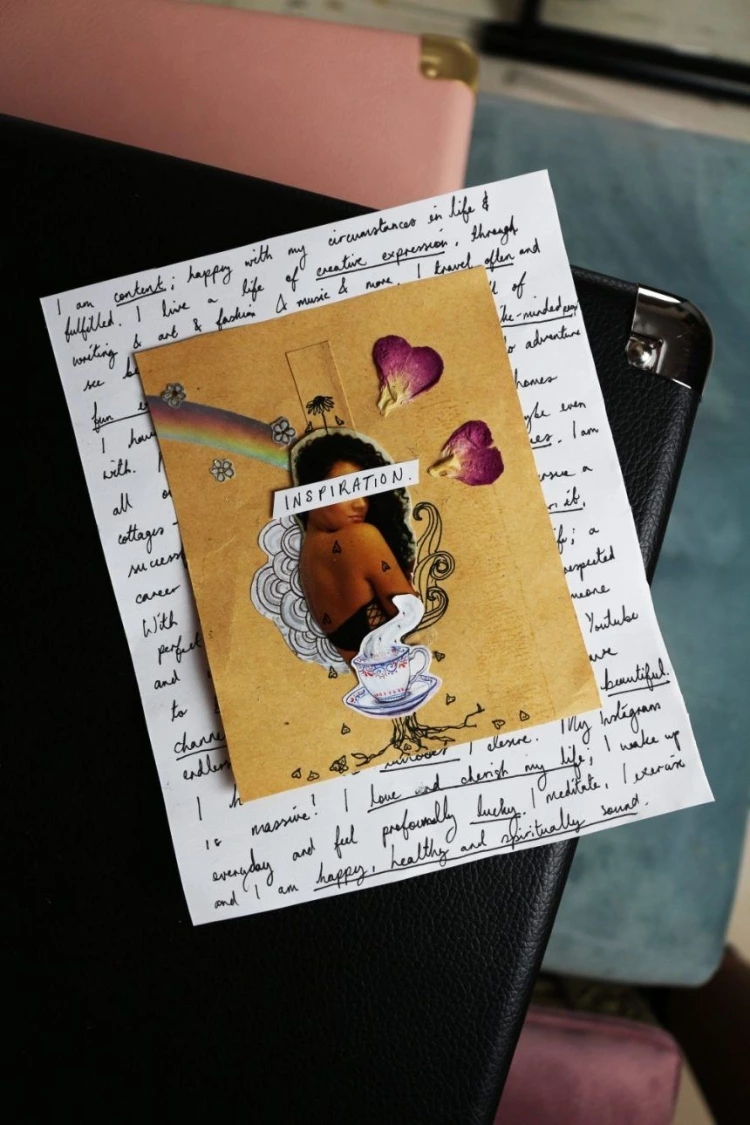 Imagine a day – a week – in your future life. Your dream life. I want warts and all; how do you cope with your stressful day at work? What is your apartment like? Who are your friends? What do you eat? How do you dress? What are your everyday problems? How are you overcoming them?
There are no wrong answers here; you don't have to report to anyone. But knowing who you want to be and where you want to end up . . . well, now, all these goals are are the stepping stones to becoming that person. And how are we going to know how to get there if we don't know where we're going? Plus, knowing your end goal helps you to set goals that are actually relevant to your life and what you want as opposed to goals that you've seen floating around Twitter and thought "I should do that".
How Do You Need To Change?
You know where you want to be and you know where you are, so how do you bridge that gap? Do you need to change things in your personality – be nicer? More forgiving? Less forgiving? More confident? More outgoing? More focused on work?
Or maybe it's physical, tangible things you need to change. If you want to compete in marathons for fun, you'll need to be more active. You'll need to take up jogging, have increased stamina. Are there skills you need to learn? Things you need to take up? List it, bish.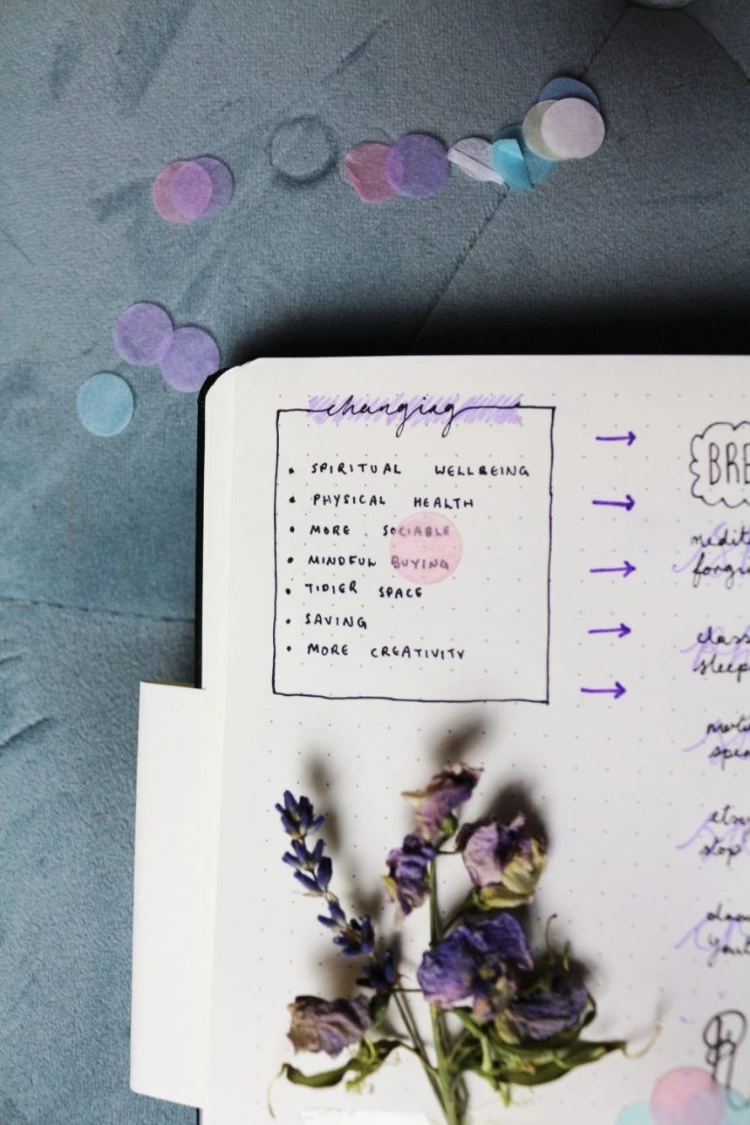 What Are The Steps You Can Take To Meet These Over-Arching Goals?
Let's say you want to be happier. A more happy, stress-free you. You've looked at your life and realised most of your problems . . . well, most of your problems come from you. Your personality and how you deal with things. You're too uptight, you're a massive stress head and you're all work no fun. You want to change this . . . but how?
Become less stressed – be a more relaxed person.
Learn to deal with stress.
Have more fun.
Be more easy-going.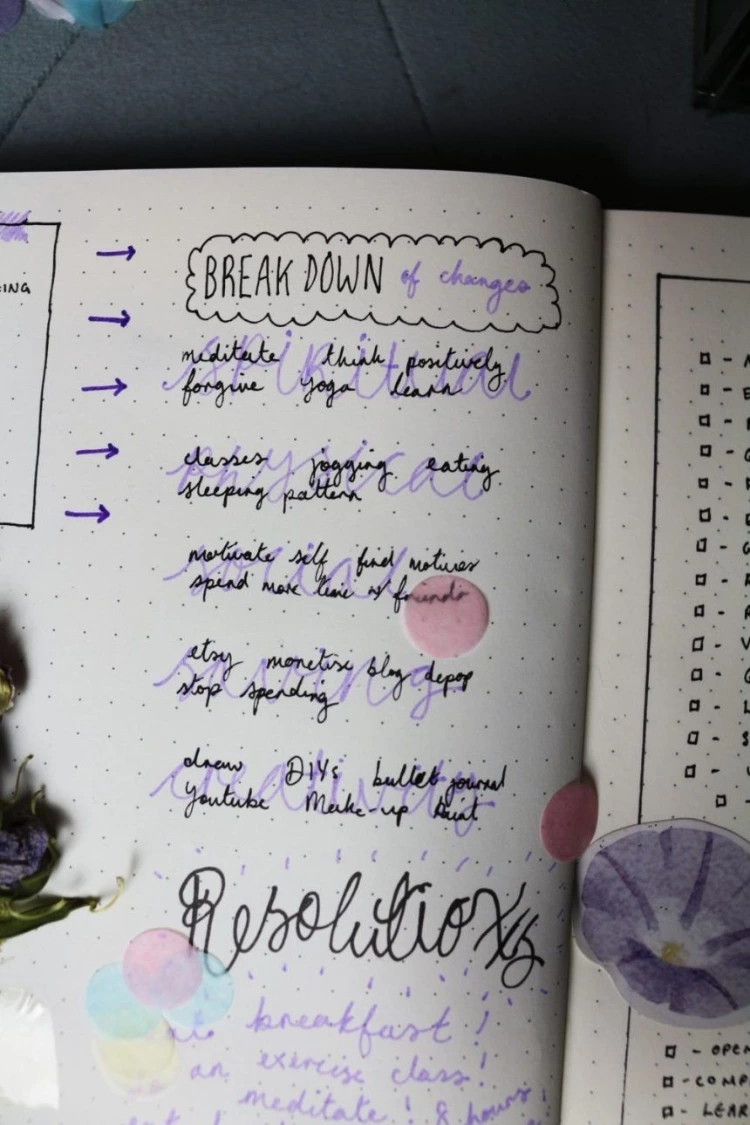 These are a couple of things you could do; at this point, we don't have to be too specific, don't worry – I just want some vague overall hurdles you need to overcome. And you don't have to focus on one part of your life for this, either. I tend to do this for my health, personality, friends, experiences, career etc.
Now Set You Some Fucking Resolutions
Right . . . so now you've got an idea of all the problems you need to start tackling and solutions you need to start finding, start setting yourself some resolutions. I like to keep my resolutions kind of vague, like so:
I will eat healthier.
I will be happier.
I will have fun.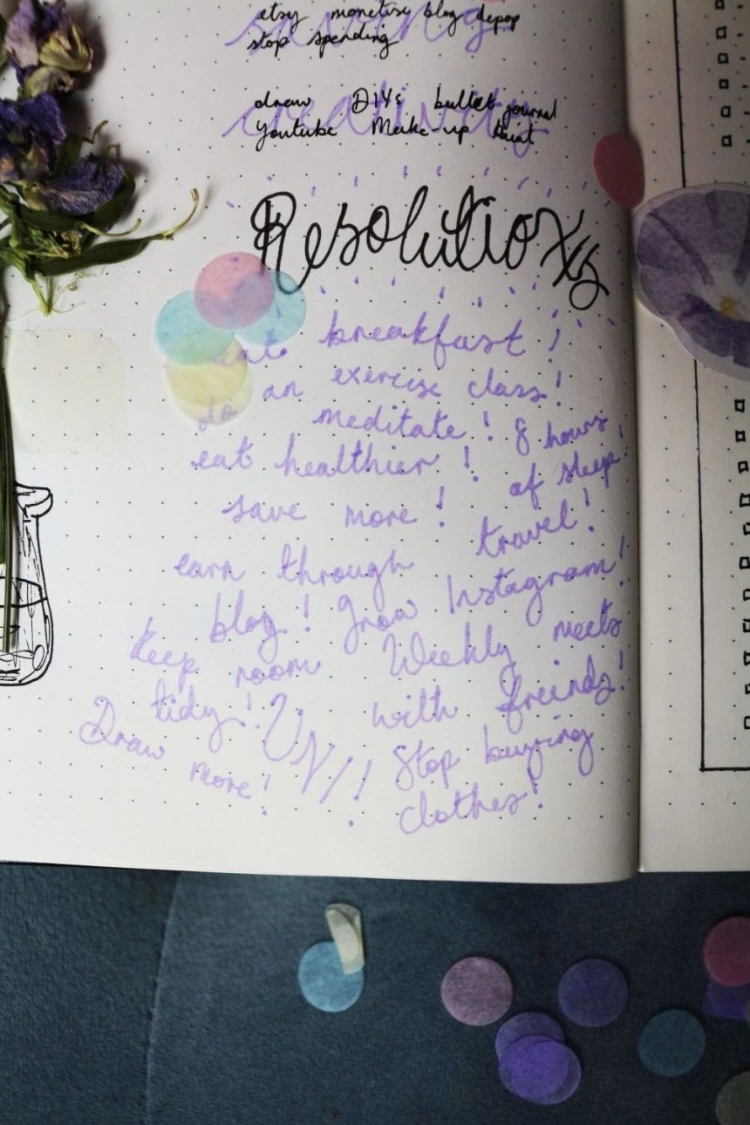 We'll start drilling into these in the next section . . .
And, From There, Set Smaller Goals Within These Resolutions (Maybe Timed)
So now that you have your resolutions, it's time to set some goals that will help you achieve and measure them.
You can say "I will eat healthier" as a resolution, but how do you measure it? Having tangible goals – I will eat a piece of fruit with breakfast everyday, for example – can help you keep track of progress.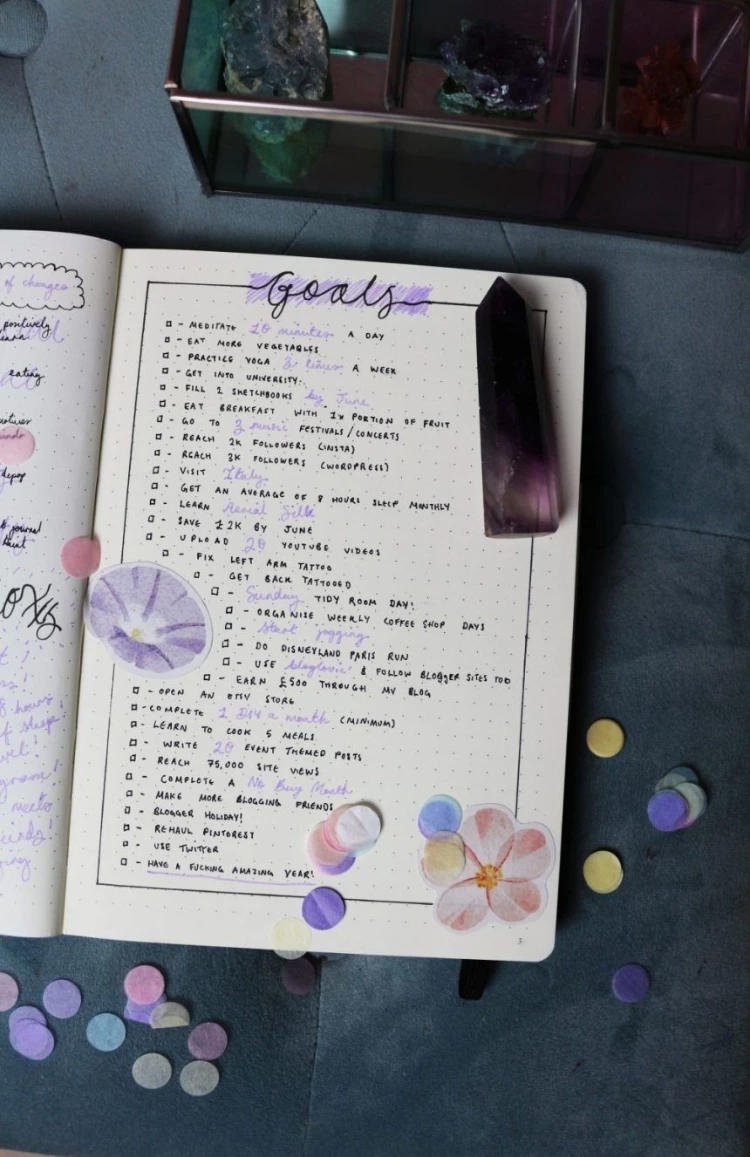 Making these goals time-constrained is another great way to encourage yourself to stick to them. For example, instead of saying "be able to run 5 miles", you could try "be able to run one mile by April, 2 miles by June, 3 miles by August and 5 miles by December". This not only makes your progress trackable, but it makes your goals easier to achieve – and then they don't feel like massive, impossible-to-climb mountains, more a series of little hills.
Look, I can't force you to make New Year Resolutions; I can't force you to change or improve. I don't even want to – I have enough shit to change about myself, I can't be responsible for you too! All I can do is tell you that New Year Resolutions can stick; you can change your life, your outlook, your mentality. And I guess, in helping myself stick to them, I can help you.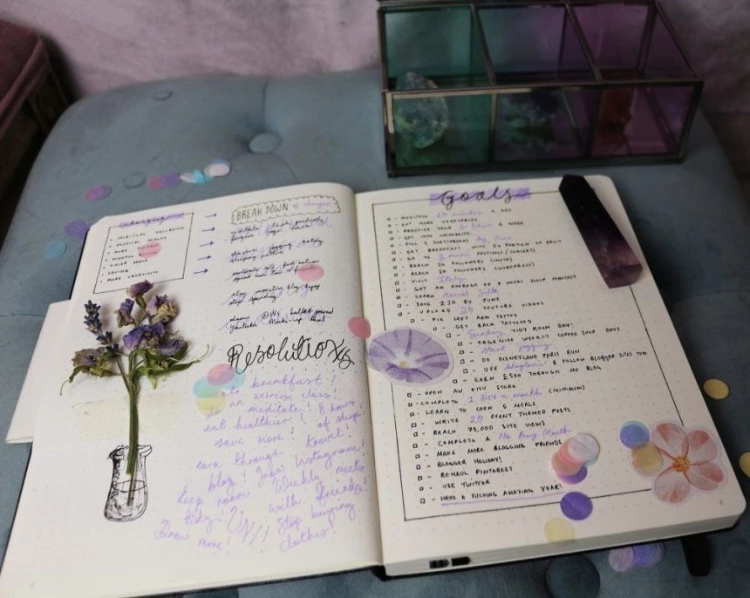 You probably won't remember, but in one of my previous time management posts I toyed with the idea of starting a productivity category on the blog. This post is the first of the posts in that category. Throughout 2018, I'm going to be sharing my progress with my New Year Resolutions and how I achieve them – and, if you want, you can use that as a way to keep you accountable and help you achieve yours. Also, I would seriously recommend checking out Natalie's 2018 Planner – it's a really good post that I highly recommend. (And it is, of course, linked.
And with that I think we can conclude. I hope this post helped you – are you setting New Year Resolutions for 2018? What are they? (I'm nosy; this is a legitimate question) Did you like my method of goal setting – will you use it? And did you like the video? Make sure to subscribe, babies, I'm excited for 2018! Let me know your thoughts down below!
Peace,

Instagram // Pinterest // Twitter // Bloglovin'