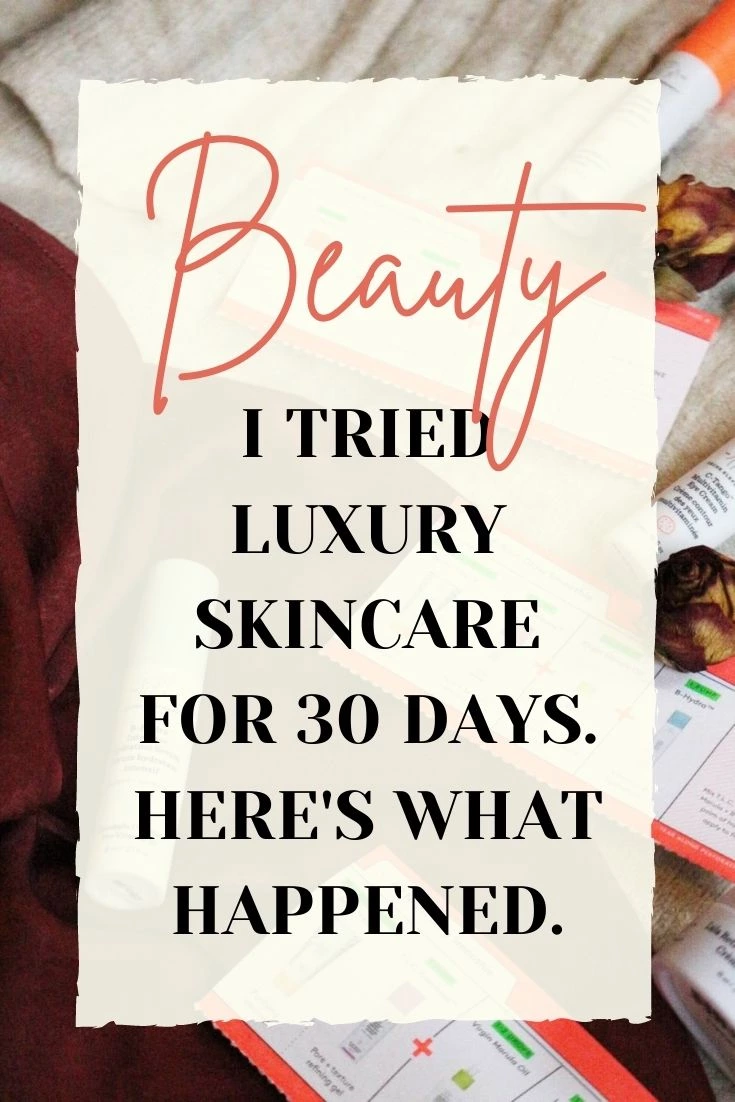 Hello, beautiful people, and welcome back to the section of my site dedicated to keeping you beautiful: skincare. Now, my battle with my skin is no stranger to you all. I've struggled with acne since my early teens and we've gone through diet trends, acne skincare regimes and even Accutane . . .
Thank whatever-deity-abandoned-us-this-year, the acne struggle is over. However, the importance of skincare has not suddenly flown out the window. If anything, having clear skin has made me more determined to preserve it. And you know what I realised after my last dermatologist check-up?
1. "This is such a bloody rip-off. $180 for a 5-minute teleconference where I get my medication reassigned, just to pay another $50 to actually get it. I'm a student who works 20 hours, please sir have some mercy."
And 2. "If I'm spending a whooping total of $230 on some little pills, how come I rarely spend over $30 on my skincare products? Am I supposed to be spending more? Did nobody think to tell me?"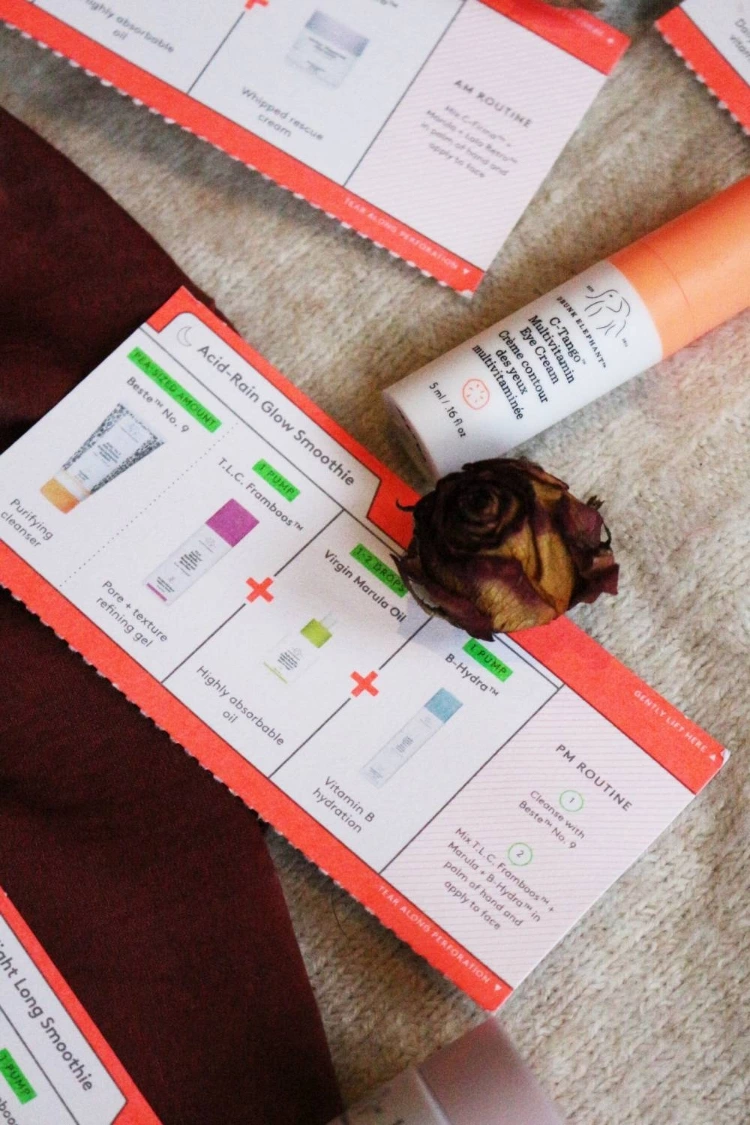 Now, I love The Ordinary. I love Mario Badescu. I love my drugstore faves that mean I can get UberEats on Fridays and pay my rent on the 15th of every month . . . But I'm also in lockdown. Your girl isn't spending money on going out, I don't drink and – okay, well I still spend on clothes. But that's because I shop at sustainable/ethical brands and they're more expensive.
What I'm trying to say is that if there's ever a time I can try luxury skincare and make up the costs in another area of my life, it's now. So I did. And here's what I found.
I TRIED LUXURY SKINCARE FOR A MONTH – AFTER PHOTOS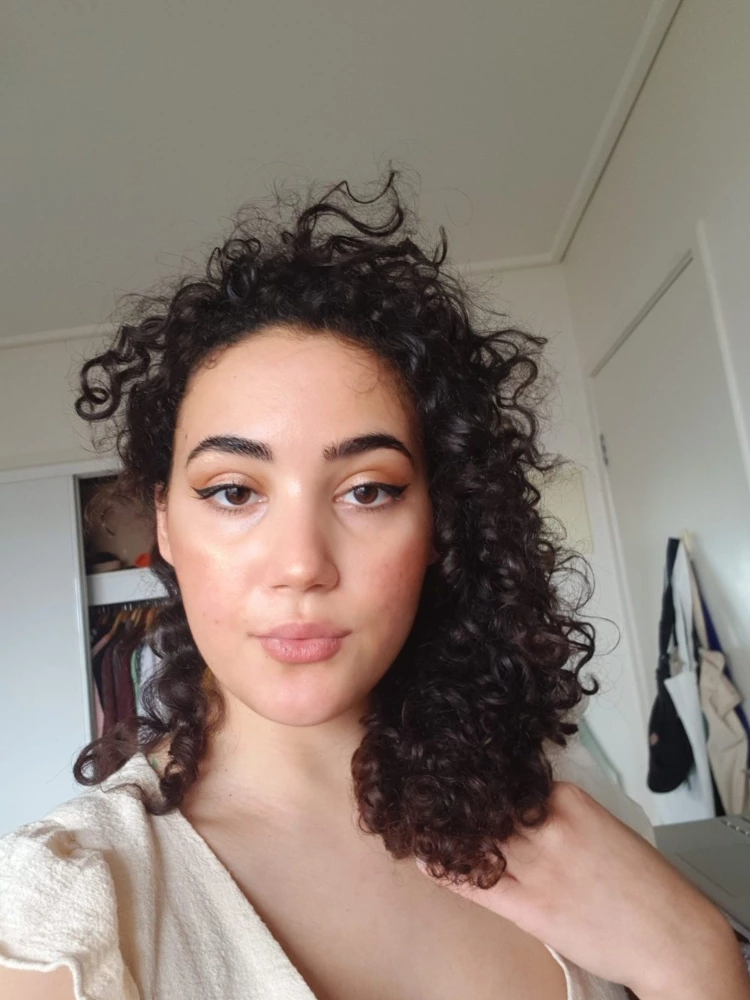 (No skin makeup on other than blush!)
To start this experiment, I found a mini pack of a brand called Drunk Elephant. Rather than tiny sample sizes (which I have mixed feelings about – I like to test things before buying, but don't like the wasted plastic), the minis are designed to last you around a month.
Personally, I think this is a great idea. You can try the whole range without paying eye-watering prices – and a month is a good amount of time to see results or side effects.
Drunk Elephant I specifically chose because they're cruelty free, drying alcohol free, fragrance free and silicone free. Their skincare philosophy massively appealed to me . . . as did the product selection! (This isn't a sponsored post in any way; I researched a couple of different brands and bought the set for myself.)
WHAT YOU GET IN THE SET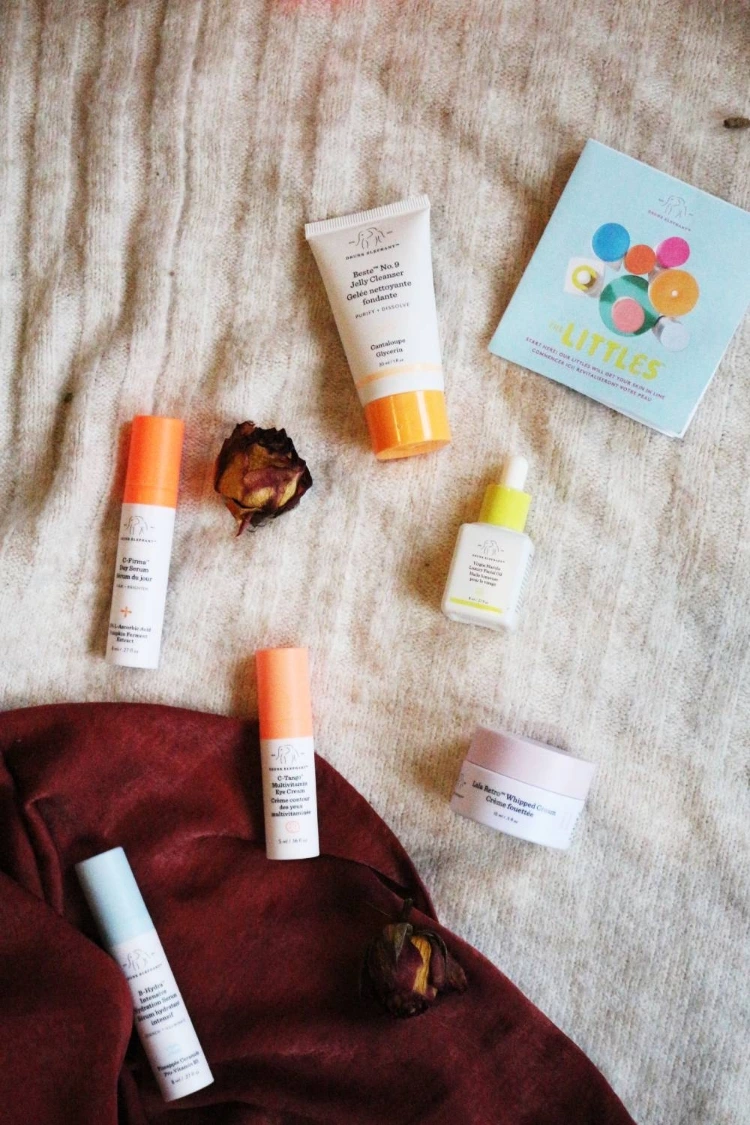 DRUNK ELEPHANT – THE MINI KIT – SEPHORA (USA) – $90
By the way, if you are interested in trying these, Sephora offers 6% cashback with Rakuten! Sign up through my link and get a bonus $10 too!
You actually get a complete skincare set, so you can exclusively use the products for a month:
Jelly cleanser
Whip moisturiser
Night Serum
Vitamin C Day Serum
Hydrating Serum
Luxury Oil
Eye Cream
While a little on the pricier side, I honestly think the set is such fabulous value. I'm a big lover of serums and oils, so the fact they were included (and a decent range of them, too!) was a big thumbs up in my book. I'm definitely not a "cleanser and moisturiser only" kinda gal.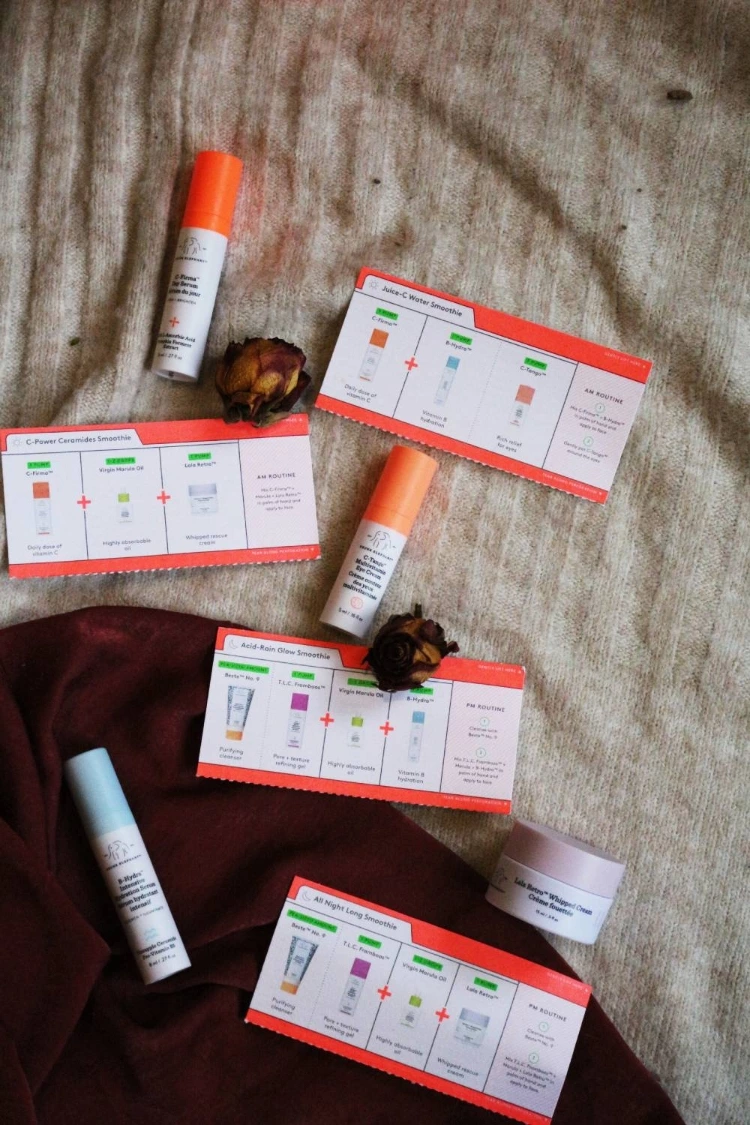 A really fun feature is that the minis kit comes with "skincare smoothie" pull outs – essentially, little cards with product combinations that work together, when to use them and their benefits. What a fab idea!
THE BENEFITS OF LUXURY SKINCARE
So there's a reason the price tag on certain brands is significantly higher . . . but what is it? Through my internet sleuthing, here are the main reasons I've found: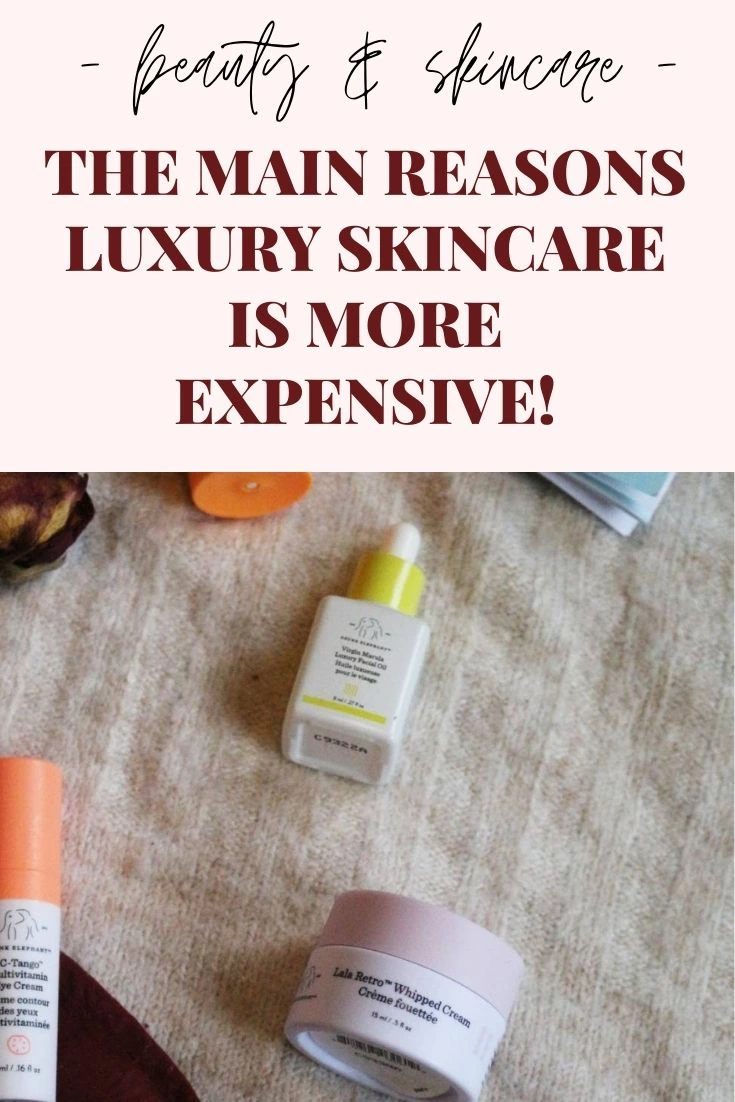 The quality of ingredients. The best explanation I found for this was from Well+Good: "The example I like to give is a tomato. Take a tomato that you might find in a fast-food chain's sandwich and the tomato you find at your local farmer's market in the height of season that has been grown organically on a farm that pays its employees well and employs regenerative farming techniques. The two tomatoes are spelled the same, but they are worlds different in terms of nutritional value, environmental and ethical impact, taste, and, yes, price." (By the way, the Well + Good article linked is a fabulous read, so if you're considering investing in luxury skincare, go read that too.)
The sustainable and ethical impact of the ingredients.
The cost of innovation! Testing, trialling and creating new formulas adds up – and can be the reason behind a bigger price tag! Everyone's favourite brand, The Ordinary, is a great example of this. The Ordinary have very slimmed down formulas, focusing on one active ingredient at a time, so they don't have to spend too much money on extensive research trying to combine different actives together.
Pricier, higher-end skincare brands often include their own proprietary blend of ingredients in their products, which are usually sourced from labs exclusive to them—in other words, you won't be finding them in the aisles of your drugstore. It's those ingredients that really can have remarkable effects on your skin. – Source, Byrdie
And just marketing! Honestly, one of the biggest take homes from all my internet research is that a lot of the time (especially with astronomically expensive skincare products) the price gap is just a big ole' markup.
BUT DO YOU NEED IT?
No!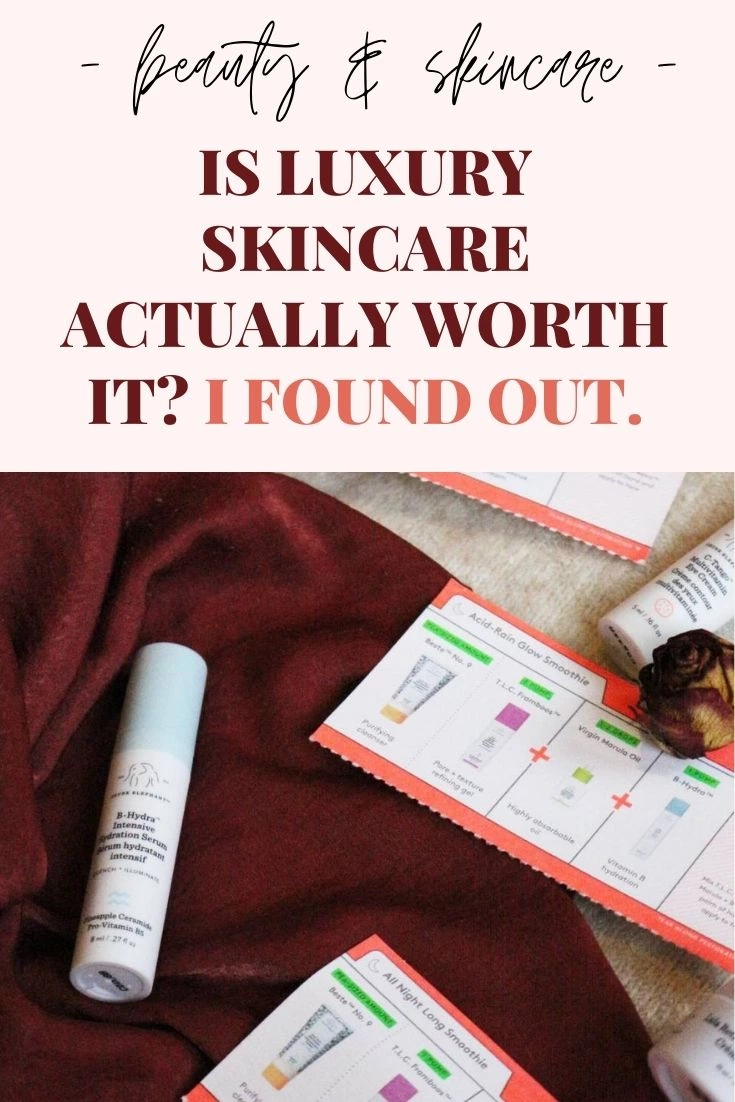 My skin definitely benefited from the Drunk Elephant skincare routine and I would honestly say the products are higher quality than my normal ones. But it certainly isn't essential. My favourite drugstore products are still brilliant and, if you can't afford luxury skincare, you're not missing out on the key to your career as an Instagram model.
Will I still use luxury skincare? Absolutely – well, when I can afford it, anyway.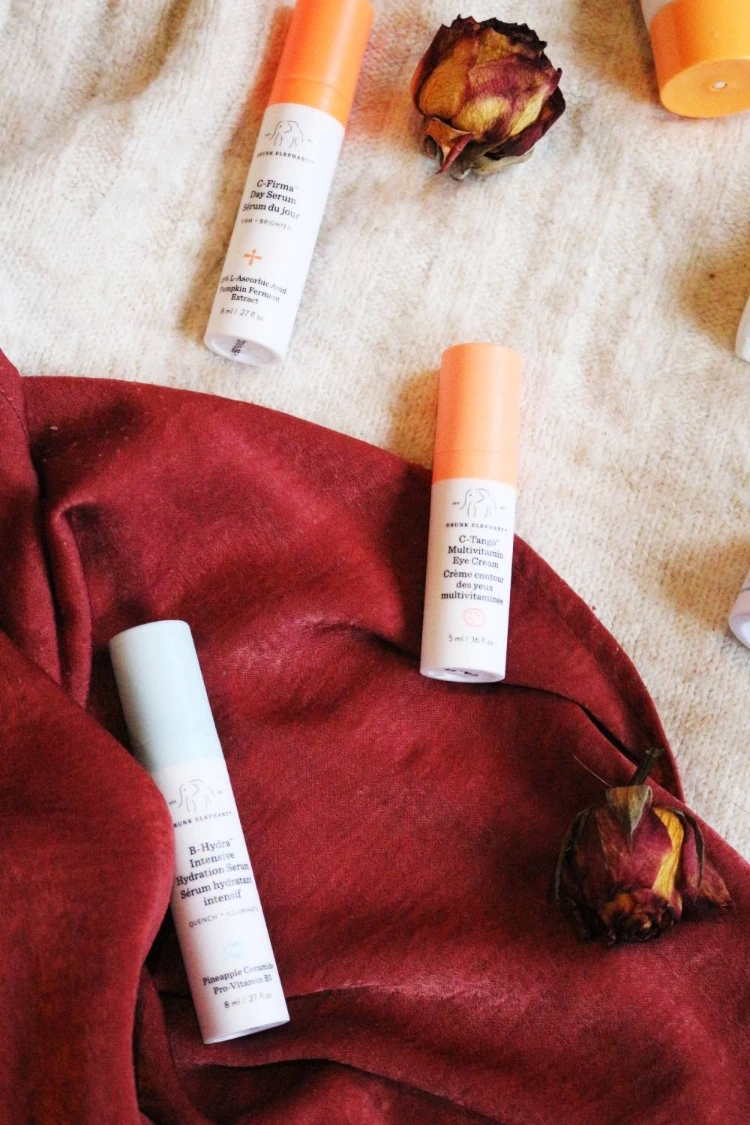 I don't know how to explain it, but my skin overall feels healthier. Things I didn't even notice about my skin's texture (like fine lines under my eyes) have been smoothed out and it just looks more supple and happy. Not to mention, a lot of the sensations I've come to accept as normal from my skincare (tightness, drier skin, minor irritation) just . . . aren't there.
The best part? My skin looks better than (literally) ever.
If you guys remember my Accutane 3 month update, you may remember me explaining that Accutane controls my acne to the point I have normal skin. What this means for me is that my skin as a default is clear, but it can be triggered by things like dirty bedsheets, eating nothing but sugar and low-quality skincare products.
So even though I haven't had acne for the past 6 months, I still might get a spot here and there. (Even with my beloved old drugstore favourites!) But for the entire month I've been using Drunk Elephant's skincare range, I've not broken out once. Not even a tiny spot.
Whether it's the fact the clean formulas aren't triggering my skin, or that the ingredients are of a higher quality, I don't know – but regardless, this experiment was a firm win in my book. Luxury skincare brands might charge more . . . but, in the case of Drunk Elephant at least, you're getting what you pay for.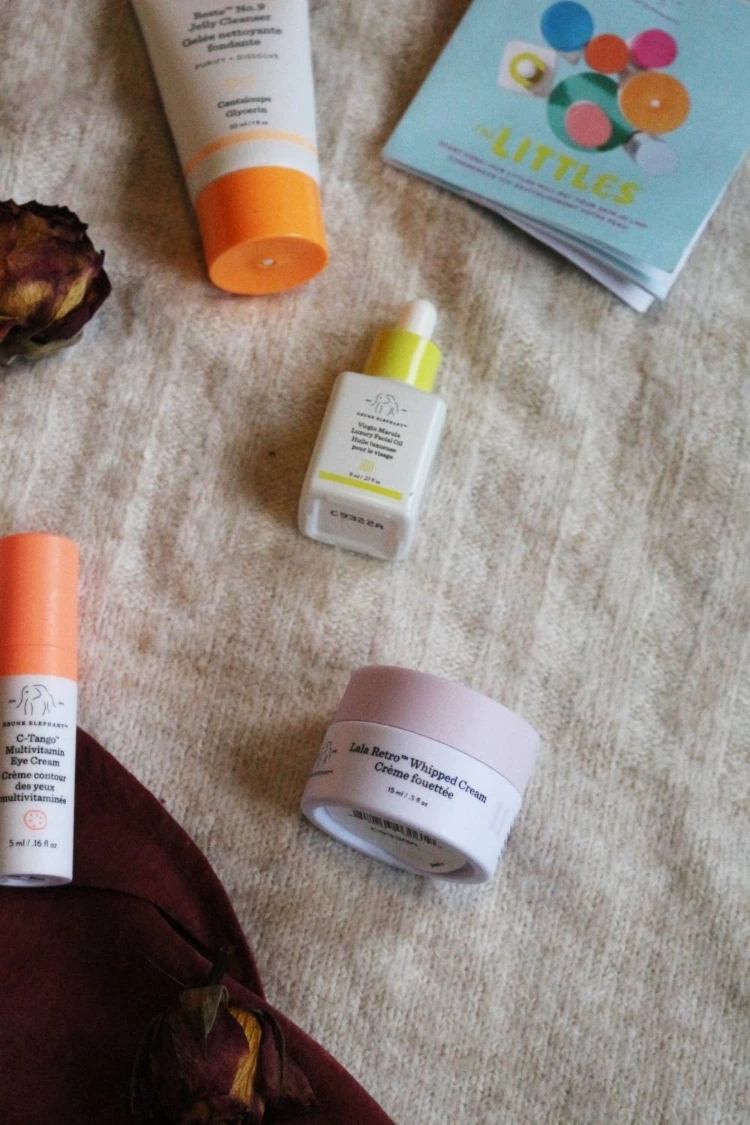 DRUNK ELEPHANT – THE MINI KIT – SEPHORA (USA) – $90
Again, if you are interested in trying these, Sephora offers 6% cashback with Rakuten! Sign up through my link and get a bonus $10 too!
Excitingly, I've been offered the chance to review the Banish skincare range (specifically designed for people with acne and acne scarring) – so I'm going to hold off on my next Drunk Elephant restock until I've had a chance to test those out! But after I've tested those, I shall most definitely be picking up some of DE's products.
What are your thoughts on luxury skincare vs. drugstore brands? Have you tried any? Do you think it's worth the splurge? Let me know your thoughts down below!
Peace,
Instagram // Twitter // Bloglovin' // Youtube // Pinterest