** Further updated after a few months of use; opinion of product after continual use below **
Peasants, bow down and pay reverence to your new God. No, not me – I'm down here on my knees next to you. We're talking about Mario Badescu.
Mario Badescu is a brand that I only heard about in my quest for a rose-water face spray. (Side note: found it. Review to follow.) However, I was immediately enthralled. All of those stars – all of those 5* reviews.
Now, my biggest excuse for not having my finger on the pulse when it comes to makeup and beauty trends and products is that I have a best friend who is a total beauty obsessive. She should be a blogger. As soon as Mario Badescu got on my radar, I immediately messaged her asking if she'd heard of them – and upon getting positive feedback from the beauty-junkie I decided to buy.
At this point in time, although I were looking for a few things such as the rose water spray, my real necessity was a new skincare routine/set. You know, because I thought "hey, I'll try ProActive and write a great review about how much it cleared up my skin!" . . .
And then ProActive destroyed my face.
So that was fun.
(Although, I suppose, it's great negative review fodder.)
After seeing all of these absolutely glowing reviews for the Mario Badescu Acne kits, I decided to try the basic version. If it didn't work, it was £21 for the entire set (toner, cleanser, moisturiser, drying cream and a mask) – which is £4.25 per product, something I'd easily pay anyway.
Well . . . aren't I glad I did.
What Does The Set Include?
Acne Facial Cleanser
Cucumber Toning Lotion
Oil Free Moisturiser (yes please!)
Drying Mask
Drying Cream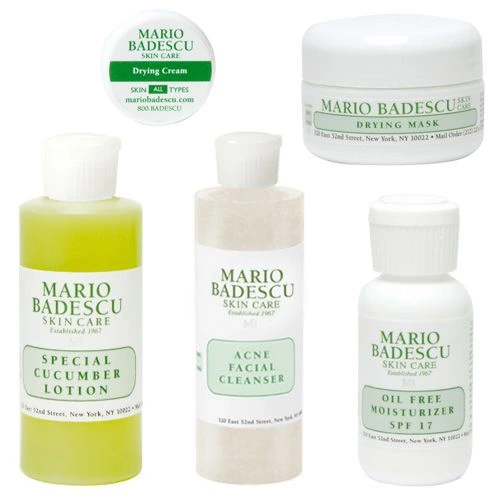 Mario Badescu Acne Starter Kit – Beauty Bay – £28
What Does Everything Claim To Do?
TL;DR: It claims to help oily and combination skin types clear up their acne and keep it under control.
"Featuring a selection of skincare essentials specially formulated to purify and balance oily and combination skin types, Acne Starter Kit is the perfect introduction to some of Mario BadescuÉs key acne combatting products.
Acne Starter Kit includes a cleanser, toner, moisturiser and face mask along with a sample of the revolutionary Drying Cream to clear the skin from blemishes and soothe acne eruptions. Sure to be a Beauty Bay best-seller, Acne Starter Kit utilises iconic acne fighting ingredients such as salicylic Acid, Cucumber and Aloe to leave the skin looking healthy and clear." – Product Listing, BeautyBay
My First Thoughts
My first thoughts were mostly on how convenient everything about the packaging for this set is; everything is travel-sized (I had the trip to Spain to pack for, so this was important) and all the products have nozzles to ensure you don't end up using more than you need. This is particularly helpful as, at first, the products look quite small. However, when you realise how little you need – and you really do only need a tiny amount – you realise that in terms of how long you'll be using them for they're good value.
I'm also obsessed with branding – and Mario Badescu's in on point. On first glimpse and use, I was very excited and feeling pleased with myself for all my purchases. But did it last . . . ?
Individual Product Thoughts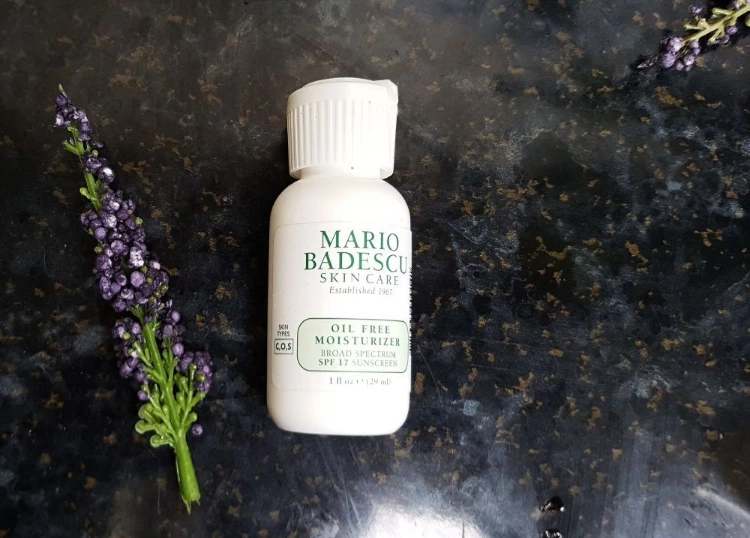 Oh, dear sweet oil-free moisturiser . . . how I love thee.
I love this product so much. A few years ago I thought the key to oily skin was to dry it out as much as possible – well, that's wrong. Oily skin needs to be moisturised just as much as dry skin or it will produce more oil – you just need to be careful about what you use to moisturise it. Oil free moisturiser is perfect because, while it is nourishing and hydrating for your skin, it's not too heavy.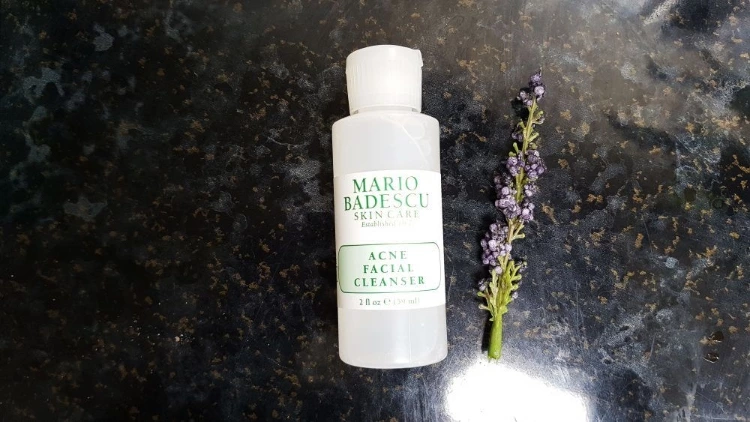 Also, this moisturiser has SPF in it – which is perfect for the summer months.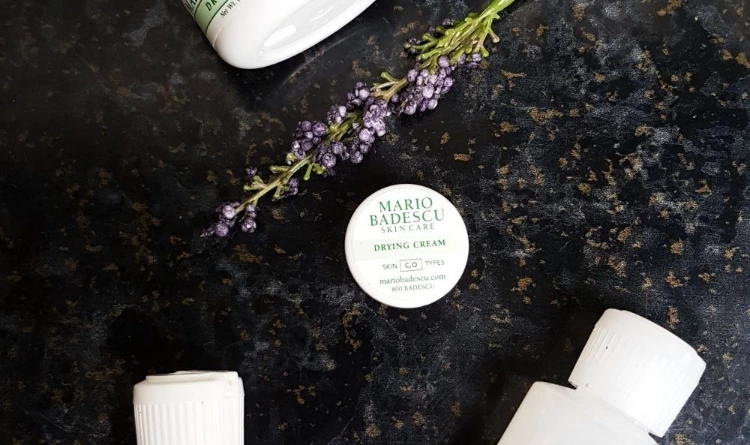 I really like this cleanser – it doesn't feel too harsh, but my skin always feels clean and fresh after using it. I alternate between this one and an exfoliating cleanser.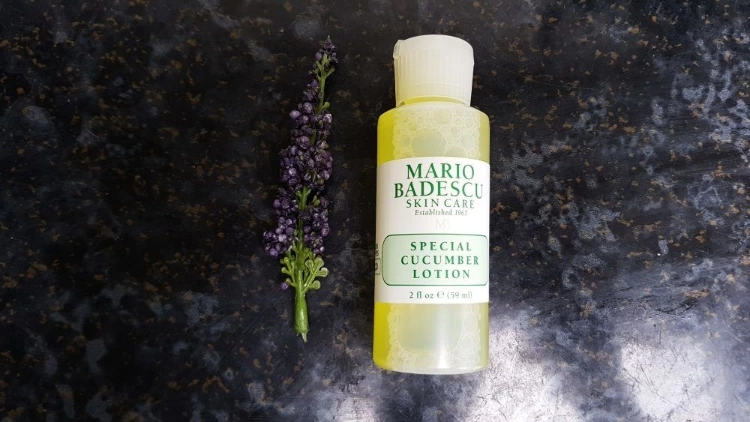 Oh, sweet Jesus. This product. This product is the real miracle baby of the set – if there is one thing I would tell you to buy, it would be this. The drying cream is something that you put on problem areas overnight that works like a magic wand and waves them away. It's amazing. (Although I use it sparingly because it's very drying.)
This is another product that I alternate between (this and my harsh Clearasil toner); this oner is very refreshing and soothing. It makes my skin feel healthy and happy. I'd say it works well as part of a set and, if you're trying to control oily skin, it would be great – but for getting rid of acne I'm not sure if it would be harsh enough on its own.
What's My Skin-Type & What Were My Results?
Is suicide-inducing a viable answer for this question?
I have incredibly oily, acne prone skin. Now, I can't complain too much – my acne isn't cystic or self-esteem ruining; it's just a pain in the ass. At the moment, (actually, let's make that pre-ProActiv) I only suffer from an annoying few spots here and there that will be horrifically noticeable. My main issue is scarring.
So my skin usually looks a bit like this: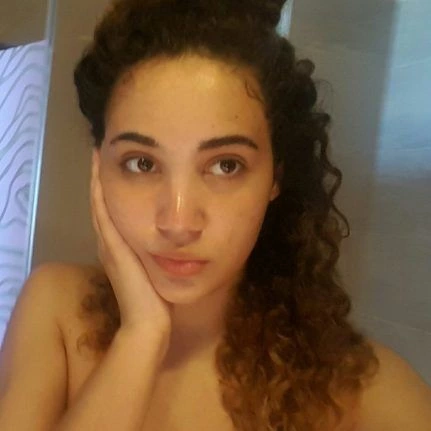 You can see the oily nose, marks around the cheeks (scarring that fades a lot with a tan).
Which, when it decides to be an issue, becomes this: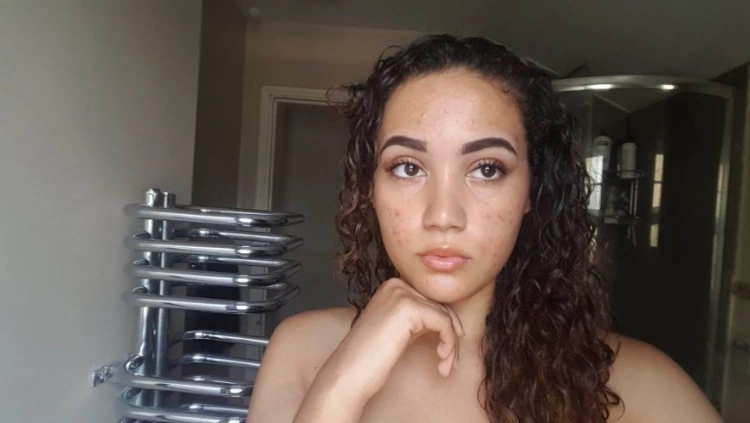 See all the bloody scarring? Eugh.
Anyways, the main issues are my T-Zone (because oily) where I get under the skin spots, which are annoying because makeup then looks terrible. Although – and this is important for the next bit – these aren't red.
I don't get spots on my cheeks (the above picture is literally just scarring.) Any spots I get on my cheeks are due to products I use (I have sensitive skin on top of all the other issues. It's great.) or what I like to call "environmental" conditions. These are things like maybe eating something I'm allergic to (yes, let's laugh at the half-black girl that breaks out in rashes if she eats spice), travelling, not sleeping, not eating, etc. The main reason scarring is such an issue there is because, although it isn't typically where I breakout (thing 3 or 4 major breakouts there a year), when I do breakout . . . It's not pretty.
And after the devil-spawn that was ProActiv, I broke out in this: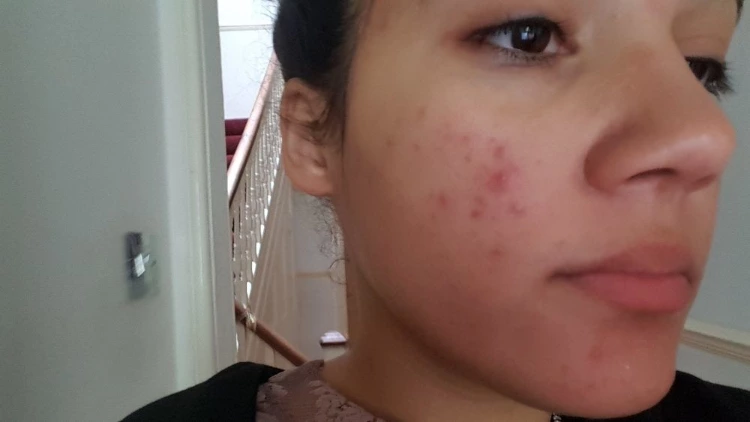 I don't have photos of both sides because . . . well, who wants to take pictures of that shit? But it broke me out on both sides of my cheeks and, to my utter despair, my forehead too. The worst part is that this is a picture of the breakout after it had calmed down. I'd been brought out in a cluster of five massive spots on that side, which wouldn't turn into whiteheads or leave for over a week. On the first use of the Drying Cream they'd calmed down to this – only a few were left and they were whiteheads.
So we can imagine the absolute mess that I was hoping a new (read: good quality) skincare regime could fix. Did Mario Badescu Acne Kit do the trick?
Well, this is my skin after a few days of use: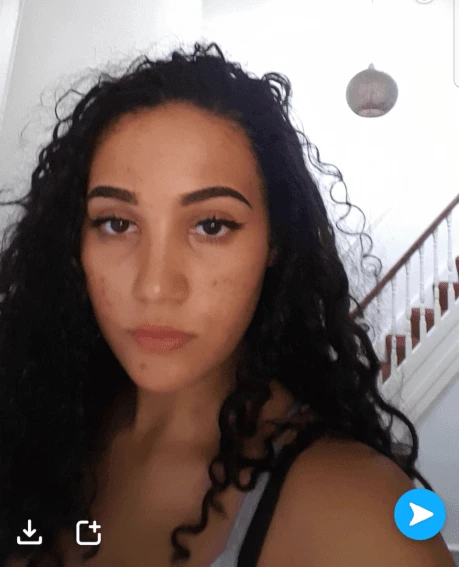 This is the only photo I have (I should prep for reviews in advance, but I wasn't even thinking that far ahead – I just wanted my normal skin back) but it had completely cleared my forehead up bar left-over marks. After only a few days, pretty much all the pesky, not moving spots had gone or were significantly less.
After a few weeks?
Now I had a few photos that made my skin look flawless and like it was glowing, but I wanted something that would really share the texture of my skin in all it's flaws so you can see how much it's improved. Also, this was taken whilst I was on my lunch break in 25 degree (Celsius) heat and direct sunlight on me. Considering how oily my skin was in that second photo (taken inside in a cool bathroom) you can imagine what a change this is.
Not only has it cleared up that monstrosity of a breakout, it's actually helped calm down my scars – which is difficult for me as things like Bio-Oil (a n y t h i n g with oil) break me out, so healing the scarring is a slow process. So all in all . . . I'm absolutely in love with Mario Badescu products and would recommend them to anyone with oily or combination skin.
Final Thoughts
My final thoughts are that this skincare set is an absolute lifesaver. If you've got oily or combination skin and are prone to breakouts, it is genuinely well worth the not-much-of-an investment. Now, I know (especially with my writing) hyperbole is all the rage and every product is a "miracle" and "life-changing" . . . but, for me, this product really was a little miracle. I feel far more confident in my skin – and it's perfect just in time for summer, when I don't wear foundation.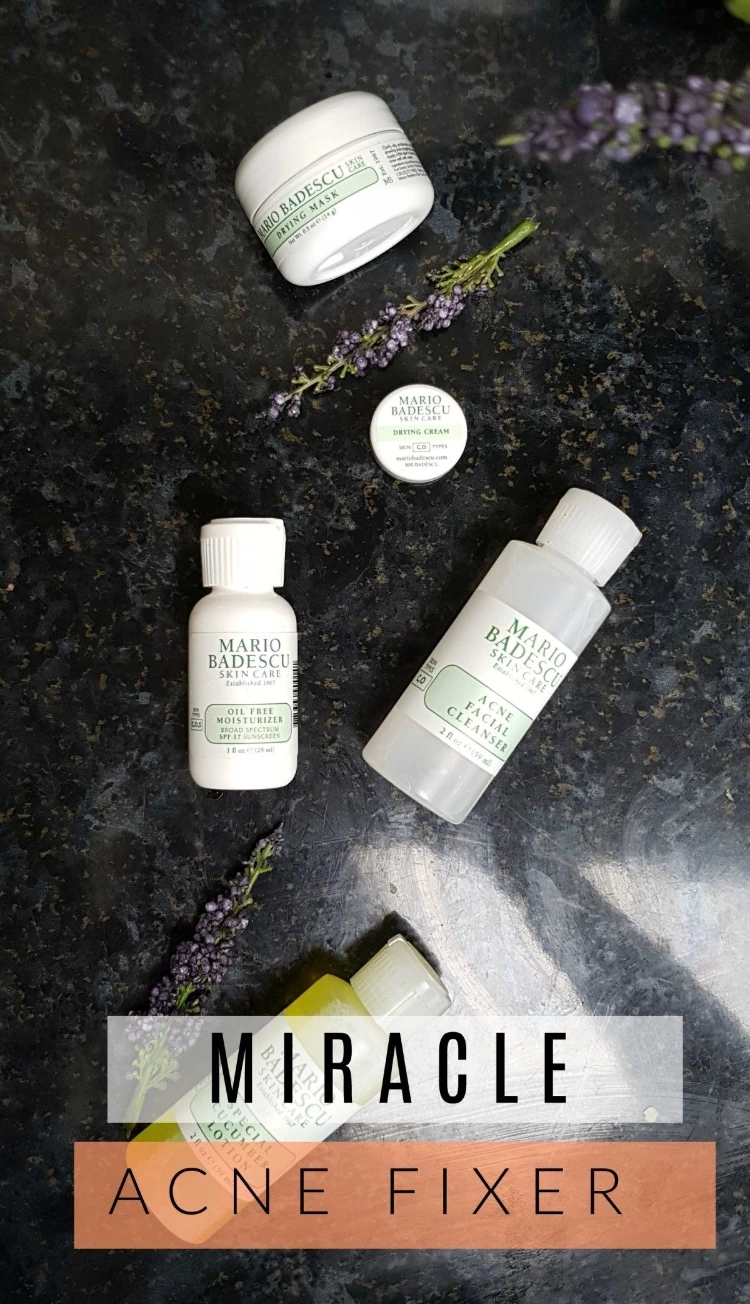 (Pin that for me please, you gorgeous thing, you)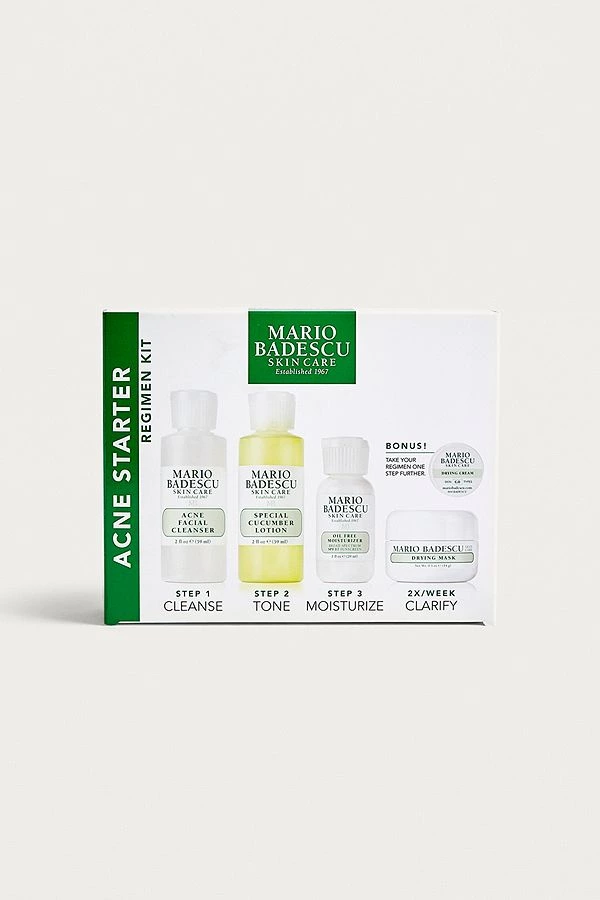 Mario Badescu Acne Starter Kit – Beauty Bay – £28
After A Few Months Of Use . . .
So I'm a strong believer in coming back and reviewing products after extended use; first impressions may be amazing, but the product could suck after a week or two (cough cough P r o A c t i v ). In the interest of making this Mario Badescu Acne Starter Kit review as helpful as possible, I decided to update it after a few months.
What's the verdict?
I still absolutely love it.
I recently went to Cyprus and, as my kit was running out, ended up being product-less for most of the holiday. Now, this is 40 degree heat; sun cream, sweat and chlorine on my face. Did I break out?
Surprisingly not! A few small breakouts (although I went to Mauritius earlier this year and that wreaked absolute havoc on my skin, so I was expecting much much worse) but nothing a facemask couldn't fix.
This, to me, shows that the products have helped to improve my skin – but without that almost addiction and dependency my skin found with Clearasil products. I've repurchased the kit and started using it to clear my post-holiday-lazy-and-tired bad habit skin and, within a few days, Mario Badescu is working his magic again.
I hope you enjoyed this review – if you have oily skin, I cannot recommend this enough. Let me know your thoughts down below – also, would anyone be interested in a ProActiv review?
Peace,