What the fuck just happened?
I have just lost hours of my life to this weird, obscure little indie (is it indie? I don't know, it feels indie) TV show and I don't think I've ever been more confused in my life. Not even in my "am-i-gay-or-am-i-just-not-into-any-guys-i-know" stage.
How have I come to ship these two humans? Why don't I hate them anymore? And how do I somehow hate Alyssa more than a psycho-wannabe-serial killer? What even is this show?
I'm currently on episode 4 of "The End Of The F***ing World" and . . . it's official. This TV show needs a review. (And I need an excuse to finish bingeing it. So there we have it.)
Hello, internet friends – today, I'm going to be talking about Channel 4 (and it shows) series "The End Of The F***ing World".
Let me just- before we enter this review, there is something that has been bugging me.
While this has been marketed as a "Netflix Original", The End Of The F***ing World was actually made by Channel 4 (British, baby) and Netflix later bought the distribution rights.
I know it's a tiny point, but the tone of the whole show is so British – and, more specifically, so Channel 4 that I really think they deserve credit. Plus, it kind of gives you an idea the kind of humour you're looking at.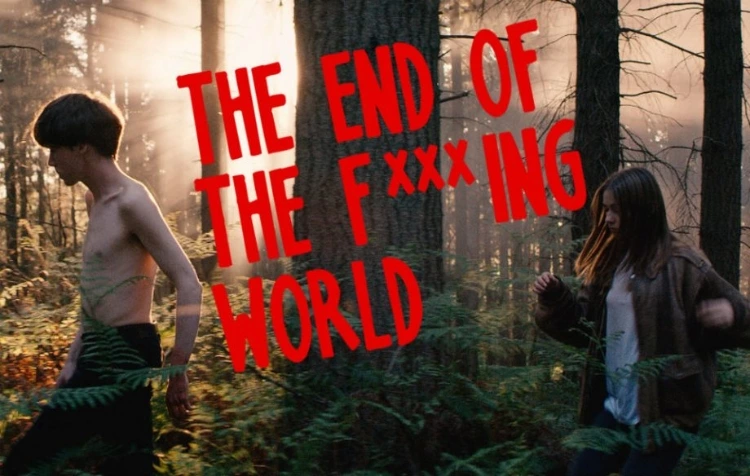 Now, I don't think it spoils the premise too much to explain what the show is about . . . mainly because the main character tells you himself about 5 seconds into said show.
17 year old James is a self-diagnosed psychopath and, as psychopaths do, he wants to kill someone. 17 year old Alyssa is your typical Teen Angst heroine . . . with an extra dash of British. (I'm sorry, but I got such strong "Skins" vibes from her and I loved it.) And fucked up. Mummy and daddy and step-daddy issues. I fucking hated her, she was entitled, kind-of-pretentious and the epitome of every kid we know with "issues at home" that acts out to make themselves look cool.
And it was so well done that I almost loved her.
I think a real highlight was "it's not shoplifting if it's from a chain; it only counts if it's from an independant store". No, darling, shop-lifting is shop-lifting.
Naturally, the two become . . . well, nobody really knows what the fuck they are (but I ship it). Basically, James wants to kill her, so he kind of just goes with whatever she says. And Alyssa is in her confusing-sex-for-love stage, wants to be loved and so wants James, but also just kind of craves chaos and wants to skip town. This leads to the roadtrip of a lifetime – and what happens on said roadtrip is the storyline of the series.
It's also completely fucking bizarre. This is a comic book adaptation and they had to take out the satanic cult (oh, how I have wished to write those words before) because it was just too much.
I don't want this review to be full of spoilers, because I would genuinely like for those that haven't seen it to watch it, so I'm just going to share some thoughts. Oh – and watch the trailer.
It's super weird; this black comedy, kind-of-a-massive-shit-show, bleak series that's really just rolling around in all the kind of shitty things humanity has to offer . . . is pretty endearing. It's kind of, dare I say, heart warming. It's definitely got that almost suspended reality feel Riverdale did that screams "comic book" – and I love it.
Somehow this story about a wannabe-serial killer and his intended victim becomes a weird kind of "coming-of-age" story. You watch these incredibly fucking weird characters evolve and reveal really sweet undercurrents . . . Just while the world around them is kind of going to hell in a hand-basket.
It's rather weird; these two characters you immediately hate soon become the best thing in thing in this world they're thrust into.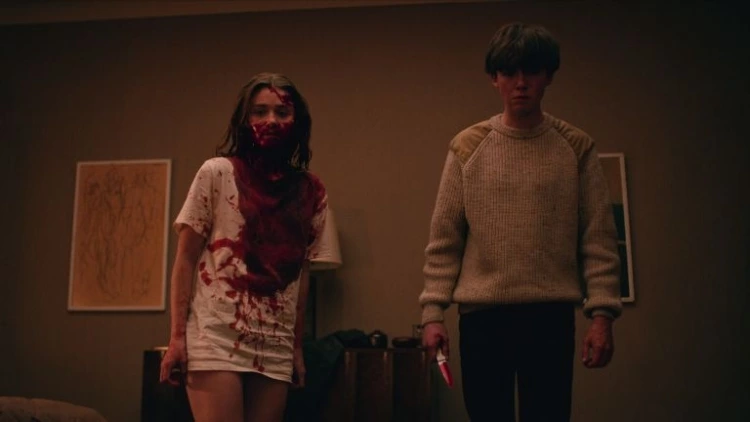 I will say this; the first episode is much darker than the overall show is. The show is actually quite funny in parts. It's by no means a laugh out loud comedy, but it really does earn the title of "black comedy". There are some absolutely gold moments between the two main characters' inner dialogues.
It's a really good blend of dark and light-hearted – again, I feel like there's a real sense of suspended reality. When dark things happen, it doesn't quite feel as dark as it would in another show. When completely unbelievable turns of bad luck happen, it's completely believeable. The detectives aren't quite realistic enough to feel like a serious show, for example, but they're not quite comical.
I know I've compared the two before, but I really can only compare it to Riverdale in this sense. If you've watched that, I'm sure you'll understand the kind of weird disconnect from reality I'm trying to explain.
A large bonus, in my opinion, is that each episode is only 20 minutes long – and within that twenty minutes is split into 2 parts. There's only one series, 8 episodes, so the pacing is fantastic. The storyline moves really quickly and bingeing it is . . . well, I mean does it even count as a binge?
Plus, as it is a Channel 4 show, you can watch the entire thing for free – and legally – at All4. Well, if you're in the UK. Otherwise, you'll be looking at Netflix.
Personally, while the ending was a little too open-ended for my taste, I kind of hope they don't renew it for Season 2. The comic book material has all been used, so they'd be developing their own story and I think it's such a strong series as a standalone that there's no need to undermine that.
For me, this is a solid 8/10. It's definitely one of the most unique things I've seen in a while and I genuinely really enjoyed it – which is pretty rare for TV as I tend to lose interest pretty quickly. If you haven't seen it, I would wholeheartedly recommend it. If you have seen it . . . can we talk about it in the comments? Please?
Does this show sound like your cup of tea? Would you watch it? Have you seen it – what did you think? Let me know your thoughts down below.
Peace,

Instagram // Twitter // Bloglovin' // Youtube