You know what we haven't had for a while? An OOTD.
I promise you that I have, in fact, been wearing clothes. I haven't suddenly decided to throw off the shackles of society and race freely into the loving arms of a nudist community. Although . . . You know, ideas.
Regardless – hey guys! How are you this fine day?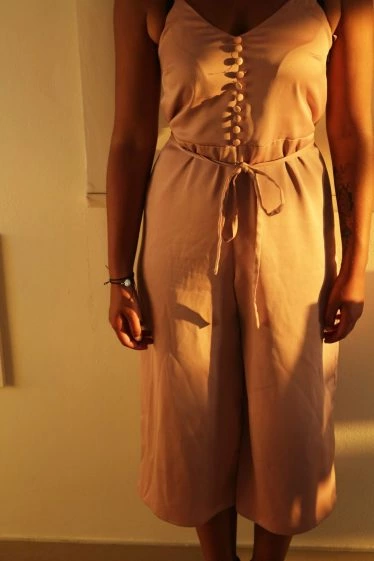 While I love a good OOTD, I must admit my outfit posts always seem to get shuffled to the back of the queue. You know? They're just never quite as helpful or urgent as other posts. However, I realised that the OOTD section of my blog was looking very malnourished and if I never post about pretty clothes I suppose I start to lose my excuse for buying pretty clothes. ("No, Mum, I'm not a hoarder – I'm a blogger!")
So today I decided to bring you the first installment in a series of posts that I predict will become more popular over the coming months. Ideas on what to wear to the airport! Because I seem to find myself there pretty often. It's got to a point where I'm pretty sure I actively recognise some of the Gatwick staff. Hey – I'm not complaining!
Every time I go to the airport I'm always guilty of taking a cheeky glimpse at what other people are wearing. I used to be a strict trackies and leggings person (come winter I definitely will be) but after my most recent travels I realised how restrictive that travel outfit can be.
Especially if you're travelling somewhere warm, wearing something suited to British weather means that you'll need to stop and change before you can leave. As we discovered in my one-day accidental trip to Valencia, sometimes things don't go to plan – so who wants to be stuck in tracksuit bottoms in 34 degree heat?
For the warmer summer months (and those lovely hot locations) my go-to outfit this summer has been this pretty River Island jumpsuit. I managed to scoop this up in the River Island sale for £20 and it's quickly become a staple in my wardrobe. Comfy, casual and a nude colour (I love my bold colours, it's true, but nudes are also a big yes from me) – this has been the perfect "chuck it on and go" for the summer months.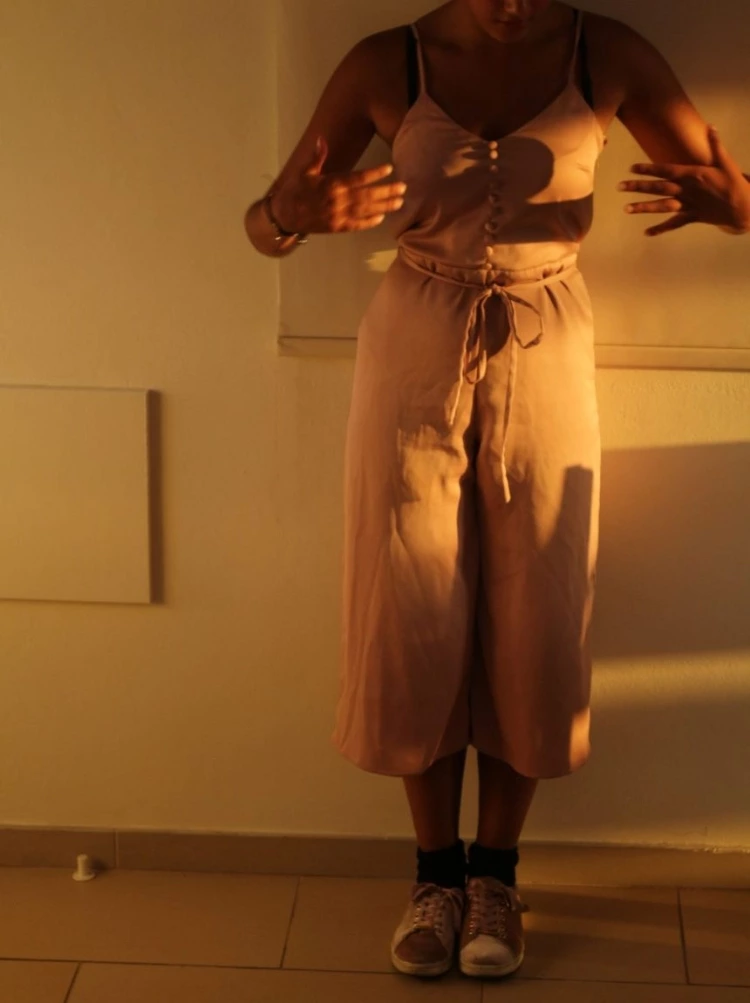 I think being comfortable is probably the most important thing to consider when picking an airport outfit – so something loose fitting like this jumpsuit is perfect. And when you hop off the plane on the other side you don't immediately need to change, which is always a bonus. So a nice jumpsuit is always a strong recommendation for something to wear on the plane from me.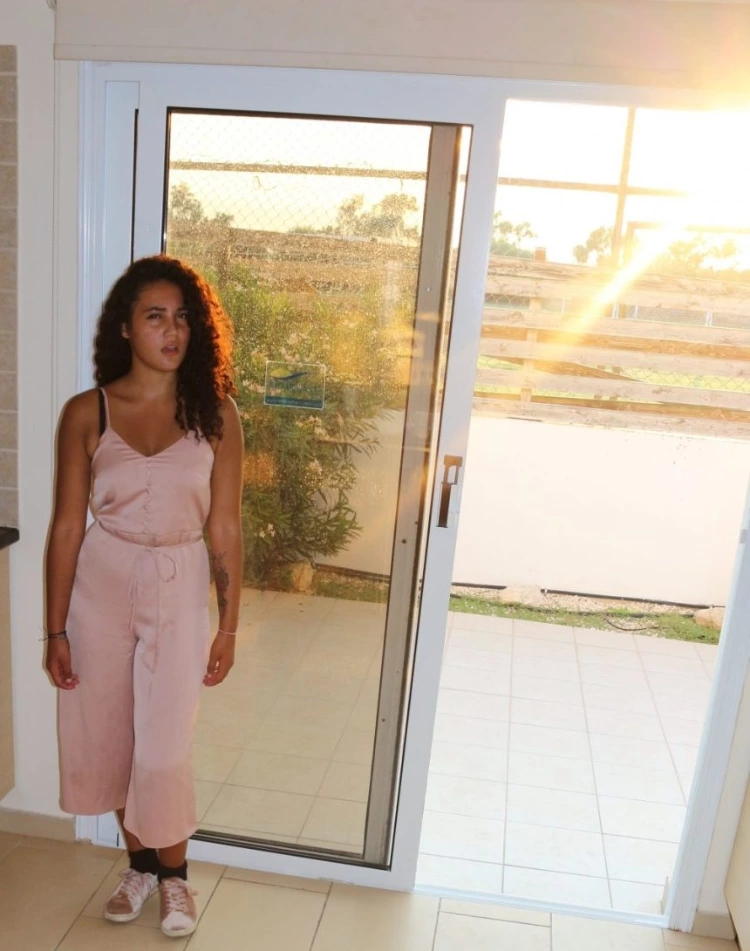 Admittedly not the best photo of me, but you can see two things: the gorgeous satiny material of the jumpsuit and my tan! I've just returned from Cyprus – and I've just booked Amsterdam! Like, literally ten minutes ago. I'm insanely excited for that – if anyone has any good recommendations of things to do in Amsterdam, I'd love to hear them.
Right, sorry – back to the point of the post: airport outfit ideas.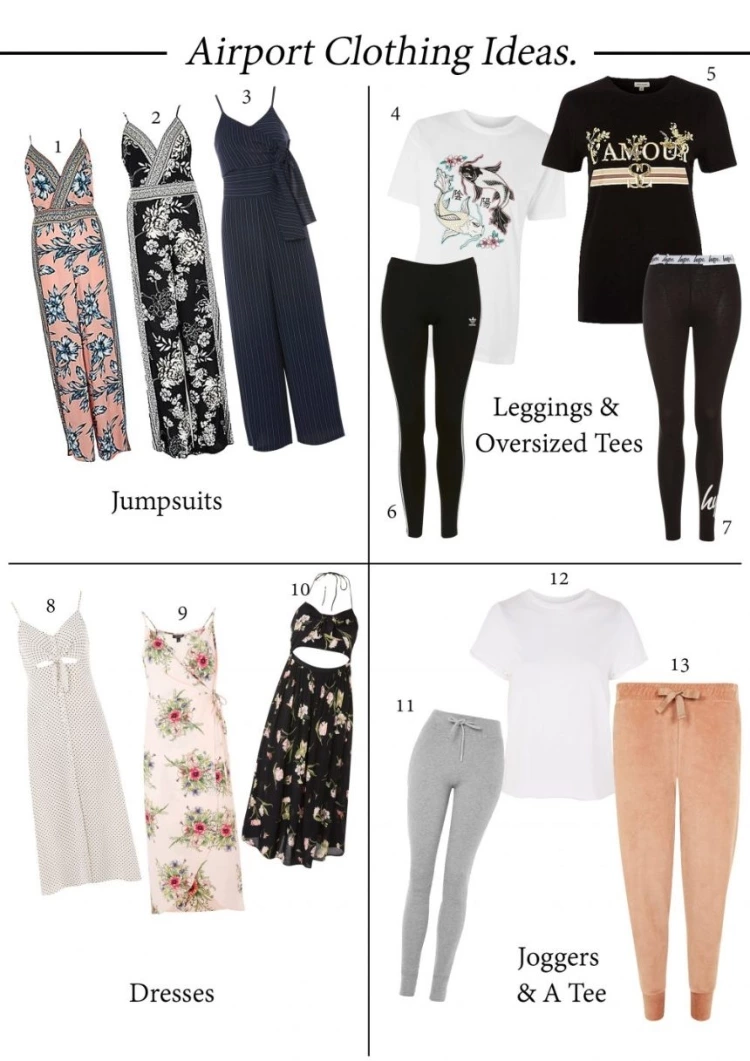 1 – River Island Jumpsuit – £32 // 2 – River Island Jumpsuit – £32 // 3 – Topshop Jumpsuit – £59 // 4 – Topshop Koi Fish Tee – £26 // 5 – River Island L'Amour Tee – £22 // 6 – Adidas Leggings – £26 // 7 – Hype Leggings – £25 // 8 – Topshop Dotted Dress – £39 // 9 – Floral Wrap Dress – £39 // 10 – Halter Neck Black Topshop Dress – £49 // 11 – Topshop Grey Leggings – £40 // 12 – White T-Shirt – £10 // 13 – Velvet Jogging Bottoms – £30
Okay, kids – this was just a quick little OOTD for you! What are your go-to airport outfits? Do you go for style or comfort – or a mixture of the two? Did you like the jumpsuit? Let me know your thoughts below!
Peace,