A curated selection of 10 of the best self-care planners that will help you prioritize your mental wellbeing. Affiliate links in post.
Hello, beautiful people, and welcome back to my corner of the web! I hope you are all feeling fabulous today - but don't fret if you're not. I've got just the thing!
Your girl went back to work after an all-too-short week off and... someone throw me a face mask pronto. I need to detox all the customer service rage.
Top Self Care Planners to Change Your Life by Editors
However (aside from the general aura of not having to deal with customers) one of the largest benefits of my week off in lockdown was having tons of self-care time.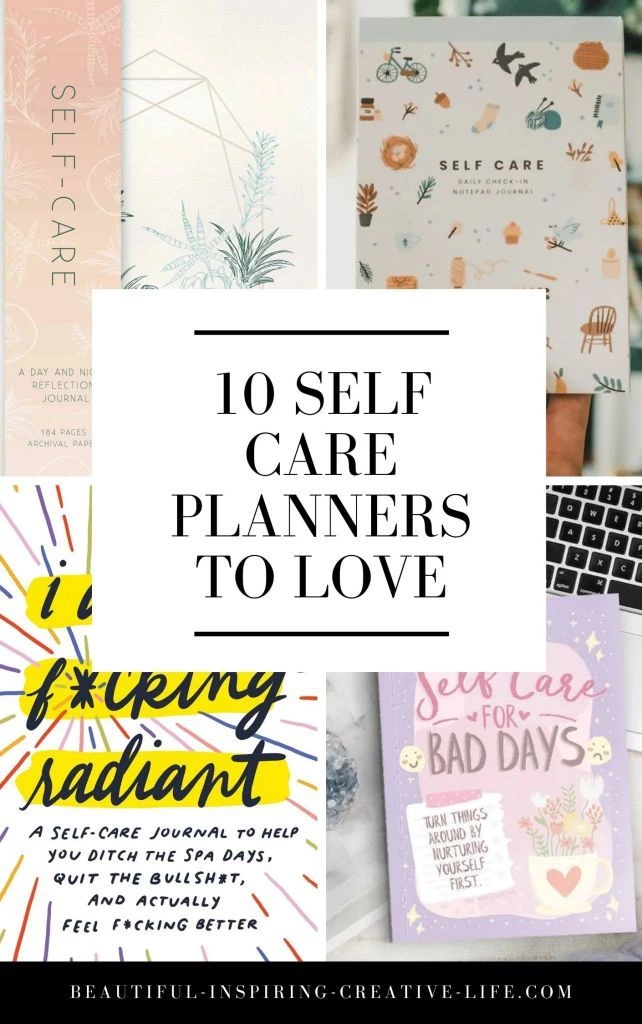 I tidied the house, did facemasks, soaked up the sun in our garden, and even did some crafting! All the good ingredients for a self care day.
Post-holiday I wanted to find some way to bring more self care into my everyday life. And can you guys think of a better way than a planner? I think not. So today I'm going to share 10 of the best ones I found!
My Own Bullet Journal Video
Benefits of a Self Care Planner
"I don't have time for self-care". How often do you hear people say this? I'm sure most of us would answer 'too often'. We all know it's important to take care of ourselves, but when we're in the whirlwind of life it can be difficult to make that a priority.
It doesn't have to be, though! With the right tools and a little bit of creativity, self-care can be fun and easy. In fact, it can even become a habit that you look forward to.
If you're ready to start making time for yourself again, I have just the thing: A Self Care Planner! Your planner is full of exercises designed to energize you, get you feeling good about yourself, and help you to take care of your physical, emotional, mental, spiritual, professional, creative and social needs.
Top 10 Best Self Care Planners To Change Your Life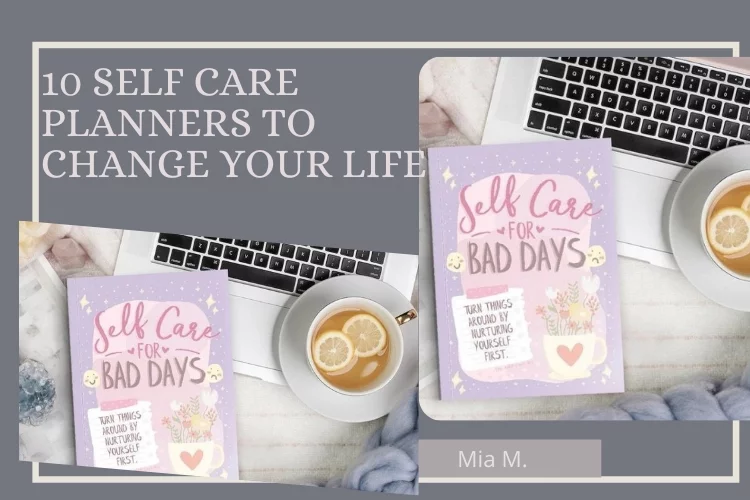 1. I Am F*cking Radiant - Link
Our first journal choice has it all - a bit of sass, gorgeous illustrations, and helpful guided prompts. If you're someone that finds self-care a little surface level at times, this journal is perfect for cutting out the face masks and dipping straight into the deep questions.
(Plus, I'm a big fan of the bright and quirky artwork style!)
2. Self Care Day And Night Reflections Journal - Link
I love our next self care planner because it's got space for daily check-ins - but it doesn't take an hour to complete. Could you easily set aside five minutes before bed or when you wake up? Perfect - that's all you need!
Personally, I think this self-care planner is perfect for keeping out on your desk. Then you can slowly tick things off as you work!
3. Ultimate Self Care Life Planner - Link
The image of our next journal honestly doesn't do it justice. This is something you want to check the listing out for - because it isn't just a self care planner, it's a one-stop shop for everything.
Covering a variety of wellness topics such as fitness, meals and gratitude, (not to mention normal everyday life planning!) this journal is perfect for those ready to master their self care routine.
Do you love using a gratitude journal to keep on top of your mental health goals? Me too! Try DIY-ing a boho habit tracker so you can have a visual reminder to be grateful!
4. Super Cute Positivity Workbook - Link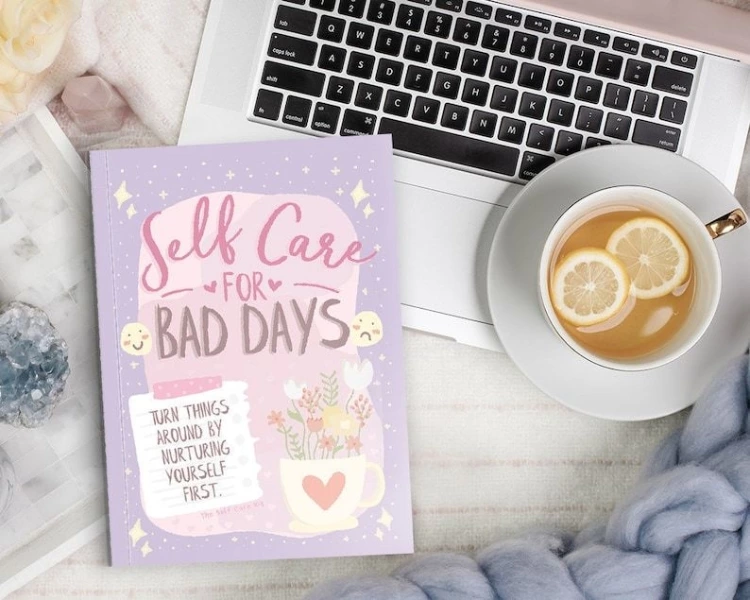 How cute is the illustration style of this workbook? I'm obsessed. If you sometimes need a helping hand to prioritize yourself, this is such a warm and happy reminder.
(Plus, it's another Etsy pick so you'd be supporting a small business. We love to see it!)
Personally, I think the cosiness of this journal pairs very well with my
If you're looking for some self care activities, I cannot recommend making these crafts highly enough. Not only is the process relaxing, but each project is designed to relax you as you use it. (My personal favourite is the mindful colouring book!)
5. Self Care Journal With 365 Prompts - Link
Our next self care planner has got prompts for the next year of your life to keep you on track! I love how deep-diving and varied the journal prompts are too - it means you explore far more of your wellness than what's on surface level.
ENJOYING THIS POST? HERE ARE SOME OTHERS YOU'LL LOVE:
6. Self Love Young Adults Journal - Link
Option 6 is one I love because it's targeted at young adults. Being a young adult is such a weird stage of life - you kind of expect yourself to function properly, but don't quite know how.
I love that this self-care planner challenges that tricky part of life - and has prompts and practices that you can adopt to improve!
7. Self Love For Women Workbook - Link
Another winning option - with a super funky cover!
If you're going to utilise a planner, you're probably going to need stickers. (Okay, need might be a strong word... but who doesn't love stickers?) Check out my favourite Etsy store for cheap and adorable stickers here!
Don't worry, though - for those of you who don't want a separate read, here are some adorable self care sticker sets. These would be perfect for whatever planner you choose!
8. Daily Self Care To Do Journal - Link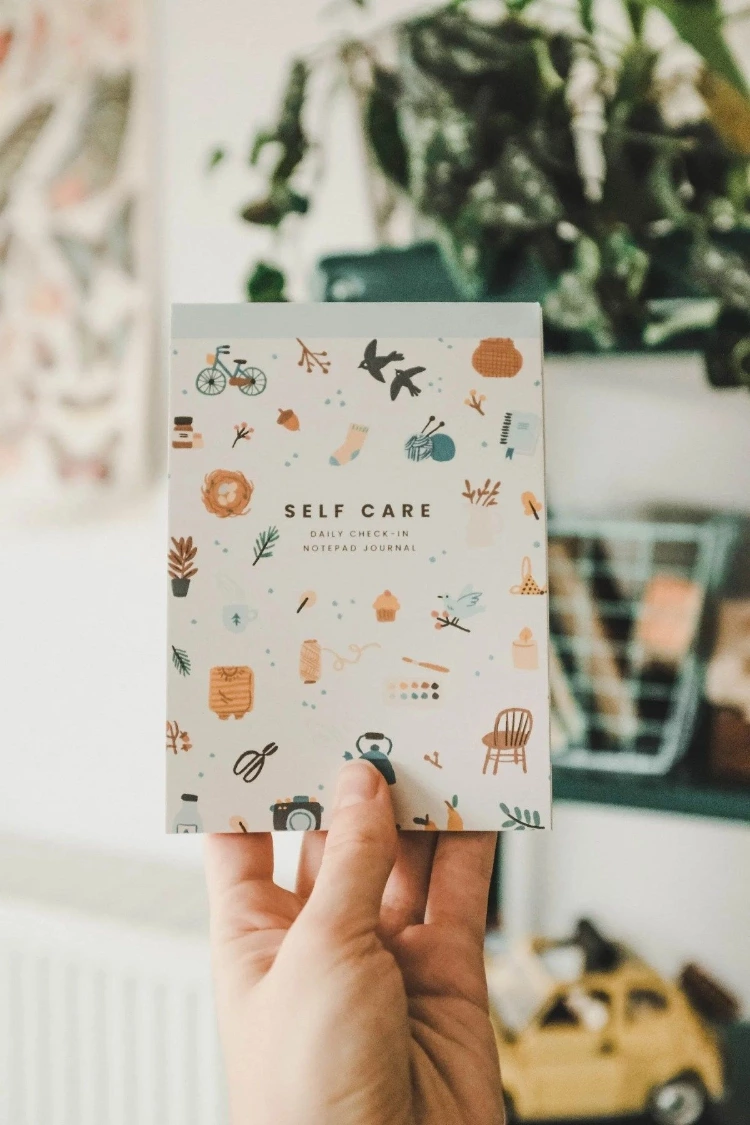 This daily notepad journal is all my favourite things: practical, adorable and from a small business! If you realistically aren't going to dedicate time daily or weekly to sit down and write, this could be the perfect option for you.
(Plus, it's super cheap - which we love!)
In the same vein, here some fun weekly planners you can pop on your desk. This can be a fabulous option if you know you might not be motivated enough to open up a journal daily.
Desk planning pads are also super cute - which is always a bonus! My favourite has to be the daily agenda with a water intake tracker. That's such a useful feature!
9. Digital Self Care Journal - Link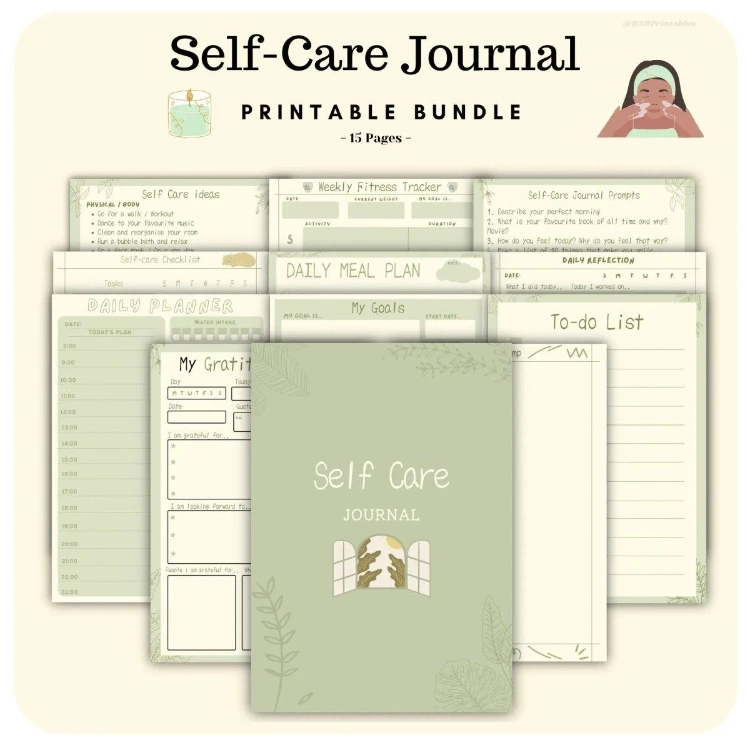 Our penultimate option is actually a printable self care planner! So if you prefer to work digitally, definitely check it out. (Plus, there's a definite price advantage for going digital - digital files are always a decent chunk cheaper!)
10. A Year Of Self Care: Daily Practices For Caring For Yourself - Link
And our last option is perfect for those that are ready to seize their self-care journey by the horns and commit. It's full of daily motivation to cover an entire year. Plus, the cover is so bright and colourful that my mood is lifted just looking at it!
How to Choose the Best Self Care Planner
Self care planners are an important part of your life and mental health. They help you plan out your days so that you can focus on enjoying life and doing things for yourself, as well as attending to tasks and errands. It isn't always easy to figure out whether a planner is best for you, as there are tons of different types and many unique considerations to make. Here, we'll go over some useful advice and tips on how to choose the best self care planner for your needs.
First and foremost, consider what type of planner you want and need: a physical or digital one? Even if you've decided on a specific planner, continue reading to determine what makes it the best one for you.
Physical or Digital?
Self care planners can come in many forms, from physical journals and diaries to digital planners on your computer or phone. No matter which one you want, there are a number of factors that make each a perfect choice for some people but not others.
Physical Planners
Physical planners require you to go out and buy a pen and notebook, which makes the initial investment greater than with a digital one. However, many people prefer writing things down instead of typing them in - for some, this is just a personal preference while others prefer it due to specific reasons or disabilities. Furthermore, physical planners can easily be carried around with you, allowing you to write down goals and thoughts at any time.
Digital Planners
On the other hand, digital planners are easy to access no matter where you are or what device you have on hand. Digital files can be organized in a variety of ways for quick access, which is incredibly helpful if you're always running late or need reminders for upcoming events. Digital planners are also easy to share with others, or can be accessed by multiple users for some team planning. Finally, it's much cheaper to buy a digital planner than a physical one - some apps are even free!
Identify Your Needs
Once you've decided on the type of self care planner that works best with your needs, consider what else will make it perfect for you. Think about what is most important to you - perhaps making lists is more helpful than planning ahead, or you need a lot of space to take notes or write down your thoughts.
Figure Out What You Want and Need
There are many other factors to consider as well. Do you want a planner that can help you with habits, such as exercising? Make sure to look for this feature in the planners that interest you the most. Do you want a planner with an inspiring design? Does it need to be waterproof or have stickers that can be moved around? Would you prefer one that has more space for writing things down, or more lists and areas for checking off completed tasks?
Reflect on Your Goals
Perhaps the most important thing to do before purchasing your planner is reflecting on what you want to get out of it. Do you want a planner that will help you organize all of your tasks on a weekly basis, or one that will motivate you and make you feel better? Is filling up the entire page with lists more important than keeping track of certain days' events? Once you've answered these questions, purchasing an already prepared planner becomes much easier.
Physical vs Digital Planners: Which is Best?
The best self care planner is the one that works best for you and your needs. In most cases, a mix of both is helpful in achieving your goals ̶ you can write down bigger plans and inspiration in your physical planner while recording more immediate thoughts and task lists on your digital one. Using both can also help you get through tough times since the act of writing things down helps you to reflect and process what's going on in your life.
However, there are some deciding factors to consider when choosing between physical and digital planners. For example, if you have trouble seeing or using a computer then a digital planner would be difficult for you to use. On the other hand, visual prompts can help those who have trouble writing or holding pens/pencils steady - so if you have arthritis or similar issues, a physical planner might be best for you.
Buy on Walmart, eBay, or Etsy
The Self-Care Planner by Simple Self - Best Daily Life Planner for Wellness, Achieving - Etsy, eBay
Work-Life Balance Planning Pad - Best Weekly to Do Pad for Productivity, Wellness, Self - Etsy, eBay
Erin Condren Petite Planner Self Care Journal, Mood Log, Sleep Log, Daily Intentional - Etsy, eBay
Clever Fox Planner Premium Edition - Undated Luxurious Weekly & Monthly Planner to - Etsy, eBay
Self-Care: A Day and Night Reflection Journal (90 Days) (Inner World) - Etsy, eBay
The Self-Care Planner: A Weekly Guide to Prioritize You - Etsy, eBay
My Perfectly Imperfect Life Wall Calendar 2021: A Year of Letting Go - Etsy, eBay
No Worries: A Guided Journal to Help You Calm Anxiety, Relieve Stress, and Practice - Etsy, eBay
Conclusion for Self Care Planner Buyers
If you don't want to go out and purchase a whole separate planner, there are some fun other suggestions I have for you!
Create a self care themed spread in your bullet journal!
Alright, my loves, we shall end at the end. I hope you enjoyed this roundup of self care planners. Would you use any of these yourself? Which was your favourite? Let me know your thoughts down below!
Peace,

Instagram // Twitter // Bloglovin'// Youtube // Pinterest // TikTok