The holy trifecta of clothing (sustainable, comfortable and stylish) can sometimes seem impossible to find. It's hard to be lazy, fashion conscious and care about the planet all at the same time! Well. I'm here to make it a little easier. Here are 12 stylish and sustainable loungewear sets that you can rock round the house . . . or to drinks with your friends!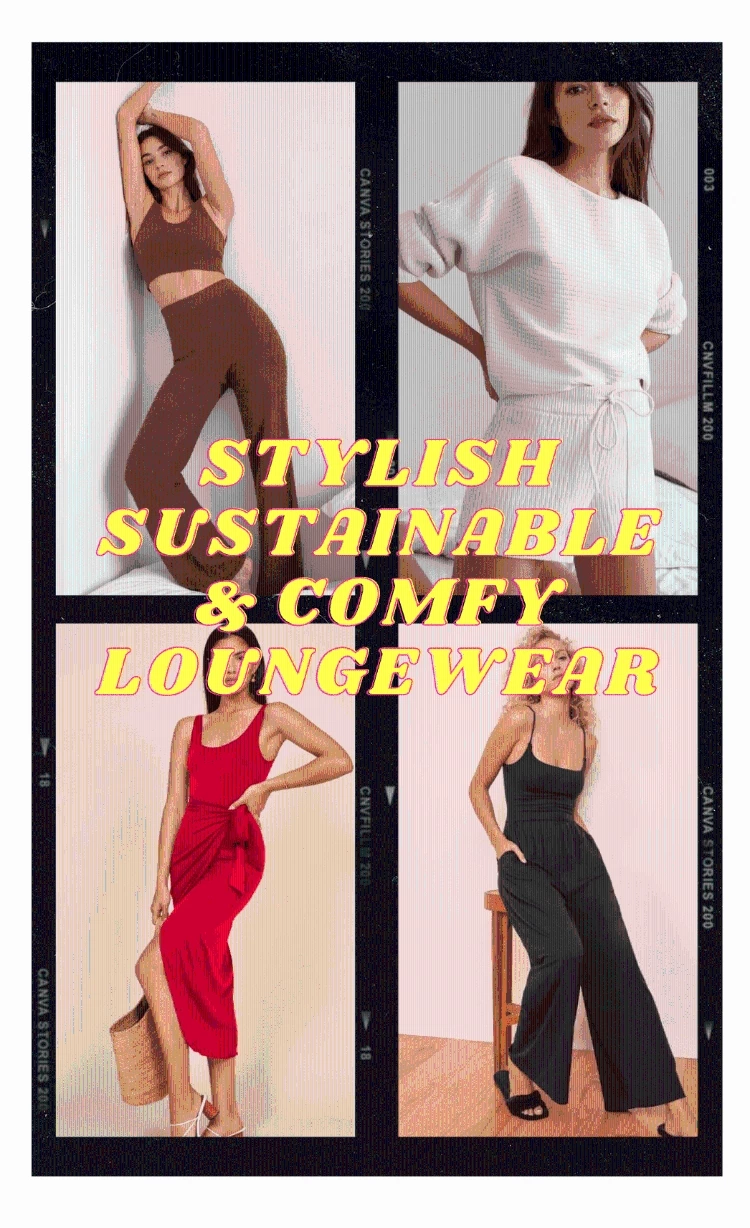 Hello, friends, and welcome back to my corner of the web! Today, we're going to be tackling a somewhat rare topic on this blog nowadays: fashion. Ah, pretty clothes – how I used to love them. Outfit of the day posts were a common occurrence once upon a time!
I think we can all agree that, post COVID, loungewear has become an integral part of any wardrobe. (Dare I say . . . a majority of any wardrobe. I can't remember the last time I wore heels!)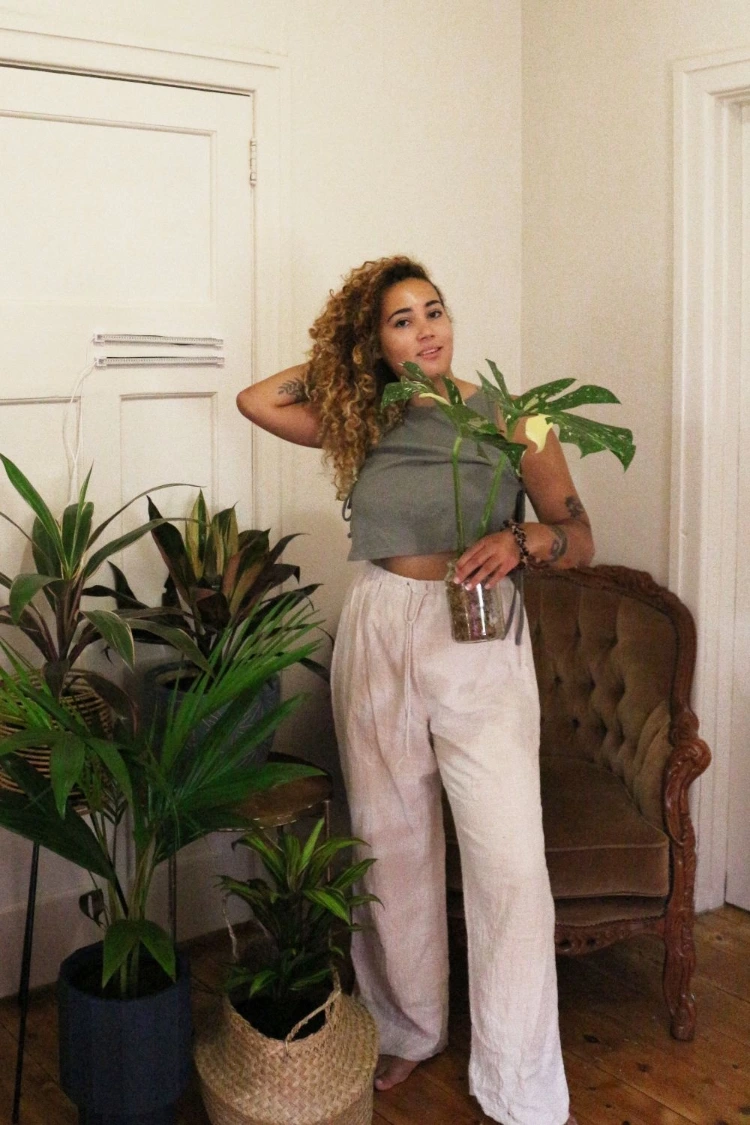 The benefit of this, though? We all have the perfect excuse to splurge on high-quality, long lasting and sustainable pieces. The idea of spending $100 on clothes to wear around the house was unfathomable a few years ago. But now? Well, I know the clothes will get their wear – indoors and outdoors.
(Plus, I've been educated by tons of fantastic documentaries and blog posts about the true cost of clothing and why we should be paying more for our clothes.)
SHOP THIS POST
This relaxed outfit is typical of the kind of thing I wear day to day. It's comfortable, simple . . . but doesn't look like a ratty t-shirt and holey leggings. (Although, look, a girl needs her hangover outfit essentials.)
Personally, I work from home 4/5 days of the week and getting dressed properly makes me feel like a fully functioning human. However, I also refuse to wear something uncomfortable to sit at my desk and get moaned at by customers all day.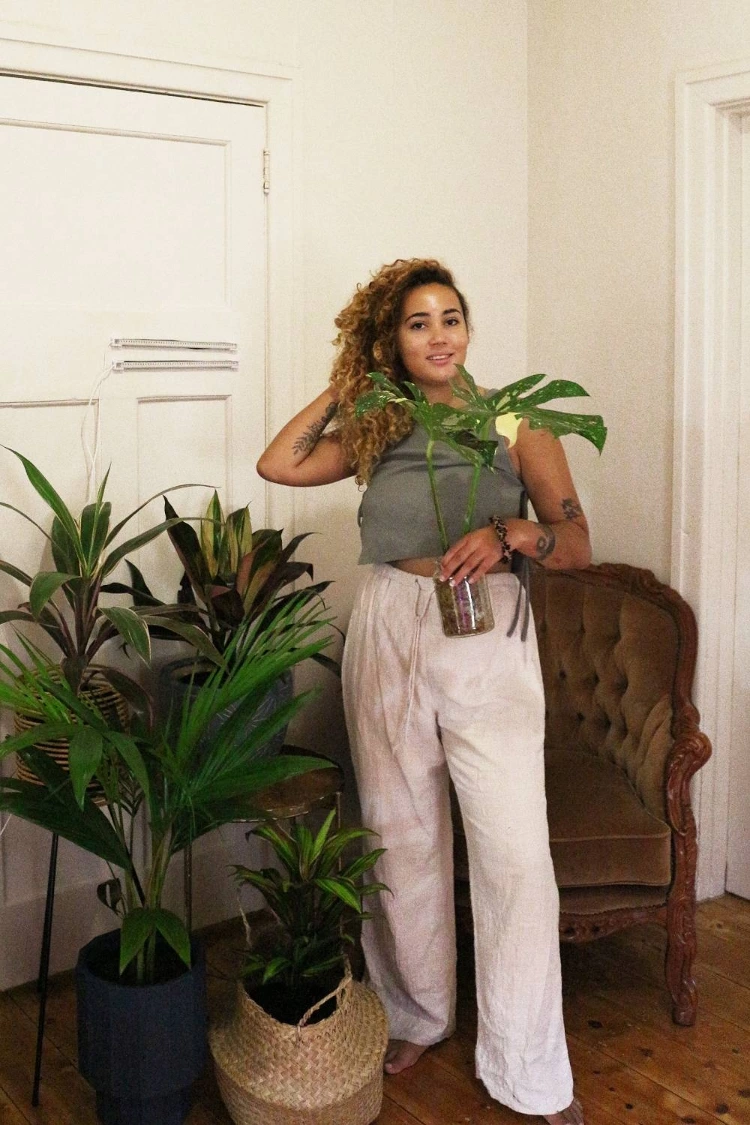 CURIOUS ABOUT MY WORK FROM HOME SET UP? CHECK OUT MY HOME OFFICE:
In the spirit of finding some new fashion items to lust over, I decided to take you guys shopping with me and share 8 of the cutest sustainable loungewear sets I'm loving. Let's get to it!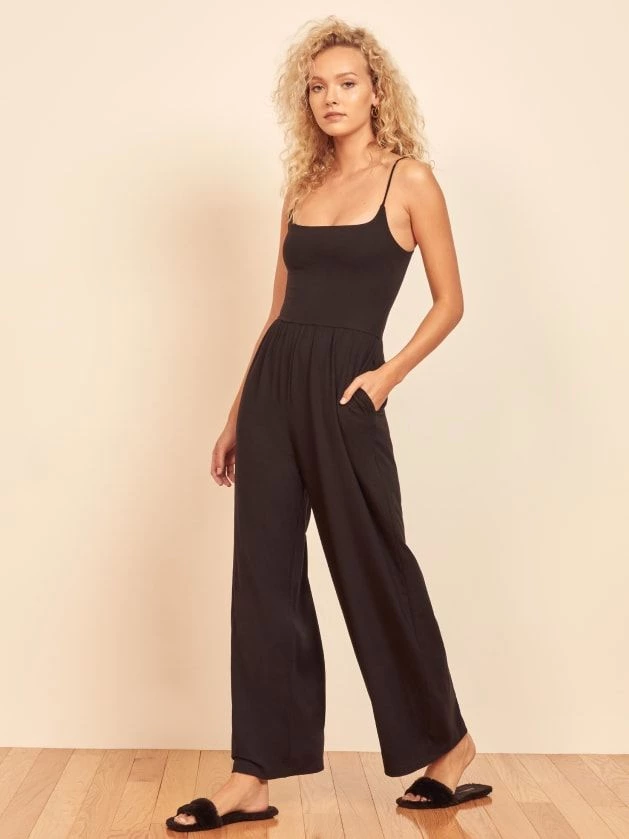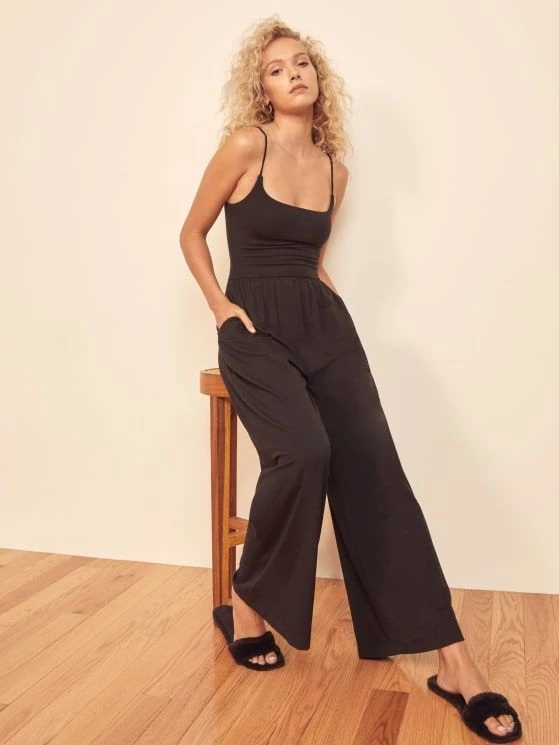 First up has to be the Chandler Jumpsuit from Reformation. I know it's not technically a set . . . but it's an all in one, so it's even cheaper! (And less effort to put on for my fellow lazy ladies.)
I love how flattering the cut of this is, while still not being too restrictive. It's definitely an item you could lounge on the sofa in – or dress up with jewellery and heels for a dinner date!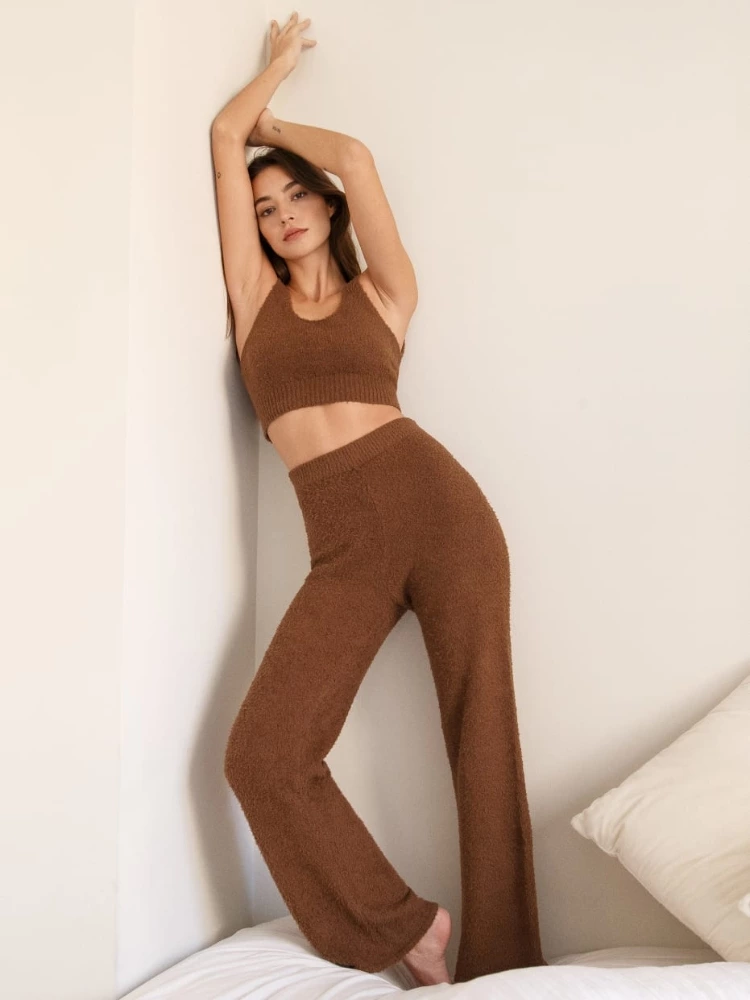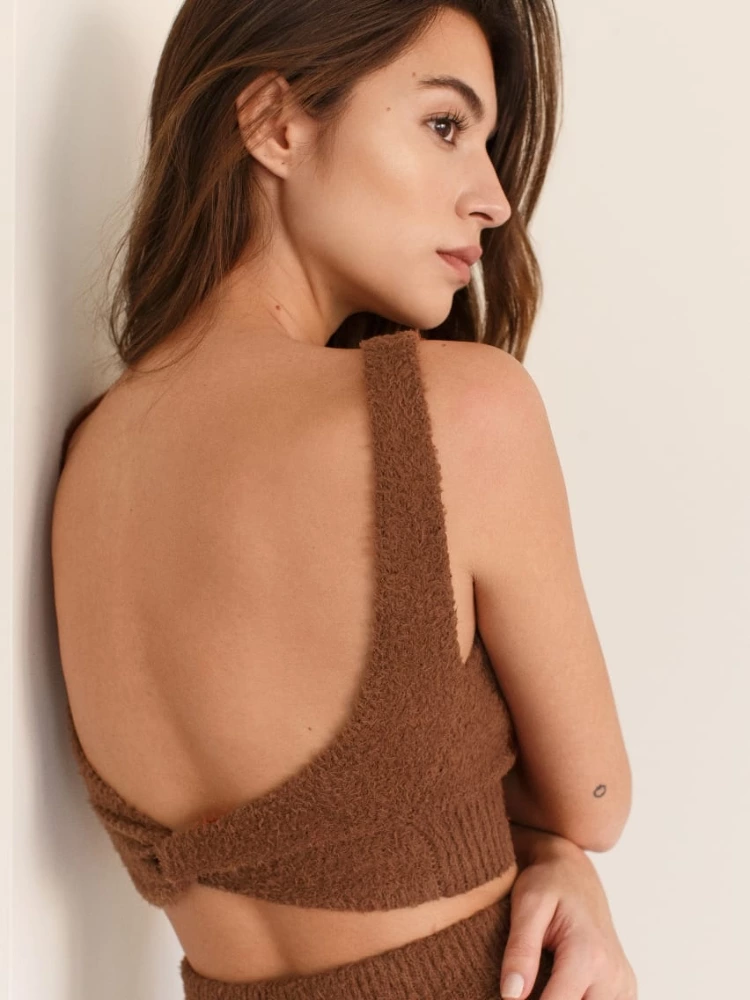 The Isle two-piece set is all my bohemian dreams rolled into one cosy set! The brown colour? To die for. The super flattering, but still really comfortable, style? Hell yes. And the soft material? Take my money! Please!
Reformation is one of my favourite fashion brands because of their carbon neutral production practices. You can also find 100% organic cotton clothing – bonus points because their range of ethical clothing is equally comfy and cute!
3 – Cort Short Set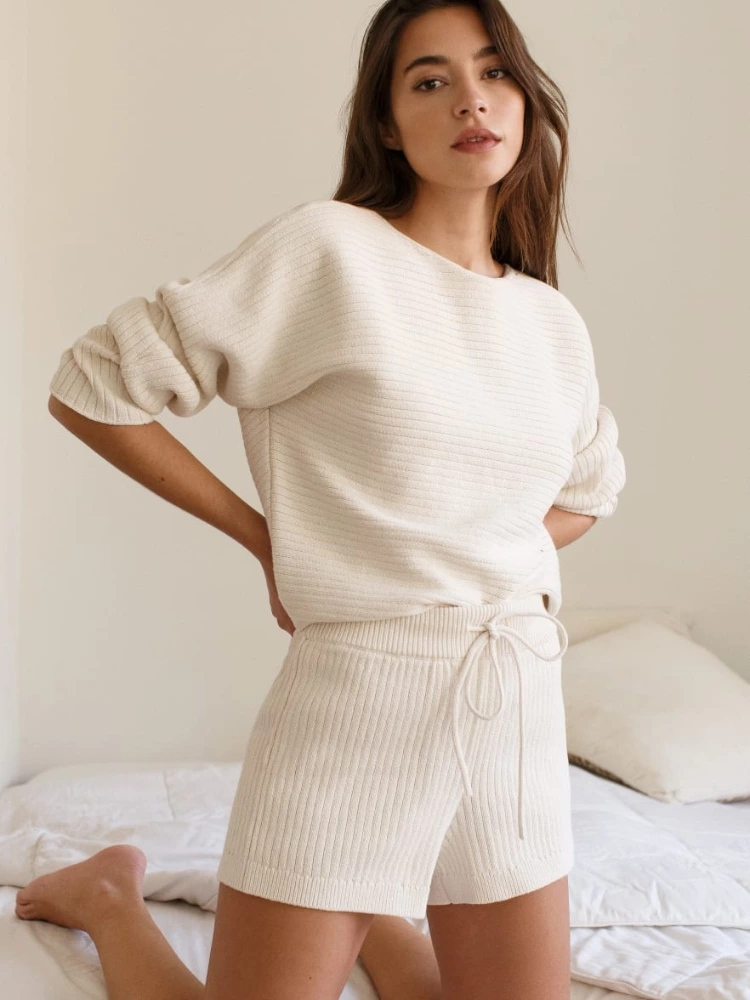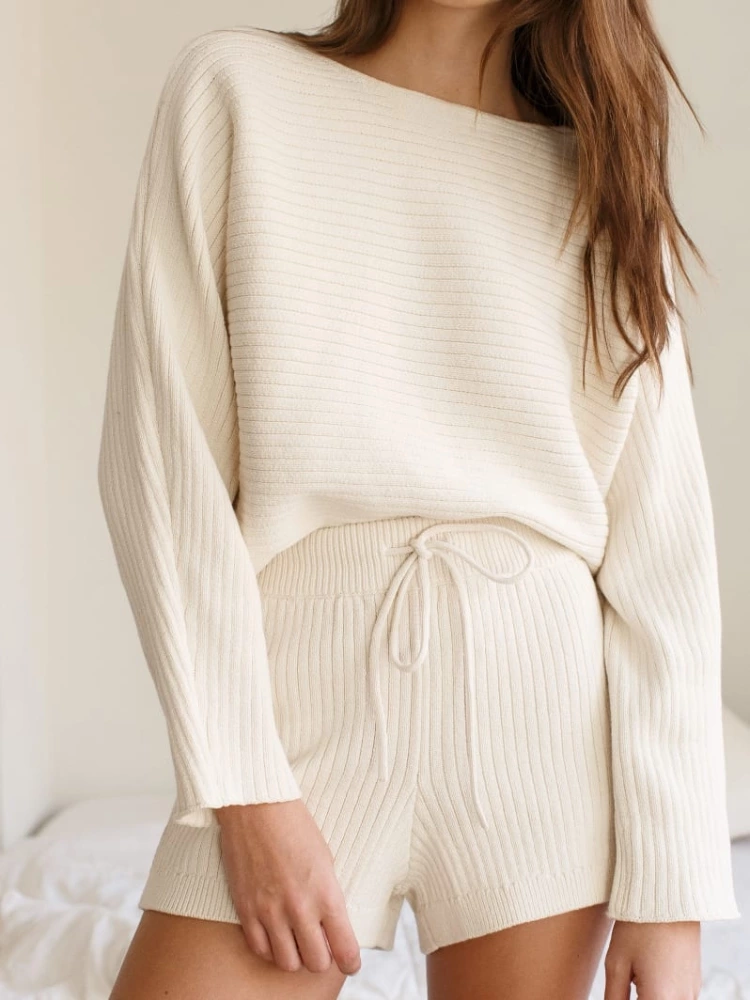 This simple and chic knit set is a perfect piece for the transition months. I know most of my readers are heading into spring at the moment – we're currently heading into autumn in Australia! This loungewear is the perfect amount of warm for days that have a bit of a bite to them . . . but a bit of midday sun too!
ENJOYING THIS POST? WHY NOT CHECK OUT THESE SIMILAR ONES . . .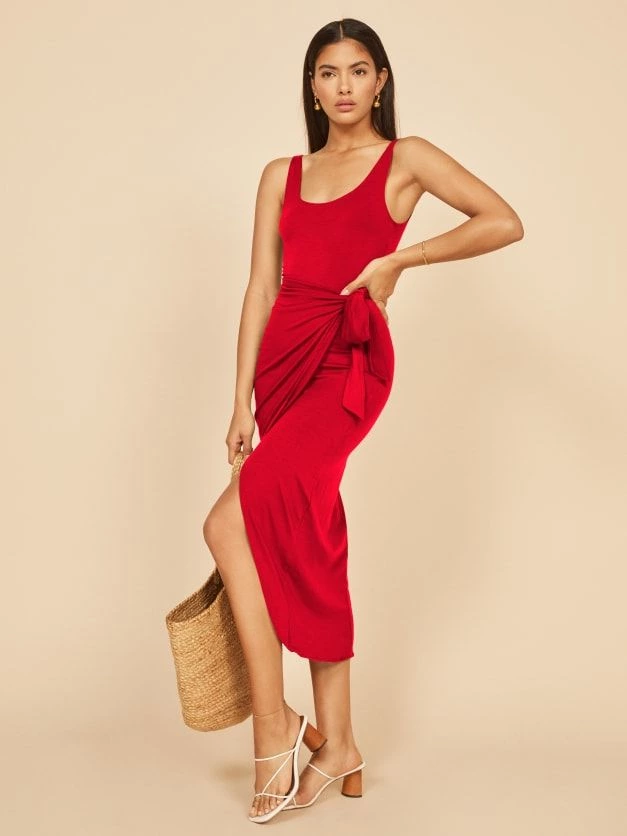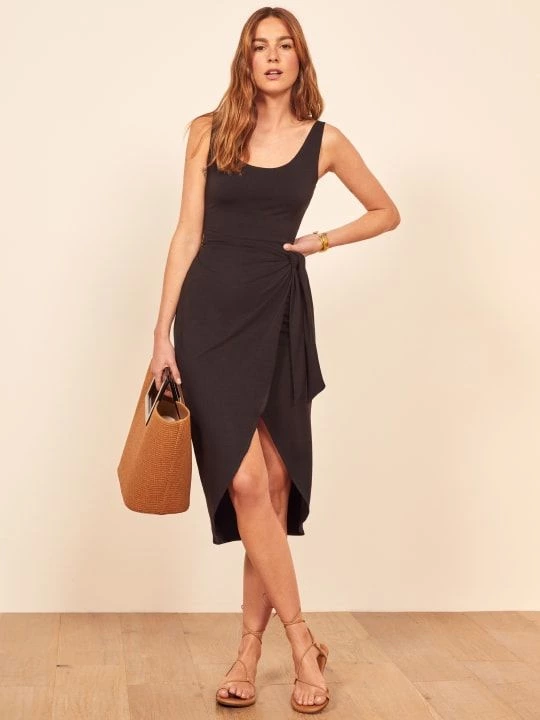 Now, this a loungewear outfit you can take from the sofa to sipping cocktails with the girls! The tie detailing on this dress is perfect for making it a little fancy . . . but the stretchy jersey material is the height of comfort!
This set is so cute – and the material looks so soft! I'd definitely put this as more of a summer outfit, but with some chunky trainers and a bucket hat it's a look.
Want some comfy stay-at-home outfit ideas? Have a watch of my Youtube video! It's old (and I would like to think I'm better at filming and editing by now) so make sure to subscribe and check out my newer content.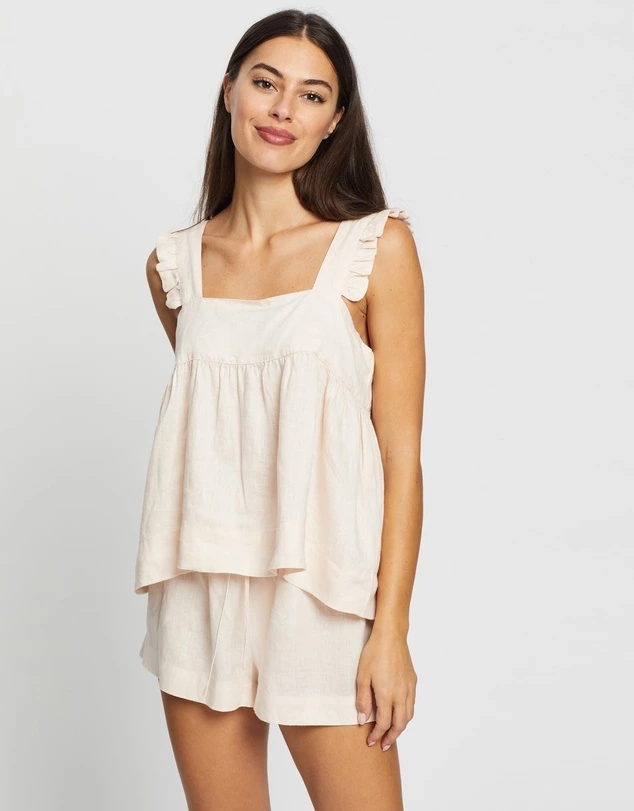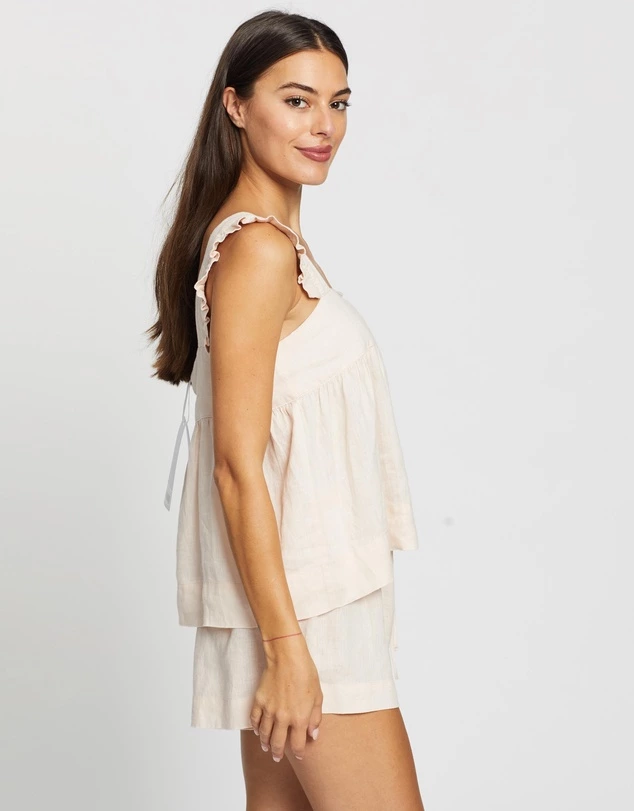 I love that romantic, feminine style that's been floating around the past few years. You know the one – Reformation basically embodies it! This cami set fits into that theme perfectly. (While being a fraction of the price of Reformation. Thank the lord!)
I'm not usually one for navy, but this set is absolutely bomb! Linen is always a fabric that looks effortlessly classy – pair this with sandals and a straw hat and you've got a perfect summer holiday outfit.
8 . . . My Favourite Place For Sustainable Loungewear: SaboSkirt!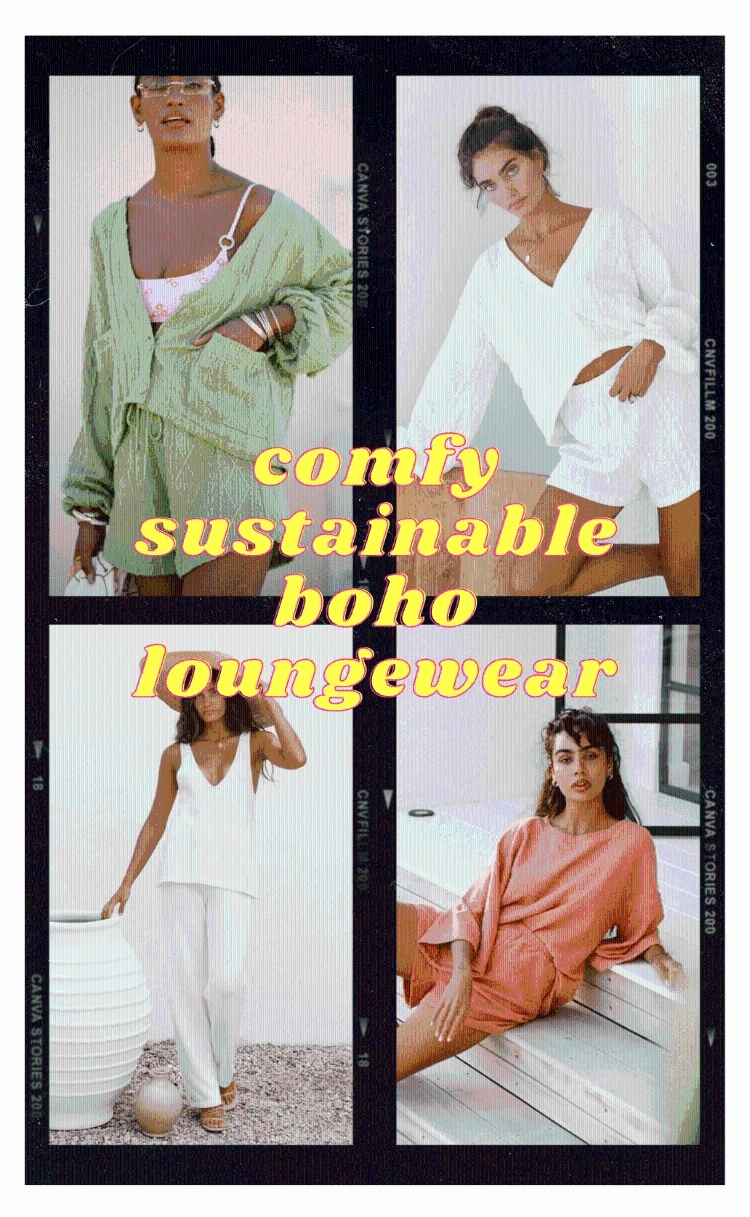 Green Knit Set // White Knit Shorts & Cardigan Set // White Knit Tunic Set // Rust Towelling Set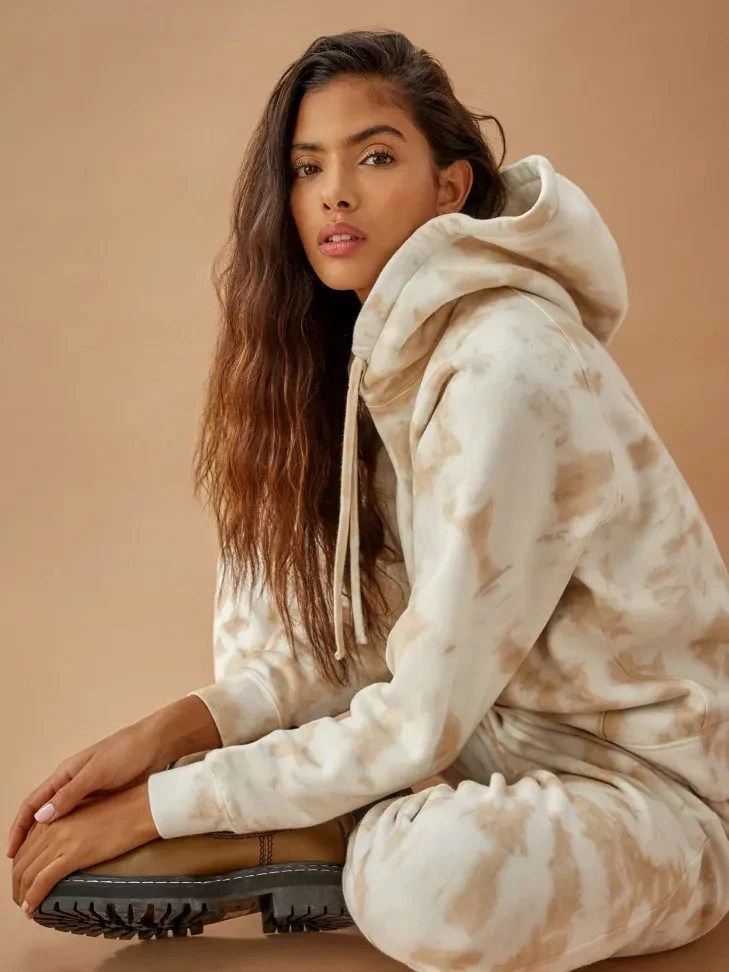 I've said it about a million times in this post, but Reformation is one of the best loungewear brands for style and comfort. (Albeit not necessarily price. Cheap lounge clothes they are not.)
I love how trendy (and cosy!) this sweat pant set is. It's cute enough to not feel like a total bum and loose enough to feel like pyjamas.
10 – Affordable Ethical Loungewear – Tamga Designs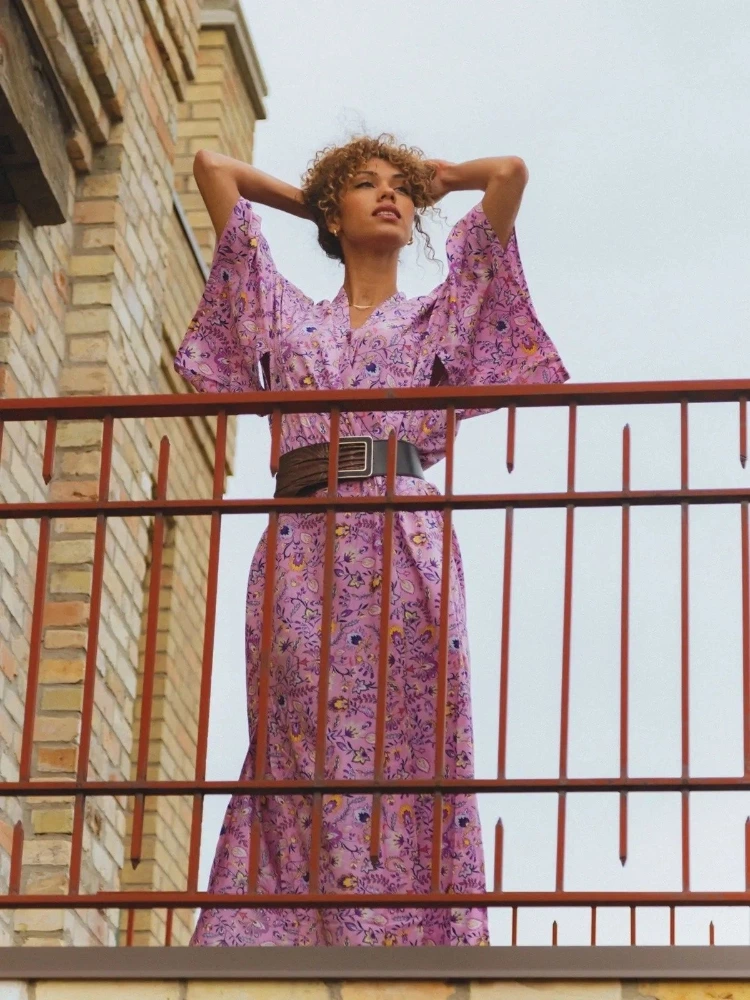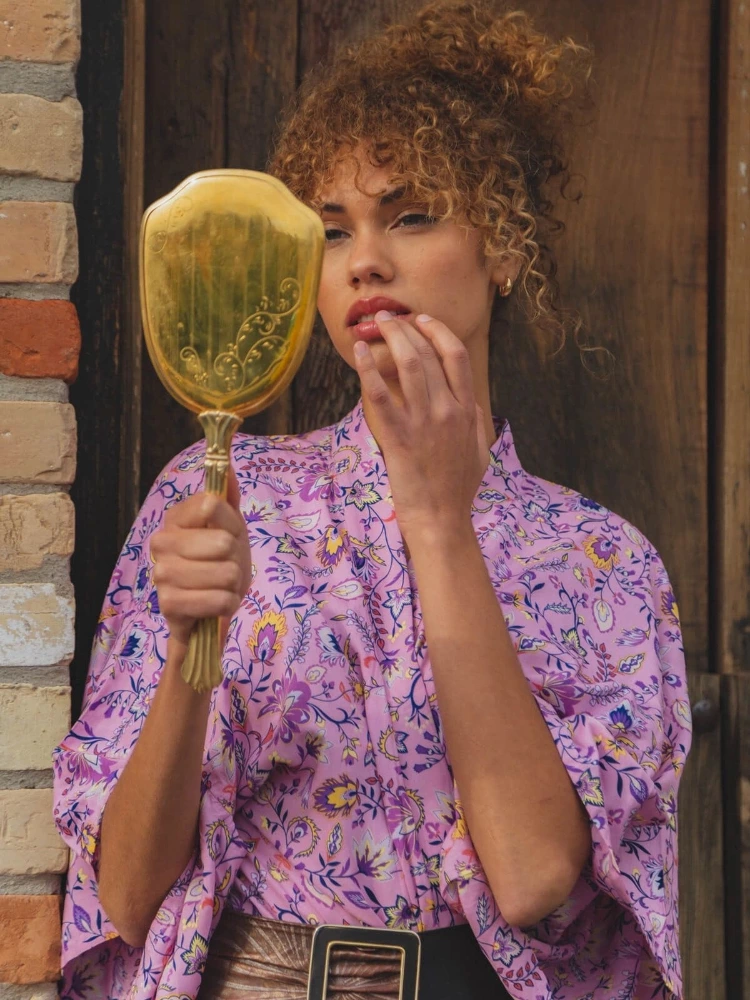 So I stumbled across this amazing Canadian brand called Tamga Designs. They produce the most colourful and floaty bohemian designs – plus the price point isn't too steep. I'm in love with this lightweight comfy kimono. So stylish and chic!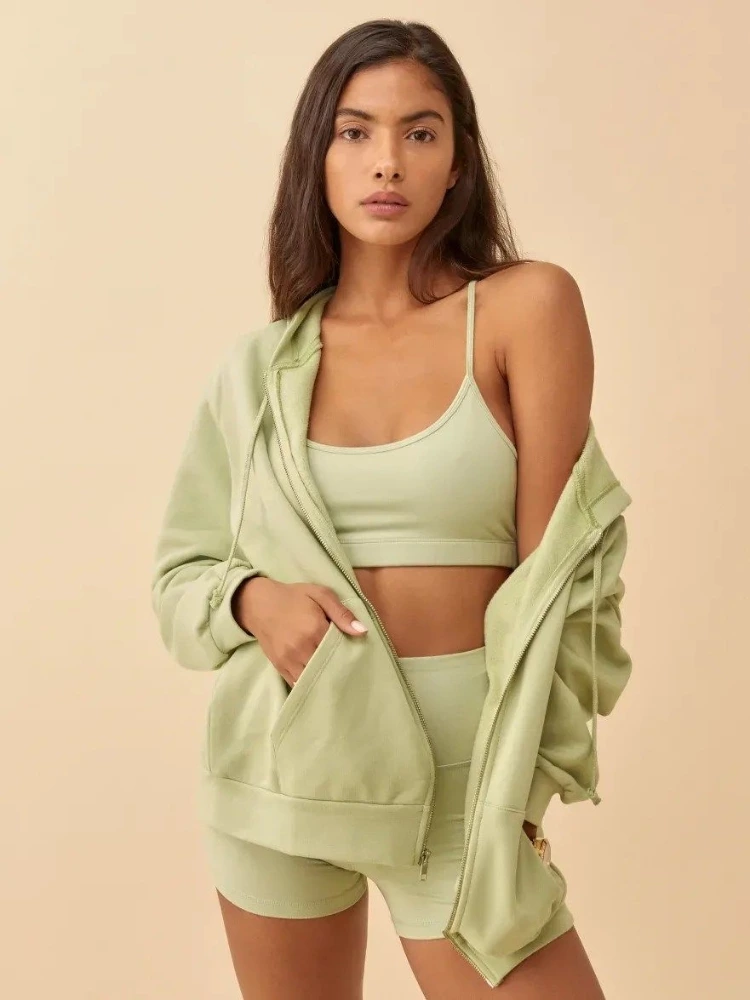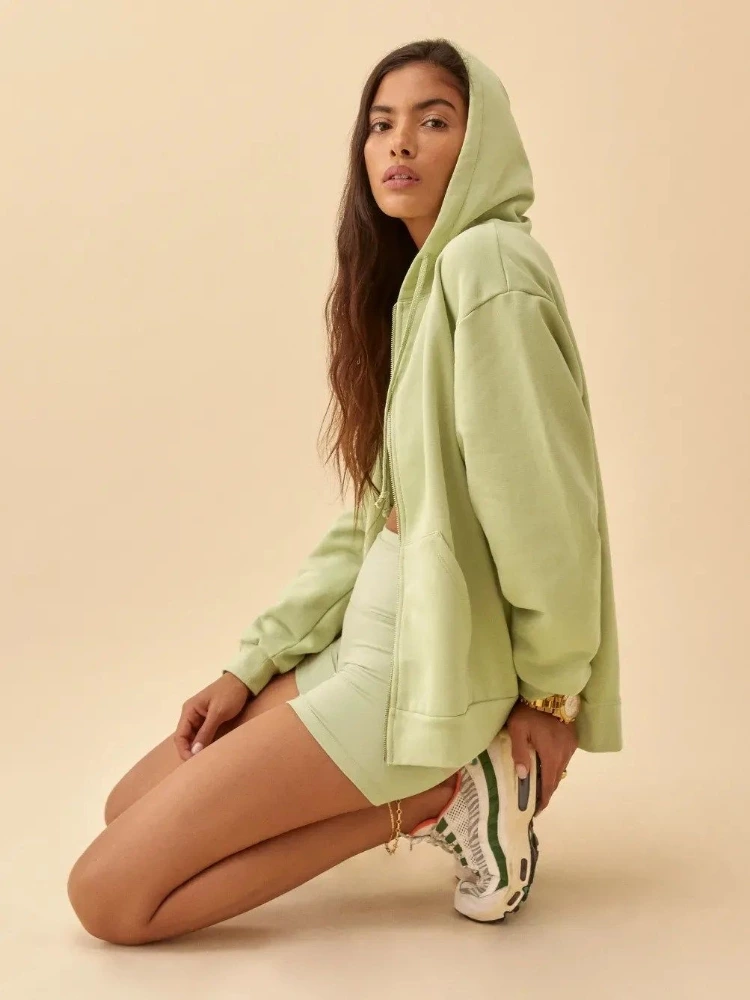 This isn't my typical style, but I do love how sporty and fresh it is! The lime colour is super modern and this whole get up just screams "going for a summer walk" round the block. Mix me up a mango smoothie in a to-go cup for the full vibe.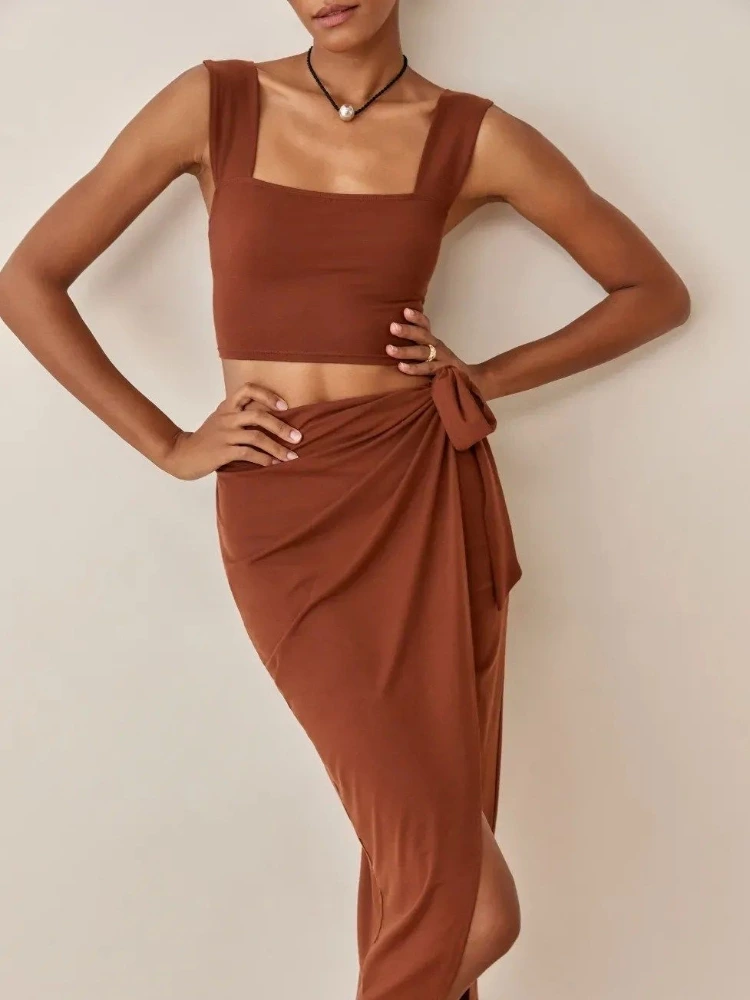 Do we love loungewear that doubles up as everyday clothing too? Of course! The beautiful rust two-piece is an essential part of any bohemian wardrobe. You could easily dress it up with some wedge sandals and gold jewellery . . . or feel like a casual goddess lounging on the couch in it!
Some other noteworthy sustainable loungewear brands . . .
Last but not least, we have my ultimate favourite store for sustainable loungewear: Sabo Skirt! I couldn't pick just one set from them so . . . here's four! You've seen me gush over them before in my favourite loungewear set OOTD.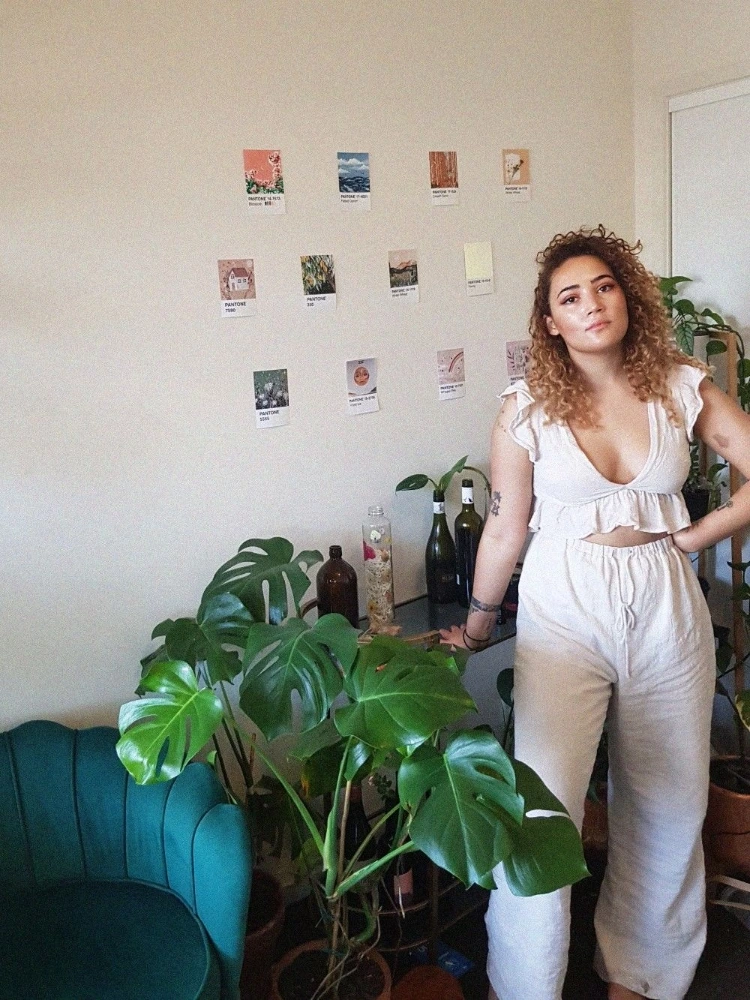 Alright, lovers, we'll end at the end! I hope you enjoyed my outfit picks. Are you a big fan of loungewear? Would you wear any of these outfits yourself? Which was your favourite? Let me know your thoughts down below!
Peace,

Instagram // Twitter // Bloglovin' // Youtube // Pinterest.