Are you looking for profitable digital products to sell on Etsy? You're in the right place! Here are 10 easy ideas to kickstart your new side hustle. Affiliate links in post.
Hello, beautiful people, and welcome back to my corner of the web! I hope you're all feeling ambitious and ready to hit your personal goals today – because I'm here with some ideas.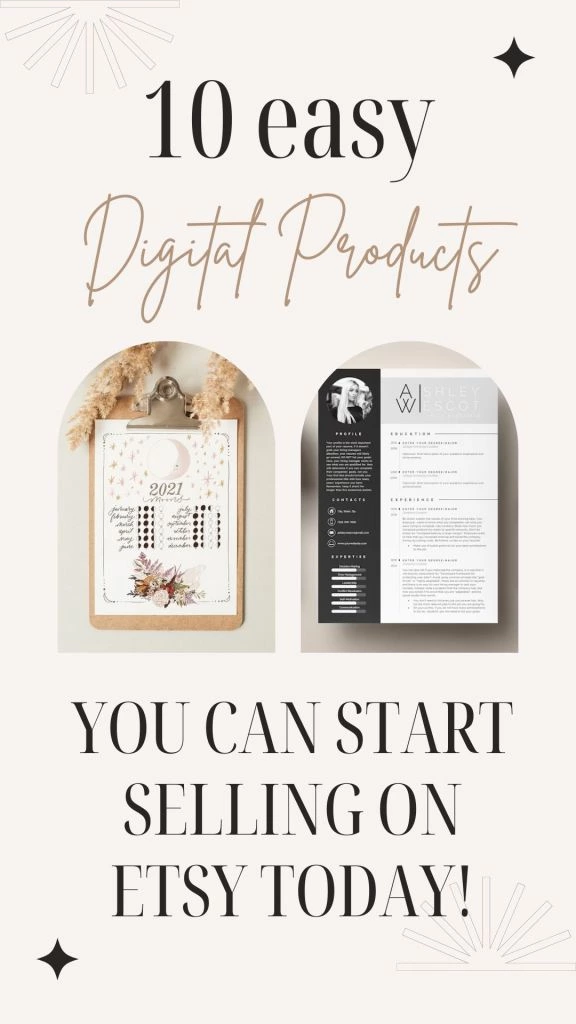 You guys may remember a few months ago I shared a post on the best things to make and sell on Etsy. And I love that post! However, I got to thinking about the costs involved in owning physical stock and the hassle of having to package and ship it . . .
You know what fixes all of those issues? Selling digital products on Etsy. So I'm back with part two. Enjoy this roundup of the 10 best digital products to sell on Etsy.
WHEN MAKING DIGITAL PRODUCTS, YOU'RE PROBABLY GOING TO UTILISE CANVA. MAKE SURE YOU'RE SAVING MONEY WHILE YOU DO – RAKUTEN OFFER 7.5% CASHBACK ON CANVA & A $30 SIGN UP BONUS!
1. Sell Digital Art On Etsy
Our first idea, of course, has to be to create and sell digital artwork! Depending on your skill level, you could use software like Procreate to draw artwork yourself . . . or take advantage of free image libraries like the Met Open Access and rework images.
(NOTE: When using free image libraries, make sure the images have a commercial license if you're planning to sell anything.)
2. Create Digital Planners
I first stumbled across the concept of digital planners when curating my top 10 self care planners post. And, honestly, I'm hooked!
There's a massive market for them, as evidenced by the thousands of reviews all these products have. Plus, the profit margin is fabulous. I always thought digital products would have a low selling point – but you can earn good money off digital planners!
3. Or Printable Calendars
Printable calendars are another super cute and practical product to sell. Especially if you get in on it now; the orders for 2022 calendars are sure to start rolling in over the next couple of months!
Another idea could be to create lunar calendars. The one I've included below is super beautiful, by the way!
4. Create CV/Resume Designs
There's a large market for aesthetically pleasing CVs – so why not try your hand at making some templates to sell? Tools like Canva make it incredibly easy to learn design basics in no time!
5. Create Photograph Filters
Something a lot of influencers sell are Adobe Lightroom filters. And for good reason – people will buy them! How many times have you seen a dreamy retro filter pack and been tempted yourself?
6. Create Printable Colouring Sheets
If you've been following me for a while, you may remember my DIY colouring book post. The way I created the design for that book was to purchase a printable colouring sheet off Etsy!
If you have any illustrative skills, why not try making some colouring sheets of your own?
7. Try Your Hand At Logo Design
Another good option for skilled designers is to give logo designing a whirl. For more complex logos, you can charge a pretty good amount – for ones with hand-drawn illustration, I've seen people charge over $80!
8. Paid Tutorials (For Example, Sewing Patterns)
Admittedly, this one is less entry-level – but if you have any talents, you could easily sell paid tutorials on Etsy. I've seen everything from digital drawing lessons to clothing patterns on there!
9. Create Social Media Templates
Another wildly popular digital product to sell on Etsy is social media templates. These are fabulous because a lot of marketing professionals and bloggers need them – and are willing to pay!
10. Sell stock photography
Our last addition to this list is a really fun option – especially for fellow bloggers! Most of us own a lot of the essentials for photography already; why not take your own stock images?
I love that a lot of these are curated around a set theme. You could even create seasonal stock image packs!
Alright, my loves, we shall end at the end! I hope you guys enjoyed this roundup of the best digital products to sell on Etsy. I'm massively inspired to start listing stuff on my store again – especially stock photography. Would you give any of these a try? Which idea was your favourite? Let me know your thoughts down below!
Peace,

Instagram // Twitter // Bloglovin' // Youtube // Pinterest // TikTok