Hey, beautiful people! Today, I am sharing a review of one of my absolute essential products: Bodyshop Anti-Imperfection Tea Tree Night Mask. I know, you heard "Bodyshop" and "Tea Tree" and were already sold. Get bloody excited, my friends, because this one's a game changer.
I tend to wait until my skincare products are empty or being repurchased to review them, because that generally gives me enough time to decide if I actually like them. (Which is a bloody good practice, because if I'd have reviewed ProActiv after the first week I would have loved it – but after the second week it literally destroyed my face.)
Well, my Bodyshop Tea Tree night mask has literally hit the pan – so what better time to review it than now?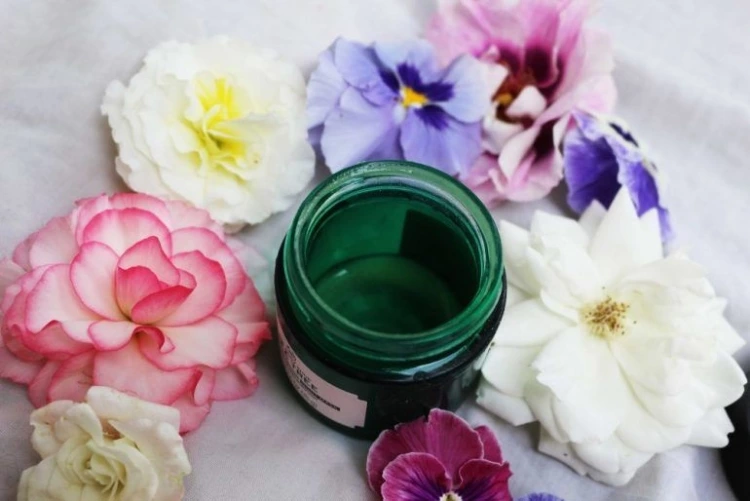 Bodyshop Anti-Imperfection Tea Tree Night Mask Overall Review
Let's just get this out of the way: I love this shit. It's amazing. 5*s.
I'd consider this to be one of my absolute essentials, on par with Lush Magnaminty (which is one of my all time favourite masks!). It feels light and refreshing on your skin, but has the tingly coolness of tea tree so that you can feel it working.
The Product Claims:
Wake up to clearer-looking skin! Our fresh and breathable Tea Tree Anti-Imperfection Night Mask.It is specifically formulated to care for oily skin and imperfections while you sleep. Infused with salicylic acid and Community Trade tea tree oil, this 100% vegan leave-on mask for oily skin will reduce the size and number of imperfections* and achieve clearer, smoother, and healthier-looking skin.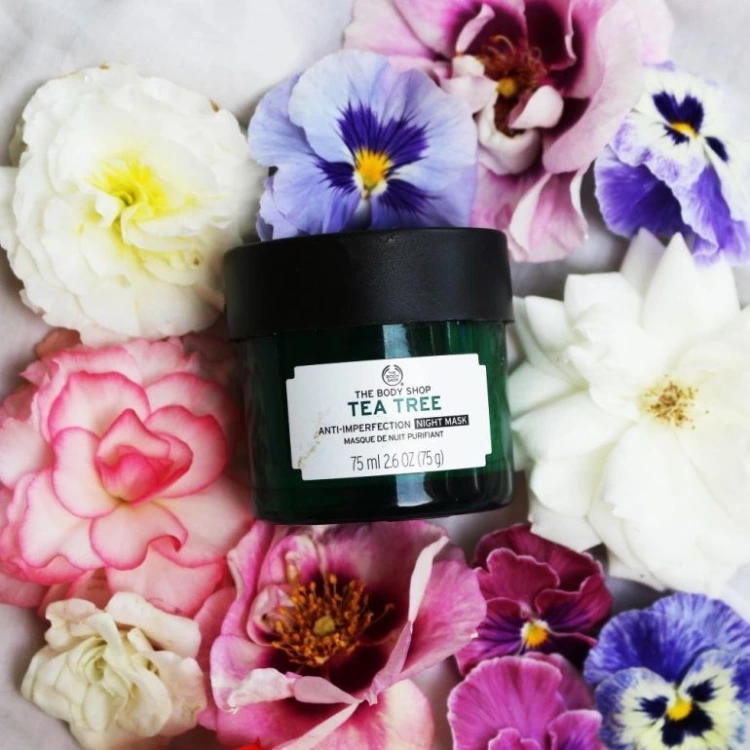 Skin instantly looks and feels refreshed, purified, and soothed.
In the morning, imperfections* appear reduced.
Skin looks healthier, smoother, and mattified.
Improves appearance of pores.
Helps maintain clearer-looking skin.
Features a refreshing memory-gel texture and is infused with tea tree oil grown in the foothills of Mount Kenya.
Alcohol-free, no pillow-staining formula.
TOP TIP: Pop the Night Mask in the fridge for an ultra-refreshing feeling.
Tone, texture, and oiliness
And does this product live up to these claims?
Hell yes. This is one product that actually lives up to its label.
Bodyshop Anti-Imperfection Tea Tree Night Mask Benefits: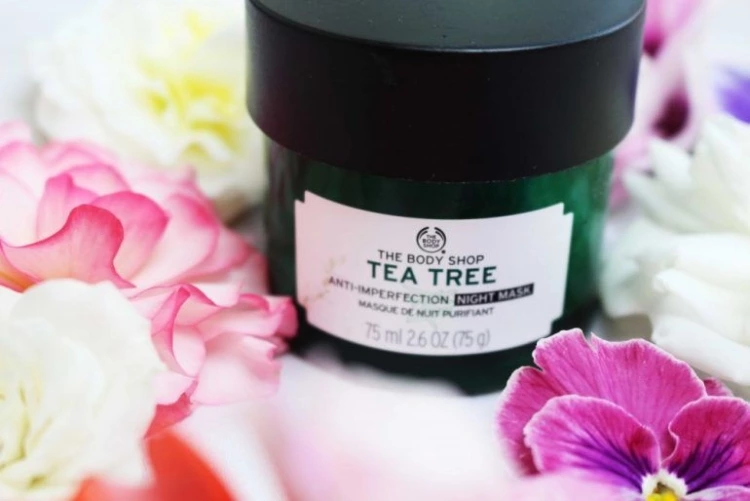 IT'S AN OVERNIGHT MASK
The first benefit is sheer laziness, sue me. If you're anything like me, the most annoying part of face masks is the fact that you need to get up and take them off. 10 or 15 minutes is just enough time for me to get immersed in something else and forget about the fact I have a mask on my face.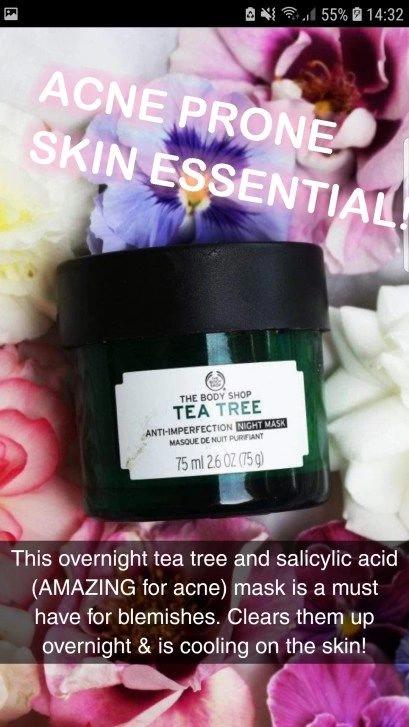 This mask is an overnight mask, so you can slather it on and just . . . leave it. Perfect.
YOU CAN FEEL IT WORKING, BUT IT'S NOT TOO HARSH
I have oily skin, so I have to be careful with moisturising face masks (ie avoid them) because they can break me out. The flip side to this, however, is that oily skin is often actually really dehydrated. One of the absolute essential things you need to do for it is add moisture – you just need to be careful of the ingredients.
The issue with this is that, while harsh products may give you quick results, they aren't actually very beneficial for my skin type long-term. A large benefit of this mask is that it actually feels moisturising and refreshing (I'd describe it as a similar effect to Aloe Vera) on the face – it's very cooling – but you can still feel the tea tree oil working.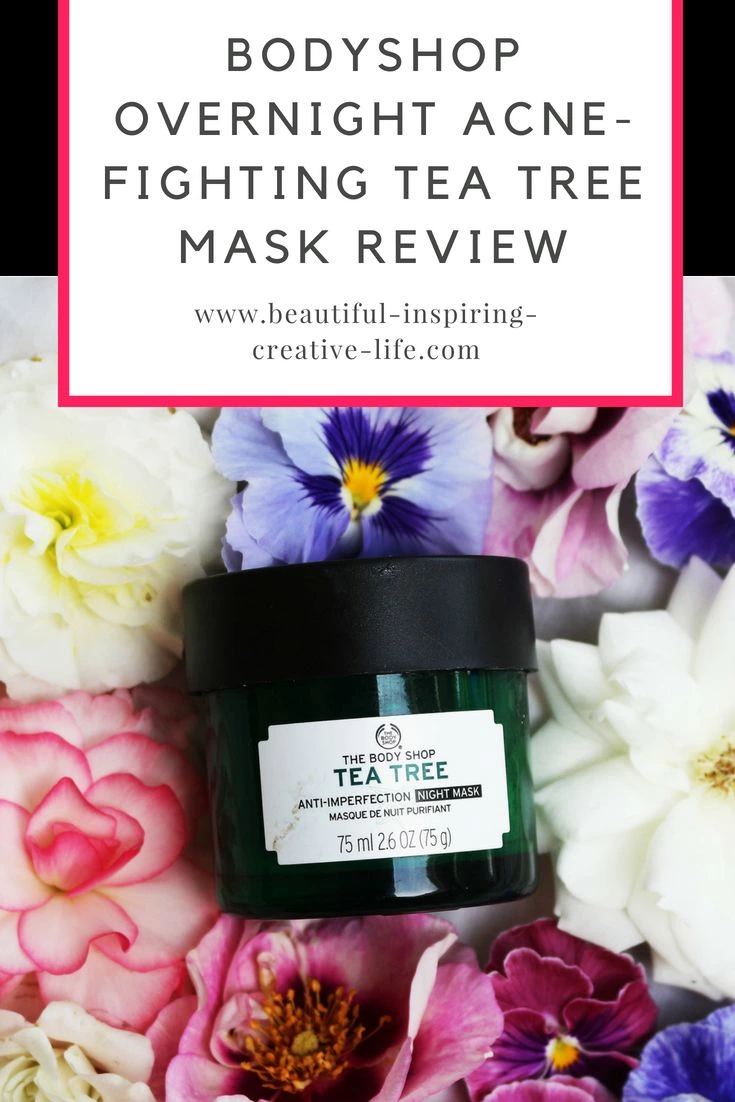 (If you'd be interested in trying this mask, Pin this image for me!)
IT HAS VISIBLE RESULTS
And, naturally, as we all expect from the Bodyshop: this works and it works quickly. You can see results on the first use – and you wake up with clearer, soothed skin. I love this for pre-event pampering; I know if I use it the night before something, I will wake up with glowing skin.
IT CONTAINS TWO OF THE BEST INGREDIENTS FOR FIGHTING ACNE: TEA TREE OIL AND SALICYLIC ACID
I will have to tell you about my on-going love affair with Salicylic Acid another time, but it's like tea tree oil on steroids. (Literally; it's far stronger, but also super mean to your skin is you don't use it sparingly.) This mask contains two of my favourite acne-fighting ingredients – and it shows.
Where to buy?
Why, you can purchase it online from Bodyshop! And if you buy it through this link, I'll recieve a little comission that goes towards me sunnin' it up in Australia! (This doesn't change the price for you.)
The Bodyshop Anti-Imperfection Night Mask – £12
So you may be wondering . . . "Mia, why all the focus on beauty all of a sudden? You never used to talk about it and now we're getting reviews almost weekly!". Don't worry, kids, I'm not transforming into a beauty blogger. (God, how awful would that be? I'd literally give all the worst advice possible.)
(While we're on the subject though, make sure you're following my Beauty & Skincare Pinterest board.)
There are three main reasons for the recent influx of beauty content on le blog – and all center around the fact I'm moving to Australia in September:
As you guys already know, pretty much all my content for June, July and August has been written up and scheduled ahead of time. I'm talking I wrote this post back in June ahead of time. Reviews are one of the easiest posts to write in advance, hence the sudden influx. #LazyBlogging
As you guys may not know, reviews actually earn me the most money. For some bizarre reason, my blog ranks quite well on reviews in terms of search engines – my Mario Badescu Acne Starter Kit Review pulls in 800 views a month and increasing. #CapitalistBlogging
I'm putting more effort into my beauty regime so that I can glo like a mother fucking goddess when we get out there. #VainBlogging
I hope you guys don't mind the increase in beauty related content too much! Hell, I've tried so many things to sort out my skin that I've actually got some really good recommendations. (Like this amazing face mask. If you have oily, acne-prone skin, this is for you.) Have you ever tried this mask? Would you? Are you a fan of the Bodyshop? Let me know your thoughts down below!
Peace,

Instagram // Twitter // Bloglovin' // Youtube // Pinterest