Hey, beautiful people and welcome back to your monthly subscription of peeking in my bullet journal. We've been surprisingly consistent with this over the past few months (me? Consistent? Who'd have thought?), so what better post to kick off August?
This month's theme was honestly wasted. Your girl wholeheartedly should have waited until October and got that Halloween traction, but we all make mistakes. What was our theme, though?
Magic.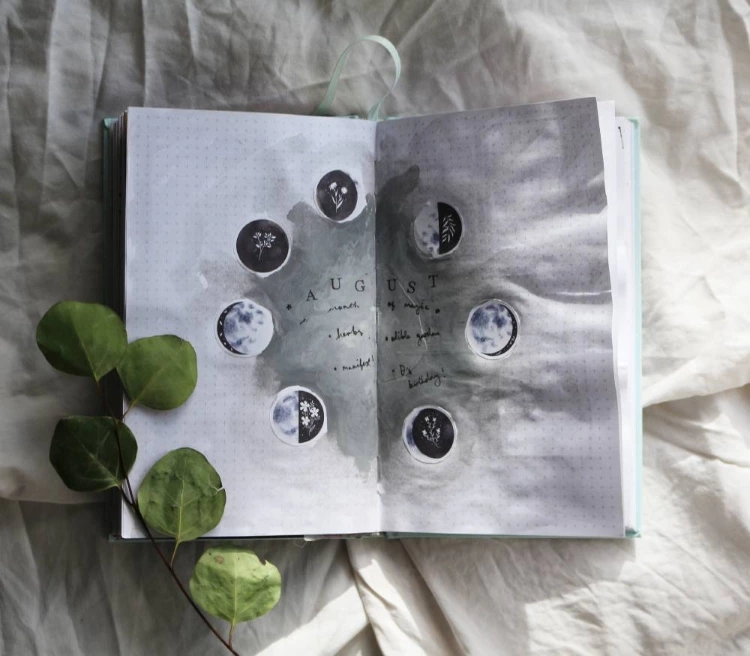 Here in Melbourne, we're in strong second-wave Corona territory. We've gone back to full lockdown and, weirdly enough, the first time I felt okay . . . but this second wave has got me feeling really down. It's getting existential in here, guys, which is never a good thing for me. So I needed some magic in my life for August.
WHAT I USED: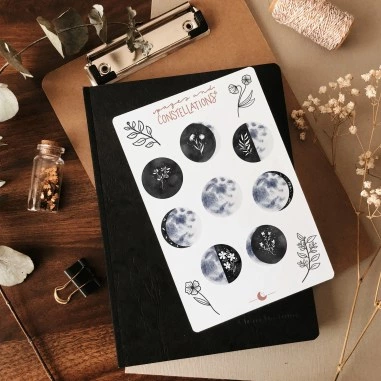 Floral Moon Phase Stickers – Etsy – $3.15 (Worldwide)


The title page I created was super simple – very much minimal effort required. A dash of watercolour paint in the background, some letter stamps I live off and these simply gorgeous moon phase stickers.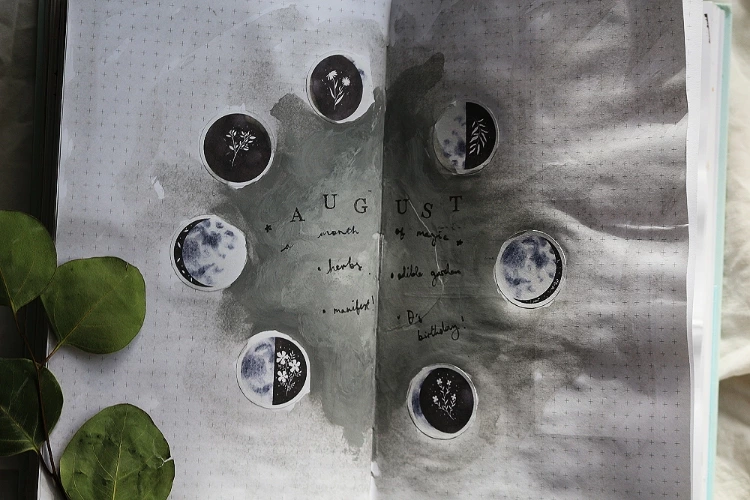 If you guys remember my Floral Bu-Jo Titles & Stationery Wishlist post, you may recall that I found some Etsy stores that I fell head over heels with. Well, far be it from me to have impulse control – I of course went on a mini haul.
My title page stickers are from the gorgeous store pagesxconstellations and you can pick them up from Etsy.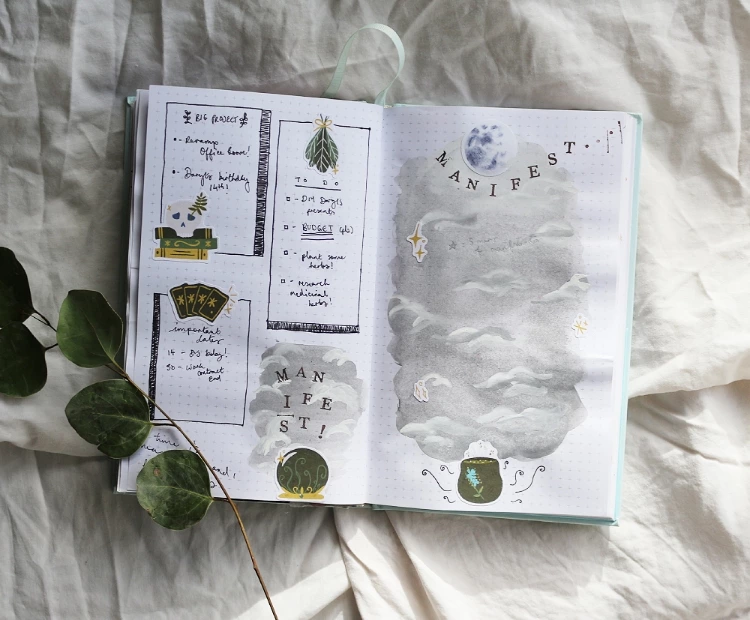 WHAT I USED: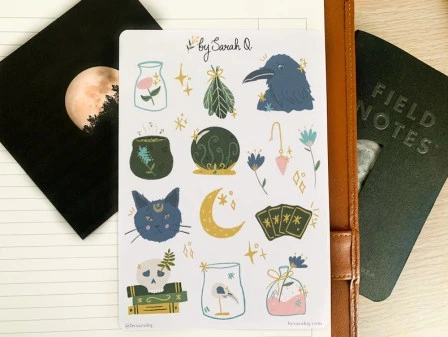 Seeing as we're doing all of nothing nowadays, normal spread features like a calendar have been scrapped – but I do have a super cute monthly overview for you all! (That is naturally also featuring some more super cute stickers. It's not a haul unless you buy a ridiculous amount, am I right?)
I've not got anything excessively pressing coming up in August – my boyfriend's birthday is on the 14th and my current work contract ends on the 30th, but that's pretty much it. (Is that depressing? I feel like it is.)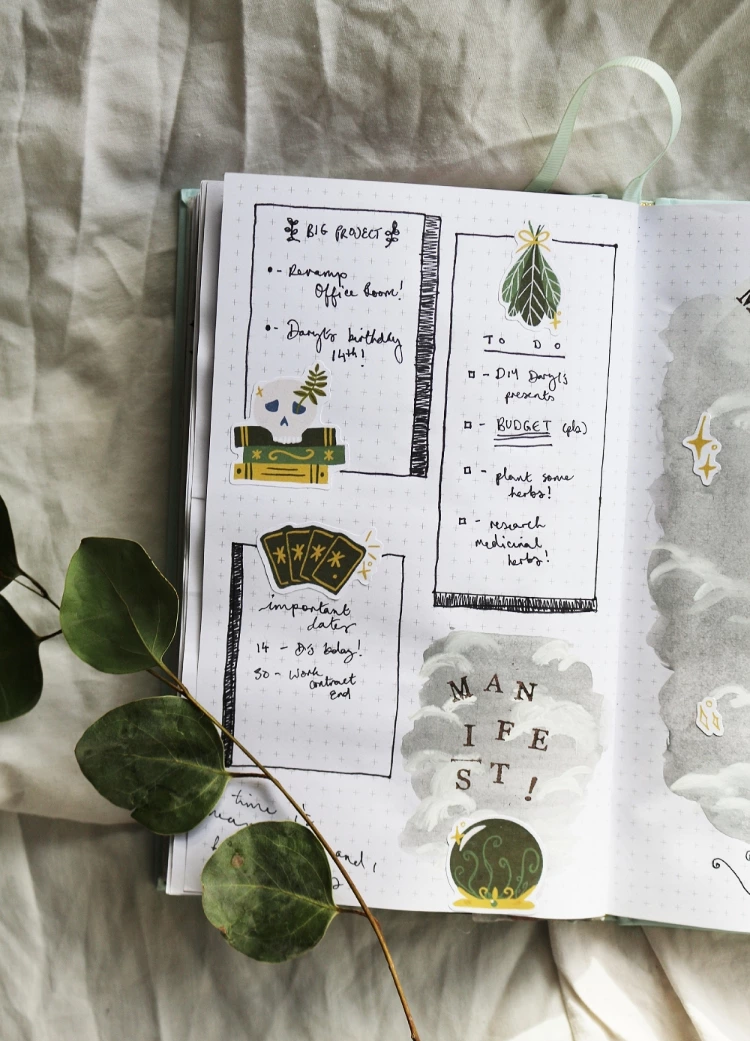 Likewise, there's not too much I need to get done. Obviously, there's some gifts and overall plans I need to put in place for D . . . but I've been obsessively planning that since last August, so I'm mostly done to be honest.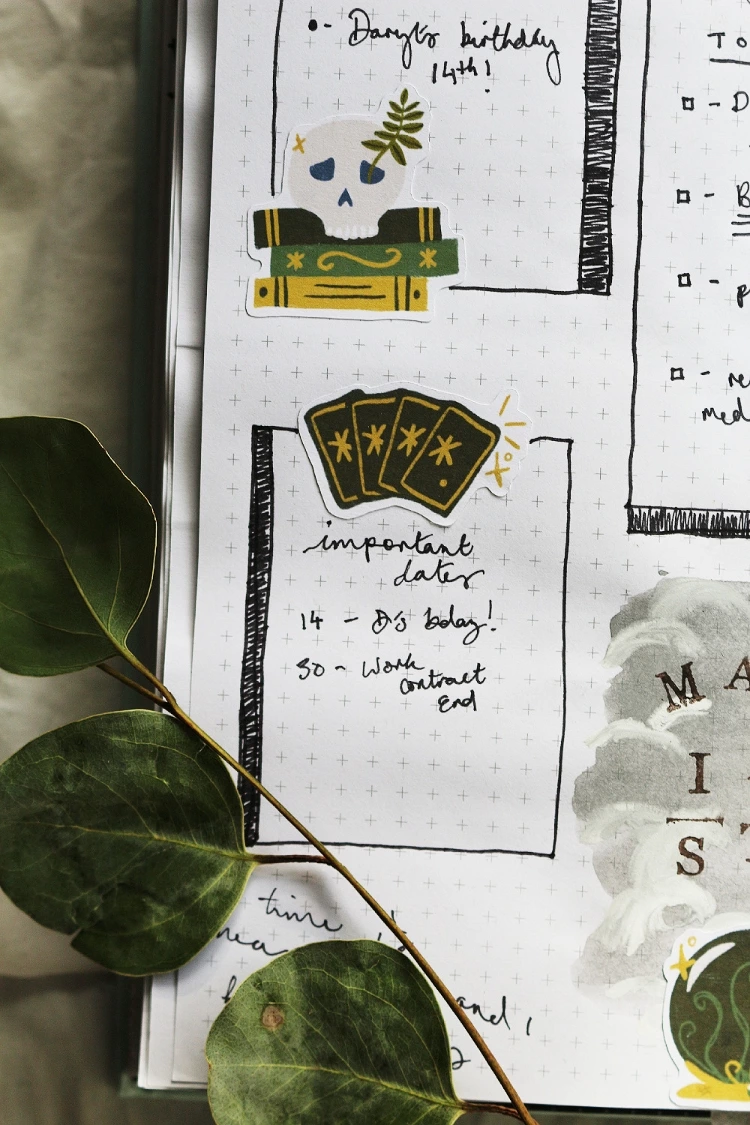 As you guys can probably tell from all the gardening related DIYs I've been posting, I'm pretty enamoured with plants. Especially since lockdown, I've dedicated way more of my time and emotional effort into my plants – and, let me tell you, the 36 in my room are thriving.
That said, I've only really been focusing on decorative house plants. One of my big goals is to get into edible gardening – I want to grow medicinal herbs, some fruits and maybe a few veggies. For the moment, I'm only going to focus on the herbs – so that's one of my big goals for August.
Now, it wouldn't be one of my journal spreads without a little habit tracker! (Or, in this case, a really big one.)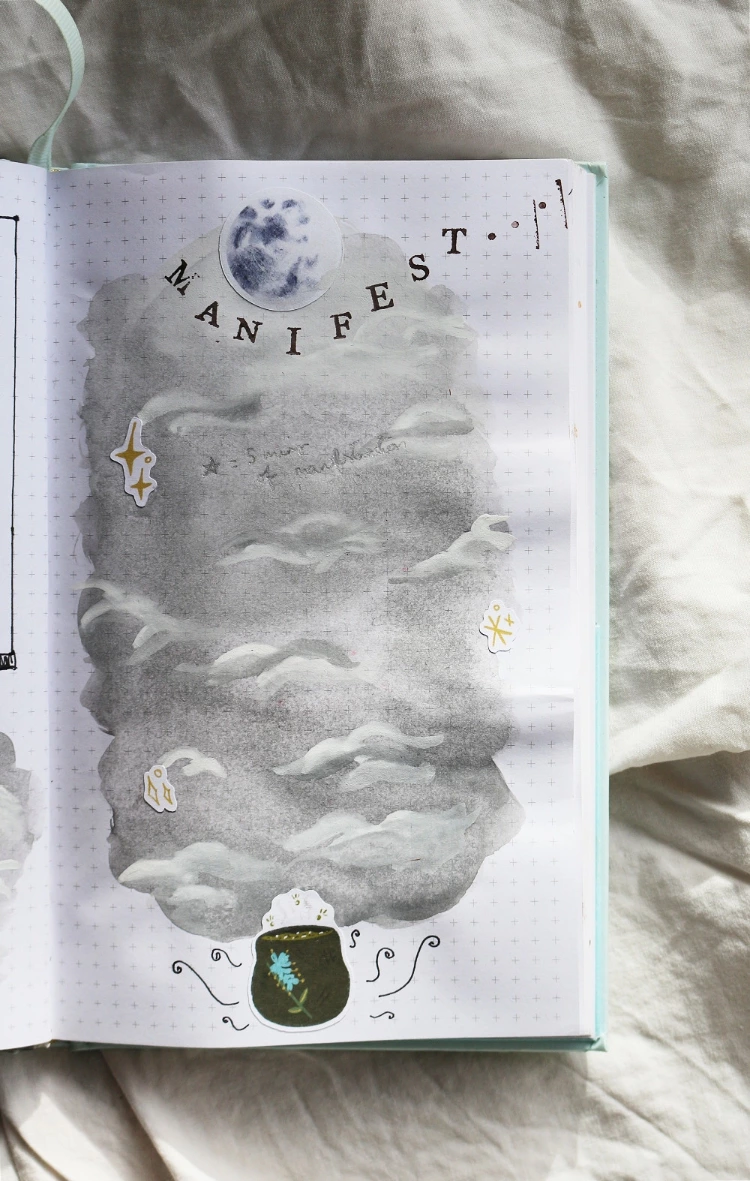 I've been begging myself to do manifestations since back in June; in fact, it was one of my bullet journal goals for that month. Honestly, that's not really happened. I've been putting a lot of work into my goals, which is good, but visualising and writing them down? Not my strongest suit at the moment.
To force myself to be better, this month's habit tracker is for manifesting! Every day that I spend 5 minutes manifesting for, I get to add a star to the sky. Which I think is real cute.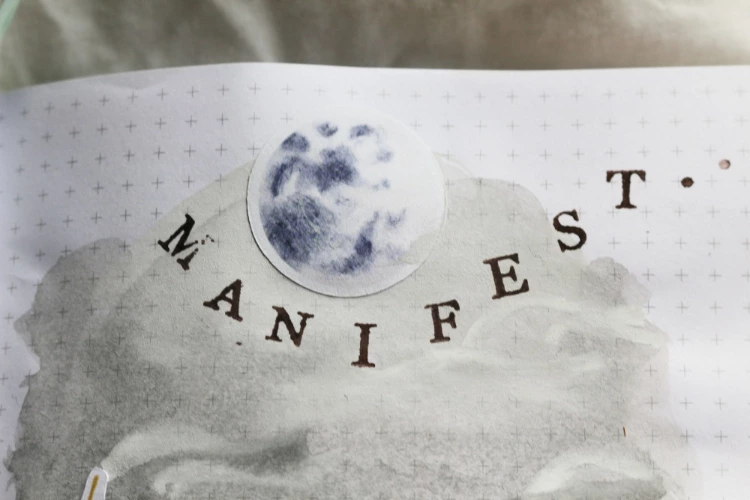 My last set-up page was, of course, my August blog goals! If you're interested in what my blog goals are this month, make sure you check out my post here. I set goals to earn more money and increase my website traffic, plus detail how I plan to do so. If you're looking for inspiration for improvements you can make to your blog, I highly recommend giving it a read.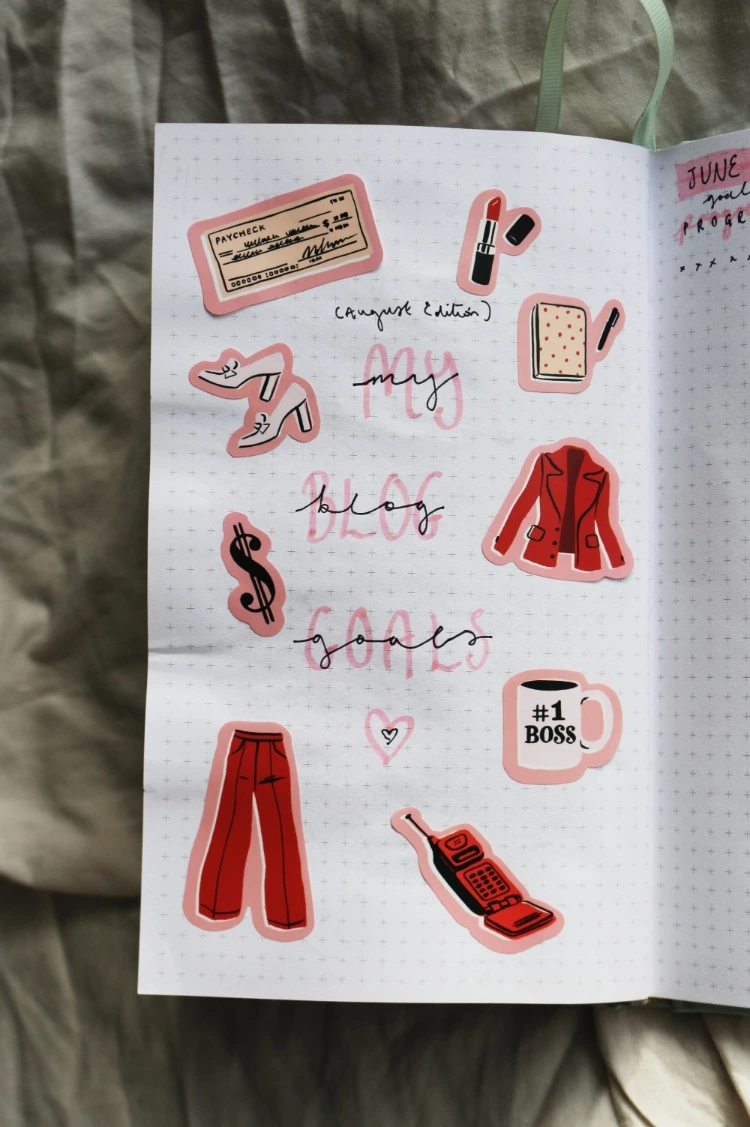 I'm not going to promo these stickers – the lovely Dom from Diva Named Dom (love her, go check her out ASAP.) actually let me know that the company selling them (ban.do) was involved in a racist scandal, so let's not put money in their pockets. Unfortunately, I'd already bought the sticker book before writing my stationery wishlist, so . . . that sucks.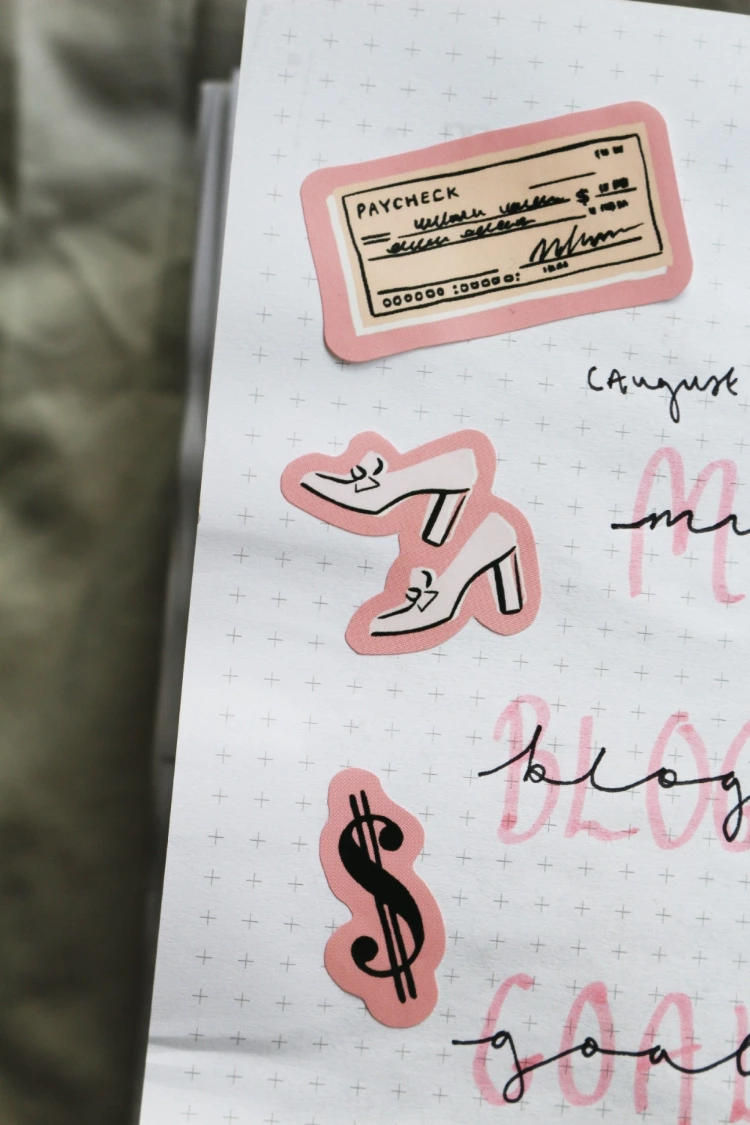 I did consider just not using them, but the reason I liked their stickers is that they collab with independent artists for each sheet of stickers. So, while I don't support the brand and don't recommend you buying the stickers, if I use any of the stickers I'll promo the artist themselves and you can check out their work!
This sheet was from Bijou Karman – she's worked with brands like Zara and AHD Paper Co, so you can definitely access her work without also supporting ban.do.
Before we run off, my loves, if you enjoy bullet journaling make sure you're following my bullet journal board on Pinterest!
Anyhoo, that's about this post done! I hope you enjoyed my August bullet journal set-up. Are you guys keeping up with journaling in these weird times? What are your blog goals? Let me know your thoughts below!
Peace,
Instagram // Twitter // Bloglovin' // Youtube // Pinterest