A review of the full Banish anti-acne and acne-scarring skincare line! Designed to heal active acne and reduce the appearance of scars . . . Let's see how they do!
Hello, beautiful people, and welcome back to my corner of the web. Today, we're going to be talking beauty and skincare! Last month, the wonderful people from Banish reached out and sent me their full line to test and review. (In fact, you may remember them being mentioned in my Favourite Products For Acne Scarring post!)
Banish is designed specifically for people with troublesome skin. Because of this, there are no nasties that will trigger your spots. Synthetic fragrance free, no sulfates or parabens . . . Plus, all their packaging is recyclable and they're cruelty free! This is 2020, bitches, we love us an ethical brand.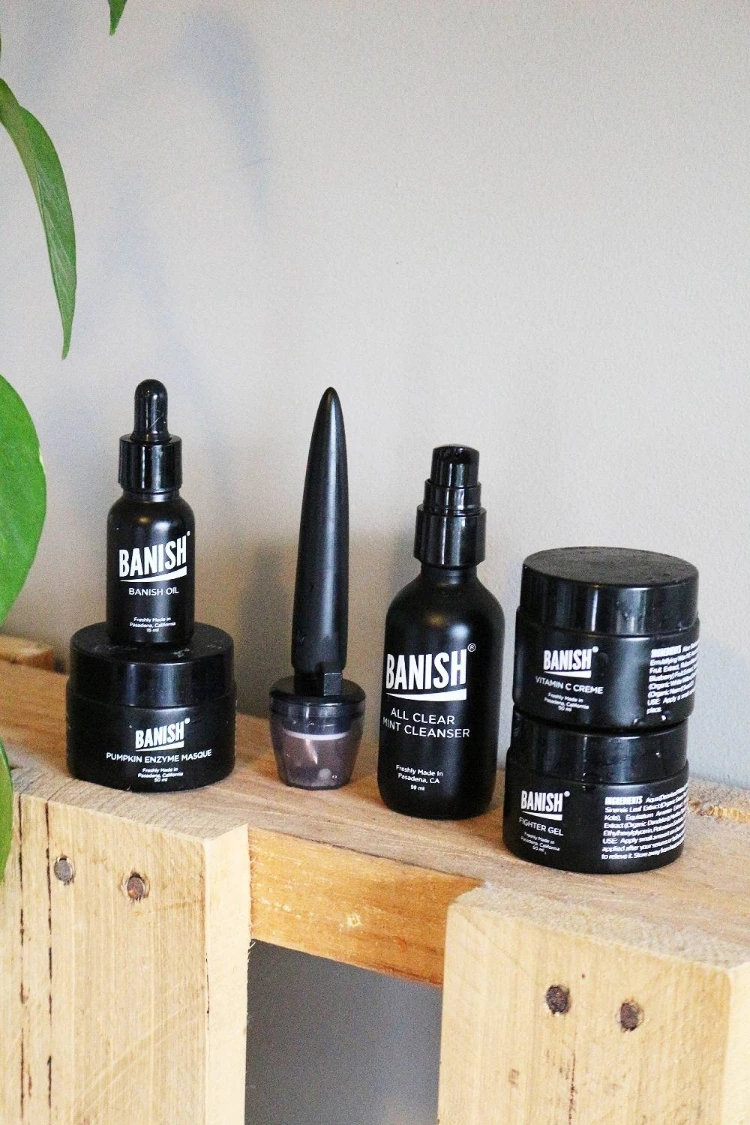 BANISH STARTER KIT – $195 (currently on sale!) – Use code MIA5 for $5 off!
Unfortunately, this skincare just didn't all work for me. I'm currently taking Roaccutane and, while that has completely cleared up my skin, it's also made it very, very sensitive. So I've split this review up into two parts: the products I loved and would rebuy and the products that didn't work for me.
WHAT I LOVED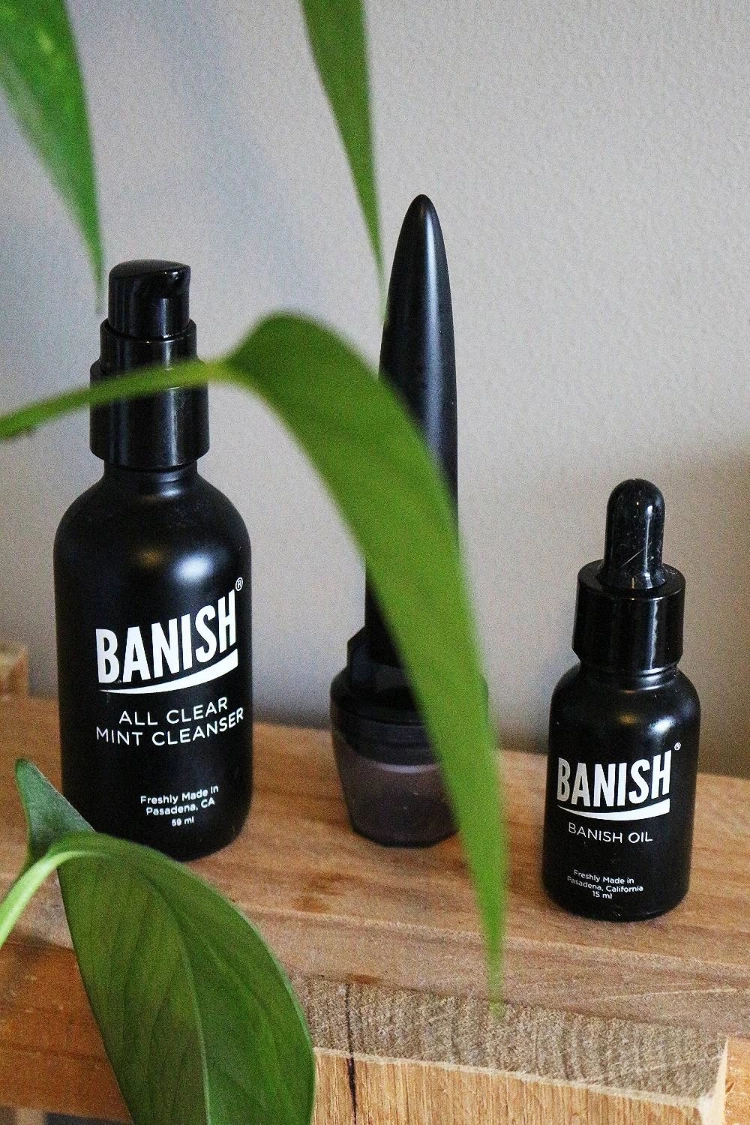 I've already sung the praises of the Banisher and their vitamin C oil. They genuinely had a visible impact on my acne scarring and improved my skin's overall appearance.
(Plus, my only previous experience with Vitamin C was through The Ordinary – and their vitamin C treatment stings like a motherfucker. Banish's vitamin C feels like a serum should. Soothing and hydrating.)
THE BANISHER
The Banisher is my absolute favourite – it's a microneedle tool you press onto areas of your face you have scarring (but no active acne) and it Improves the appearance of scars by encouraging skin renewal. I don't use this too frequently, only once every week or two before bed . . . but I genuinely wake up to more even skin. It's one of the few products that has noticeably improved my acne scarring.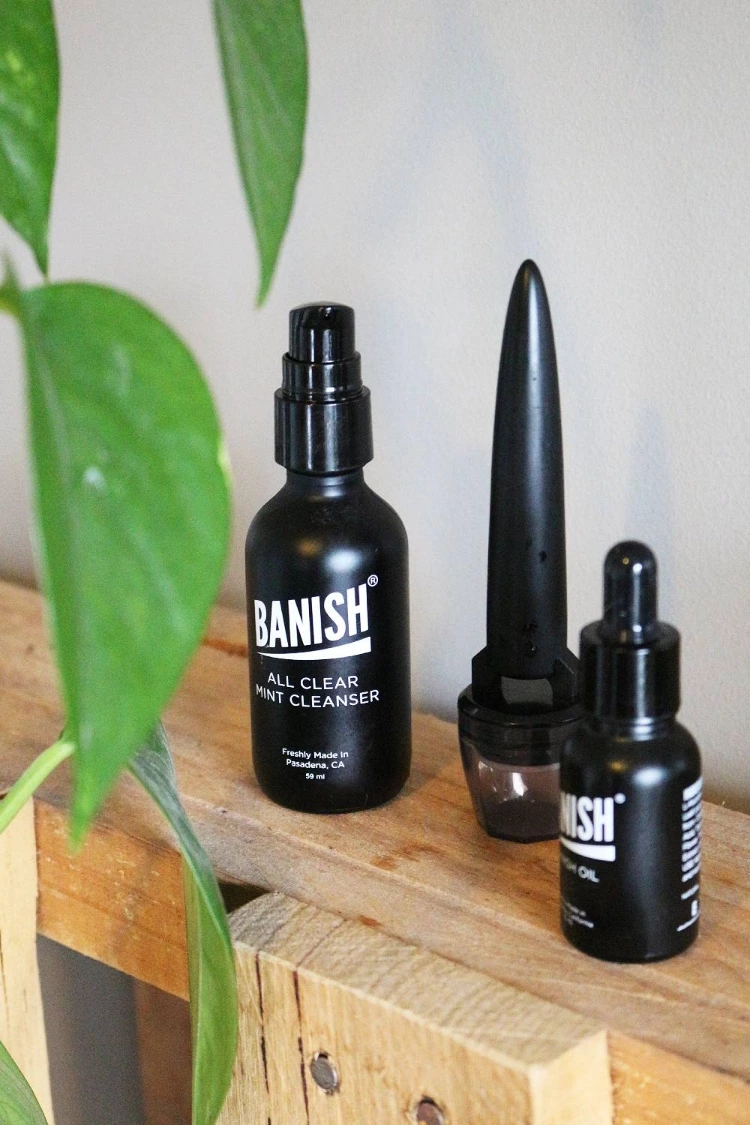 BANISH OIL – VITAMIN C SERUM
This Vitamin C serum has to be the best one I've ever tried. No stinging, no irritation . . . it just effortlessly hydrates my skin and gives it a way more even, glowy appearance.
At the moment, I alternate this with my Drunk Elephant C Firma Day Serum. That one has some additional good ingredients in it, but is way more expensive. Using them together has seen my skin look way more even and healthy!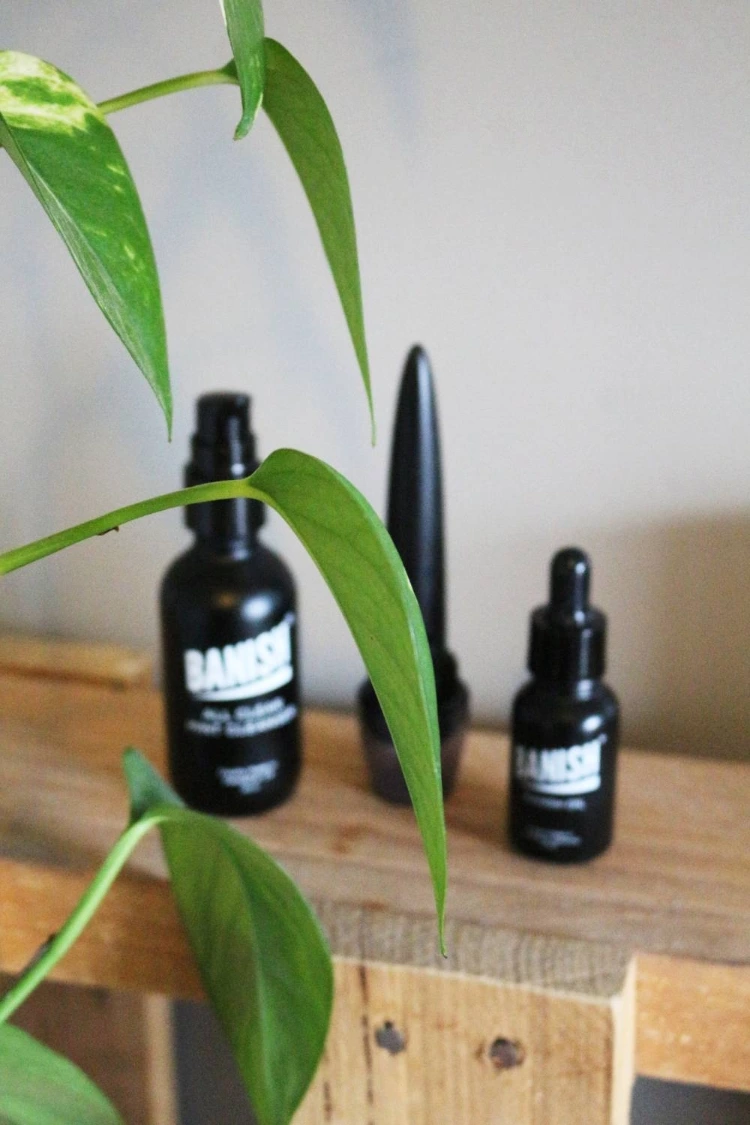 ALL CLEAR MINT CLEANSER
Another one of the products that was a big win in my book is the All Clear Mint Cleanser! A little really goes a long way with this cleanser and it's the perfect balance of strong enough to really feel it, but not overly harsh. In fact, my boyfriend (who really isn't into the whole skincare gig) loves this too!
Again, this is something that I alternate with a Drunk Elephant favourite! I use the Drunk Elephant Jelly Cleanser in the mornings and the Banish All Clear in the evenings.
VITAMIN C BEAUTY ELIXIR
The last product I loved was the Vitamin C Beauty Elixir. One of my most popular posts of all time was my Mario Badescu Facial Spray Reviews – and if you're familiar with that one, you will know how much I love a good face spray. My skin tends to get oily throughout the day because it's dried out. Facial sprays are a great way to add a hydration boost and avoid the oil. (And, in turn, the acne!)
This Vitamin C beauty elixir has become a firm desktop buddy of mine. Every time my skin feels a little dry or tight, I just give it a spritz!
WHAT I DIDN'T LOVE
Unfortunately, not everything ended up working for me. Honestly, I think this was because of two things:
I don't have active acne, so the products designed to battle acne were just . . . too harsh
& I'm on Roaccutane, which makes my skin a lot drier and a lot more sensitive than usual
I can definitely see how these products probably would've helped my pre-medication skin, but if you have sensitive they may not be for you.
My issues with the pumpkin enzyme mask and fighter gel are the same: they just massively stung and irritated my skin. (Which is so sad because on the first use of the Pumpkin Enzyme Mask I loved it and my skin looked great afterwards!)
The Vitamin C creme ended up being too in the middle for my skin type. If you have oily skin, I definitely think this could work for you over the Vitamin C oil. However, for me, it was too light to work as a moisturiser on its own, but too heavy to work underneath another moisturiser. Again, I think Roaccutane is at work here as my skin is pretty dry.
Overall, I really liked the Banish Skincare. I do definitely think it's something very tailored to people with acne, so I wouldn't recommend it for everyone . . . but if you have acne, or want to try clearing some of your scarring up, I highly recommend giving Banish a try! (And if you do, use code MIA5 for $5 off!)
Alright lovers, that's a wrap! Have you guys tried Banish before? Would you give any of these products a go? Let me know your thoughts down below!
Peace,
Instagram // Twitter // Bloglovin' // Youtube // Pinterest