Congratulations, kids; we are now fully in the swing of summer. The time for tanning, putting weird things in ice cubes for the cute insta pictures (I haven't done this yet and I hate myself for that) and the beach. If you're like most Brits, summer is also the cue to get the hell out of dodge and fly somewhere warm.
So today's post is a combination of two things - a Beach Holiday's Essentials post and a TK Maxx wishlist. Speaking of essentials, here are some of the accessories that you need for a good day lazing around on the beach.
A Beach Holiday's Essentials post and a TK Maxx wishlist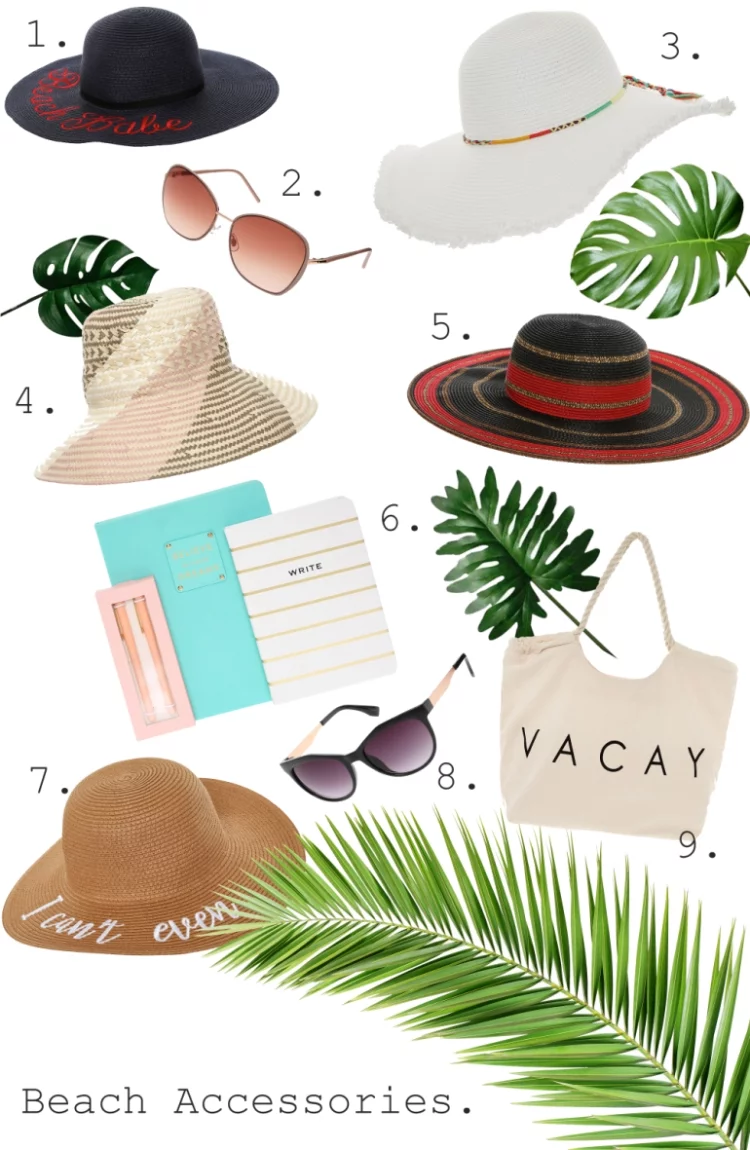 1 - Beach Babe Sun Hate - £8 // 2 - Pink Sunglasses - £12.99 // 3 - White Woven Sun Hat - £16.99 // 4 - Pink Straw Hat - £12.99 // 5 - Red and Black Sun Hat - now unavailable // 6 - Notepad Set - £14.99// 7 - "I can't even" Sun Hat - £12.99 // 8 - Sunglasses - £ // 9 - Vacay Beach Bag - £
Something that all my friends both know and kind of hate is that I love TK Maxx. Adore it. Crave it. Spend hours amongst the home section looking at basically nothing and loving every second.
Hey - if you can do it in church, I can do it in store. The holy spirit moves me... to buy things.
(For those of you that don't know TK Maxx is like a massive store that sells loads and loads of really random shit from designer handbags to sofas to terrariums at usually 60% + off. It's worldwide too, but under different names in different countries.)
I'll be honest here; TK Maxx is somewhere that I never buy clothes from. And I'm not altogether pleased that I stumbled across the clothing section either - because they have some amazing deals, but I am never ever touching the in-store clothing section. It's mental-breakdown-inducingly cramped and unorganized and...
And now I've discovered that amongst the mess is an abundance of hidden gems. So the frugal side of me will force me to at least attempt shopping there. (I love the way I say frugal; that's really a lie. What I mean by frugal is the side that says "Mia, it's fine if you buy £200 pounds worth of clothes if they're on sale - they'd be £400 usually! Yeah, we kind of hate that side. I blame my dad.)
But there's hope; a silver lining. A rope, leaning towards me, offering me refuge from all the suffering. And that is... online shopping.
Oh yeah, did you guys not know? TK Maxx - the home of some of the best deals ever - is online too. Now when I buy an admittedly ridiculous amount of crap for my room, I don't need to see the judging looks of the cashier. Even better; I don't need to suffer the in-store experience.
Well, for the first time, I actually looked at the clothing section.
Guys. I regret everything.
There's so much. And so many good deals.
However, I'm a survivor. You know? All these bad things that happen to me - finding great festivals that I need to buy tickets for, finding massively discounted amazing things that I can buy at 80% off - I power on through.

I know; I'm inspirational.
So with summer coming up, especially in Britain, you usually need to buy a few new things - and you typically don't want to spend too much on them due to the fact that British summer lasts about a week. Who wants to spend £400 on a new wardrobe to wear for maybe 10 days?
(Me. I do. Someone give me the money.)
So when I saw all these crazy deals... I just had to share.
1 - White & Gold Tunic - £16.99 // 2 - Peach Embellished Kaftan - £19.99 (Reduced from £100!) // 3 - Pink and Gold Kaftan - £16.99// 4 - Black Lace Kaftan - £14.99 // 5 - White Gold Beaded Kaftan - £14.99 // 6 - Purple Beaded Kaftan - £14.99 // 7 - Embroidered Pattern Kaftan - £19.99 // 8 - Blue and Gold Tunic - £16.99 // 9 - Cold Shoulder Kaftan - £14.99

So one of my favourite things about going on holiday is all the loose, flowy clothing that it becomes acceptable to wear. Kaftans are a prime example of this - throw them over a bikini and you're ready to rumble!
Summer Shoes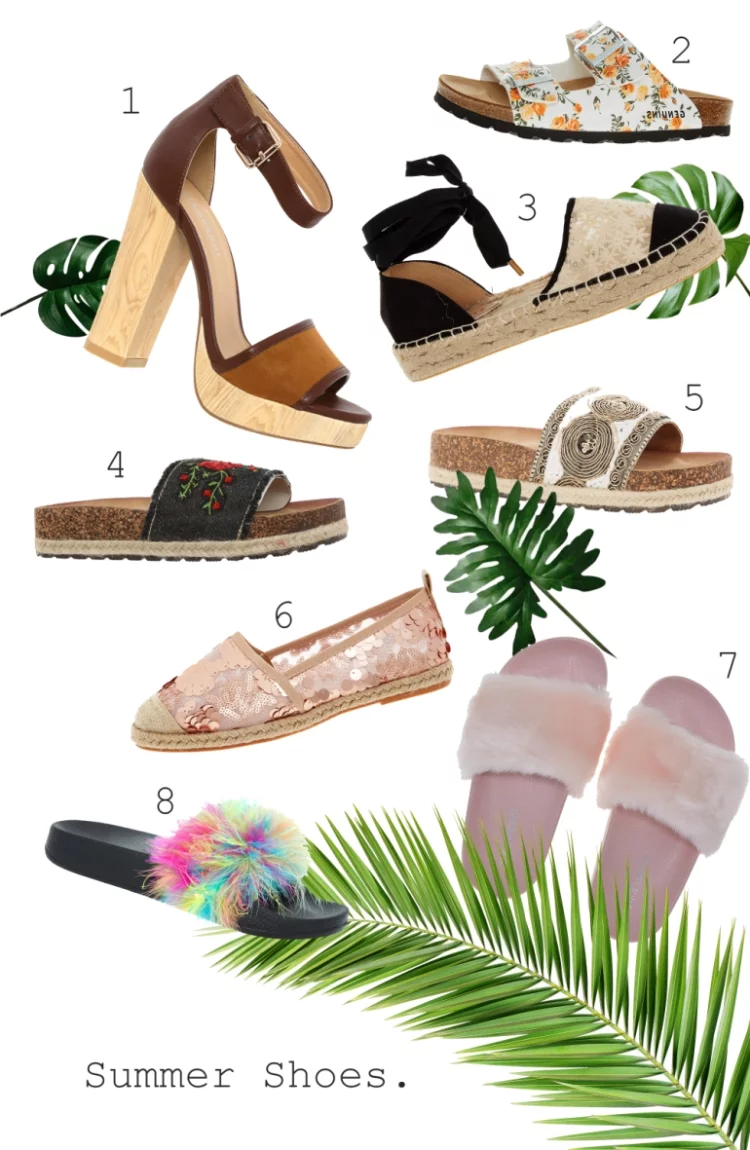 1 - Block Heel Sandals - £11 // 2 - Floral Sandals - £14.99 // 3 - Black Lace Sandals - £20 // 4 - Denim Floral Sandals - £12.99 // 5 - Embellished Cream Sliders - £12.99 // 6 - Rose Gold Sequinned Sandals - £14.99 // 7 - Fluffy Pink Sliders - £16.99// 8 - Multi-coloured Feather Sliders - £9.99
Okay, I can feel the questions about the multi-coloured sliders - but, come on; how great would they be for a festival? Speaking of, my FIB festival tickets arrived last Friday and I'm ecstatic ! Spain, Red Hot Chilli Peppers, Kasabian and the Weeknd? My body is ready.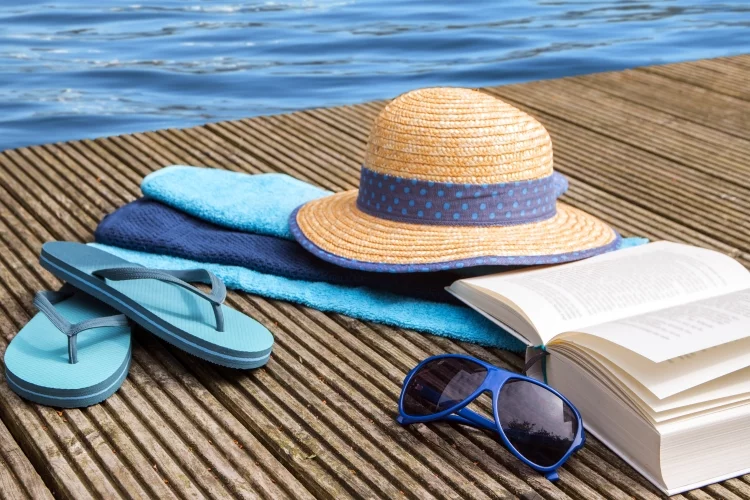 I hope I've convinced you to at least look at TK Maxx - you can really save some big money and they have some absolutely beautiful stuff. Anyways, that's all for now - but I do have a pretty exciting post in the works at the moment. Here's a hint: the first word is festival... and the second word is makeup.
Let me know what you thought of this post below!
Peace,

Instagram // Twitter // Bloglovin'// Youtube // Pinterest