With the sun finally starting to show its face in the dull patch of land that is Britain, (no seriously, the first day it was decently sunny was in the teen days of April. Spring starts on the 20th March – the sun was literally a month late. I expect it to be sunny into late October to make up for it.) we have a new issue that arises . . .
What do we wear to work?
Hello, friends. Today, I'm going internet shopping – and I'm taking you with me! As we all know, I started a new job back in February and with a new office comes a new issue: office fashion. You may be rolling your eyes at me; you may be saying "Mia, you're totally overthinking this", but for once I actually have a point.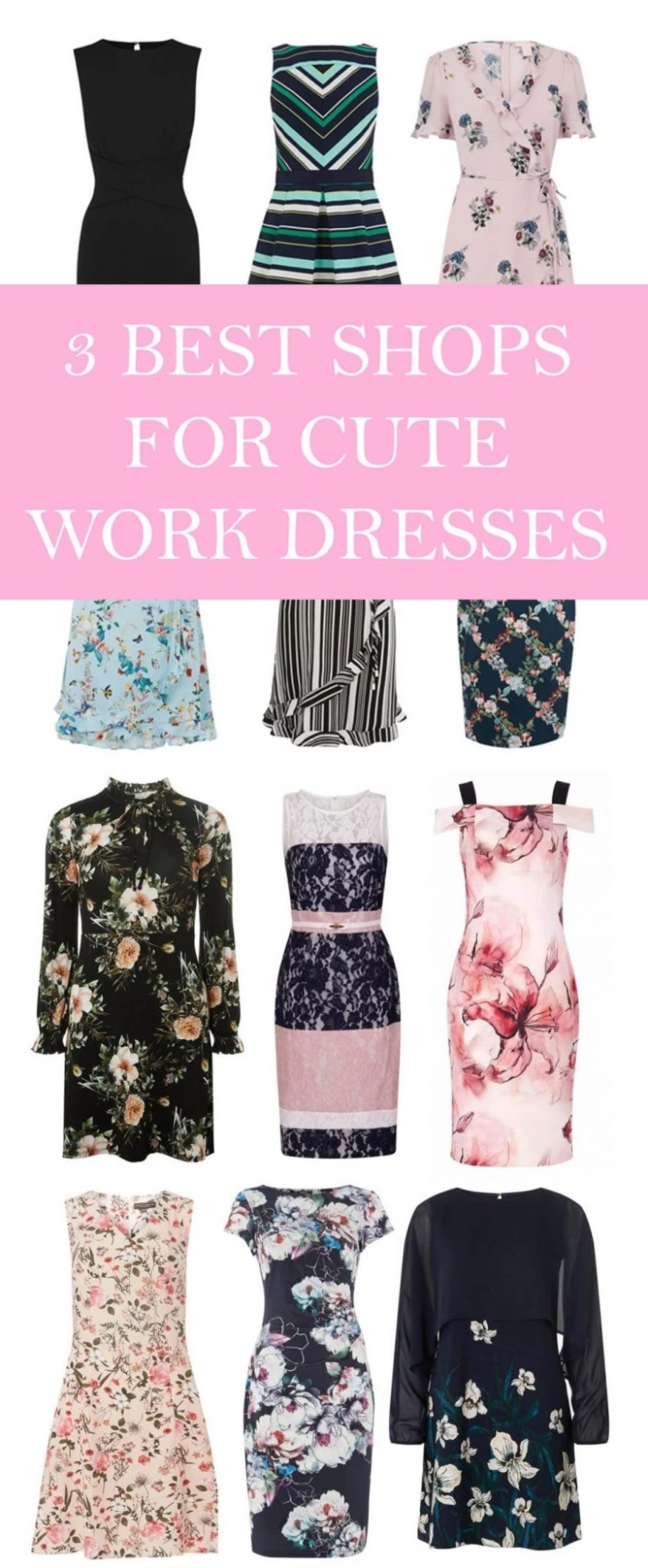 Different offices have different dress codes. Not just that, but different dress codes mean different things in different places.
The issue here is naturally adhering to dress codes firstly, but then it's also that you don't really want to be the odd one out. Also – and this is a big one for girls – what is appropriate? Skirt length, fit, top cuts . . . At my old place, I could rock a (smart) short skirt if there was a cardigan with it and nobody would blink. A tight pencil skirt would be totally fine. An off the shoulder dress? Go for it. However, in another office, this could be totally inappropriate.
Fortunately, I didn't have to wait long to find out – the first week of sun we got, the girls in our office embraced the summer fashion and I am pleased to report that dresses are a go. Thank bloody God.
So, welcome my dear friends, to . . . uh, well just me shopping for dresses for work.
High Quality, Pretty Work Dresses: OASIS
My first favourite brand for work dresses has to be Oasis. Why? Because, sweet Jesus, the patterns. Their dresses are so pretty (and therefore perfect for hitting the bar after work!), but I also love that they usually have different length options. So if you like a dress, but you think it's a bit short, you can usually choose a longer hemline! Or if midi isn't your thing, you can go shorter.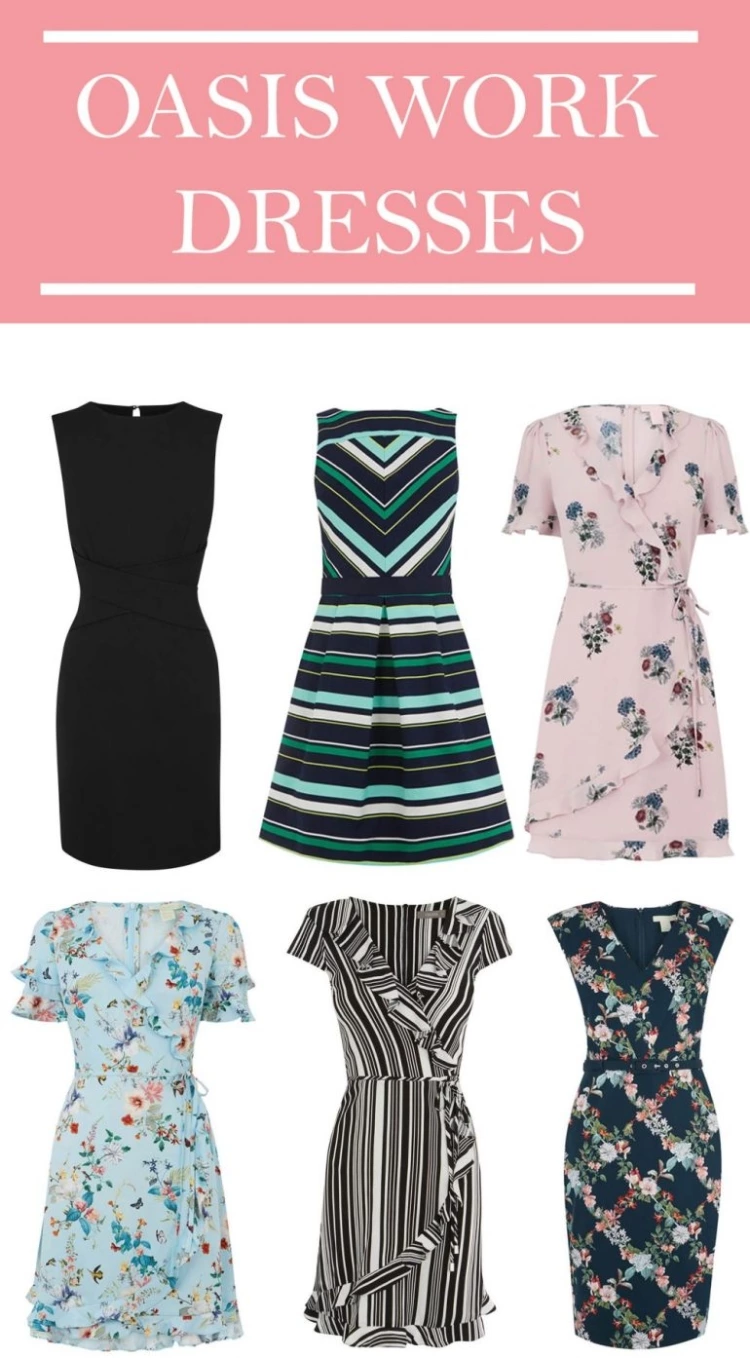 Black X Front Dress – £36 // Green and Black Striped Dress – £58 // Pink Floral Tea Dress – £48 // Pink Floral Print Tea Dress – £46 // Black and White Striped Tea Dress – £36.50 // Floral Diamond Print Bodycon Dress – £60
I would describe Oasis as the perfect store for work to weekend dresses; while their clothing is smart enough for work, it's also pretty enough to wear out of work. This is important to me because I'm lazy and like to go out straight from work – but also because it means these dresses aren't just part of your workwear wardrobe – they're worn at the weekend too!
Oasis work dresses can be slightly on the pricier end, but they have frequent sales and site-wide discount codes – and, as a one off treat, they work perfectly.
Cheapest Sale Work Dresses: ASOS Outlet
While Oasis is my guilty pleasure work-dress shop, ASOS is my all time favourite – namely, because of their outlet section. If you're unfamiliar with ASOS Outlet, it's where ASOS hides their massive sales and price cuts. Even better, it's always fully stocked. When I say fully stocked, there is always like 10,000 items available in each category. It's amazing – and the best place to buy cheap, high quality workwear.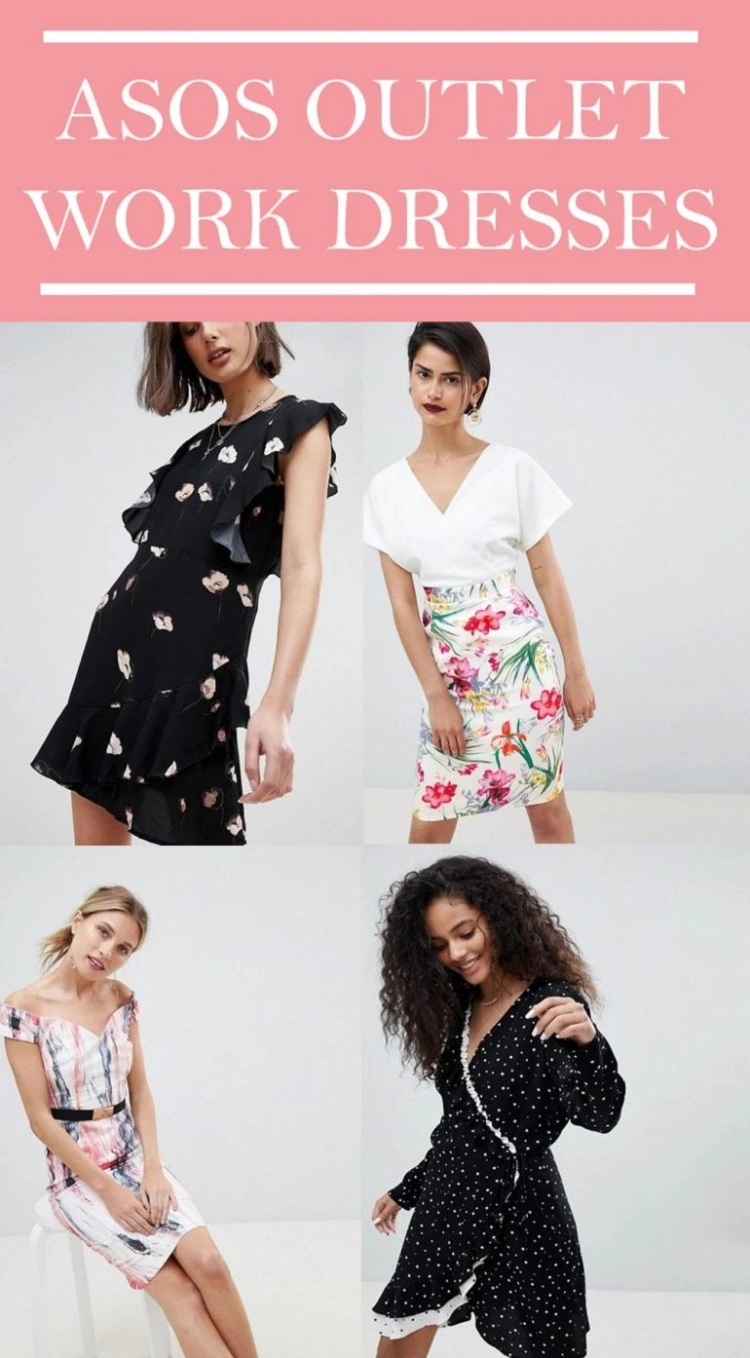 Black Floral Dress – £28 (was £36) // Paper Dolls 2-in-1 Dress – £42 (was £52) // Off The Shoulder Colour Dress – £45 (was £62) // Dotty Tea Dress – £16 (was £32)
The good thing about ASOS Outlet is that it's always being updated in the background – and it has all your favourite brands, like OASIS and River Island in it too. Best place to grab bargain work dresses by far.
3: Best Variety of Work Dresses – Dorothy Perkins
Dorothy Perkins has to be one of my favourite shops for work dresses – mainly because of what a large variety of styles, sizes, patterns, prices and brands they have.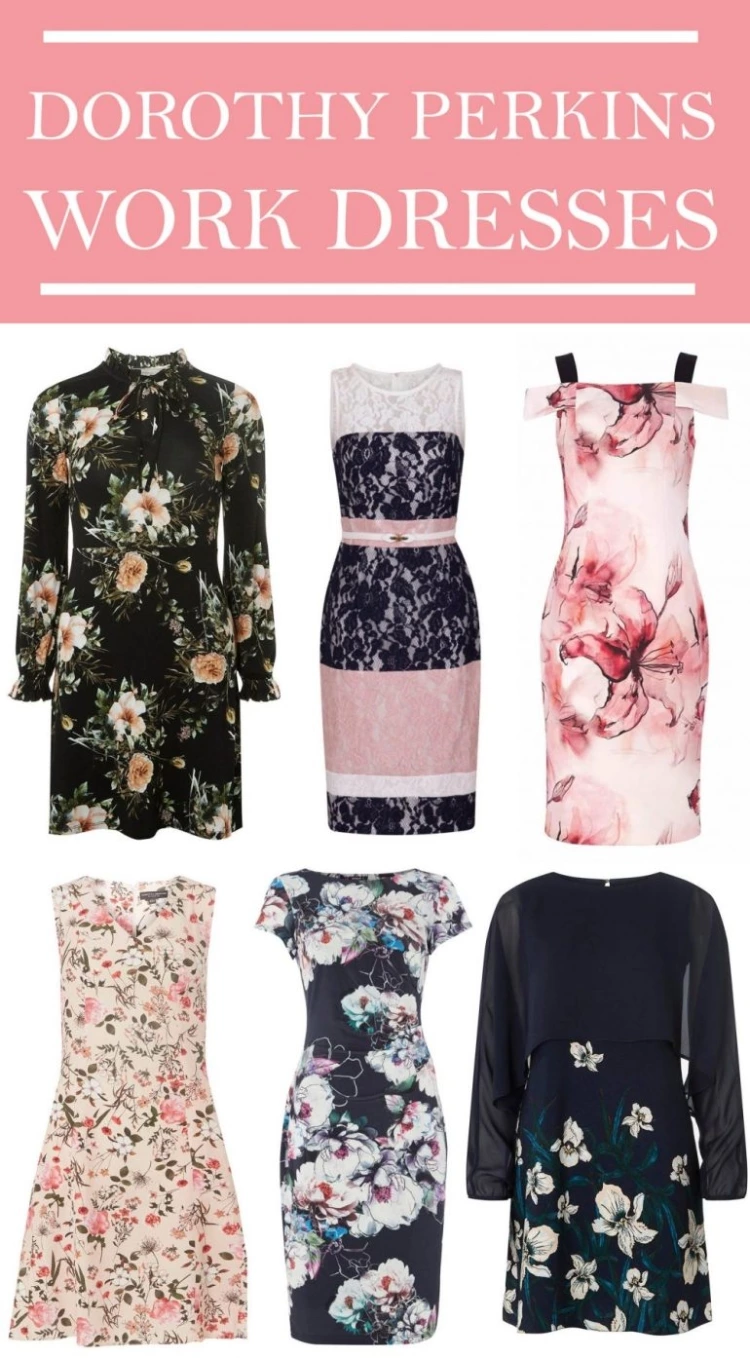 Black and Orange Floral Dress – £26 // Lace Bodycon Dress – £58 // Pink Floral Bodycon Dress – £35 // Pink Blush Dress – £30 // Navy Floral Bodycon Dress – £35 // Overlay Lily Dress – £38
Just look at these beauties! Whatever style of dress is appropriate for your office, Dorothy Perkins will have a a workdress for you – and with their range in prices, it'll be within your budget too.
I am entirely unsure if this post will be of any interest to you beautiful people whatsoever (fortunately, we have steered clear of talking about work for the most part on this blog), but I hope you enjoyed it! Where are your favourite places to shop for nice dresses for work? Have you tried any of these? Which dress was your favourite? Let me know your thoughts down below!
Peace,

Instagram // Twitter // Bloglovin' // Youtube // Pinterest