Looking for a romantic and thoughtful gift idea? Try this DIY care package for boyfriend tutorial! It shows you everything I included in my partner's self care box . . . and a ton of other care package ideas too. Affiliate links in post.
Hello, beautiful people, and welcome back to my corner of the web! Today is post 3 in my unofficial "rocking your boyfriend's birthday" series. If you aren't already caught up, make sure you check out this post's predecessors:
DIY Date Night Idea Vending Machine Gift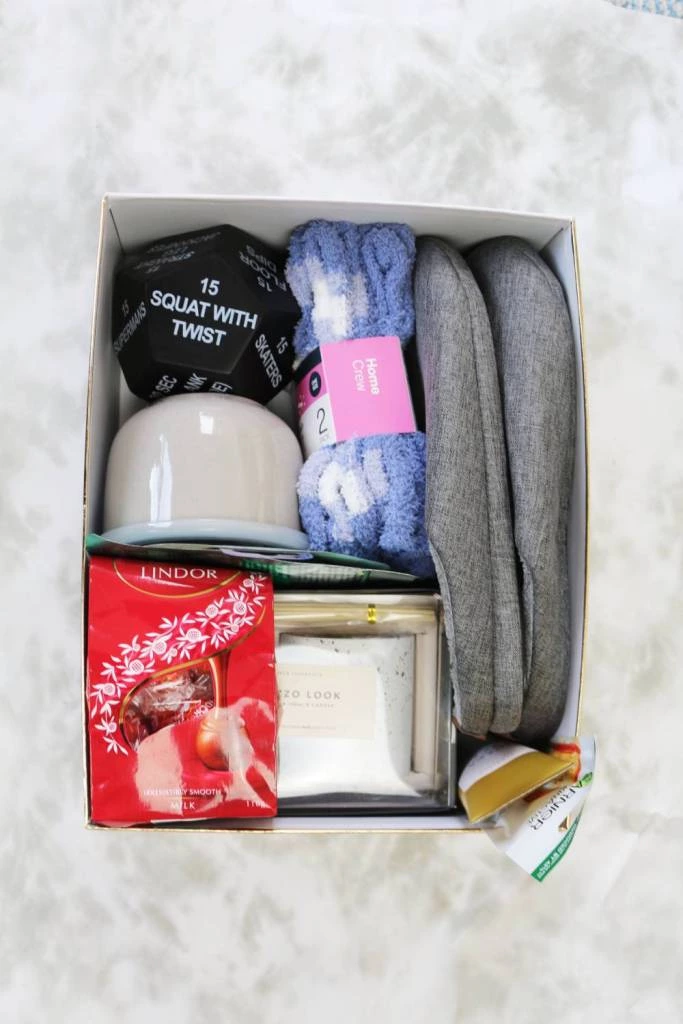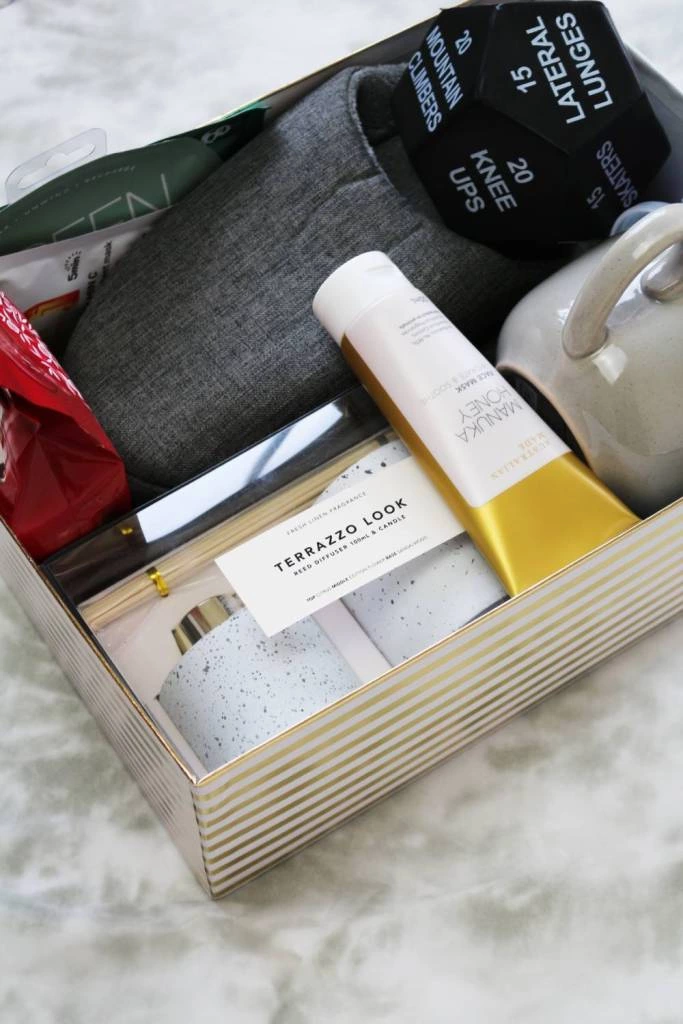 But, for today, I want to talk about care packages. I'm going to share the self care gift hamper I made my boyfriend . . . then 5 other creative care package ideas with you all!
Care packages are such a loving and thoughtful gift. (Especially if you're in a long distance relationship!) Plus, they can be incredibly budget friendly without looking cheap.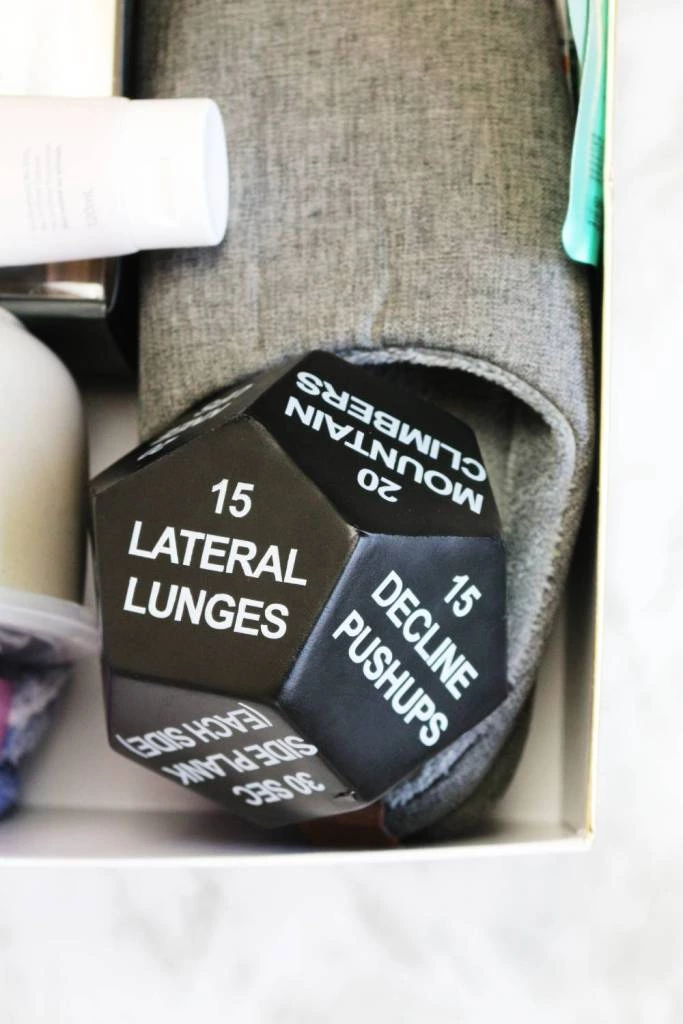 Chucking together 5 or six under $5 gift ideas with a theme and some decorations instantly elevates them.
For my boyfriend's birthday, I wanted to create a super cosy self care package. It's both winter and lockdown here in Melbourne – so I thought the boy definitely needed a little extra loving.
WHAT I INCLUDED IN MY BOYFRIEND'S SELF CARE PACKAGE: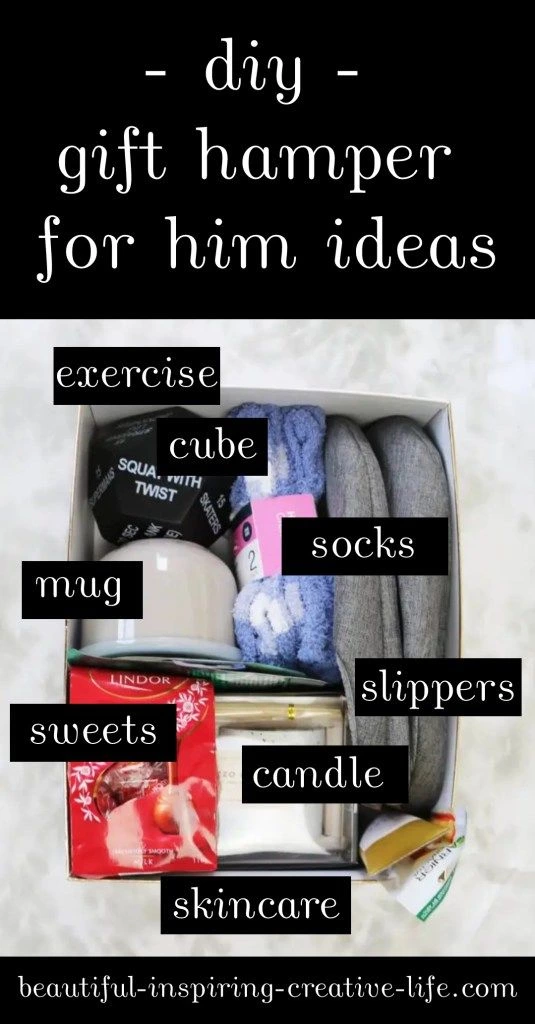 Candles
A sandalwood diffuser
Fluffy socks
Slippers
Face masks
Cosy mug
Fancy tea
Workout dice
Chocolates
Skincare set* – I mentioned this skincare set in my gifts for him post, but it was originally meant for this hamper. Unfortunately, the hamper box I used wasn't big enough for it all, so it got wrapped separately
None of these items were expensive – to be honest, I popped in a KMART online order and managed to get each item for under $10! That's the fun thing about care packages: they're meant to show thought, not expense.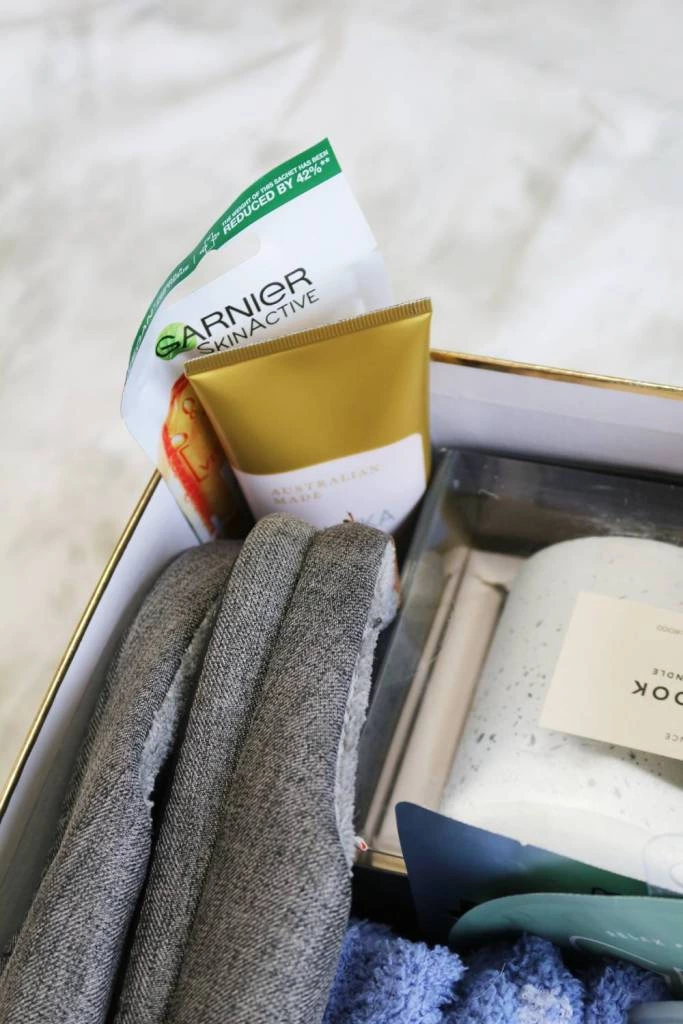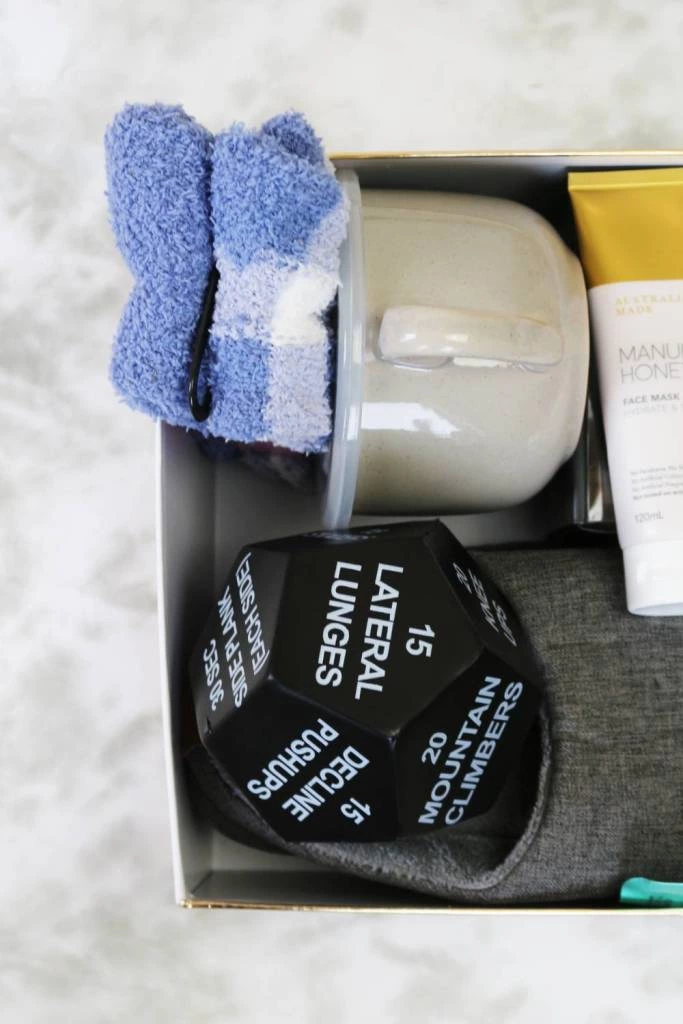 (Plus, let's be honest – sometimes men need reminding to take care of themselves!)
WANT TO CREATE A CARE PACKAGE FOR A BOYFRIEND YOURSELF? HERE ARE SOME OF MY TOP PICKS FOR A MEN'S SELF CARE HAMPER!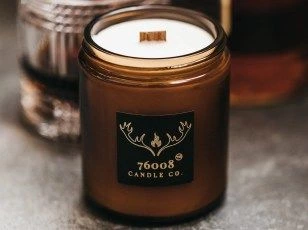 Sandalwood candle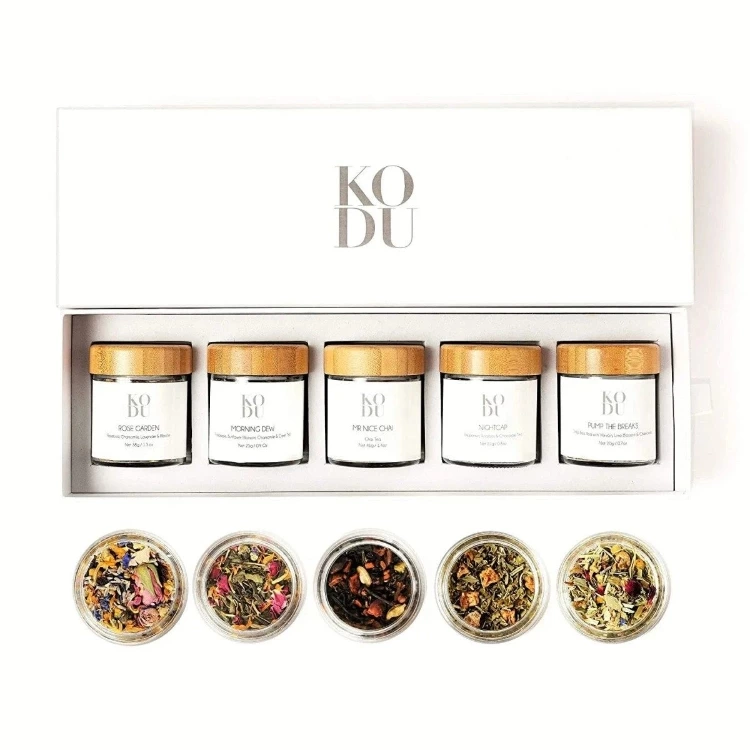 Fluffy socks
Men's skincare set
Slippers/slides
A sea mud face mask
5 ROMANTIC CARE PACKAGE IDEAS FOR BOYFRIENDS
Okay, so . . . now is the time to have a little fun! I chose self care as my hamper idea, but that is by no means the only option. Let's take a look at 5 more care package ideas for boyfriends.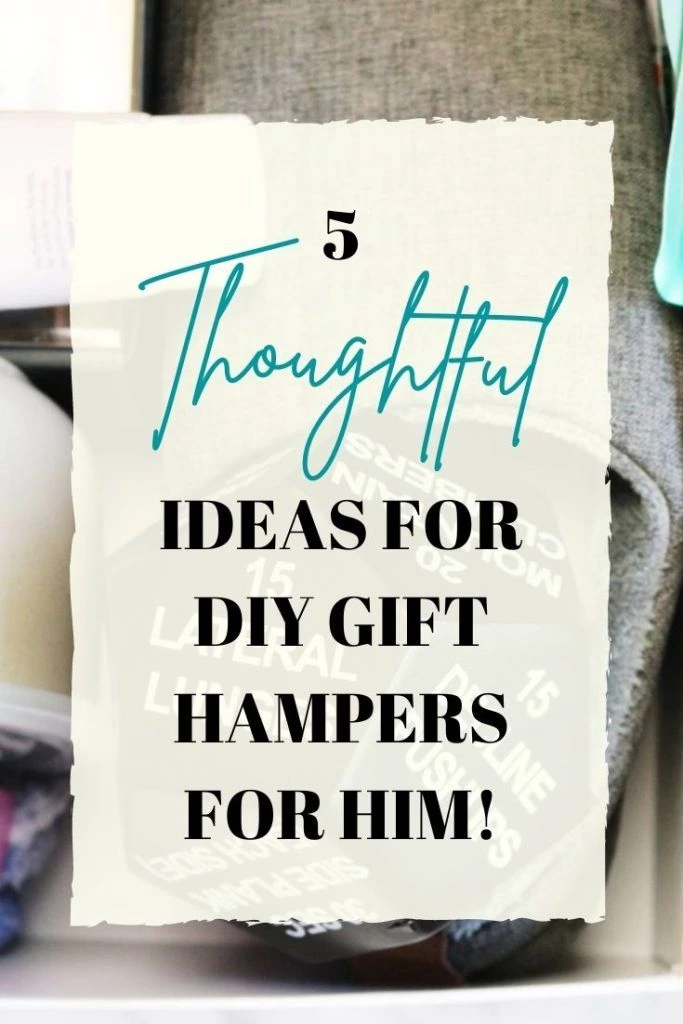 IDEA 1 – THE BRAIN TEASER HAMPER GIFT
Does anyone else's boyfriend love tinkering with things? Daryl loves puzzles, messing with his Rubik's Cube, cooking – the lot!
If your boyfriend also loves to keep is brain active, try this brain teaser hamper on for size!
IDEA 2 – THE ROMANTIC CARE PACKAGE
Our next idea is for a super romantic care package.
D and I are definitely not the mushy type – but, if you are, these ideas are all super sweet! I definitely think this could be a great idea for those of you in long distance relationships.
IDEA 3 – THE "CINEMA IN A BOX" CARE PACKAGE
Okay, I love this idea – and, if we were in summer, I would totally do it. Maybe for D's Christmas present this year . . .
This care package is an all-in-one cinema. Depending on your budget, you could keep this pretty minimal with snacks and blankets. If you've got a bit of spare cash, though, you could invest in a projector and go fancy!
IDEA 4 – THE ALCOHOL LOVER CARE PACKAGE
Our next two ideas definitely share a common theme! If your partner is a fellow alcohol lover (in a healthy way!), why not treat them to some of these fun gifts?
IDEA 5 – THE FOODIE GIFT HAMPER
And our last care package idea for boyfriends has to be a foodie gift hamper! I've mentioned this before in my gift ideas for foodies post, but my boyfriend loves food. He loves cooking and trying out fancy restaurants – much to my appreciation!
Alright, my friends, we shall end at the end! I hope you guys enjoyed these easy DIY care package ideas. Would you make this gift for your partner? Which of the 5 hamper ideas was your favourite? Let me know your thoughts down below!
Peace,

Instagram // Twitter // Bloglovin' // Youtube // Pinterest // TikTok