Hello, my friends – your girl's coming atcha with a potentially somewhat helpful post. I know, shocking! Well, let's not get ahead of ourselves here; you guys probably don't share my music taste, so this could end up being useless.
Today, I'm stealing an idea from the simply wonderful Priya of You Should Hear (who You Should Check Out Right Now – go on, I'll still be here when you get back!). Priya creates these pretty wonderful "Very Specific Playlists" wherein she creates a little playlist for a really specific emotion/mood/event – and I always end up finding awesome new music on them.
As bloggers, we spend a lot of time having to force ourselves to sit down and get shit done. Don't get me wrong, I love blogging . . . but sometimes forcing yourself to work consistently for a few hours is a challenge. (Especially when the aforementioned Priya forces you to go clubbing with her and you have post-tequila-shots brain fog. That girl, she's such a bad influence.)
For me, there are very few things more important to creating a good work environment than music. And one of those things is tea, which – as a British person – is saying a lot. The right playlist can massively put me in the mood to be creative and concentrate . . . so today I'm sharing 50 of the most creatively inspiring songs that help me get my ass in gear*.
*Coffee and green tea not included, but highly recommended as an accompaniment. Music only goes so far, caffiene is the real secret.
Just a forewarning: my music taste is eclectic as hell. You've got house, RNB, rock, pop, indie . . . not to mention, a total mix of moods. Some is inspiring, some is upbeat, some is chill, some is good background noise . . . this playlist is a real melting pot. You might not love all these songs (and that's okay, you're just an uncultured swine, we don't judge) – but there'll definitely be something for everyone and hopefully you'll find some new music. Let's do this thing.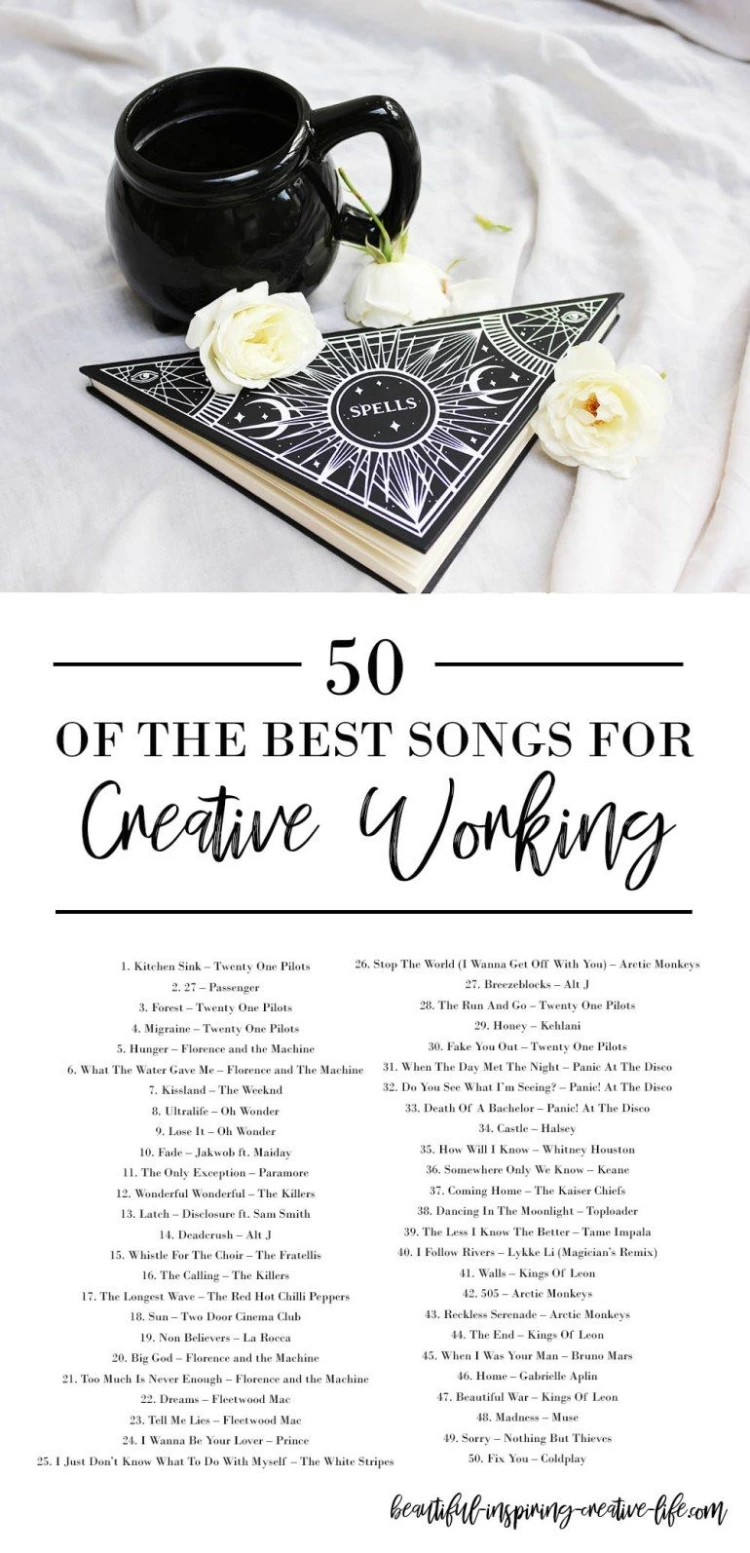 Okay, so here's our conveniently Pin-able overview image of my playlist. Below, I've attached each song with it's Youtube video so that you can bookmark this post, come back and have all your "gettin' down to work" music in one convenient location.
1. Kitchen Sink – Twenty One Pilots
2. 27 – Passenger
3. Forest – Twenty One Pilots
4. Migraine – Twenty One Pilots
5. Hunger – Florence and the Machine
6. What The Water Gave Me – Florence and The Machine
7. Kissland – The Weeknd
8. Ultralife – Oh Wonder
9. Lose It – Oh Wonder
10. Fade – Jakwob ft. Maiday
11. The Only Exception – Paramore

12. Wonderful Wonderful – The Killers
13. Latch – Disclosure ft. Sam Smith
14. Deadcrush – Alt J
15. Whistle For The Choir – The Fratellis
16. The Calling – The Killers
17. The Longest Wave – The Red Hot Chilli Peppers
18. Sun – Two Door Cinema Club
19. Non Believers – La Rocca
20. Big God – Florence and the Machine
21. Too Much Is Never Enough – Florence and the Machine
22. Dreams – Fleetwood Mac
23. Tell Me Lies – Fleetwood Mac
24. I Wanna Be Your Lover – Prince
25. I Just Don't Know What To Do With Myself – The White Stripes
26. Stop The World (I Wanna Get Off With You) – Arctic Monkeys
27. Breezeblocks – Alt J
28. The Run And Go – Twenty One Pilots
29. Honey – Kehlani
30. Fake You Out – Twenty One Pilots
31. When The Day Met The Night – Panic At The Disco
32. Do You See What I'm Seeing? – Panic! At The Disco
33. Death Of A Bachelor – Panic! At The Disco
34. Castle – Halsey
35. How Will I Know – Whitney Houston
36. Somewhere Only We Know – Keane
37. Coming Home – The Kaiser Chiefs
38. Dancing In The Moonlight – Toploader
39. The Less I Know The Better – Tame Impala
40. I Follow Rivers – Lykke Li (Magician's Remix)
41. Walls – Kings Of Leon
42. 505 – Arctic Monkeys
43. Reckless Serenade – Arctic Monkeys
44. The End – Kings Of Leon
45. When I Was Your Man – Bruno Mars
46. Home – Gabrielle Aplin
47. Beautiful War – Kings Of Leon
48. Madness – Muse
49. Sorry – Nothing But Thieves
50. Fix You – Coldplay
Okay, my beautiful people, now's a good time to stick a bow on this post and call it a wrap! I hope you guys enjoyed this playlist; do we have any songs in common? Will you be listening to this the next time you sit down to write a blog post? Which of these songs do you like – and what songs are on your creative playlist? Let me know your thoughts down below!
Peace,

Instagram // Twitter // Bloglovin' // Youtube // Pinterest