An easy-to-follow, beginner-friendly tutorial for making giant floor pillows from scratch! Inspired by the Urban Outfitters Reema sofa set up. Affiliate links in post.
Picture this. The sun is shining, your plants are thriving and your best friend has just lent you a brilliant novel. You get up in your comfy loungewear, warm mug of green tea in hand, and pad over to your living room to relax. But where do you sit?
How about on this bad boy?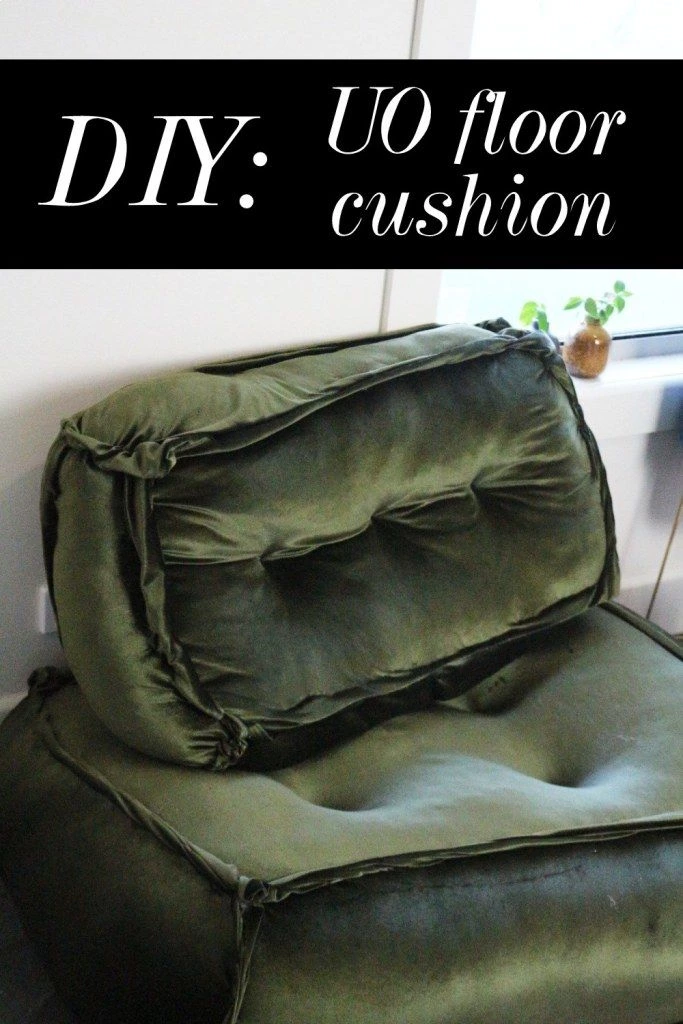 Hello friends, I come to you a changed woman. An accomplished woman. Because this DIY? This has cleared my skin, cured my depression and given me abs. (Okay, it's done none of those things. I wasn't depressed, Accutane cleared my skin and I don't have abs. But it's a really cute floor cushion.)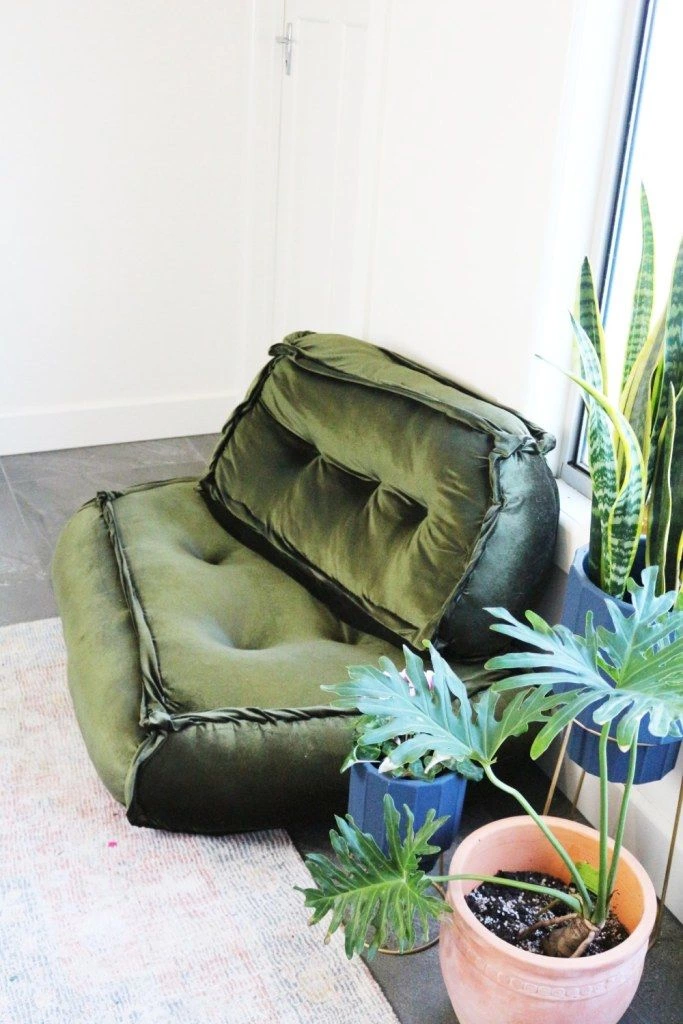 Since moving into our new place, I have been bringing you guys along for the ride as I slowly decorate. We've been plant shopping, thrift flipping and DIY'ing like a high school art teacher has possessed me. It's been a good time! However, until now, I've mostly been focused on my old office.
Well! The time has come to expand. I'm broadening my horizons . . . all the way into my new office.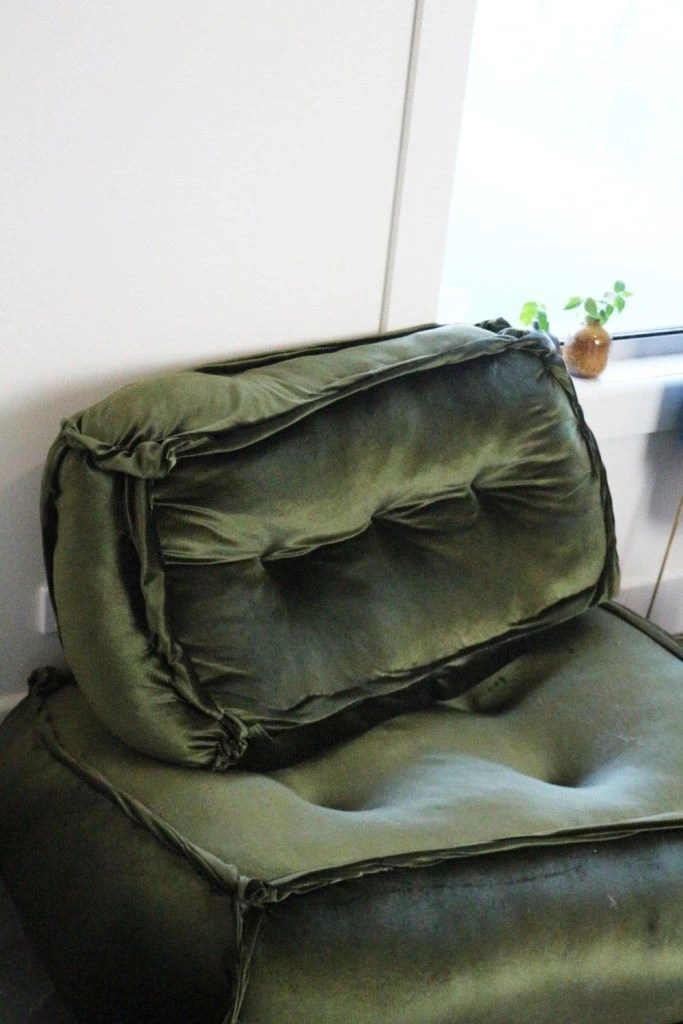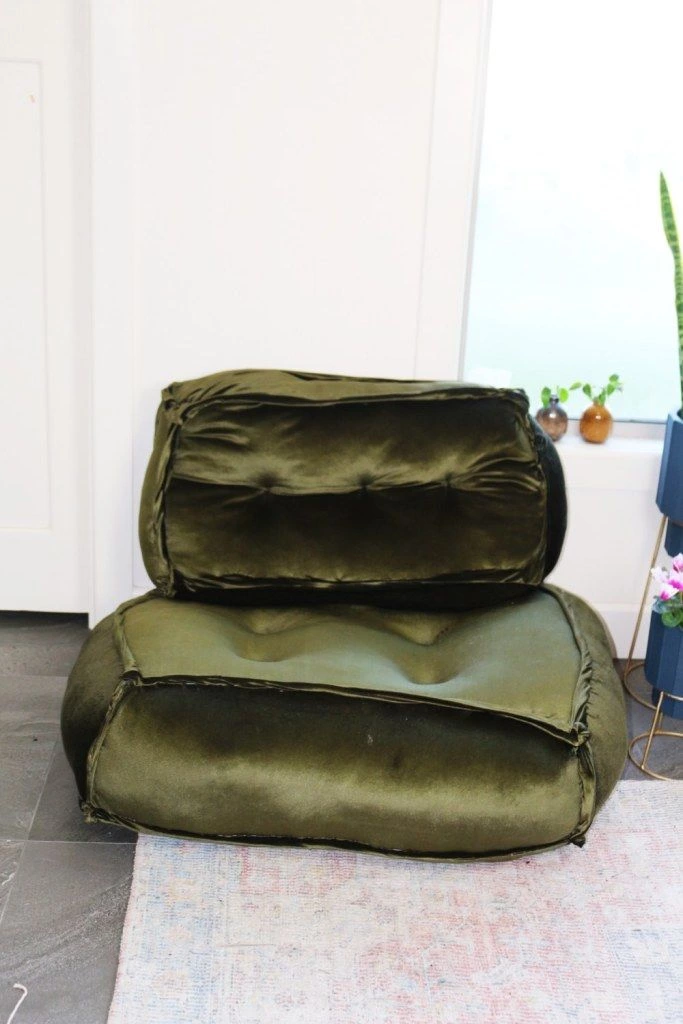 One of the furniture pieces we brought over with us from my boyfriend's old apartment was a deeply ugly sofa. Offensively ugly – and uncomfortable too! So it's been top of our priority list to kick that bad boy to the curb.
Now, my DIY Urban Outfitters Floor Mattress post has been one of my most popular ones since it first launched. It was my first sewing project – but it really opened the floodgates. And, while I'm very grateful for the traffic to that post, I can't help but also cringe. It's neither my best work, nor my best video. (Typical.)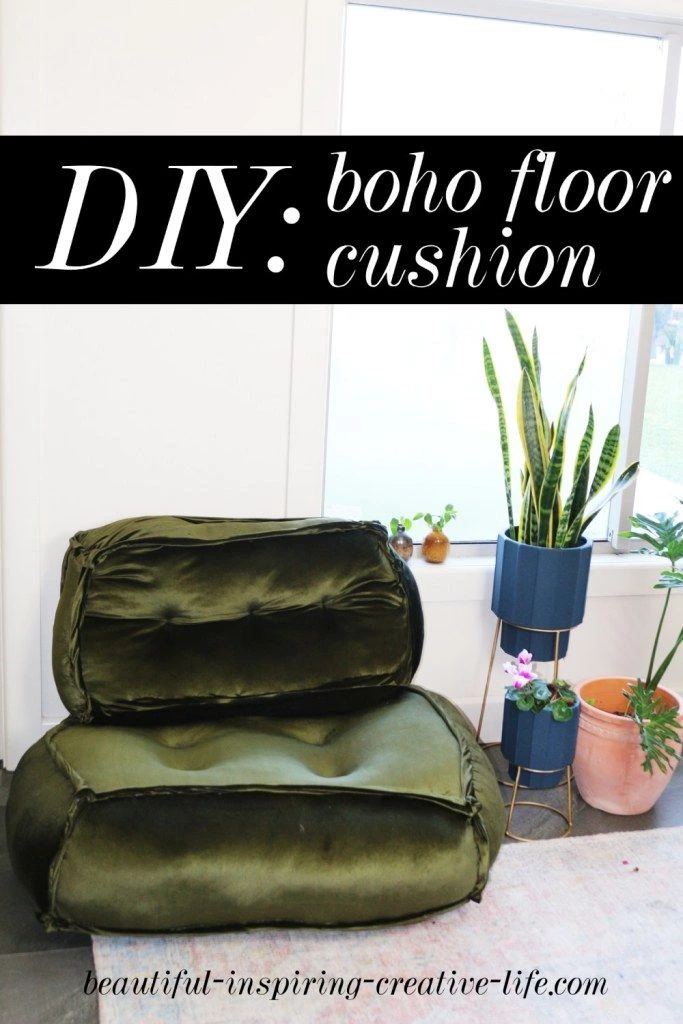 So I have long since wanted to reattempt it . . . but better. To conquer my past. Face up to my shame. Make my father proud. (I mean, considering the fact he has no concept any of this exists, there's no way to make him more or less proud than he currently is. But it sounded dramatic.)
THE INSPIRATION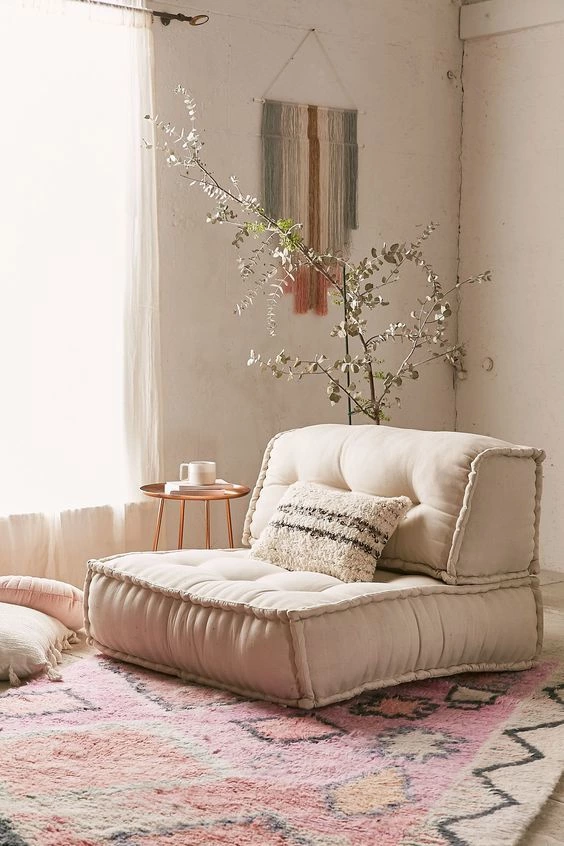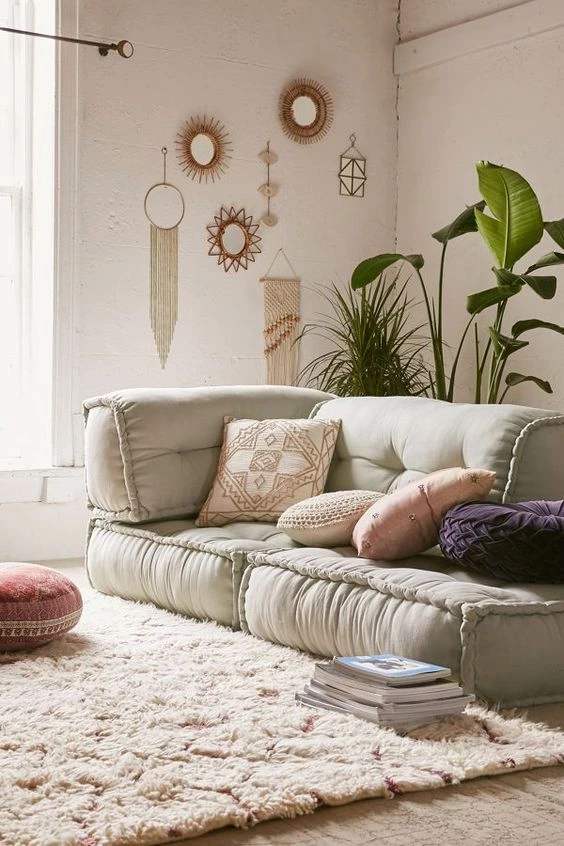 Imagine my surprise when this beautiful bohemian sofa popped up on my Pinterest feed. Could it be? My chance at redemption? Another Urban Outfitters dupe . . . but a practical one? For furniture my partner and I actually need?
Divine inspiration whacked me over the head with a baseball bat. And so we're here! I decided to make a beautiful DIY bohemian sofa, a pretty much perfect dupe for the Urban Outfitters Reema floor cushions. Let me show you how.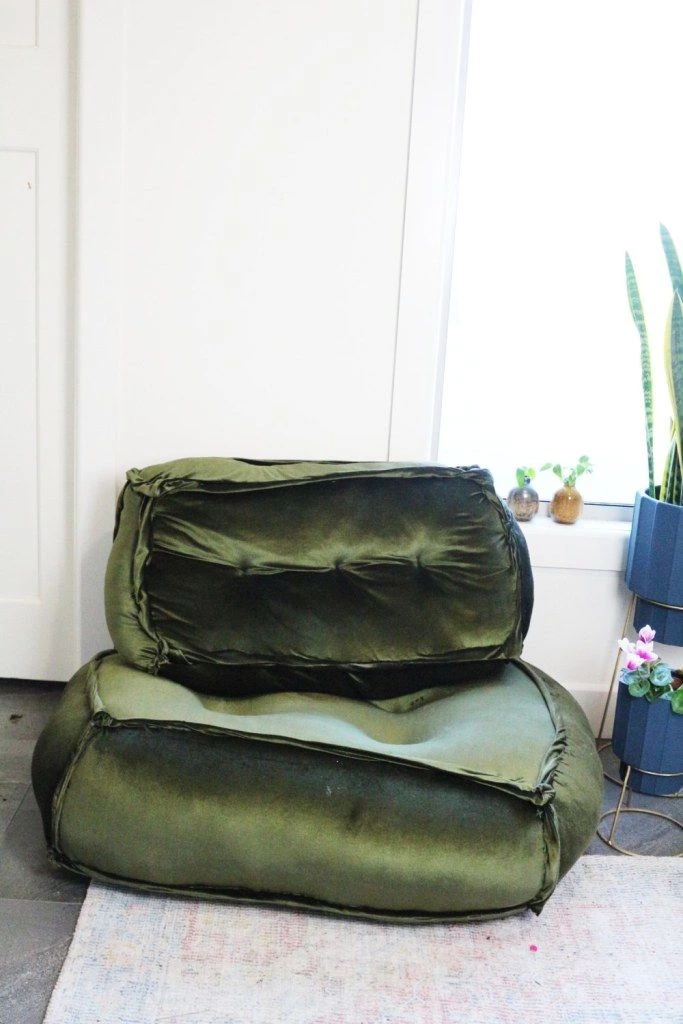 DIMENSIONS OF THE SOFA CUSHIONS:
Base cushions: 75 cm x 75cm x 45cm
WHAT YOU NEED:
To be cost-effective, I altered the sizing of the cushions slightly. You can keep the original Urban Outfitters dimensions if you like, but my measurements saved me buying a couple of extra metres of fabric.
BASE CUSHIONS: 2m of fabric per base cushion if your fabric is 150cm width. I used an olive stretch velvet for a classy feel!
TOP CUSHIONS: 1m of fabric per cushion.
A sewing machine
Pillow stuffing (I cut the stuffing from 48 super cheap KMART bed pillows)
STEP BY STEP HOW TO MAKE GIANT FLOOR PILLOWS
As always, I would love it if you checked out this tutorial in video format and subscribed to me over on Youtube too!
FABRIC SIZES EASY REFERENCE IMAGES: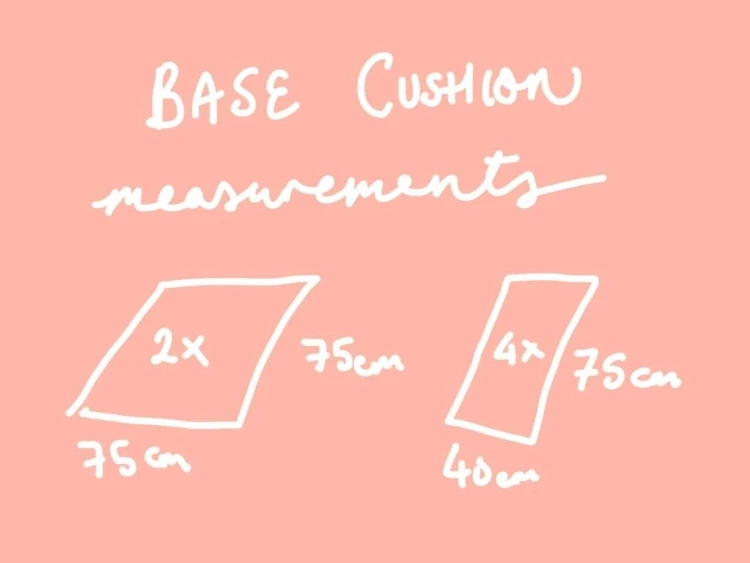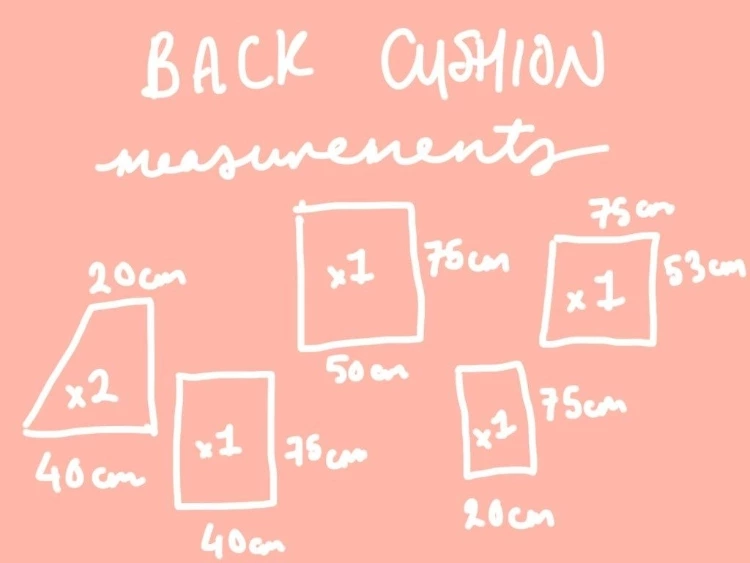 This was a lockdown projected that I completed a few months ago and, honestly, have put off editing for ages. Silly me deleted a ton of the footage and . . . look, it's not my best work.
But it's a super cute end result anyway!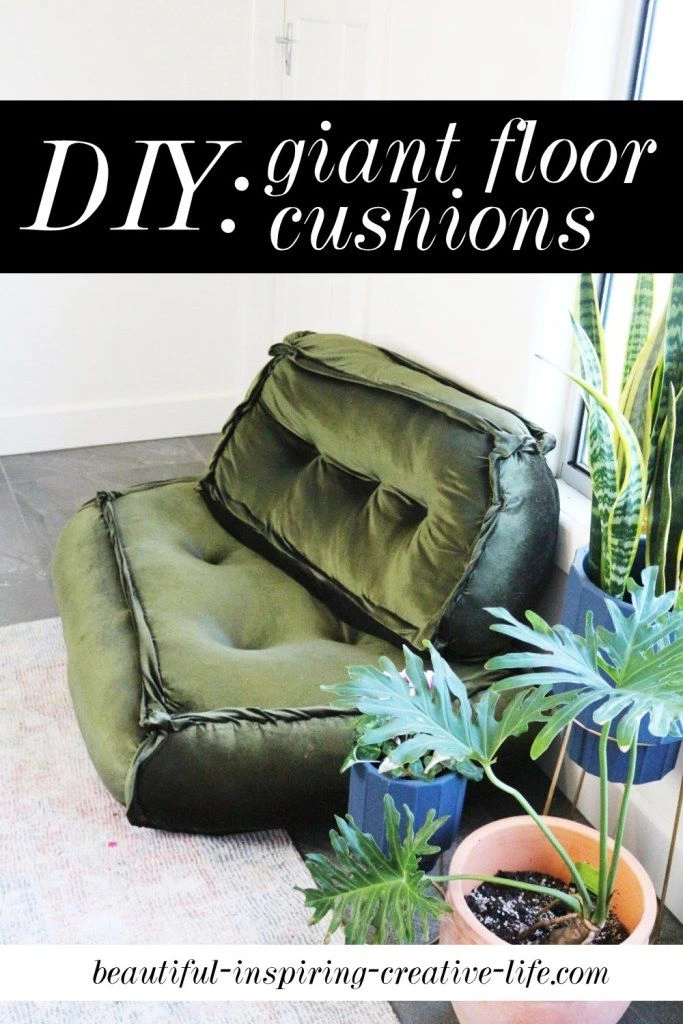 Anyways, I wanted to say a quick sorry for being a little inactive over the past week. Your girl has gone back to full-time working and the switch always knackers me out. But I'm super excited to catch up with everyone's posts!
Alright, my loves, we shall end at the end. I hope you enjoyed this craft! Would you attempt it yourself? What colour fabric would you choose? Let me know your thoughts down below!
Peace,

Instagram // Twitter // Bloglovin' // Youtube // Pinterest // TikTok