As we approach Christmas, I'm sure you've all been encouraged to "open your hearts" and "let joy in". Tis the season to be jolly; to forgive and forget. To turn the other cheek. Right?
Fucking wrong.
Tis the season to have a great time, eat a bunch of food and get some gifts. And having a great time? Well, sometimes . . . sometimes having a great time means being a dick to those who have wronged you. In a poetic way, you are gifting them . . . with karma.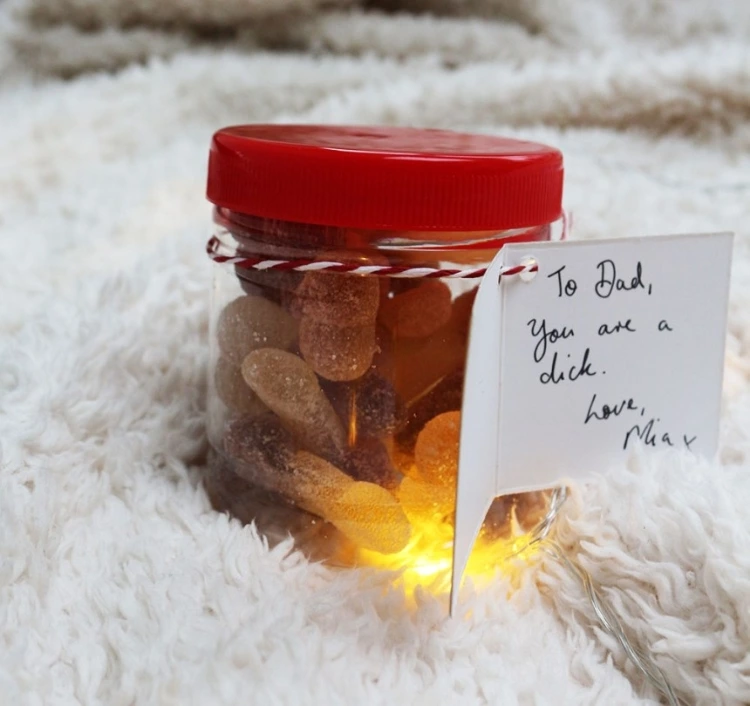 Hi, you sexy human beings!
Now, I could act like I'm some spiritually awakened perfect human being who believes in forgiveness out of the goodness of their heart – but I'm not. I do believe in forgiveness and not chasing revenge/being petty, but only because I'm selfish.
Hanging onto things only affects me; not the other person. It takes up time, energy and mental real estate that I just am not interested in wasting.
So people think I'm kind of stoic and zen, but really I'm just lazy. It's far easier to go "cool, I forgive you and I'm over it; now we can go our separate ways and I never have to spare you a second thought".
That. Being. Said.
I am most definitely not averse to a little harmless revenge; a little humorous payback. Nothing too crazy or life-threatening, but a little moderately harmless fun to make you feel a bit better before you move on with your life. I mean, come on, sometimes karma just takes a little too long.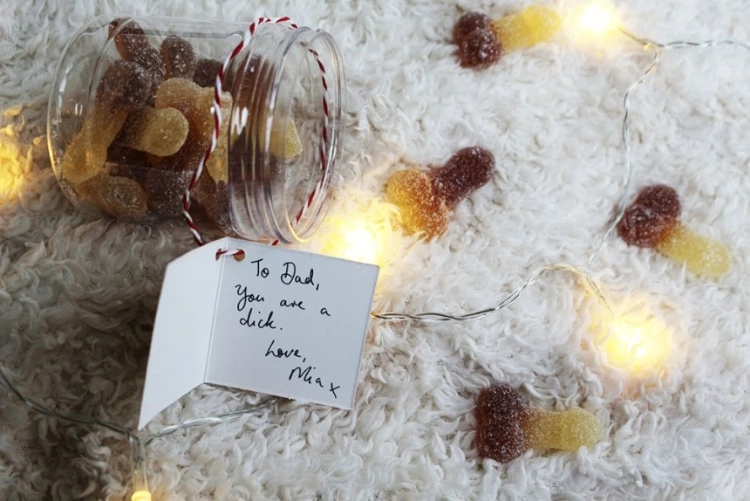 And sometimes people are utter assholes and they just deserve it.

So today I'm acting as your fairy godmother and bringing you two ways that you can get revenge – without crossing over to the dark side. Rashara, my beautiful best friend, this is for you – go give your flatmate bitch some gummy bears.
#1 – Sugar Free Gummy Bears
I mean, honestly, if you haven't seen these then I'm concerned for your internet-browsing habits. You should definitely be looking at weirder things.
These gummy bears may, at first, seem like a lovely gift . . . but read some of the reviews here. Apparently, they're liable to give your digestive system . . . issues. The good thing is, though, that they taste nice first! Want to see some of the reviews? Let's go!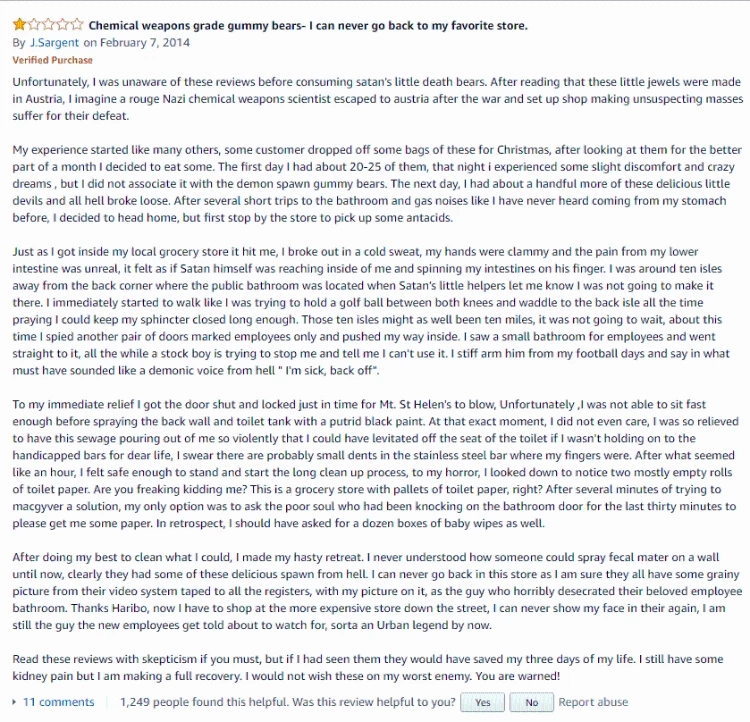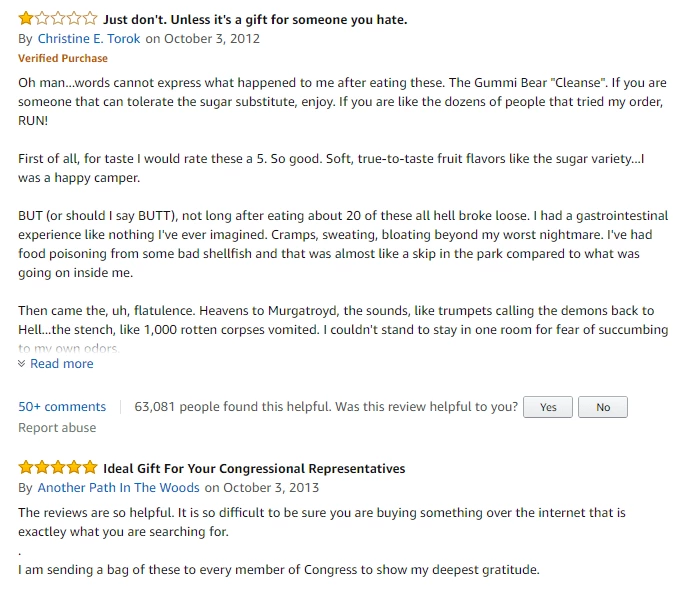 Personally, I think the idea of gifting these to your favourite member of government is a great idea. Gummy bears, Boris? Or Nigel – no, no, don't limit yourself to one bag; please, have two.

Sugar Free Gummy Bears 5 pound Bag – $21
#2 – Ship Your Enemies Glitter
This one is both hilarious and harmless – if you don't count their carpets. Ship Your Enemies Glitter allows you to anonymously send people letters with glitter in them.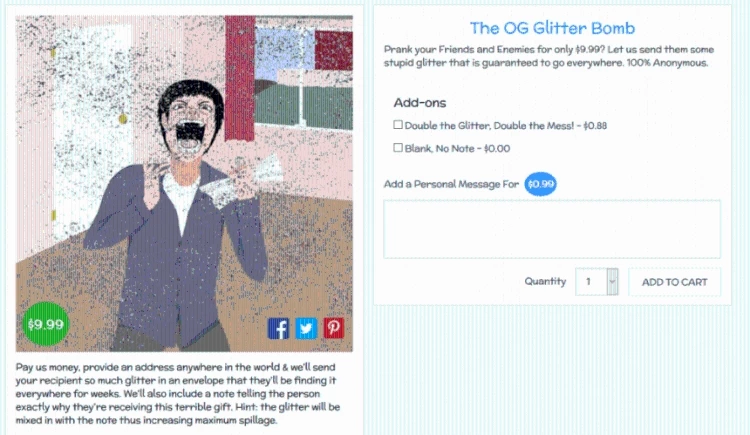 Even better . . . there's a letter telling the gift recepient that they're a massive dick. Plus, it's all completely anonymous and, I mean, really; even if it weren't, what can somebody really do to you? All you did was ship them a bit of glitter!
Also, if you're feeling really fruity, you could ship them a bag of dicks . . . but I would hesitate to do this because they look like they taste nice and I feel like the insult would be softened with the yumminess of sweets.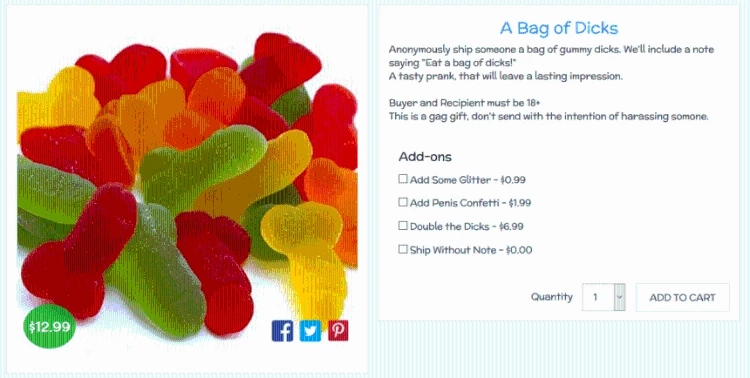 Want to ship your enemies glitter, or a bag of dicks (with optional penis confetti!)? Ship Your Enemies Glitter Website Here!
For me, I have slayed all my enemies. Their rotting carcasses lie under my house's foundations, never to see the light of day. I'm sure I'll spawn a decades long feud between all of our descendants and some type of Romeo/Juliet situation will arise in which all of our offspring will die and I will sit there cackling from beyond the grave . . . but I have no need for glitter. However, while I may not have enemies, I do have an enemy. An arch-nemesis, if you will.
Dad, you big tit, this is for all the times you've walked into the room, farted, laughed and left me suffocating in your stink.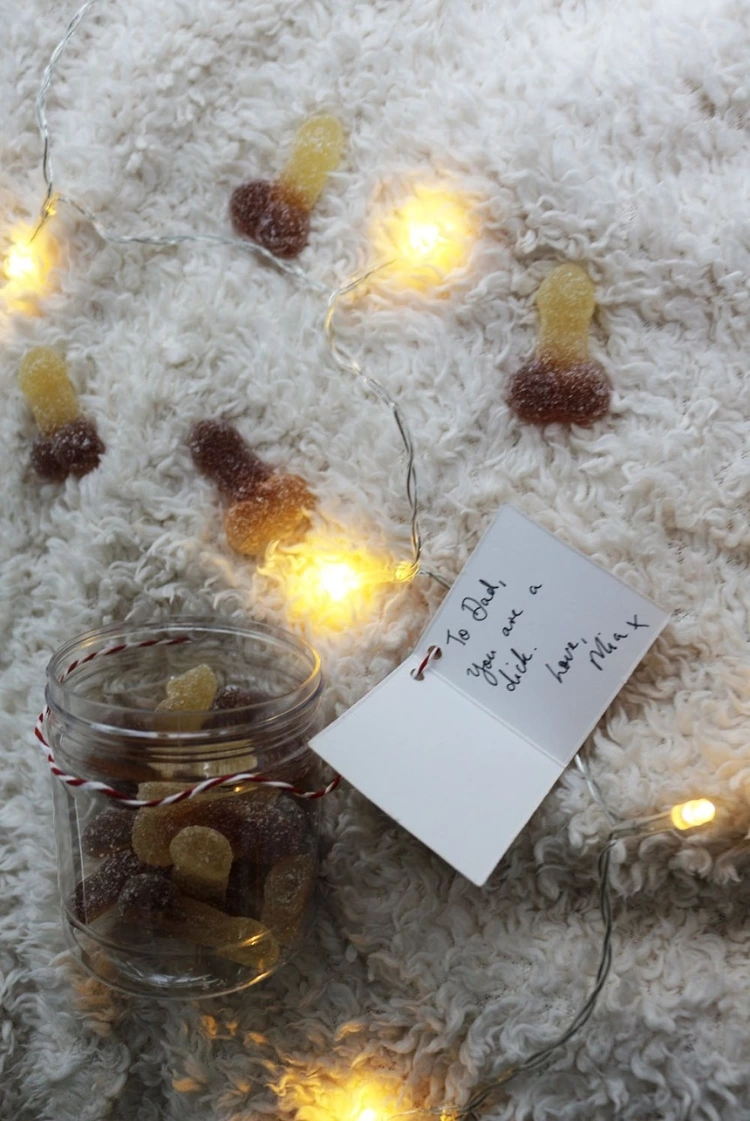 Well, kids . . . that's this post done. How about you guys – do you have any people you'd consider spreading the Christmas cheer to with a big ol' glitter bomb? If you did need to get some revenge, would you utilise any of these weapons of mass destruction? Or you more upfront – maybe a punch to the nose? Let me know your thoughts down below!
Peace,

Instagram // Pinterest // Twitter // Bloglovin'