Looking for the best places to buy terrariums online? Let me help! Here are 20 stunning terrariums and mini greenhouses for your plant babies you just have to see. Affiliate links in post.
Hello, lovers, and welcome back to my corner of the web! Today, we're going to be talking about one of my favourite current obsessions: terrariums. (And can you blame me? They're so cute!)
Now, if you've followed my content over the past few months, you may have noticed a love of house plants slipping in. I can't help it – they call to me.
At the moment, my house plant collection is sitting pretty close to the triple digits . . . which means it's long past time to find some creative display options.
Today, however, I wanted something a little more enclosed for my babies. (Humidity is important, after all!) So let's take a look at some of the cutest terrariums the market has to offer . . .
Our first pick is technically not a terrarium – but it's easy enough to hack into one! IKEA glass cabinets are the internets favourite indoor greenhouse solution and I think this bad boy takes the cake.
If you're living in a small space, or have rare plants that need specific growing conditions, this might be the one for you!
These minimal terrariums are so chic! I can imagine them being a perfect fit for a home office – and I love the mossy display inside,
This terrarium table is so adorable! I've been wanting to DIY a planter table for the past few years, but who needs to go to the trouble when you can just buy one?
Books and plants are two of my favourite things . . . so combining the two? Sign me all the way up! I love the idea of having a massive book shelf with a few of these beautiful planter book ends.
If you're a fellow hoarder– I mean house plant collector, make sure you check out my faux marble DIY plant rack tutorial. It's super cute.
Etsy is such a hub of quirky and unique finds . . . plus you get to feel great about supporting a small business! This stylish black mini greenhouse is such an adorable home for any little plants you have.
Well, we all know my deep, deep love of vintage everything. So it's no surprise that vintage terrariums are a big ole' yes from me.
I think this little tower terrarium might actually be my favourite. It would make a fabulous gift too – in fact, I think I have an idea for my boyfriend's birthday . . .
Everyone loves a bit of IKEA – but did you know that they're also a total dream for plant lovers? Not only do they have a great range of cheap plants, but they have some super cute accessories like this little green house!
RELATED POST YOU SHOULD CHECK OUT: 20 GENIUS & PRACTICAL IKEA HACKS & DIYS FOR PLANT LOVERS!
Etsy has brought it yet again with this quirky mini greenhouse terrarium. It's like a little Edwardian conservatory and I am obsessed.
Would you believe I hadn't heard of West Elm until I researching for my 8 best online stores to buy plant pots post? I know. Your girl was missing out big time. They have so many cute terrariums and planters – and these dome ones take the cake!
Okau, I confess, I love little house style terrariums. They just make me think of elegant, old fashioned conservatories – and I love that. This sleek, modern take on the mini greenhouse is perfect for the more minimalist among us, though!
How practical is this bad boy? Not only do you get a cute terrarium for your desk – but it comes with a grow light! So you could have this in a spot that gets no light and still have your plant babies grow.
Don't look at me like that – I told you I really like house shaped planters.
RELATED POST TO CHECK OUT: 8 OF THE BEST ONLINE STORES FOR CUTE PLANT POTS!
Amazon is a treasure trove of affordable terrariums . . . in really unique styles too!
Okay, maybe – maybe – I've found a style I love more than the houses. How stunning is this bird cage terrarium though? I must have it. Get in my cart.
Confession time – I've been trying out a bunch of faux stained glass techniques and I'm getting nowhere. But how can you blame me when stained glass looks like this?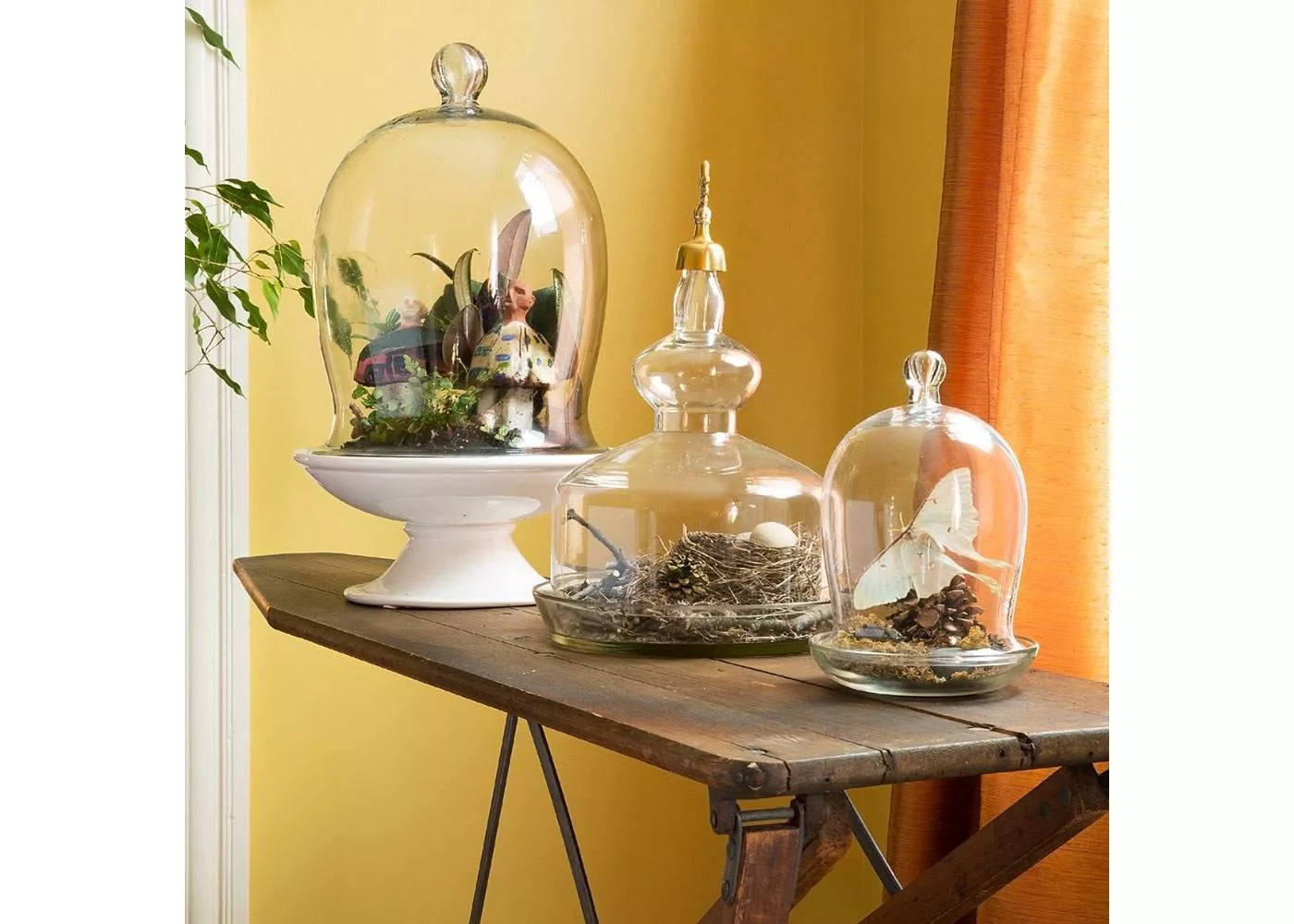 Target is one of the first places I look at for plant pots. Why? Because they're wonderfully cheap . . . and equally as pretty! These bell jar terrariums give me all the vintage vibes and I am here for it!
Alright lovers, we shall end at the end! I hope you guys enjoyed this post and maybe found some inspiration too . . . Which of these terrariums was your favourite? Let me know your thoughts down below!
Peace,
Instagram // Twitter // Bloglovin' // Youtube // Pinterest // TikTok