Hello, beautiful people and welcome back to my corner of the web! Today, we're taking a break from the onslaught of Christmas fun I have coming your way to talk about something equally as fun . . . fashion!
Recently, I was lucky enough to be approached by ThreadHeads. And, guys, let me share the love. I think I've found the place I'm going to be sourcing Daryl's Christmas gifts!
The concept is pretty simple: they sell unique, quirky graphic tees you can't find anywhere else. We've seen it done before, right? But have you seen it done ethically? With sustainably sourced materials? And exclusive invite-only artists so all the designs are high quality and actually wearable?
I mean, I'll be impressed if you have – drop me those links pronto! But I hadn't, so I was very happy to receive an email from them about working together.
So I love ThreadHeads. Naturally. And, rather than just a boring review, I figured I'd take them out for a test spin and show you some of my favourite ways to style t-shirts. Melbourne has just got out of lockdown, after all, so what better time to get out and about?
#1 – Hippy style, with a tied top and wide leg pants
During lockdown I have really learned to embrace my inner bohemian chill babe. She is lazy, she is lavish and she refuses to wear anything but the comfiest clothes, with the brightest of colours. I love it. It's a mood.
My first favourite way to style a graphic tee is just to tie it off at the waist with some comfy pants. I love this combo because . . . well, the pants are from Thrills Co. And they're one of my favourite stores I've discovered in Australia. Ethical, comfy and cute? The holy trinity. (I've actually featured these same trousers in another OOTD that you should definitely check out!)
But I also love this because it's the two sides of my style just battling it out. "Are you punk rock or hippy dippy?". Who knows, I vote for both!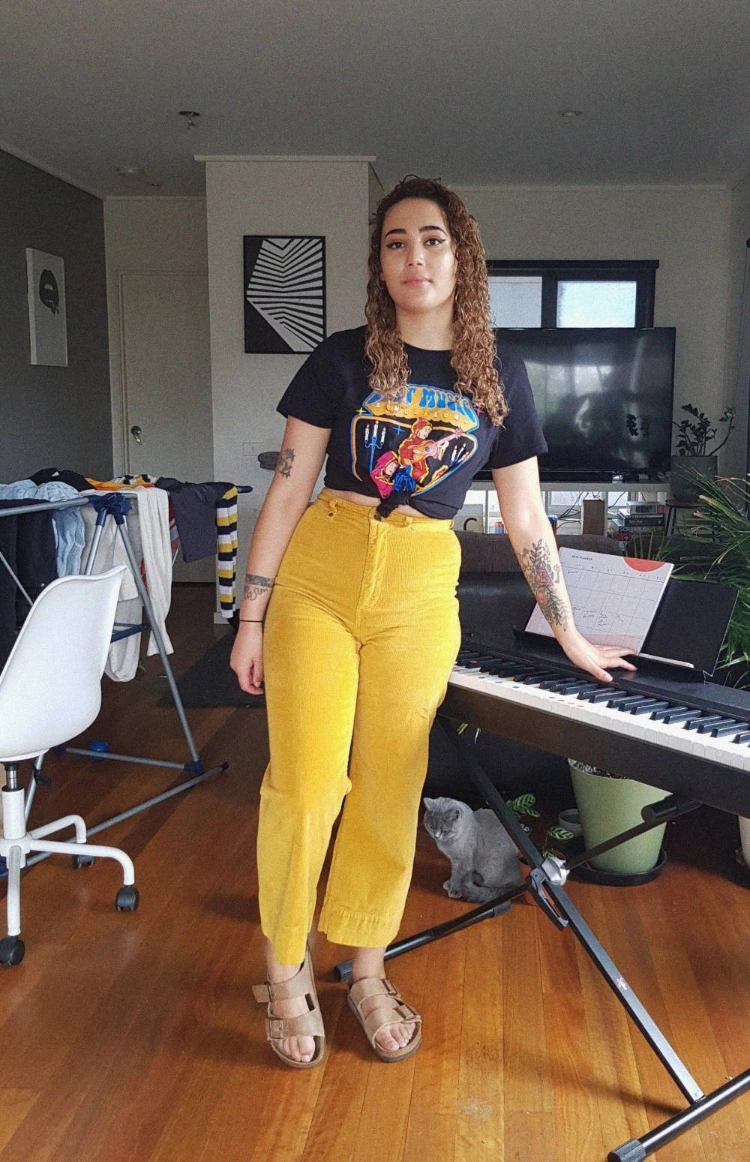 This outfit features the first tee I chose from ThreadHeads – and it features a super quirky "cult music singalong" print. I love it and cannot wait to wear it out to gigs and festivals sometime in 2030. For now, I shall have to be content wearing it out to brunch.
#2 – Super casual, with a denim skirt and oversize tee
This outfit combo is a go-to for running errands or casual coffee runs. (Which I can actually do again now that Melbourne is out of lockdown! God, I'm so happy.)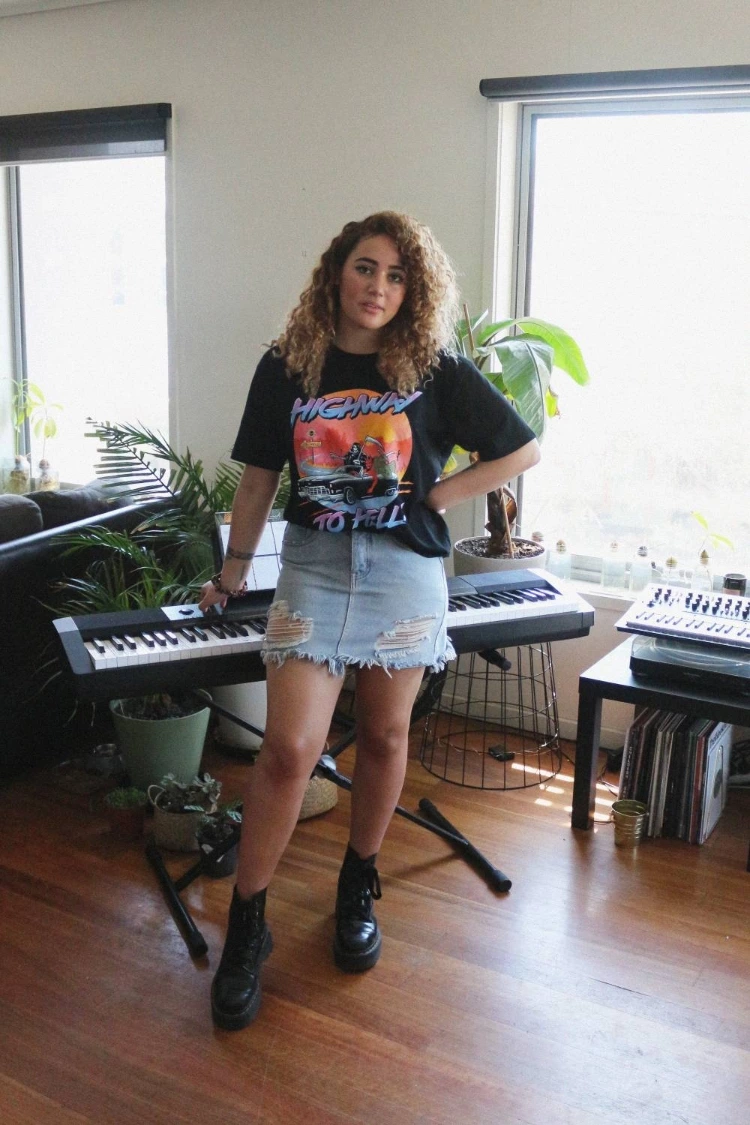 For this, I like to go full grunge, pull on my Docs and rock the acid wash denim! Just kit me out with earphones blasting Guns'N'Roses and the whole vibe is complete.
This oversized Highway To Hell tee is just about the cutest tee I've got in my wardrobe . . . and the print quality is excellent. The colours are so bright and vivid, they're almost neon (minus the tack). I can't decide which of the two tees is my favourite, but I definitely reckon I'll be wearing this one the most!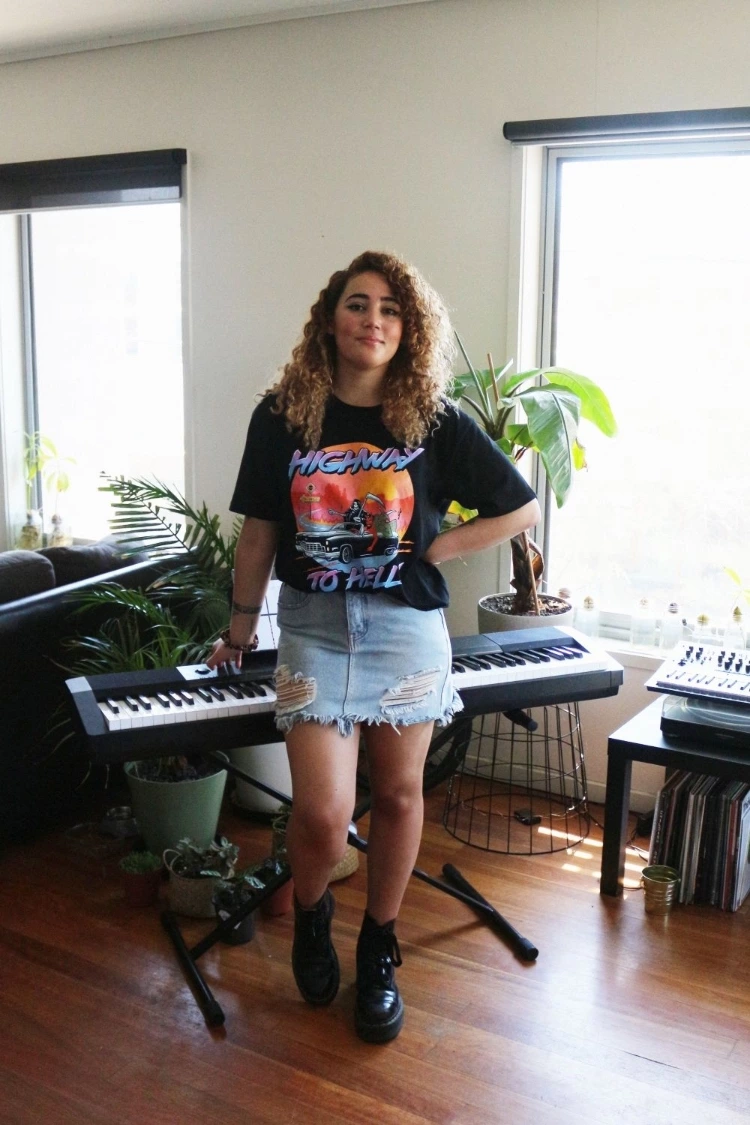 All in all . . . ThreadHeads are a firm thumbs up in my book! The quality is brilliant; the prints are quirky and unique (while still being trendy); and the materials are ethically sourced. Literally not a thing more I could ask for! If you love a good graphic tee, make sure you head on over to their site and have a look around . . . there's 61 pages of designs to choose from.
https://www.instagram.com/p/CHUn2ZtBFBr/
Make sure you're following me over on Instagram too!
Alright lovers, that's this post finished! Did you like the t-shirts I chose? Which was your favourite? And what's your favourite way to style graphic tees? Let me know your thoughts down below!
Peace,
Instagram // Twitter // Bloglovin' // Youtube