**Updated 2020: Comparing the 3 Mario Badescu facial sprays and finding which ones are best for which skin concerns, such as acne.**
The entire internet seems to have gone gaga over Mario Badescu facial sprays – so today we're going to be reviewing them and finding out if they're worth the hype. You guys already know about my love affair with the Mario Badescu Acne Starter Kit, now we're going to see if the rest of their products live up to my lofty expectations!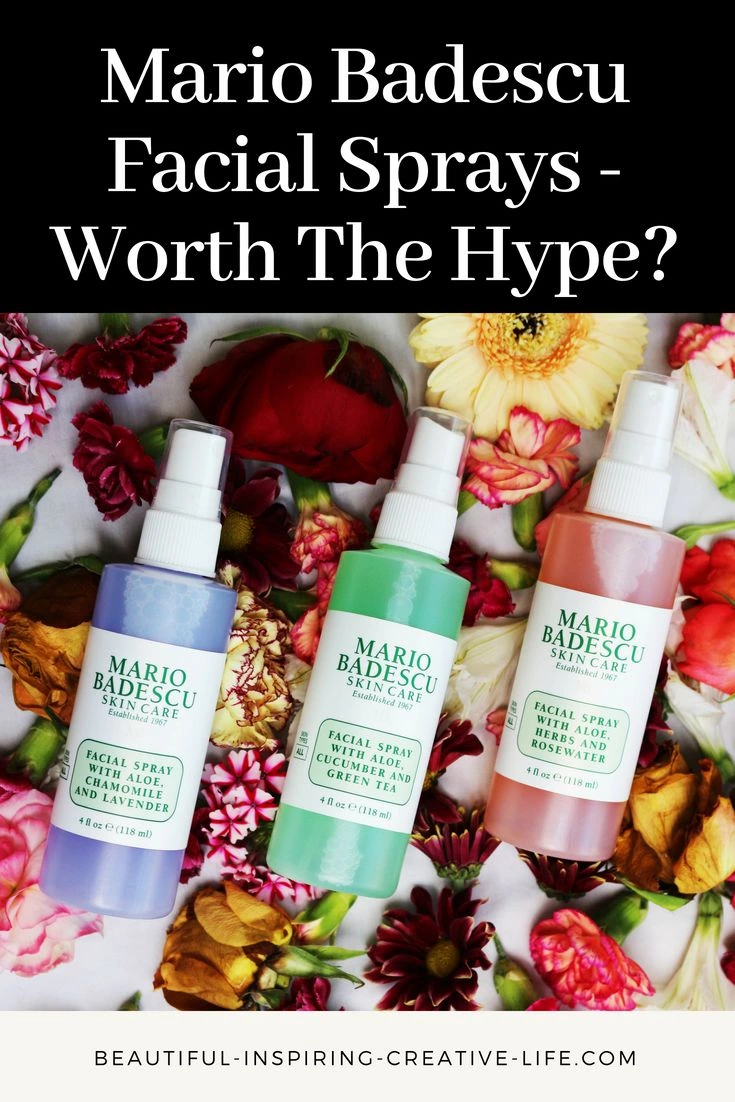 Before we even get into the in-depth review, let me just spoil it by saying: these products are amazing. They're a handbag essential for me – perfect for refreshing my makeup throughout the day. They also keep my skin nice and hydrated, but more importantly they help me avoid acne in summer by preventing my skin getting too oily.
Beauty Bay currently has an amazing value bundle set for sale. (Which is what inspired this post.) Run and buy before they all sell out!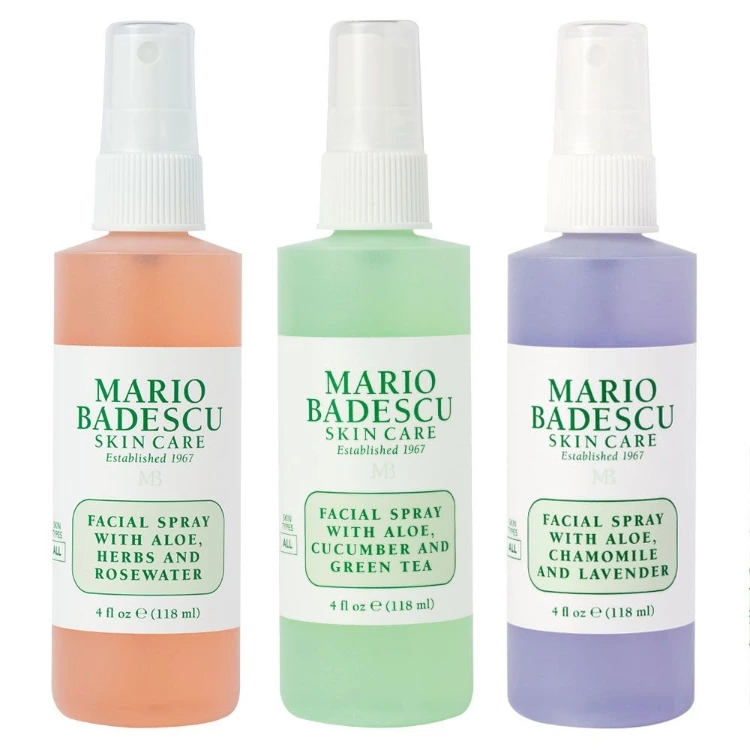 Mario Badescu 4 X Facial Sprays – Beauty Bay – $28
But let's look at them more in-depth . . .
What Are Mario Badescu Facial Sprays? And Why Is The Internet So Obsessed?
Mario Badescu facial sprays are nourishing face mists that you can use on skin as a toner, makeup setter or just a little radiance boost throughout the day.
They come packed with ingredients that are soothing and highly beneficial for your skin. (Like my beloved Aloe Vera; if you guys have read my Essential Products For Oily Acne-Prone skin, you will know your girl loves her some aloe vera.) It's a good way to top up on some nutrients as your skin suffers through pollution, sun, air conditioning etc. during your day.
Personally, I love to use the Mario Badescu Facial Sprays in summer – they keep my skin nice and hydrated, as well as refreshing it when it starts to feel sweaty and disgusting. I used the rosewater spray last year (rebought it twice, not including this time!) and it really helped to keep my skin clear.
BIG BENEFIT: ALL SPRAYS ARE CRUELTY FREE AND PARABEN FREE.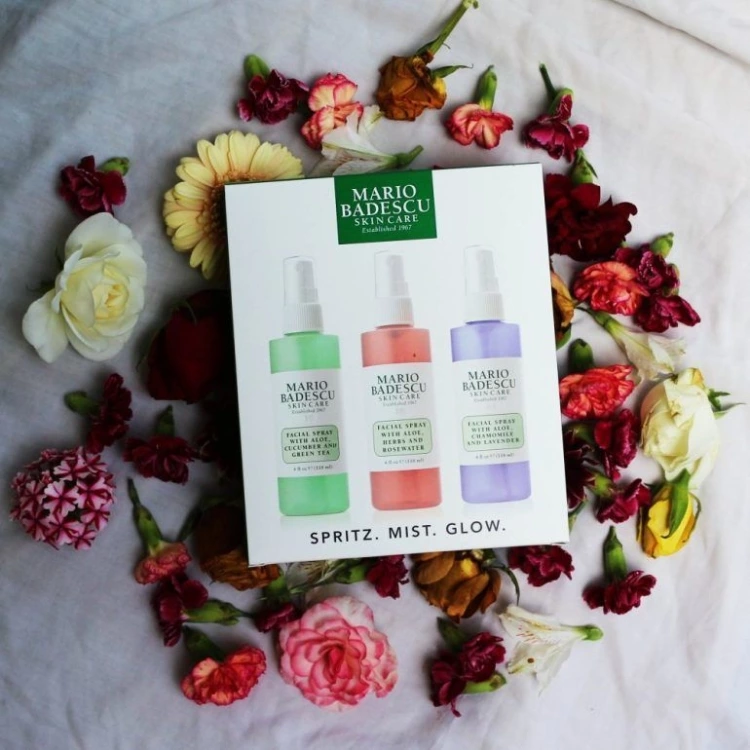 There are three different sprays currently:
Aloe Vera, Cucumber and Green Tea Spray – Beauty Bay Exclusive

Aloe Vera, Herbs and Rosewater Spray
Aloe Vera, Chamomile and Lavender Spray – Beauty Bay Exclusive

I will be honest here and say that Mario Badescu is probably my all time favourite skincare brand; they're effective, but not too harsh and they have visible results.
Aloe Vera, Cucumber and Green Tea Spray Review – BEAUTY BAY EXCLUSIVE
The first spray is tied for my favourite. It's the least perfumed of the three (which is a good thing for my skin) – and the ingredients are all soothing and refreshing, so this is absolutely perfect for spritzing throughout hot days. Not entirely sure what to say other than it does the job and it does it well!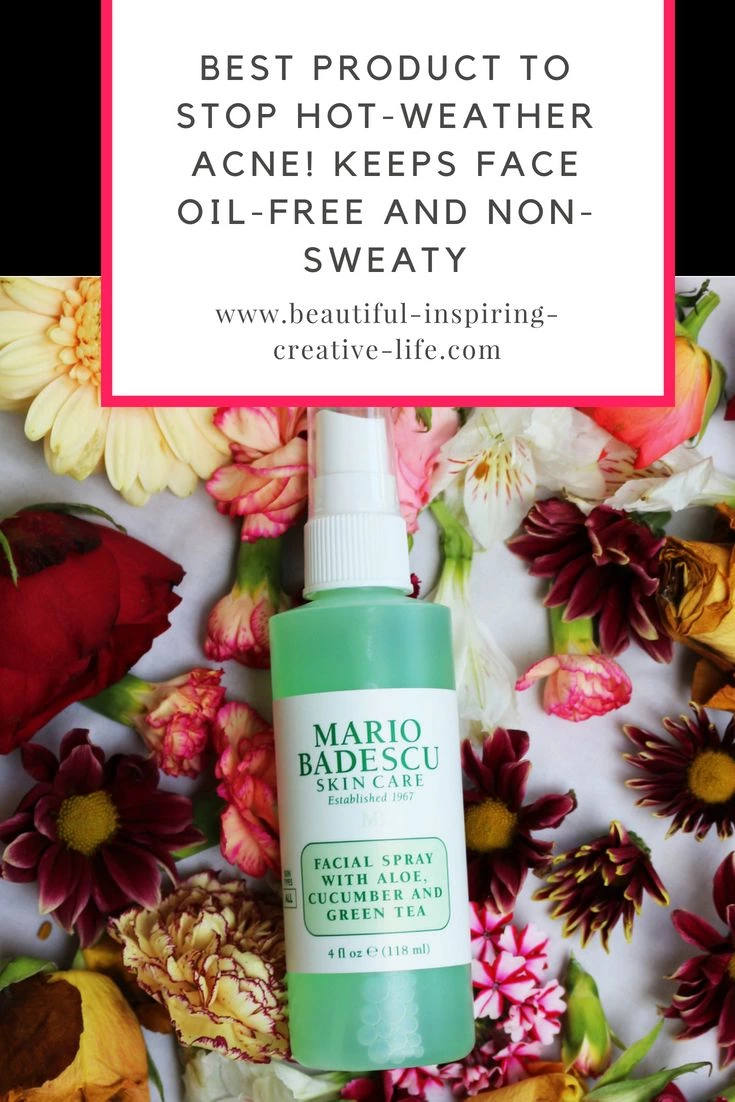 Beauty Bay Description:
Exclusive to Beauty Bay, Facial Spray with Aloe, Cucumber and Green Tea cools and refreshes. Perfect for waking up dull, tired skin, mist over the face before moisturising or throughout the day after makeup, for a quick antioxidant boost.
Aloe Vera – Calms and soothes skin.
Cucumber – Leaves skin glowing and hydrated.
Green Tea – A natural antioxidant.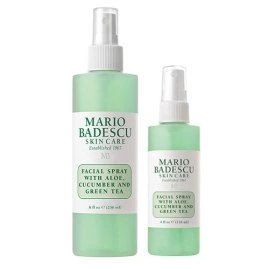 Aloe Vera, Cucumber and Green Tea Facial Spray – $7
Aloe Vera, Herbs and Rosewater Spray Review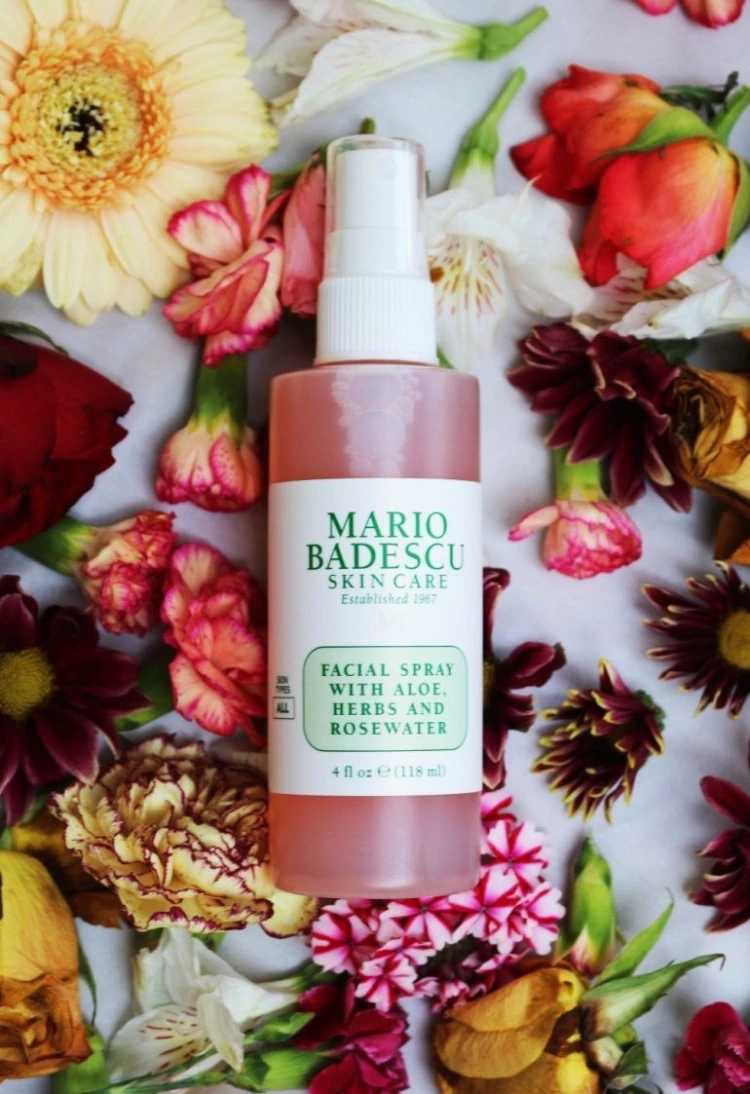 This spray is also tied for my favourite, partially because I've been using it for so long and it still holds up – and partially because rose water is so beneficial for your skin. I used this throughout all of last summer and it helped me keep my skin's oiliness under control, which kept my spots at bay!
Beauty Bay Description:
Mario Badescu Facial Spray with Aloe Herbs & Rosewater is a refreshing, hydrating mist for all skin types. Created with a blend of fragrant herbal extracts and rosewater, it lightly refreshes skin whilst boosting hydration and relieving dehydrated, tight complexions. Mist it over your moisturiser for a hydration boost or use it to set makeup. It can even be used on dry hair as a light moisturising mist.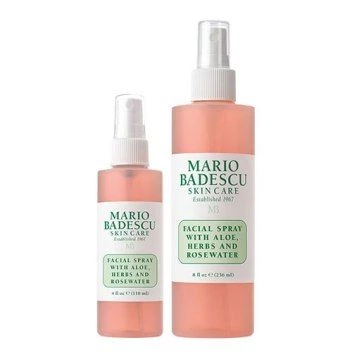 Mario Badescu Rose Water Spray – $7
Aloe Vera, Chamomile and Lavender Spray Review – BEAUTY BAY EXCLUSIVE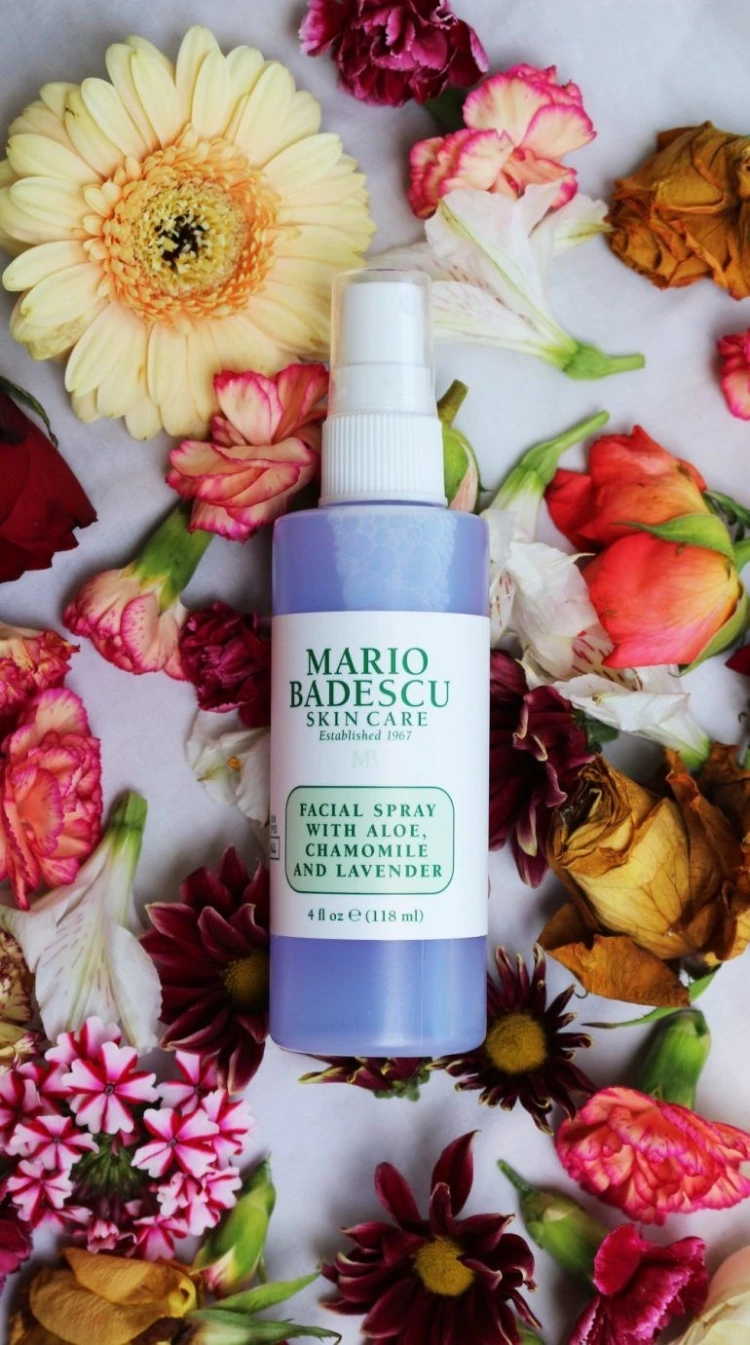 On first instinct, this spray was my least favourite (although not bad by any means) purely because it's very perfumed and, while I like the smell, I tend to avoid perfumed skincare products as they can break me out. It hasn't broken me out at all yet . . . but it's still a concern. The other sprays are perfumed slightly, but the scent didn't feel quite as heavy.
Now, I say on first instinct because three sprays, in all honesty, feel very similar so the smell was the main thing that discerned them for me pre-research.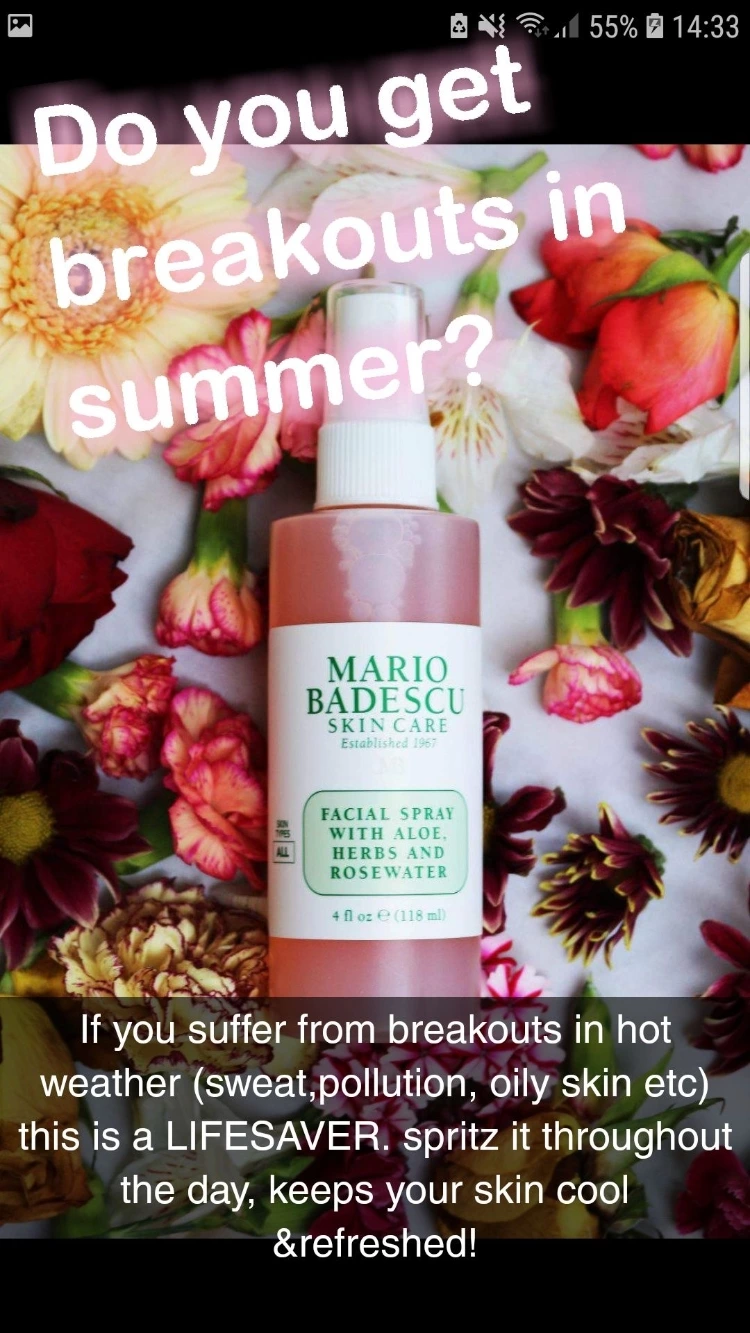 However, on further research, I think the Chamomile Mario Badescu facial spray actually has the most benefits. It contains Vitamin C – which the others don't – and combats against skin-aging and free radicals. So I'm definitely going to be reaching for it more often!
Beauty Bay Description:
A refreshing face spray.
Calming and comforting the complexion, Facial Spray With Aloe, Chamomile And Lavender is a Vitamin C infused mist suitable for all skin types. Light and delicately fragranced, spritz over moisturiser, makeup or bare skin throughout the day for an instant hydration boost.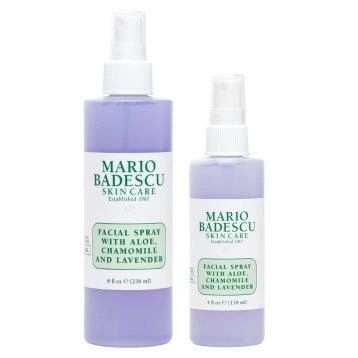 Chamomile and Lavender Spray – $7
Conclusion: Mario Badescu Facial Sprays – Yay Or Nay?
All in all, I absolutely love the Mario Badescu facial sprays. I think they're a total handbag essential for summer – for both oily and dry skin. If your skin is dry, these give you a nice moisture boost. And if you're skin is oily, they're cooling and refreshing.
Again, if you want to pick these up, I highly recommend you buy the Beauty Bay set of 3. It's really good value for money and two of the sprays are Beauty Bay exclusives anyways!
Mario Badescu 3 X Facial Sprays – $21
Okay, my beautiful creatures – I hope you didn't hate this post too much. Have you ever tried Mario Badescu facial spray before? Do you have a summer go to skincare product? And can we please talk about the flower backdrop in these photos? For once, I'm actually proud of my photography! Let me know your thoughts down below!
Peace,

Instagram // Twitter // Bloglovin' // Youtube