**If you have oily acne-prone skin, check out this simple morning routine. These products control oil production and acne, but still keep skin healthy and hydrated. Not to mention, they're all super affordable – and it's quite a minimal routine, so you won't overload your skin with too many chemicals.**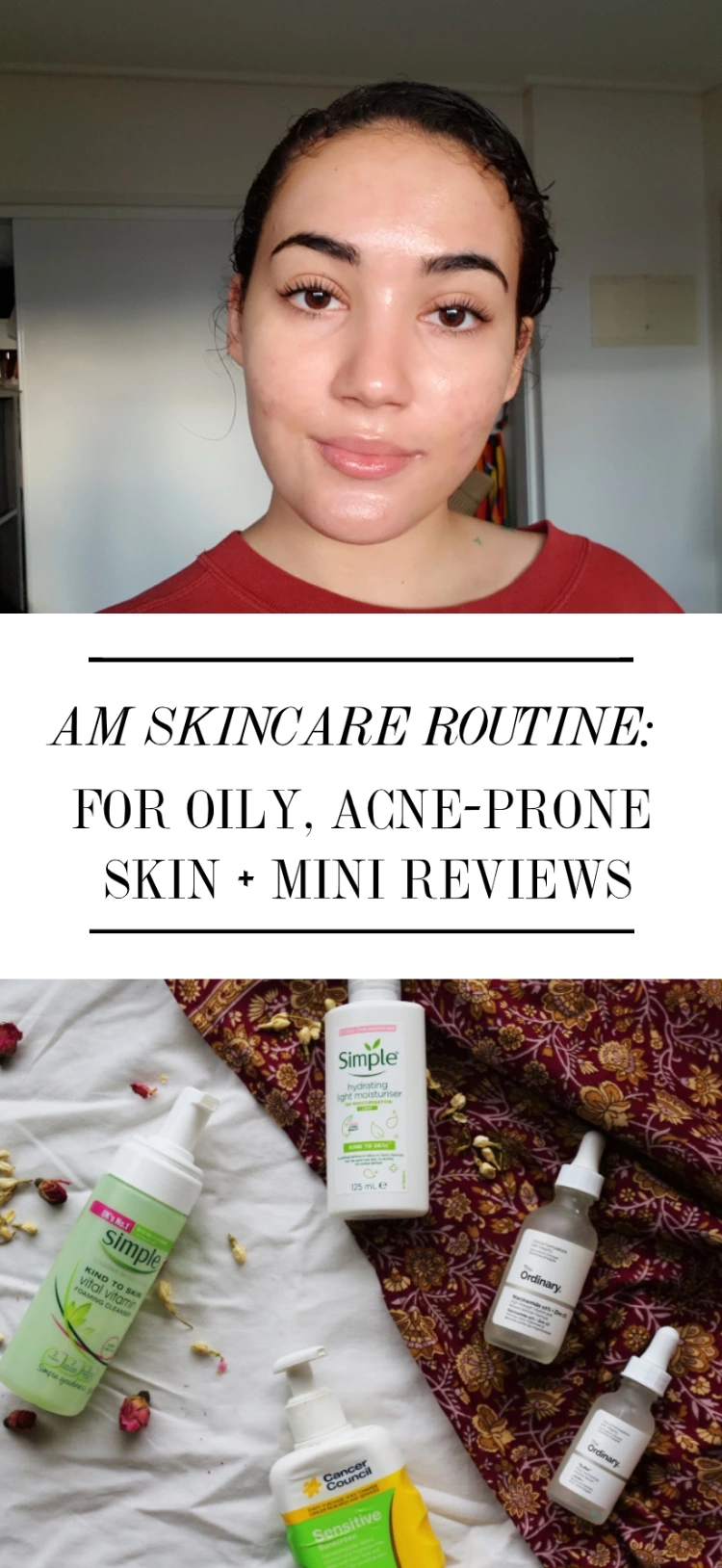 Hello, beautiful people and settle in for some skincare tea! If you've been following this blog for more than a month, you will know a recurring theme is me fighting tooth, nail and claw with my skin to get it to chill the fuck out. I've tried different products, I've tried acne skincare kits and I've even tried Roaccutane!
(For context, my skin is oily and acne-prone.)
I am pleased to announce that after some long suffering years, my skin and I have reached an understanding. I've finally come to terms with how to handle it. So today I'm going to be sharing my morning skincare routine with you all – and sharing some mini reviews of the products I've been using.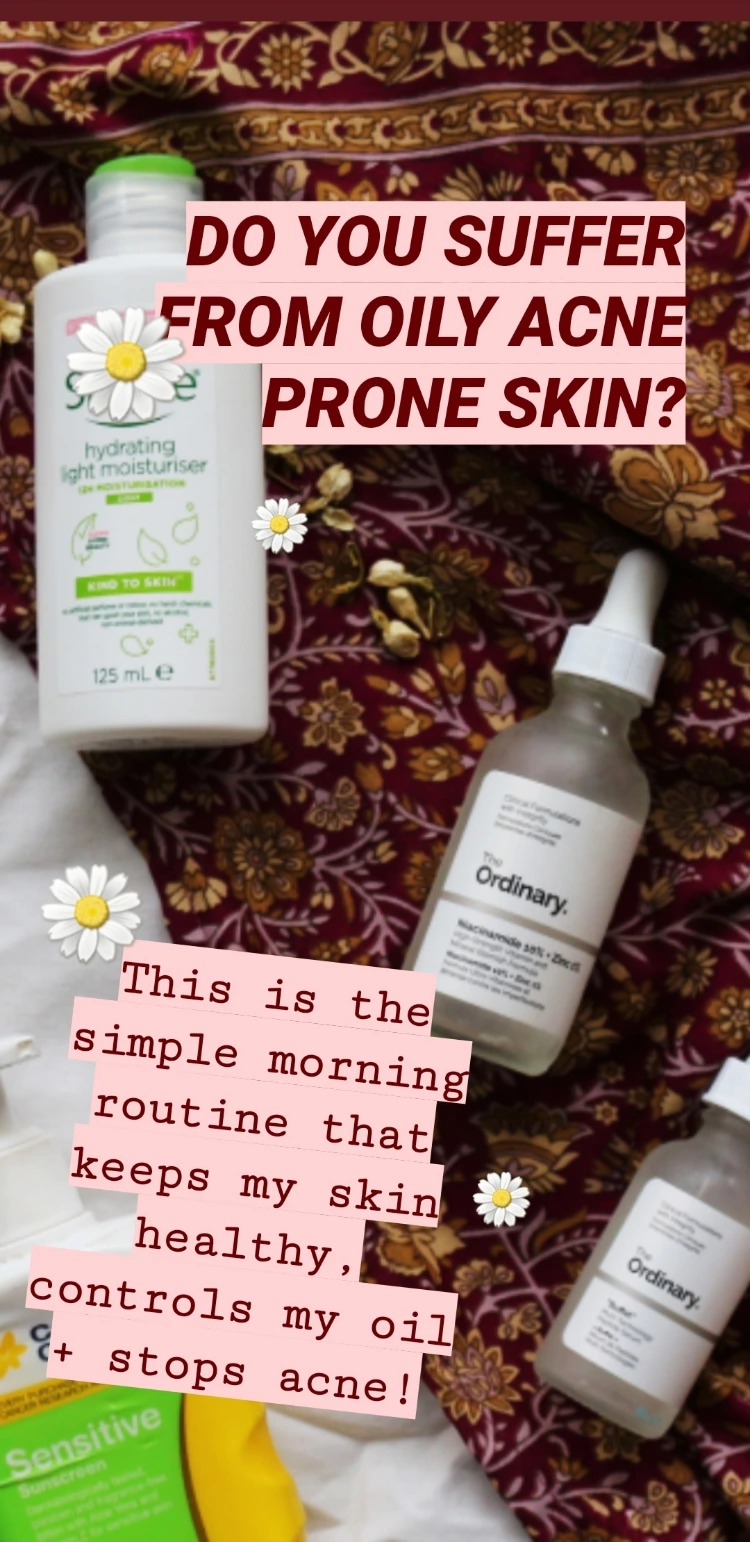 My Morning Routine
CLEANSER – Simple Kind To Skin Foaming Cleanser (AMAZON US – $13.29) – This makes sure my skin is clean and any sweat, dirt or general bacteria my face has acquired overnight is gone.
TONING SERUM – Niacinamide 10% + ZINC 1% (Beauty Bay – $11.50) – Niacinamide isn't a technically a toner, but it leaves my skin with the same fresh feeling as one! This is, to quote Beauty Bay, a serum that helps to combat blemishes, congestions and sebum over-production. It leaves my skin literally glowing and is wholeheartedly one of my favourite skincare products ever. This radically improves my skin's oil production.
SERUM – The Ordinary Buffet – $14.75 – Again, to quote Beauty Bay, this lightweight serum visibly targets surface hydration, fine lines, wrinkles, dynamic lines and textural irregularities. I've been using it to try reduce my acne scarring and it seems to be working!
MOISTURISER – Simple Hydrating Light Moisturiser (AMAZON US – $8.75) – Moisturiser is to hydrate your skin – one of the most essential steps, especially with oily skin. If your skin feels dehydrated, it will over-produce oil to compensate . . . and there's your acne, folks!
SUN CREAM – Cancer Council Factor 50 (quite expensive outside of Australia, you can sub this in for any suncream for sensitive skin.) – One of the biggest contributors to premature againg (and to skin cancer) is the sun. Wear sunscreen, kids.
As you can see, my skincare routine is pretty simple. I like to use products that aren't too harsh and won't irritate my skin. Since being on this "acne journey", if you will, your girl has tried it all. I've dried my skin up with tea tree and lemon, I've used and abused Clearasil and . . .
For my skin personally, I've found harsher products or too extensive of a skincare routine irritates my skin, lowers it's overall quality and causes my skin to become more oily to attempt to fix the damage.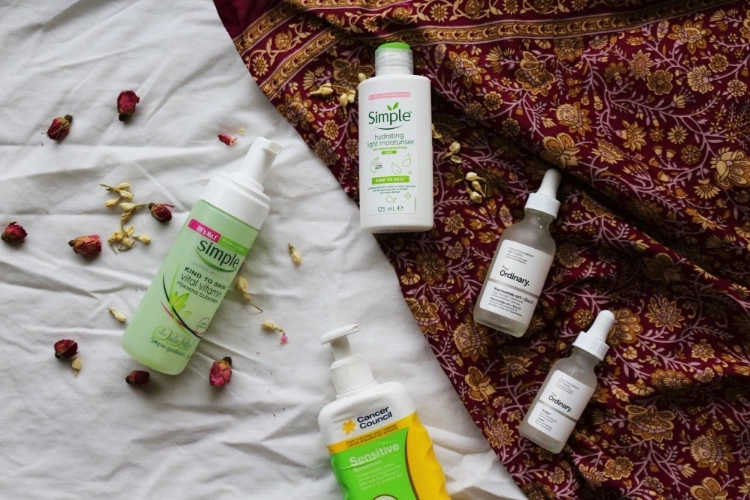 Let's have a look at these products in more detail . . .
SIMPLE CLEANSER & HYDRATING LIGHT MOISTURISER MINI REVIEW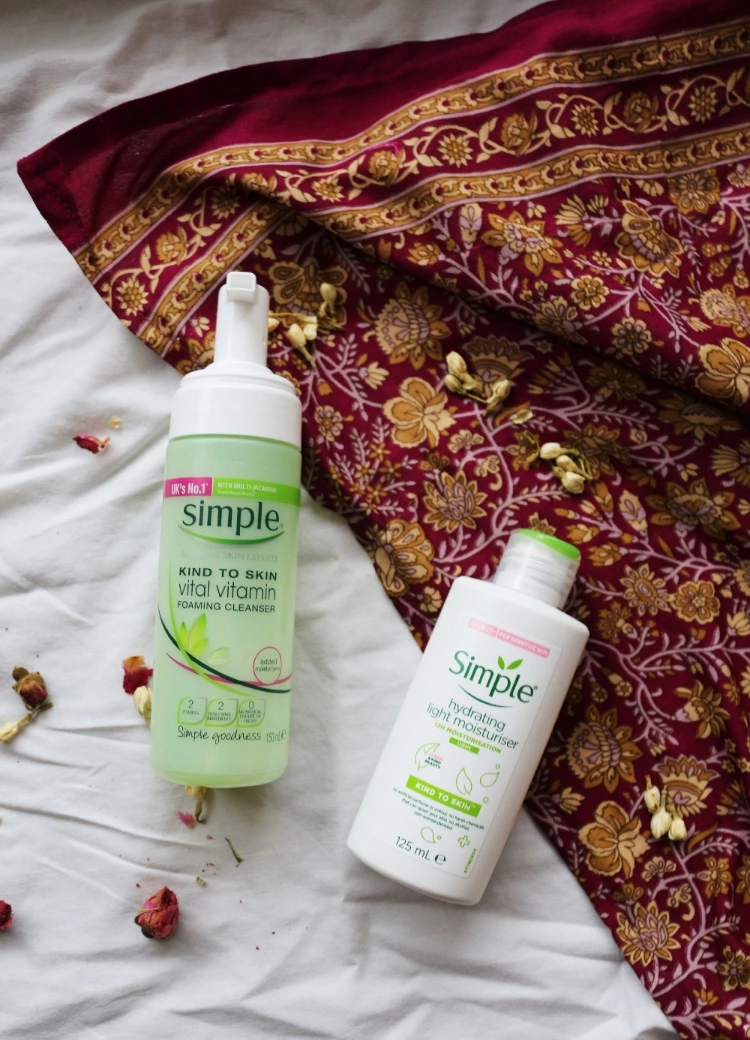 3/5*s for both products.
Simple is what I would call inoffensive. It does the job, it does it gently and that's it. I don't notice any long-term improvements and there are definitely more effective options out there – but there's minimal chemicals, never any irritation and the price point is fabulous.
If you have skin that's not too problematic and doesn't handle chemicals too well, I do recommend them. And, after picking these two up at the supermarket after my go-to's ran out, I've found them effective enough to use for the past few months. Some of my preferred moisturisers and cleansers are down below.
THE ORDINARY
I don't think I need to talk too much about The Ordinary and how much I love them – it's pretty evident from all the many skincare reviews I've done. (If you want to check out any of those products, feel free to read their reviews – they're linked to the images. I still use the products literally years on, but they're for PM use.)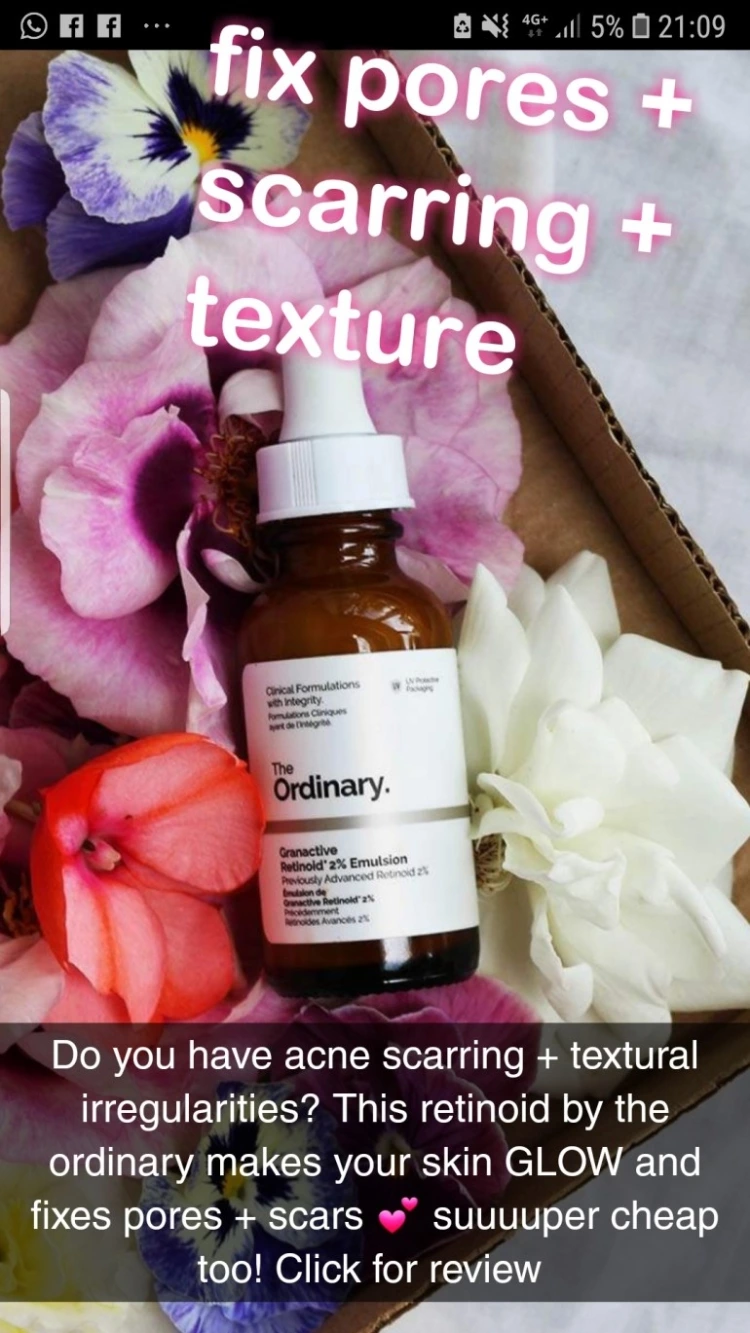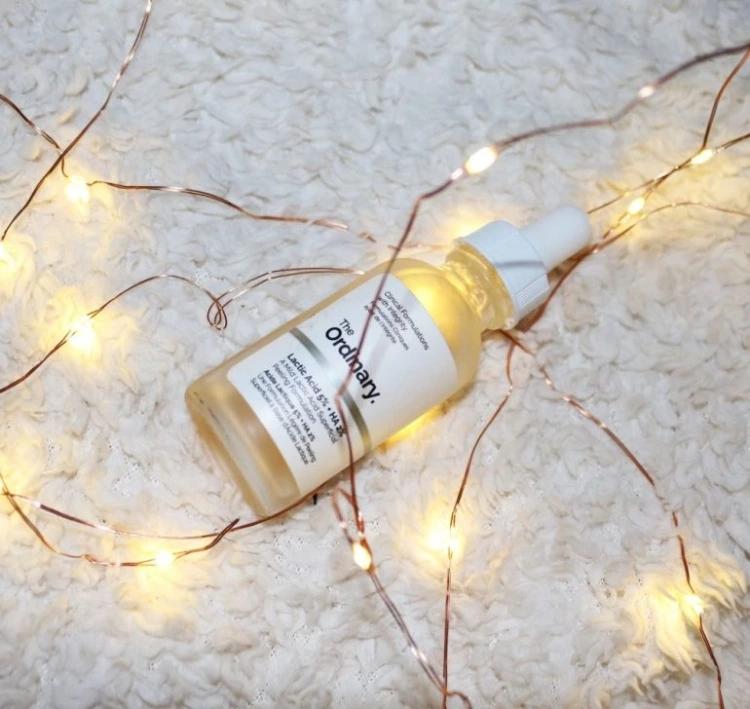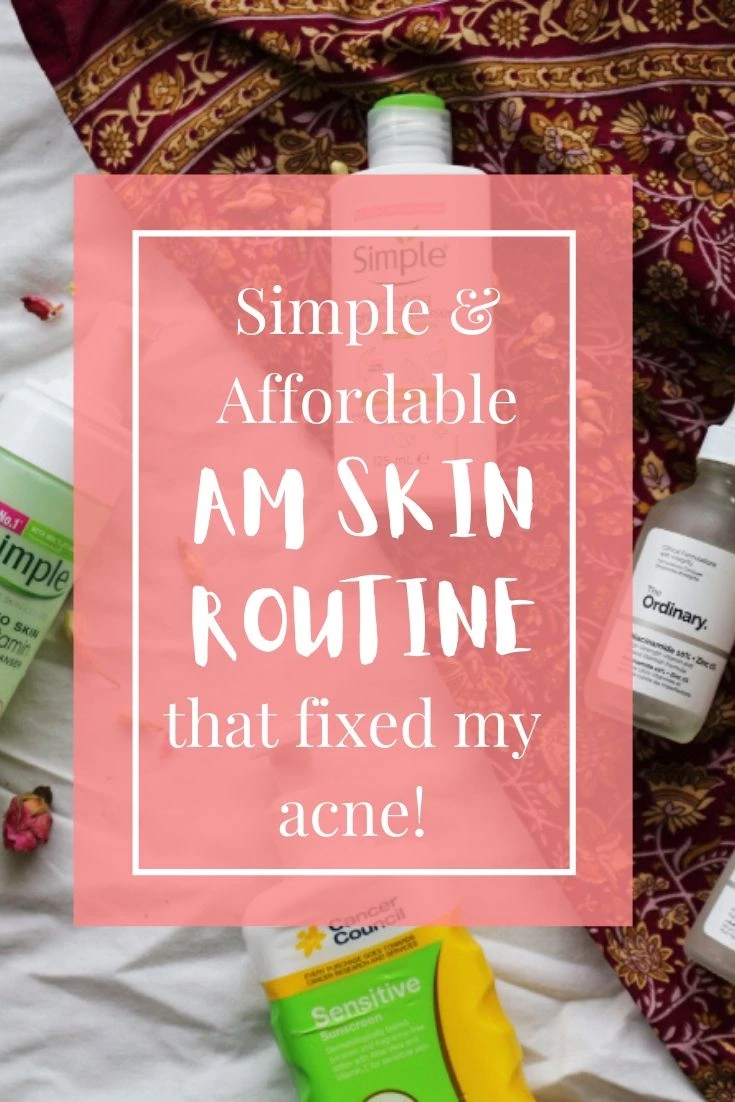 I won't say too much about Buffet and Niacinamide because I want to do seperate reviews on them. But the take home here is: both are great and I highly recommend.
I thought this would be a good time to share this routine as I've recently invested in some new skincare swaps and my skincare goal is moving from acne treatment to acne scarring treatment. This routine has been great for controlling my skin's oiliness and keeping acne at bay, so I highly recommend it! Do you guys use any of these products? What are your skincare secrets? Let me know your thoughts down below!
Peace,
Instagram // Twitter // Bloglovin' // Youtube // Pinterest