Hello, beautiful people and welcome to a throwback Friday! Well, not really – we're throwing it back to when I used to do regular bullet journal posts, but that's about it. Since being in social isolation, your girl has been living her best creative life. I've been sewing, painting, crafting and- eating way too much UberEats. But we move!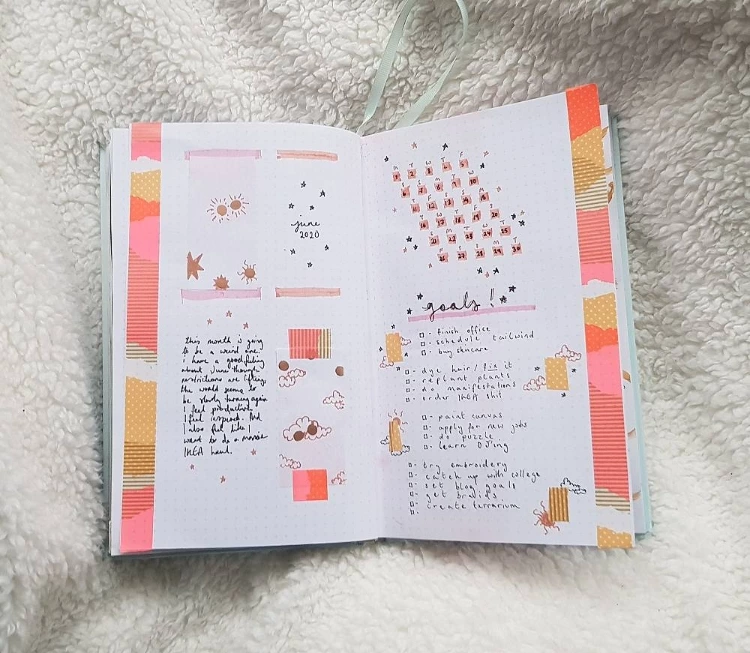 So, June. Boy, oh boy, have I got some feelings about June. Firstly, I cut myself bangs. The phrases "good idea" and "smart decision" may not be applicable . . . but it was decisive. We did a damn thing. And I think that's a good start to the month; June is the month of doing. I'm speaking it into existence.
I bought some new, bright washi tape back in May that was the inspiration behind this spread. It's bold, patterned and warm. As much as pastel seems to be the go for journal spreads at the moment, I love the way a bright colour makes me feel when I open the page.
Milligram Washi Tape – AU$4.95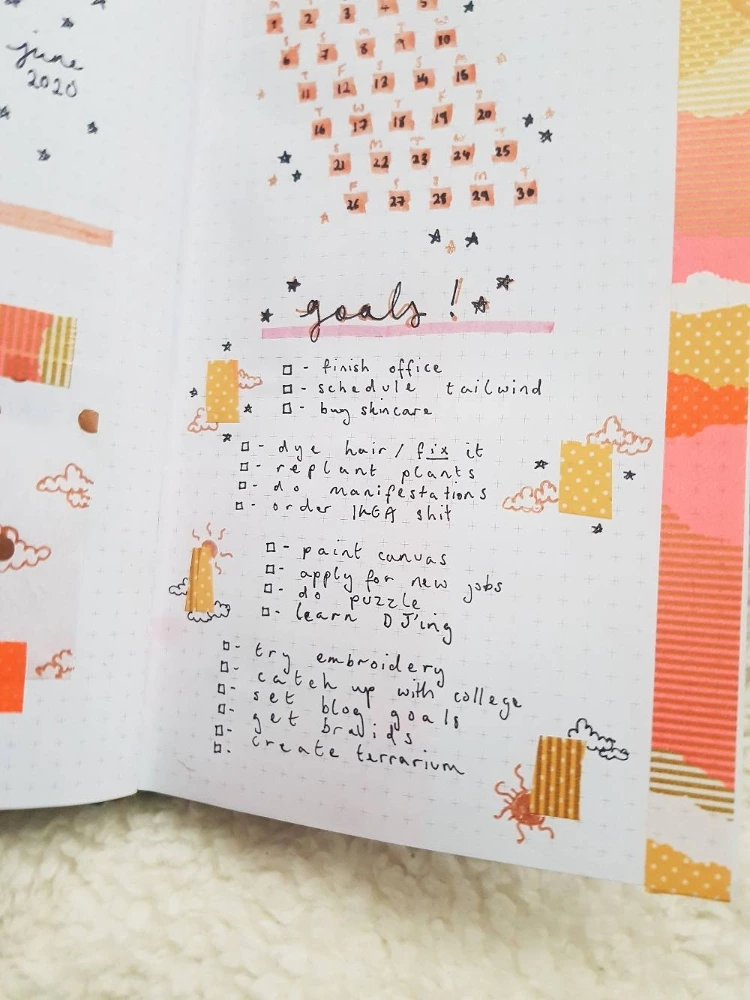 One thing I've really missed about regular journalling is setting and tracking goals. Sometimes I feel like my brain is bursting with ideas and plans and I get so excited and motivated . . . only to slowly forget them all and feel like utter trash. (Not to mention, vaguely confused as to why I bought a glue gun and a bunch of buttons? Can anyone else figure out their purpose? Because I am baffled.)
Setting goals is a great way for me to sit down with myself and say "Mia, this is the shit we want to get done. Please.".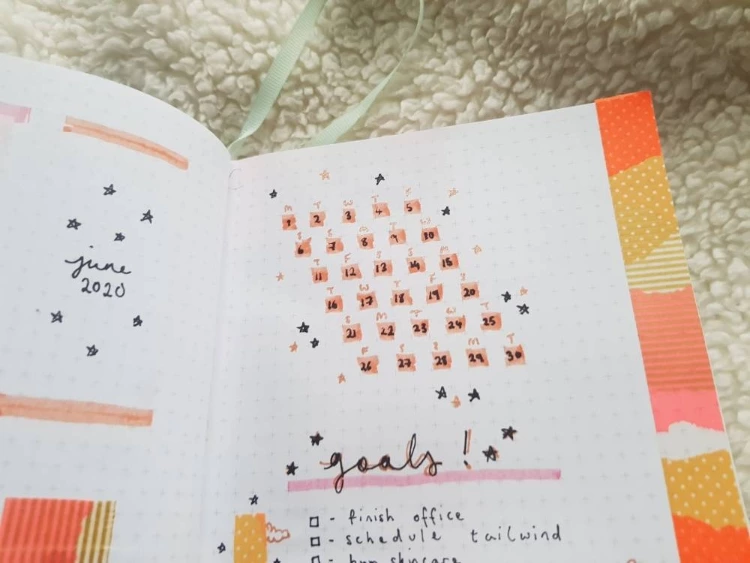 I've got some really exciting projects and crafts coming up – and a big ole' plant tour too. Your girl's not only a temporary puppy mummy, I'm also a permanent plant one!
I kept my monthly title page pretty simple this time round because . . . well, honestly because I didn't need anything else.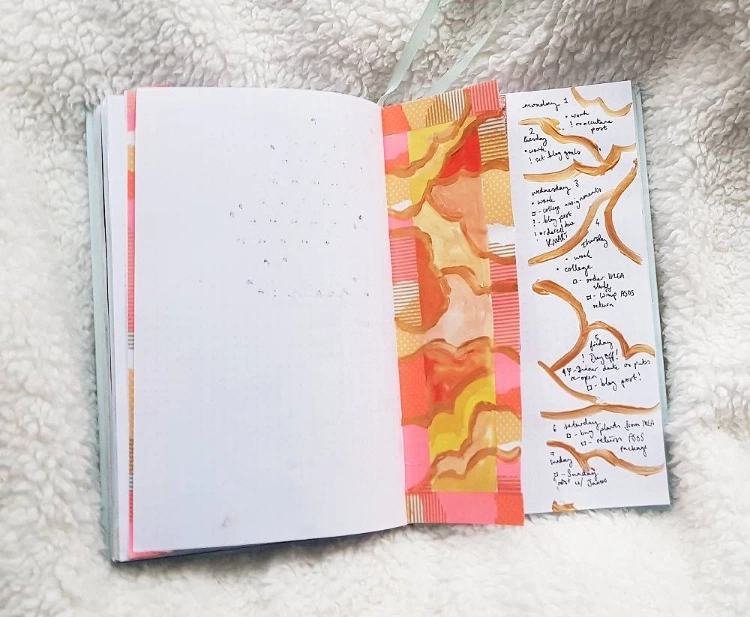 For the first weekly spread of June, I got out the watercolours and painted a little dutch door set-up. It was entirely unnecessary other than for the purpose of being pretty cute. But cute it was! I really like how the cloud-ish pattern flows from one page to another.
If you remember my Flickthrough My 2020 Bullet Journal (So Far!) post, you may already be aware of my obsession with dutch doors. I don't know why I love them so much, but Pinterest really convinced me. I might do another post on ways to spice up your journals and, if I do, I can all but guarantee that will be in them.
(And if you don't remember, well, how conveniently placed this little video is!)
So that's my first weekly spread! Honestly, I don't know if these are completely necessary for me anymore. My life is pretty routine; I go into work 5 days a week, have college 2 days a week and generally have weekly goals I assign to . . . well, whenever I get to them.
That said, I probably have this attitude because the paper quality of my journal is shit and part of me wants to use it as infrequently as possible, lest ruining past designs. Deep sigh.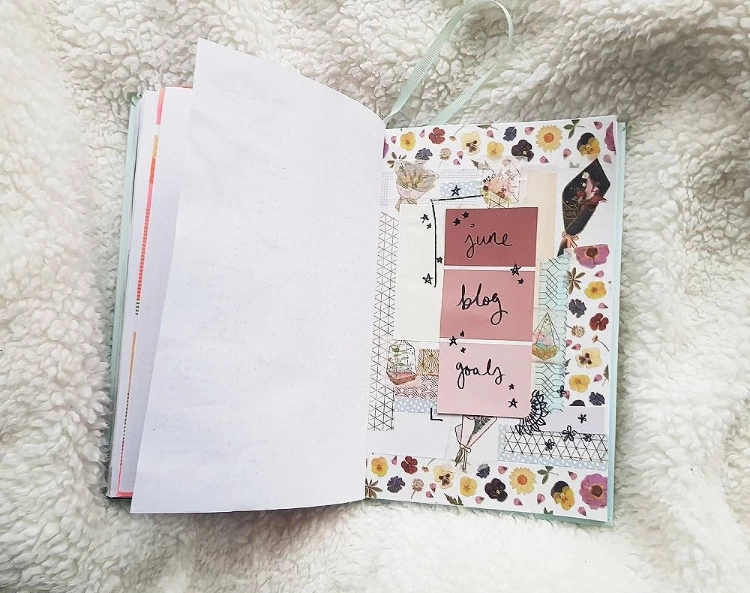 The last spread I have created (so far!) is my June Blog Goals Spread. Oh, I know – the intrigue, the mystery! You're hanging onto the edge of your seats thinking "wow, what on earth could her goals possibly be?".
Well – let me not tell you. That would be giving away the goods (and easy content) too soon. I shall do a separate and more detailed post on that next week. I'm actually quite excited to start posting about my blog goals again; it keeps me accountable for them . . . and also makes me set them. Which I've not been doing. Anyhow.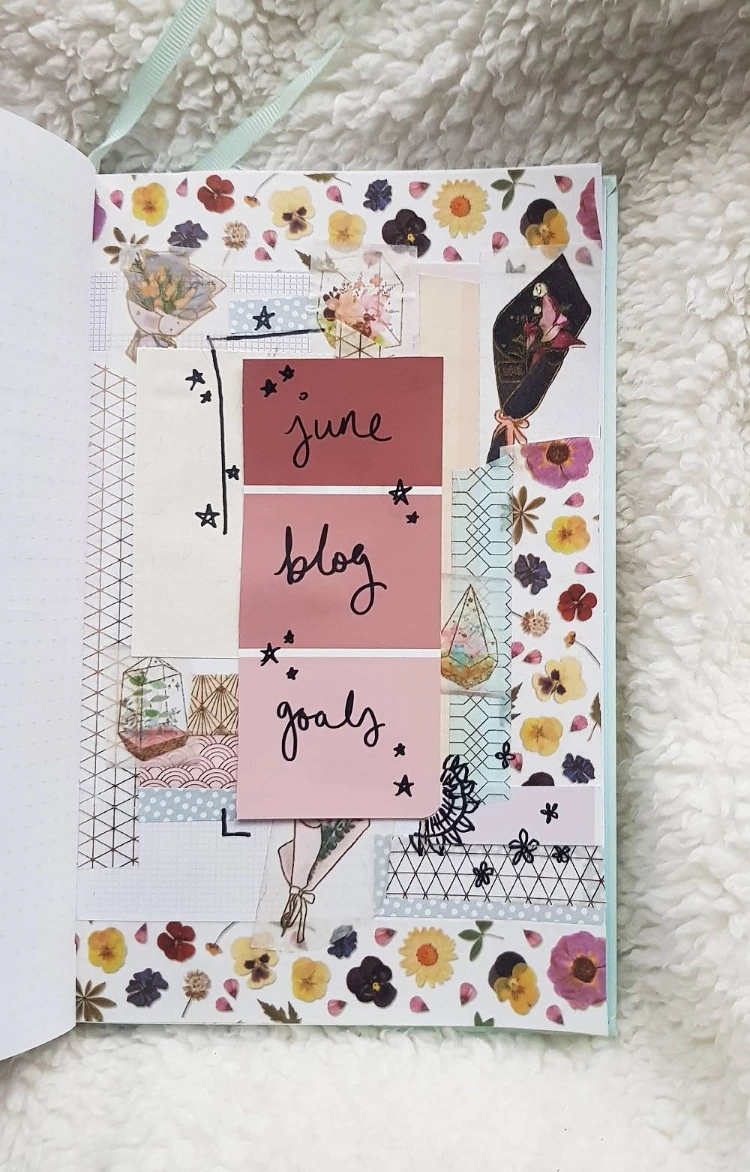 And that's a wrap, lovelies! Thanks for dropping in and checking out what's going on in my journal. If you guys like bullet journalling, make sure you're following my journalling board on Pinterest!
Hopefully June is going to be a great month for all of you! What did you guys think of these spreads? What are your June goals? Let me know your thoughts down below!
Peace,
Instagram // Twitter // Bloglovin' // Youtube // Pinterest