Hello, gorgeous humans and welcome back to my corner of the internet! Today's post is something fun – and means I'm finally dipping my toe into one of the categories I've wanted to post about for years: interior design. We are, of course, doing an office room tour!
Am I excited? I'm excited.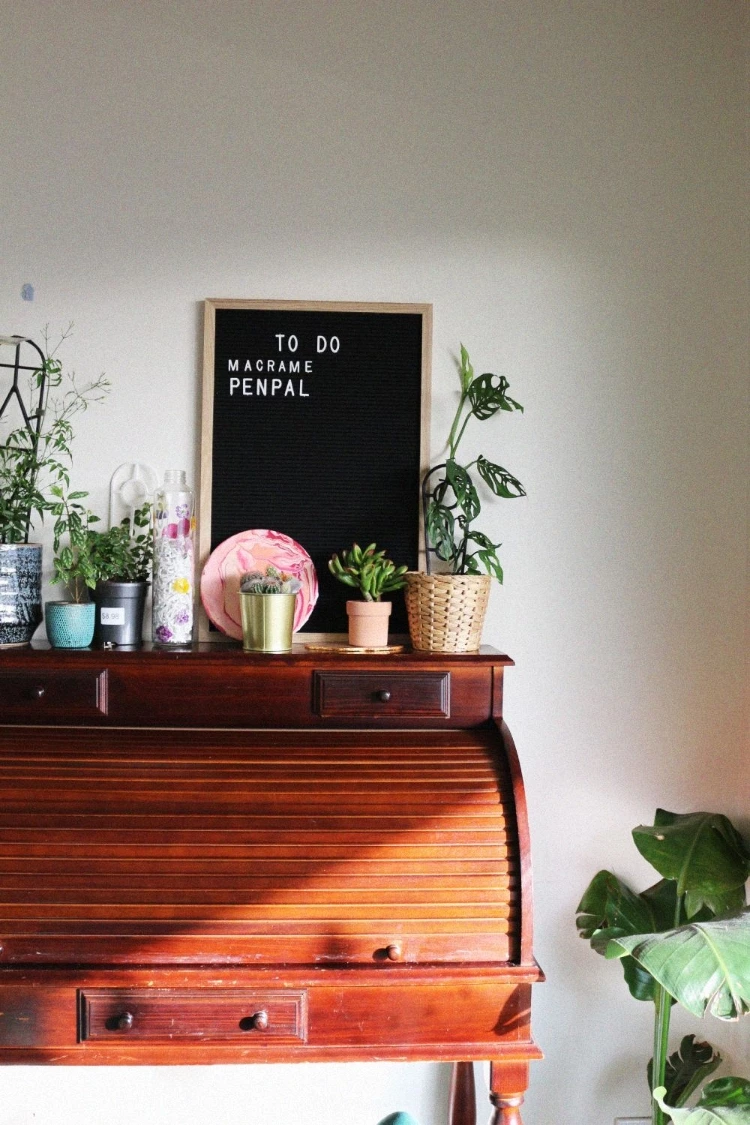 So this room . . . it's an interesting one. There's a background story to it.
My boyfriend and I are living in his apartment, while his flatmate is stuck in Peru. (Yeah, you read that right – stuck in Peru.)
TLDR version: Razzle Dazzle's housemate Steve went travelling before COVID hit the fan, the borders closed and he's stuck outside until they lift. He's lived here for 4 years, has no kind of home base back in the UK and is not allowed back into Aus until borders reopen. Fun times.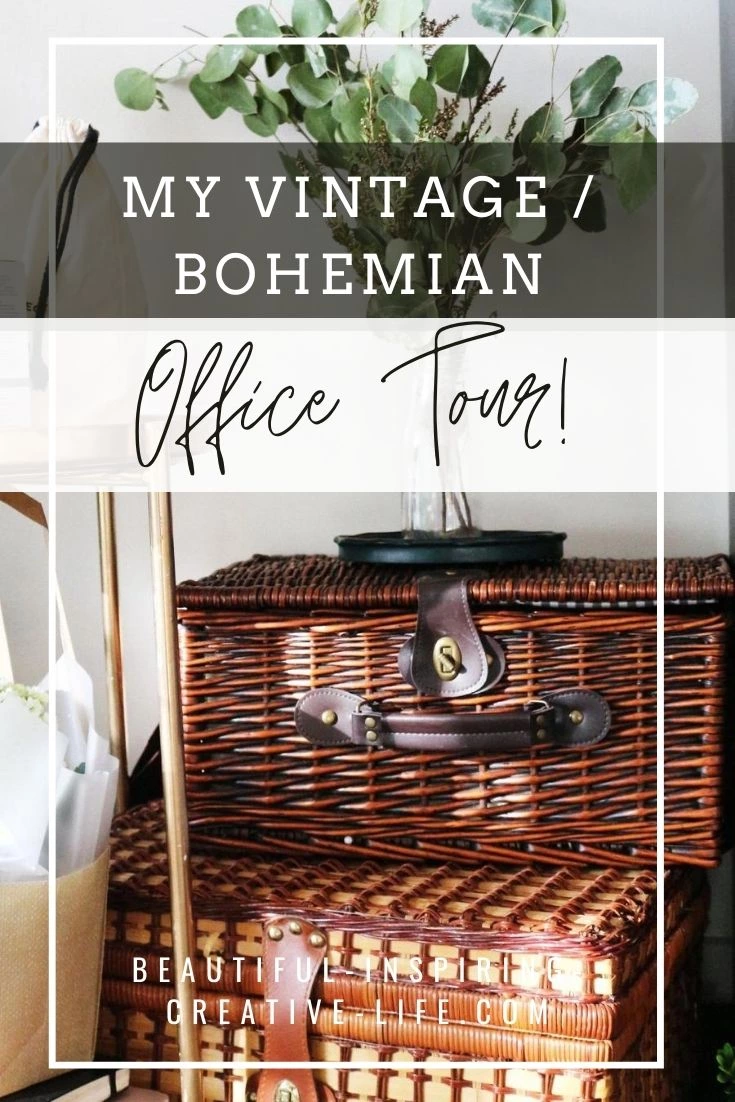 (Obligatory Pin-nable image. Share this via Pinterest, lovelies!)
Anyhoo – back to non-stressful things. This room is actually Daryl's old bedroom that I've redecorated into my office/creative zone. I was still going into my workplace up until the last week of July, but now I'm working from home this place is a godsend.
I would love for you to watch this post in Youtube form and subscribe to me over on there too!
Now, I have been doing a lot of work to this room. There's been crafting, thrifting, flipping and reworking like my Pinterest stats depend on it. (Which they kind of do. Cute room and content? My re-pins be thriving.)
It's definitely not done quite yet; I've got some more crafts and practical things that need working in. However I realised, rather than keep putting this post off until everything is perfect, I could just . . . post it? Then post an update when it's finished?
(Truthfully, I'm more excited for the final reveal because I have footage of the bedroom before, during and . . . well, we're not at after quite yet. But we will be! And that transformation is going to make for a great Youtube video.)
But let's not get ahead of ourselves. Here's my space so far . . .
MY DESK AREA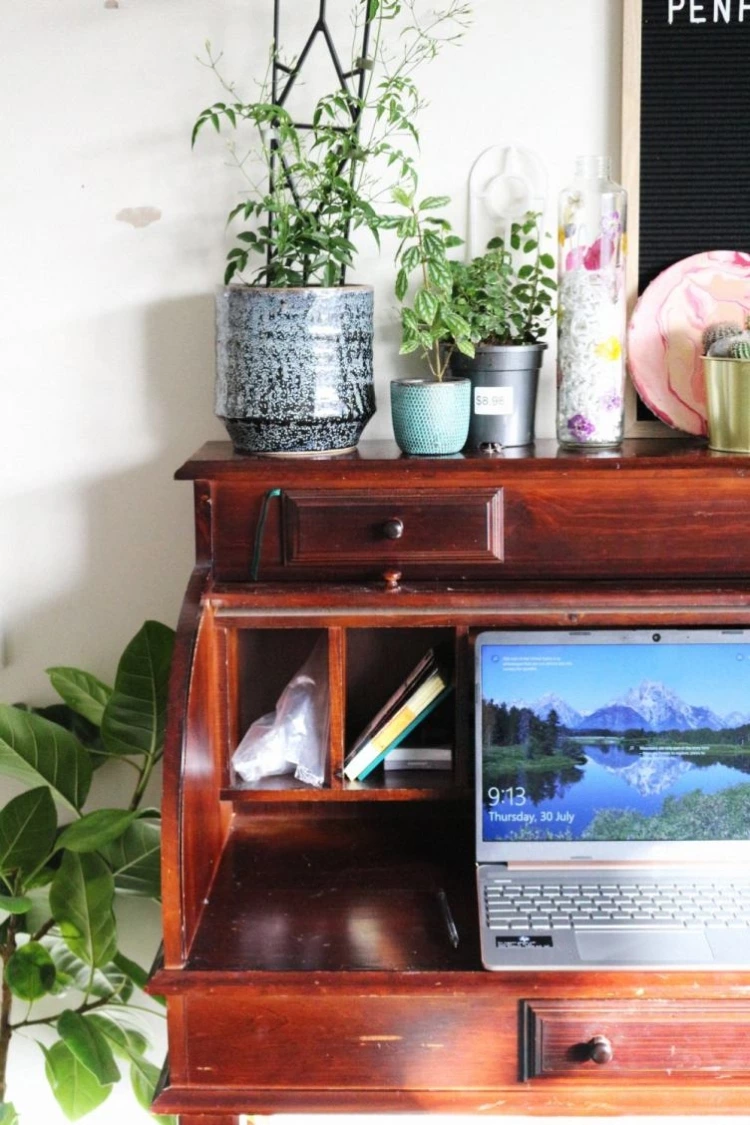 The real feature here has to be this beautiful vintage desk. I got this second hand off Facebook marketplace and it's absolutely stunning.
Firstly, the colour. I know lighter wood is trendy at the moment, but deep, rich tones just call to me. Secondly, the storage space. This baby has drawers for days and built in compartments. You guys have seen all my bullet journalling posts – you know the stationery arsenal I'm packing.
I definitely want to DIY or invest in some organisers for the exposed part of the desk – so if you have any suggestions, shoot them my way!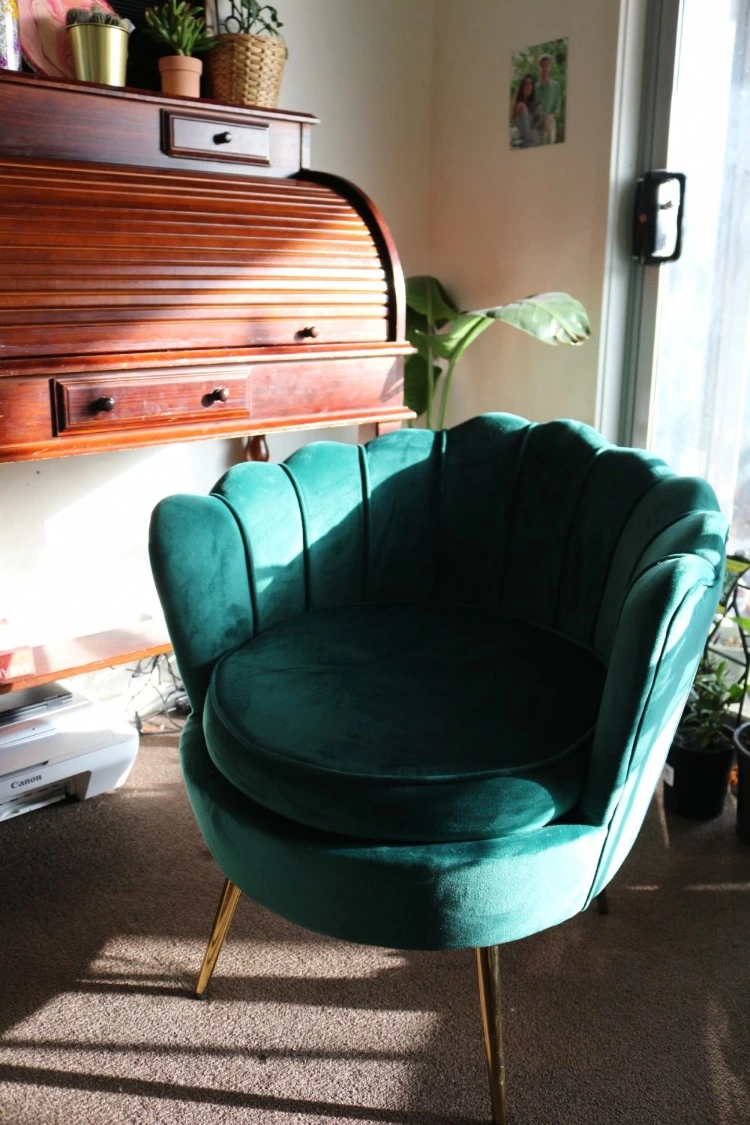 VELVET SCALLOP CHAIR – EBAY UK – £149.95 (the same exact chair as mine)
With everyone working from home, office essentials are kind of sparse, so I've got an (admittedly gorgeous) armchair rather than an actual ergonomic office chair.
One of my central focuses is to be more sustainable and reduce my waste. While I could have bought a really cheap and ugly office chair, I realistically know that would get thrown away.
(I'm vain, sue me.)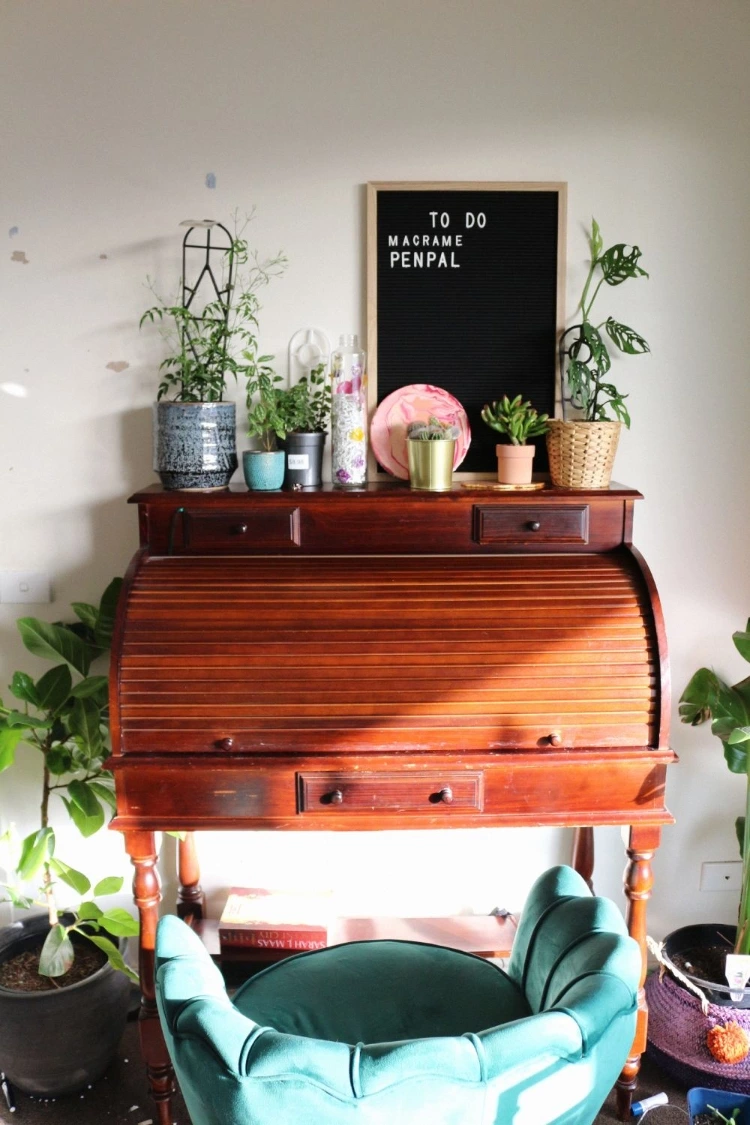 This chair is super chic and, once I manage to track down an office chair I actually like, will still make a nice accent chair in the room. Plus, it's velvet. We all know how much I love velvet.
I desperately tried to get a version of this second hand, but neither Daryl or I drive and nobody really delivers at the moment. (Which is very fair.) Would anyone else love if thrift stores and vintage/antique stores had online stores, even just for COVID?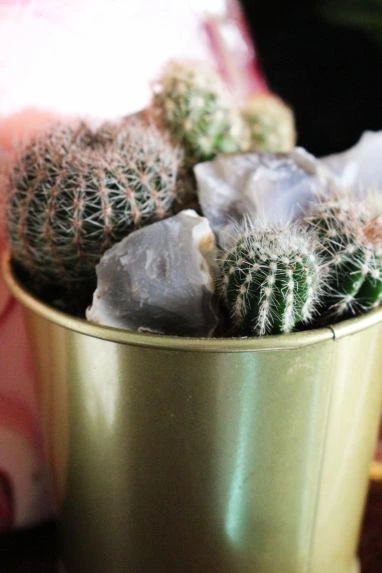 Now, for whats on top of the of the desk! I have some of my favourite plants sitting atop of my desk, watching over me with love. (Also how beautiful are these plant pots? I bought them from a local nursery, so they're not available online unfortunately. But I adore them.)
We also have one of my favourite recent DIYs – my pressed flower VOSS bottle upcycle!
Next up is my half-complete plant/crystal tray. (Yeah, I know, I'm ever so eloquent.) This is actually from Kmart but originally looked super tacky with black metal outskirts. A lick of spray paint gold though? *Chefs kiss*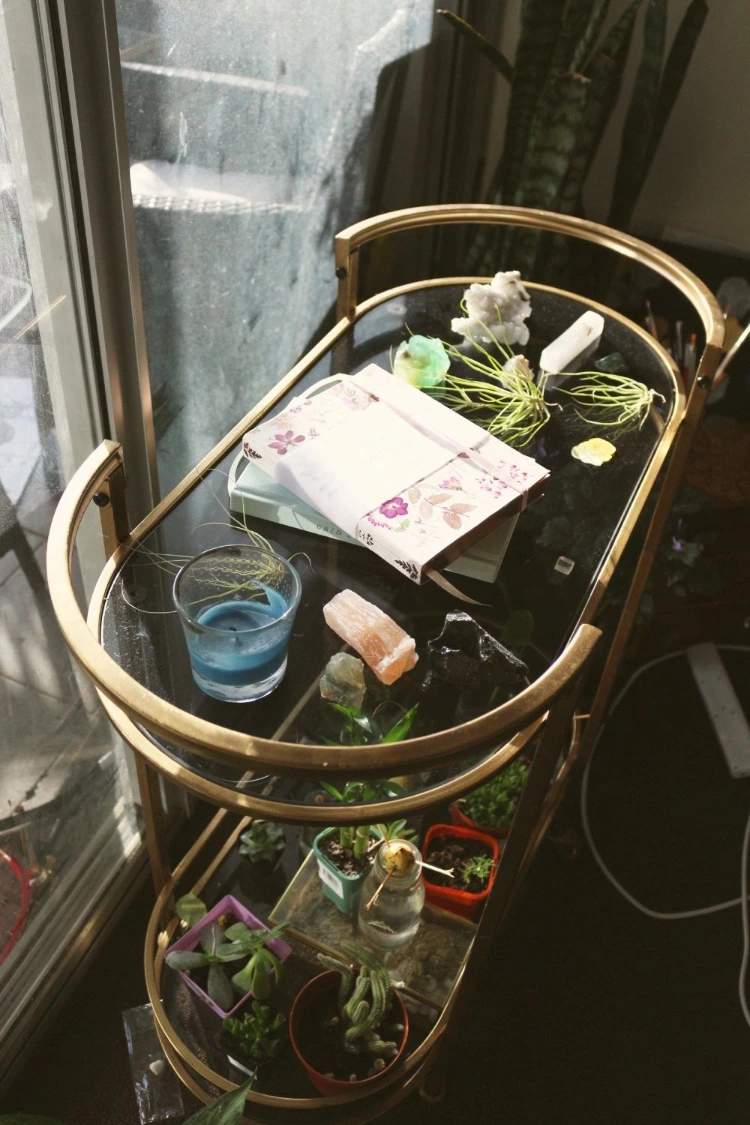 I've got a crystal haul coming up for you – well, when they all arrive anyway – but the top level of this tray is my pretty, shiny rock tray. Below is reserved for my small plants and succulents. It's basically like purgatory – it's where you go before you're uprooted and plunked in a terrarium. (She says although she hasn't made a terrarium in months.)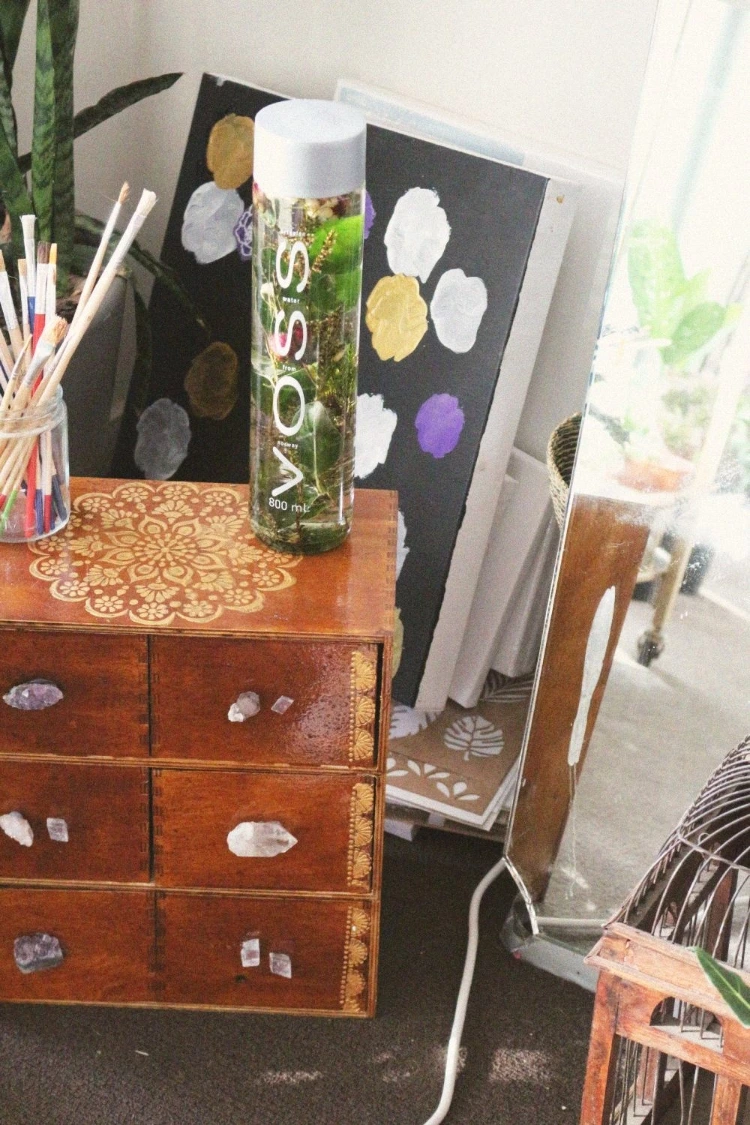 Moving into my craft corner we have . . . well, just a corner of the room where I've plunked a random assortment of vaguely crafty things. This drawer set is actually a DIY (that I of course have coming up for you) and it holds my various paints. Behind that, we've got some canvases – and I've tucked away Daryl's birthday gifts behind that big ole' mirror.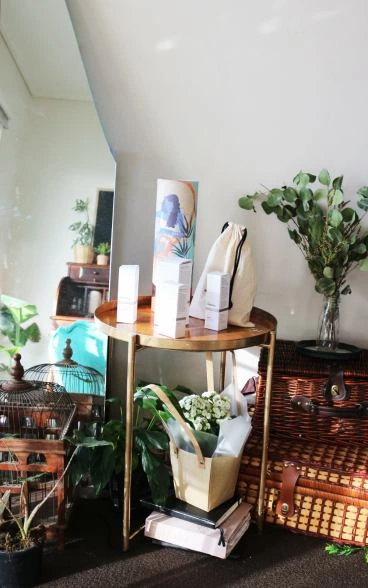 Last but not least is my getting ready corner! The table is yet another DIY and it holds all my daily skincare and makeup in convenient spot. And, because it's my room, there's naturally got to be flowers underneath too.
One of my favourite cute, inexpensive and (sing it with me) non wasteful hacks for storage is using thrifted picnic baskets as boxes. I don't know why, but our local thrift store always has a section dedicated to picnic hampers and you can pick them up for around $5 each. (And that's Australian dollars too – the equivalent of around £2.50.)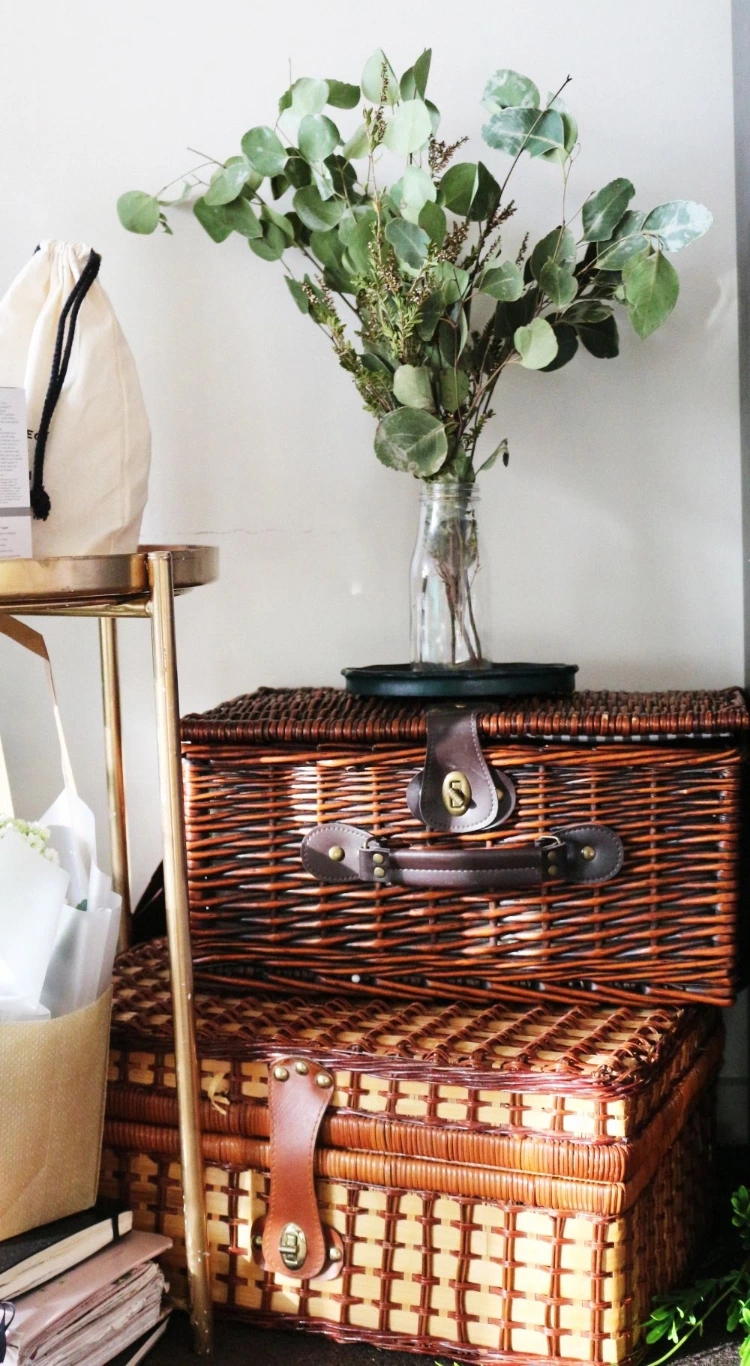 This post has made me realise how much I love a good craft. I honestly might do I "everything I've DIYed in my room" post because it's a whole lot. Or a plant tour because we're pushing 50 in this room alone.
Anyways, I hope you all enjoyed this post! (And, I guess, my room?) Do you guys like my decorative style? What was your favourite part? Let me know your thoughts down below!
Peace,
Instagram // Twitter // Bloglovin' // Youtube // Pinterest