Hello, lovers, and welcome back to my corner of the web! I have been wanting to share an office tour with you all for freaking ages and today's the day! Welcome to my favourite minimal, urban jungle office room . . .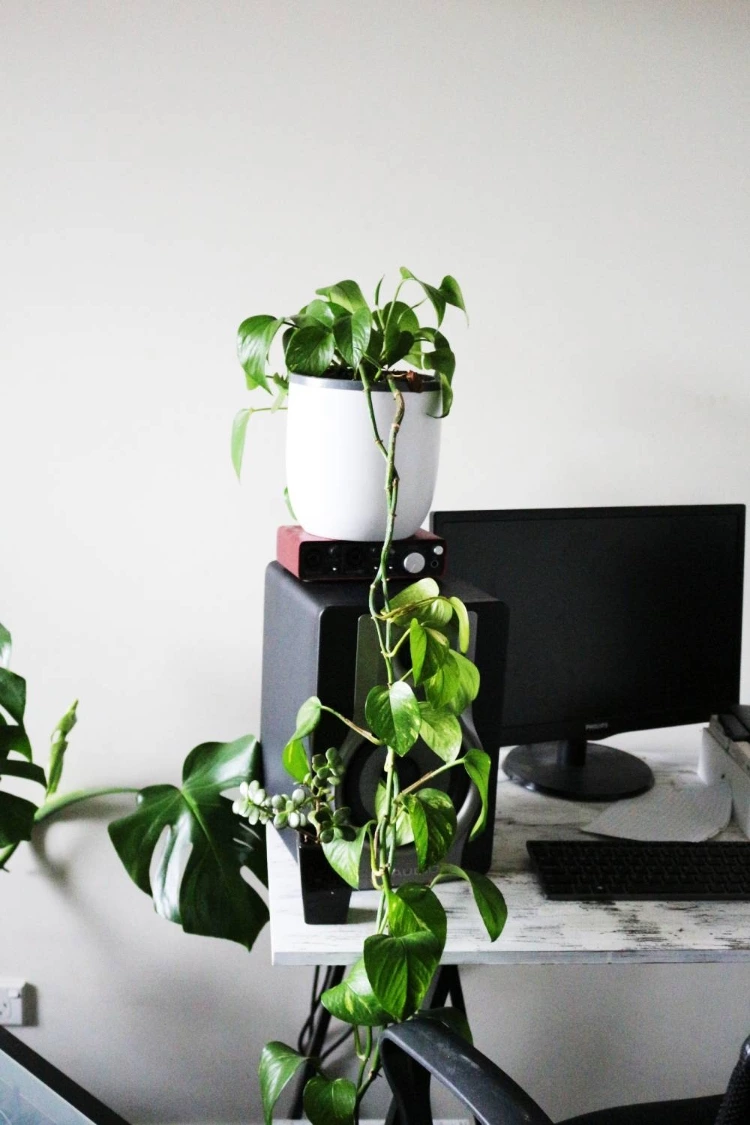 Well, kind of. I won't actually be sharing my office – but I will be sharing the office room that I put together for my boyfriend! If you guys read my last office tour/update, you may remember that we're in a pretty weird living situation. D's flatmate has been stuck in Peru since COVID kicked off back in April, so we've temporarily taken over the whole apartment.
This left us with a whole spare bedroom! Fortunately, that's been acting as my office most of that time . . . However, I thought it was only fair that D had the chance to use it too. So, when he went to visit his friends down the coast for a few days, I decided to surprise him by setting the office up for him!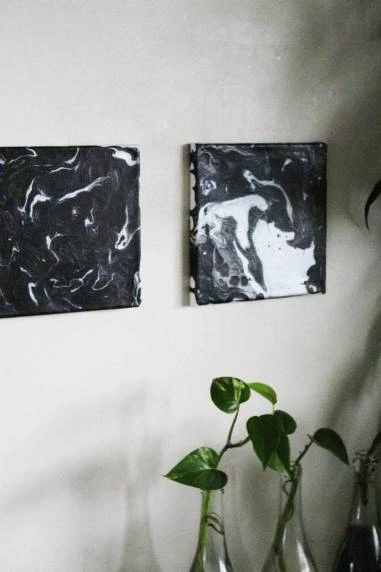 (If you have a keen eye, you might've spotted the DIY artwork I made for him back in August!)
In keeping with his personal style, I kept it nice and minimal . . . with a lot of plants. A deep and borderline obsessive love of houseplants is something the two of us definitely have in common.
If you'd like to see the whole makeover, have a watch of my Youtube video and subscribe to me over on there. (Actually, I would love for you to have a watch – you get to see what my old office looked like and what a dramatic transformation it all was!)
I think I've mentioned this before, but D loves to produce music in his spare time. One of the unexpected benefits of COVID was that he spent so much time learning and experimenting with it.
In fact, lockdown gave him the chance to try tons of new hobbies . . . And, guys, it turns out my boyfriend is a bit of a housewife! He cooks, he cleans and he makes a fabulous cocktail.
For Christmas, one of the gifts I got him was this minimal glass bar cart (similar), so I styled it with the DIY plant pot I made him, some cocktail recipe books and (of course) alcohol!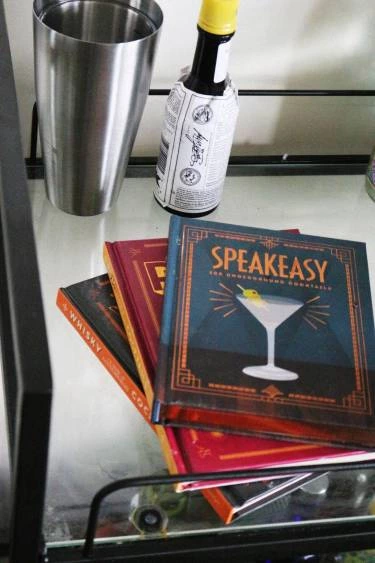 One of my favourite ways to propagate and display plants is in old alcohol bottles, so I put some Devils Ivy and Philodendron cuttings in wine bottles. Is this room an urban jungle? I think so!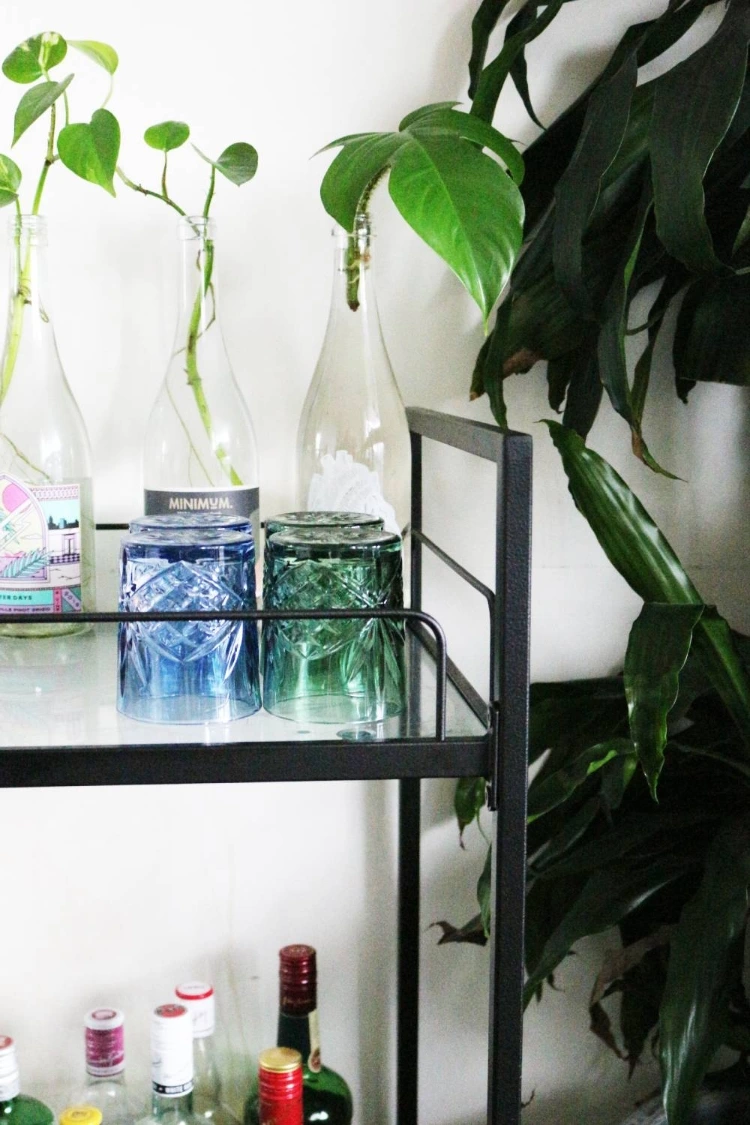 Daryl's desk is actually a KMART buy he modded a few years ago. He spray painted the wood panels white, then sanded it down for a distressed effect. There's a similar one here without all the effort, though!
(And, yes, I know what you're thinking – I managed to find a man who likes DIY? I'm a lucky girl.)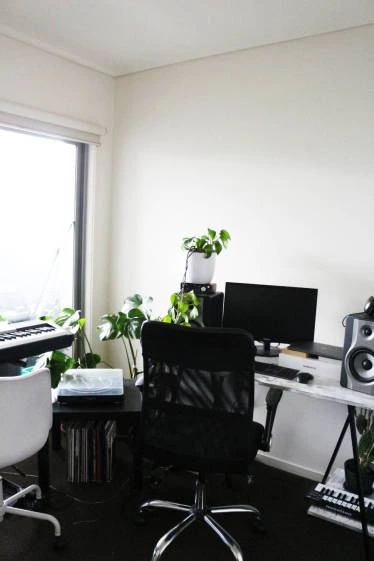 I tried to keep everything else the same, even down to the clutter on his bookshelves!
(This was mostly because if someone came and messed up my work area I'd be pretty pissed. It's always when you desperately need something that you can't find it, right? I didn't want to inadvertently be the cause of that!)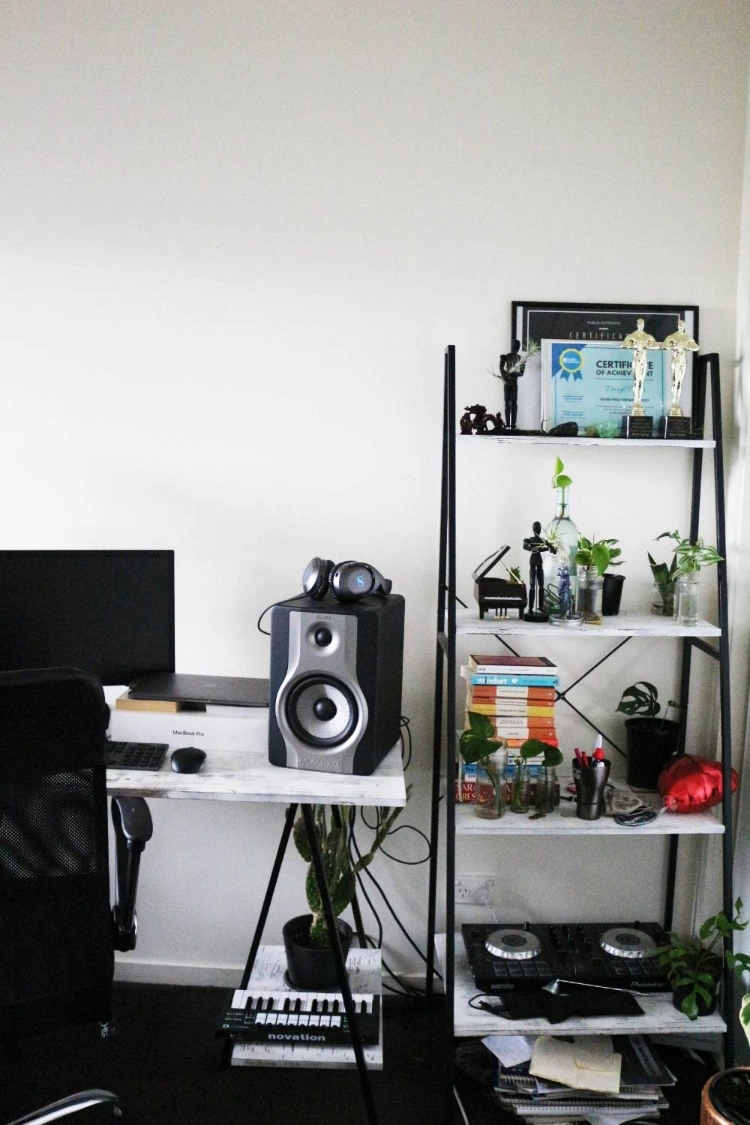 All in all, this room was a raging success! When Daryl got home he loved it . . . and I'm actually quite enjoying being in the main room. (Easy access to the fridge? Sign me all the way up.)
I hope you guys enjoyed this post. (And, if you watched the video, are shocked at how different the room looks!) What sort of style do you have? Are you a fan of a minimal workspace? Let me know your thoughts down below!
Peace,
Instagram // Twitter // Bloglovin' // Youtube // Pinterest