Hello, beautiful people – your resident not-a-beauty-blogger is back with some suspiciously beauty-blogging-related content. Today, we are going to talk about one of my new loves: Bodyshop Vitamin E Gel Cream.
If you're familiar with the skincare section of my blog, you will already know that I have oily, acne-prone skin – so I have to be careful with what moisturisers I use. On one hand, they need to be hydrating because oily skin is often actually dehydrated (which is why it over-produces oil and becomes oily). Plus, the other treatments used on oily or acne prone skin are often very drying and damaging – so mama needs repairs.
However, you also need to be careful not to fight fire with fire. Adding too much hydration to what is already an oil zone can equal breakout of epic proportions. It's a fine line that not many products manage to walk.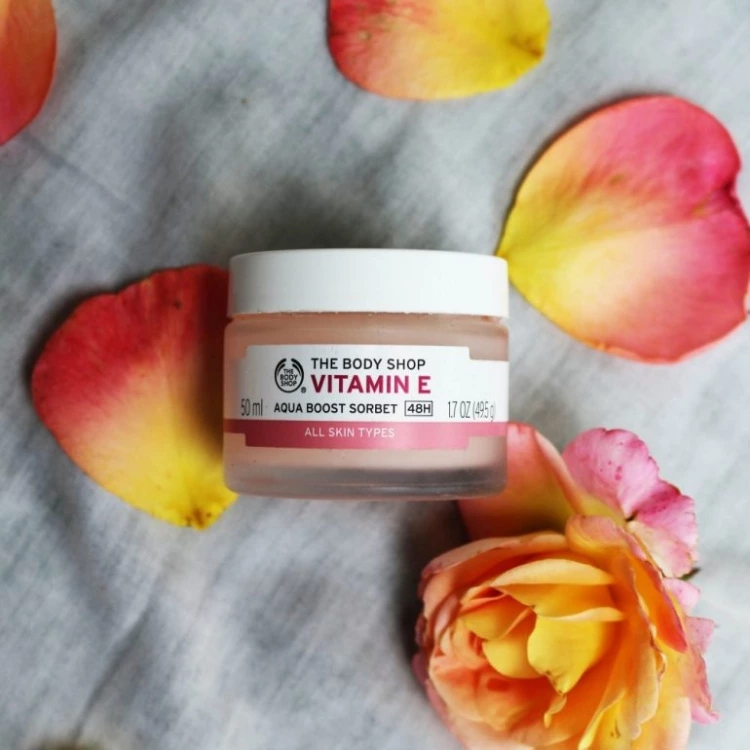 Well, my friends, I have found one such moisturiser and it is a beautiful thing.
The Bodyshop Vitamin E Aqua Boost Sorbet- 4/5*s
Let's look at what this bad boy claims to do . . .
"This refreshing and mattifying facial moisturiser with aquasphere technology, drenches skin with moisture for all day hydration. Leaving the skin feeling cooler and softer. Now formulated with plumping hyaluronic acid, wheatgerm oil and vitamin E. Use as part of your personalised skincare programme." – Bodyshop website
Does it live up to its claims?
Yes! Honestly, all skincare that I've tried from The Bodyshop has lived up to my expectations, not been too harsh and been worthy of a repurchase and this moisturiser is no exception. The gel texture is very cooling and soothing – none of that greasy feeling – and it still moisturises my skin! I'd describe it as similar to aloe vera, but with a deeper hydrating feel.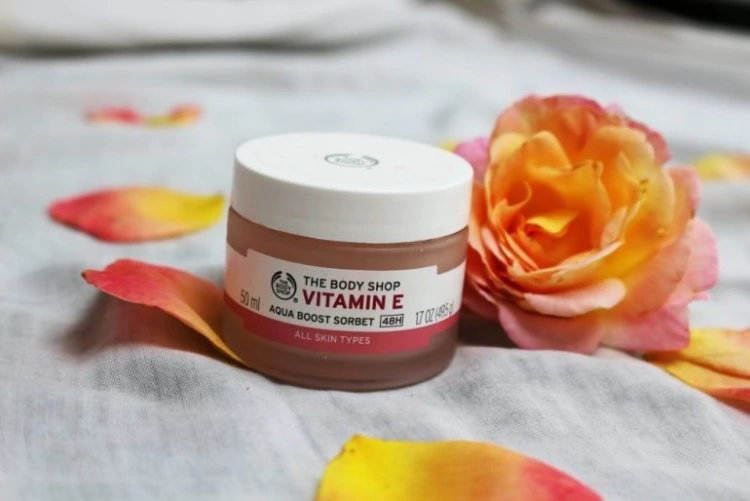 It's one of those products that genuinely feels nice to use and has a visibly beneficial effect on my skin.
If you do have oily skin, I massively recommend this because it does have a slightly mattifying effect – but its real benefit, in my eyes, is that it doesn't cause your skin to get oily throughout the day.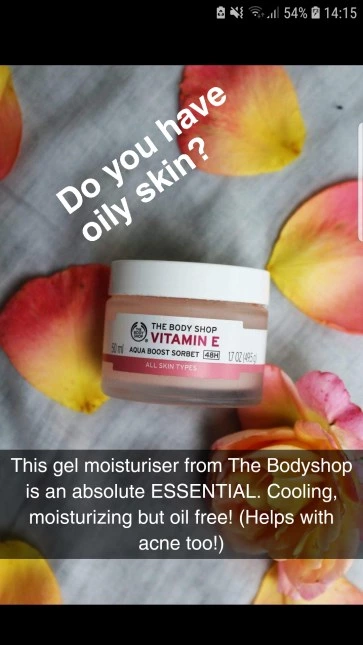 In terms of breakouts, I do tend to experience them when I switch to a new moisturiser (mainly because my face is the antichrist, but that's a whole other topic) – fortunately, though, I didn't experience any with this! I'd say it's definitely helped my acne because using a hydrating moisturiser tends to keep my skin in better condition healthwise, but also stops it from overproducing oil to compensate for being dry. Plus, it's gel based so there's nothing adding oil to cause breakouts. In fact, I find that the cooling effect it has calms them.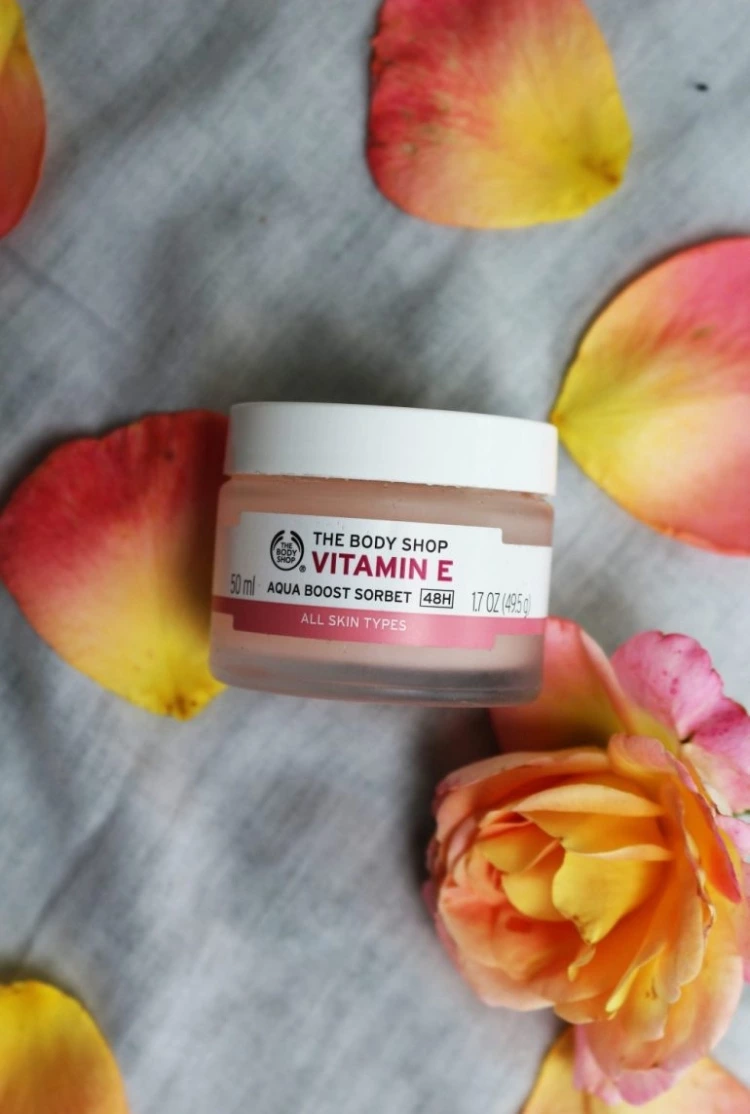 SIDE NOTE: As bizarre as it sounds, if I'm having a painful breakout or rash on my face, I put mix this moisturiser and a dab on honey and it's the most soothing, calming thing for my skin. Highly recommend.
Honestly, I'm all in all so pleased with this moisturiser. It makes my skin look and feel healthy, plump and taken care of; what more could a girl ask for?
(Food, I could ask for food.)
So what does it lose the star for?
The only reason I'm knocking a star off of this is because, in my opinion, it's not the best value for money.
The pot is quite small and the cream itself isn't the most "a little goes a long way". I'm used to using Mario Badescu's teeny, tiny moisturiser and that lasts me quite a while, so I'm generally quite good at using small amounts of product and making it go far . . . but this gel isn't quite liquid enough to do this, meaning that it goes down very quickly.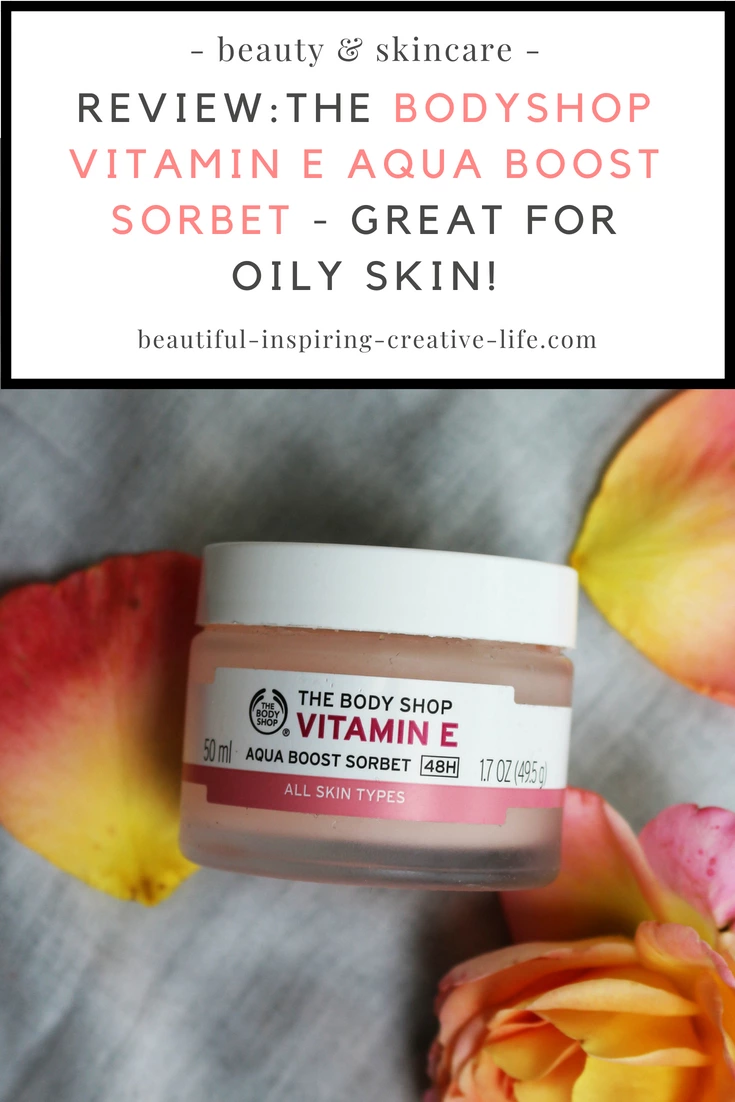 At £13 a tub, this is hardly a bank breaker – but considering I've been using it for around a month and it's pretty much empty, that's a recurring cost that's going to add up . . . and it's bloody inconvenient to have to repurchase it every month.
That said, due to my actual falling in love with this, I was using this morning and night. Moving forwards, I'm using the Mario Badescu skincare range and using this sorbet at nights – so it should last a lot longer.
Where can I buy it?
Well, this is a good question. Initially, I purchased this off of the Bodyshop website, but it just . . . no longer appears? It might just be out of stock – but you can buy it via Amazon for now.

Okay, my beautiful babies, I hope you enjoyed this post! I know that I have found a lot of skincare recommendations via WordPress, so (while there is no way in hell I know enough about beauty to ever want to be a beauty blogger) I'm kind of enjoying sharing reviews 'n shit with you all!
(Also, I'm not ignoring comments, but I'm a few posts behind on responding to them, so I'm currently not even at my Setting Up My Travel Journal post comment section yet! Thanks to everyone leaving comments, I promise I will reply and catch up on your blogs too.)
Have you ever tried this product? Are you a fan of Bodyshop's skincare? Let me know your thoughts down below!
Peace,

Instagram // Twitter // Bloglovin' // Youtube // Pinterest