Looking for advent calendar ideas for adults? Here are 18 of the best options the internet has to offer, from DIY options to storebought and fillable ones. Affiliate links in post.
Hello, beautiful people, and welcome back to my corner of the web! I hope you are all feeling fabulous today. And, if you're not, don't even stress about it. We're talking Christmas shopping - so that's sure to put you in a good mood.
One of my favorite things about Christmas? Advent calendars. The excitement of getting a little gift each day and having something to look forward to is unparalleled . It goes without saying that I like to prepare early. Advent calendars make great gift ideas, after all!
So let's do a little window shopping, my friends. Today, I'm going to share the internet's best advent calendar ideas for adults. And, because I'm your resident DIY queen, we will have some homemade options too!
Top Advent Calendar for Adultsin 2022 by Editors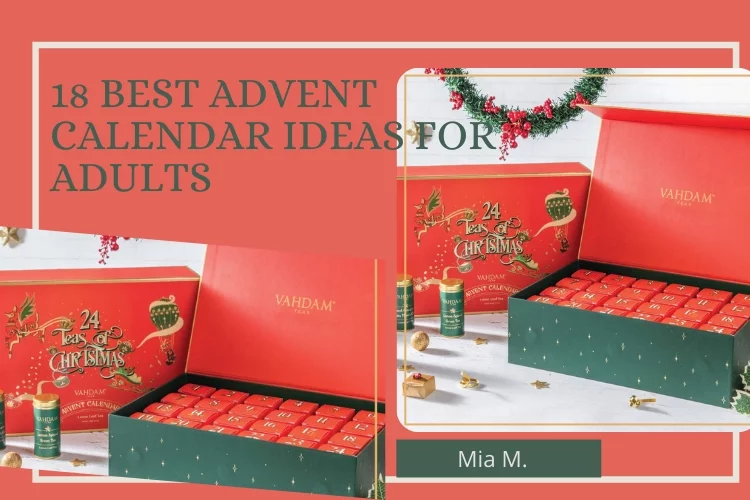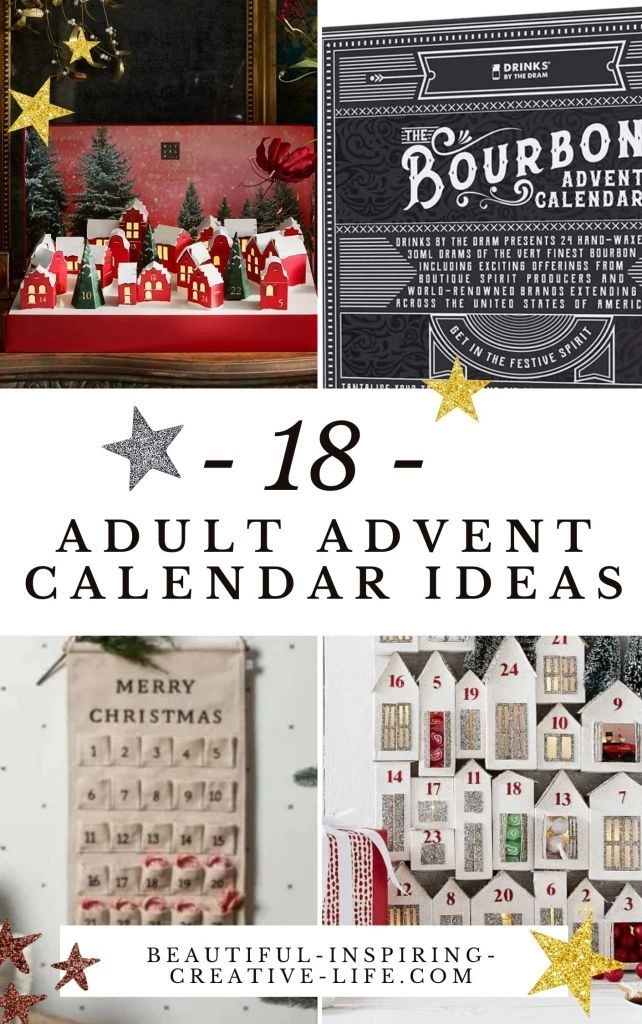 6 Adult Advent Calendars for Her
First up on this list? My top picks for the ladies. Let's be honest here - capitalism really spoils us when it comes to Christmas. We get the most luxurious advent calendar options, from high-end beauty brands to chic home decor pieces.
If you want to really treat yourself this year (can't blame you; 2021 has been rough ), I have got some fabulous options below.
1. L'Occitane Signature Holiday Advent Calendar from Amazon - Link
Adorable packaging? Check. High-quality products to love? Check! Available next-day delivery from Amazon Prime if you want this as a last-minute gift? Double check.

2. RITUALS 3D Christmas Village from Amazon - Link
I am utterly obsessed with this calendar! For one, it's beautiful. (I would definitely keep the packaging to reuse year on year.) But also because RITUALS create really high-quality products, from fragrances to candles and skincare.

3. Christmas Self Care Advent Calendar - Link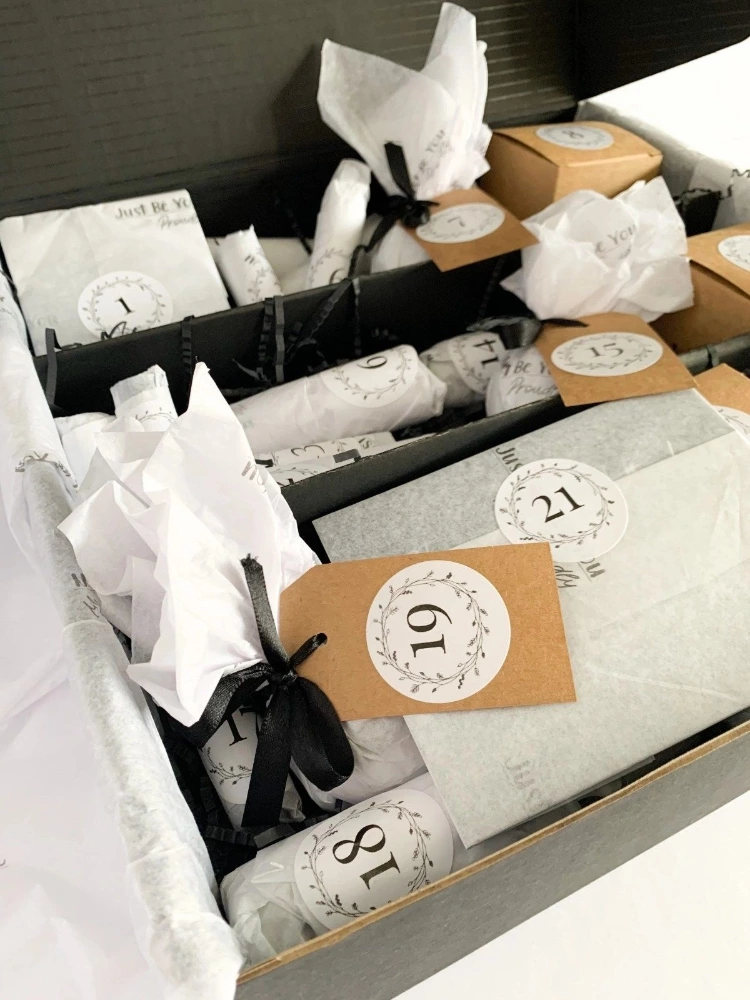 If you guys are familiar with my curation posts, you'll already know how much I adore Etsy! Supporting small businesses is much more rewarding than throwing your money at a capitalist juggernaut.
This self-care-themed advent calendar is just the pick-me-up you might need after this year!
4. Charlotte Tilbury Advent Calendar - Link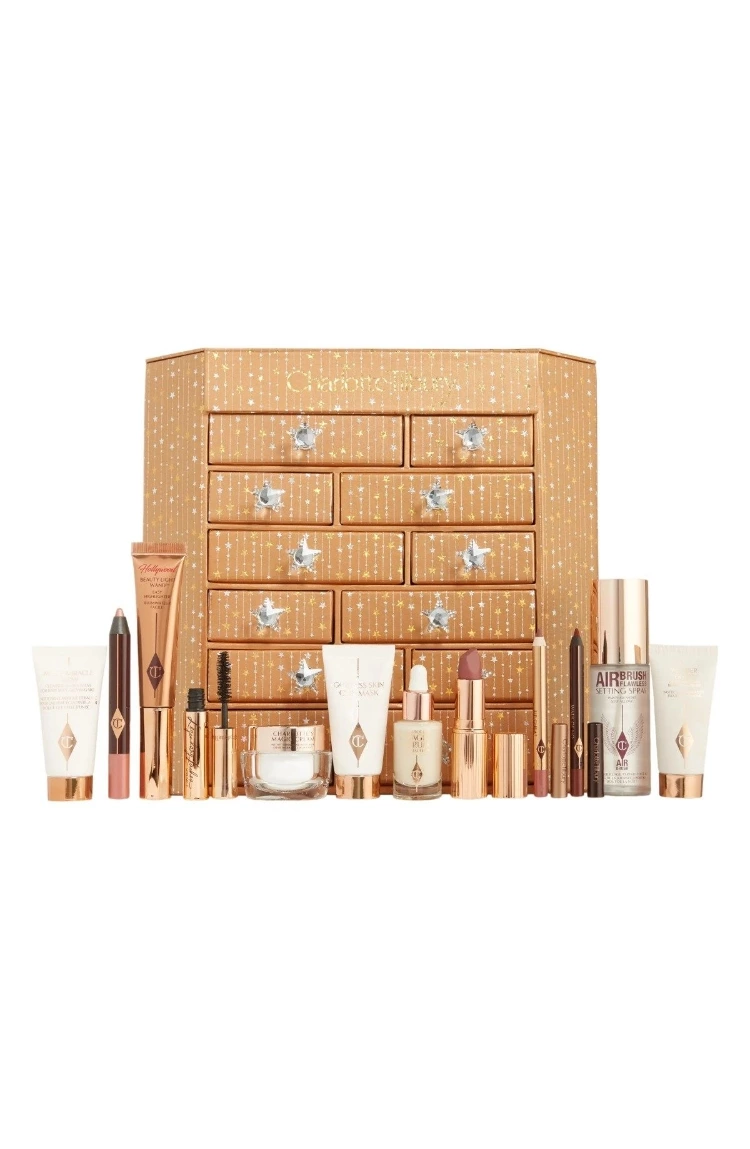 If you're a beauty lover, the Charlotte Tilbury calendar is a must-see. Plus, I love the sustainability aspect of it too!
Rather than a strictly festive calendar full of tack you might end up throwing out, this is full of practical make-up that you will use throughout 2022.
5. Tea Advent Calendar from Amazon - Link
After something a little more tasty? Well, I'm going back to my British roots with option number #5 on this list - it's a tea advent calendar!
I love that this is a fun little activity you can do every day in the lead-up to Christmas too.
6. Botanical Ornament Calendar - Link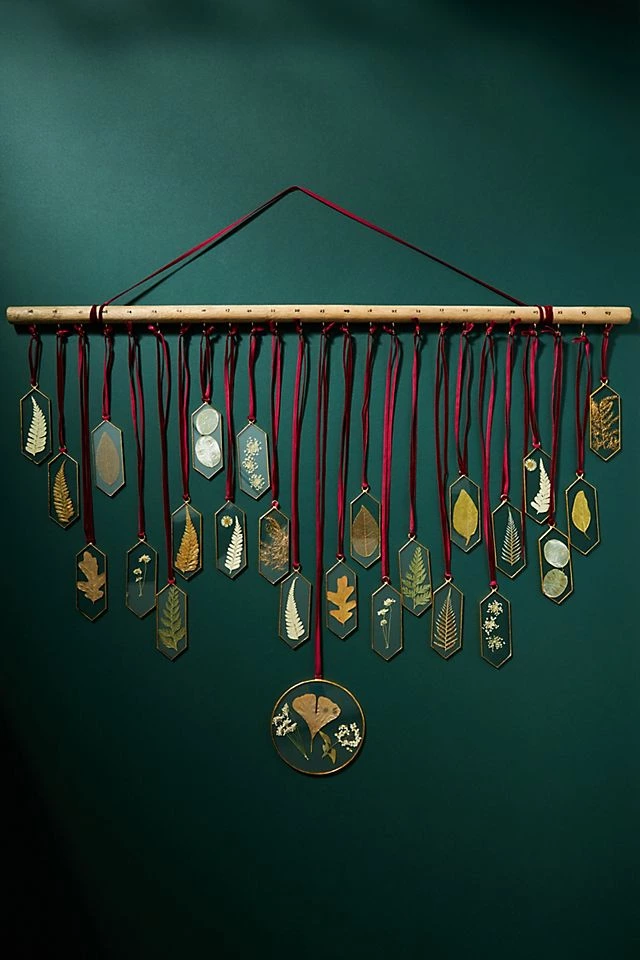 And our last option has to be this stunning Anthropologie calendar. These pressed flower ornaments are absolutely beautiful - but I love that you could totally keep them up year-round too. This is definitely one I'm planning to DIY-dupe, so stay tuned for that over the next month.
6 Adult Advent Calendars for Him
Now, onto part 2! Let's talk about some fun (and sometimes even practical) advent calendar ideas for men. Admittedly, they don't seem to get as much choice as us women do - but I've scoured the web high and low to find some great options.
1. Bourboun Advent Calendar from Amazon - Link
Number one on this list has to be a bourbon advent calendar. In fact, any kind of alcoholic option would be a good choice for the men in my life!
2. Men's Stuff: Toiletry Advent Calendar from Amazon - Link
Toiletries are always an easy gift idea - plus, we all know that boys tend to forget to buy their own! (I've caught my boyfriend using my expensive face washes before. And it cuts me deep every time.)
3. Manly Gadgets & Gizmos Advent Calendar from Etsy - Link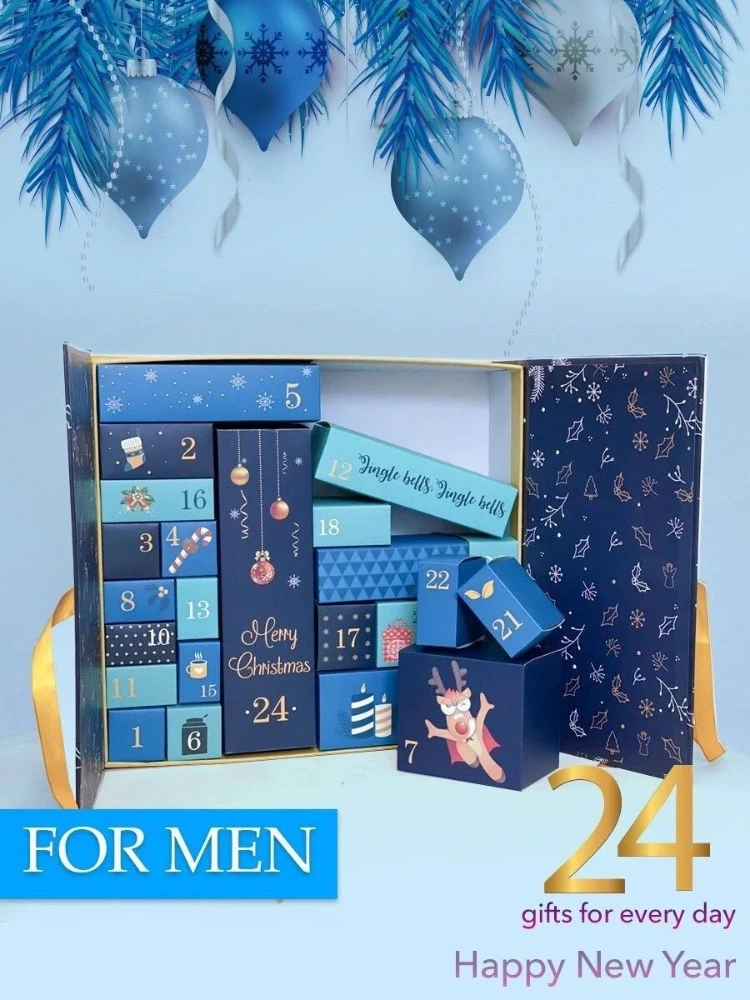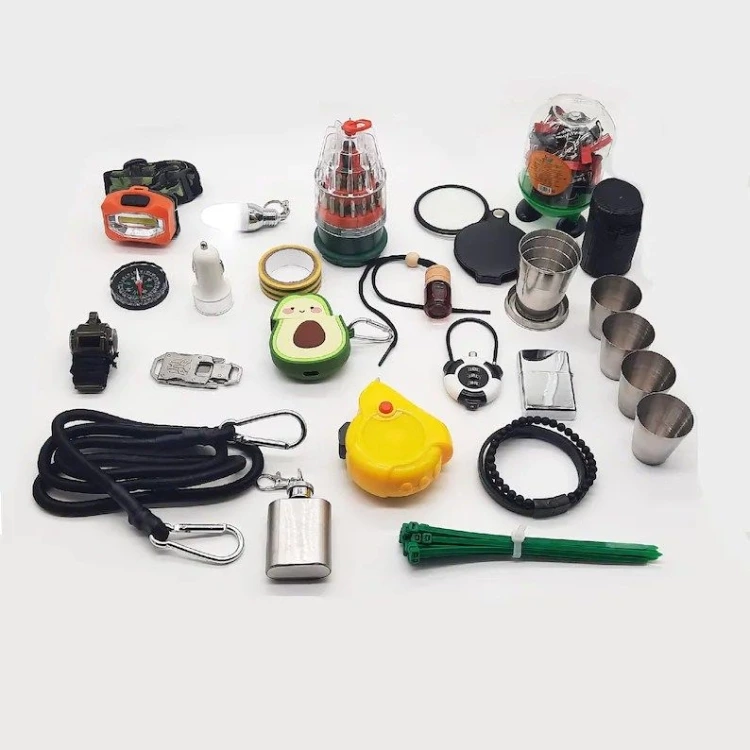 This is another Etsy find, so you're supporting a small business - and getting an incredibly practical calendar option!
4. LEGO Star Wars Advent Calendar from Amazon - Link
Don't laugh me out of the room yet, okay? I know LEGO may seem juvenile - but I routinely buy my boyfriend sets for his birthday and he loves them.
5. 12 Days Of Socks Calendar from Amazon - Link
And our last addition to this list has to be this adorable FUNKO calendar. You get 24 of the most popular Marvel figurines to add to your collection - so it's the perfect gift for any movie buff!
6 DIY Advent Calendars You'll Love
The next addition to this list... well, you all knew it was coming! As your resident DIY-queen, I simply had to include some of my favourite crafty advent calendar ideas too.
1. DIY Self Care Advent Calendar - Link

First up is a cheeky self-promo. Last year, I created a DIY self-care advent calendar as a gift for my mother - and it turned out so beautifully!
2. DIY Christmas Village - Link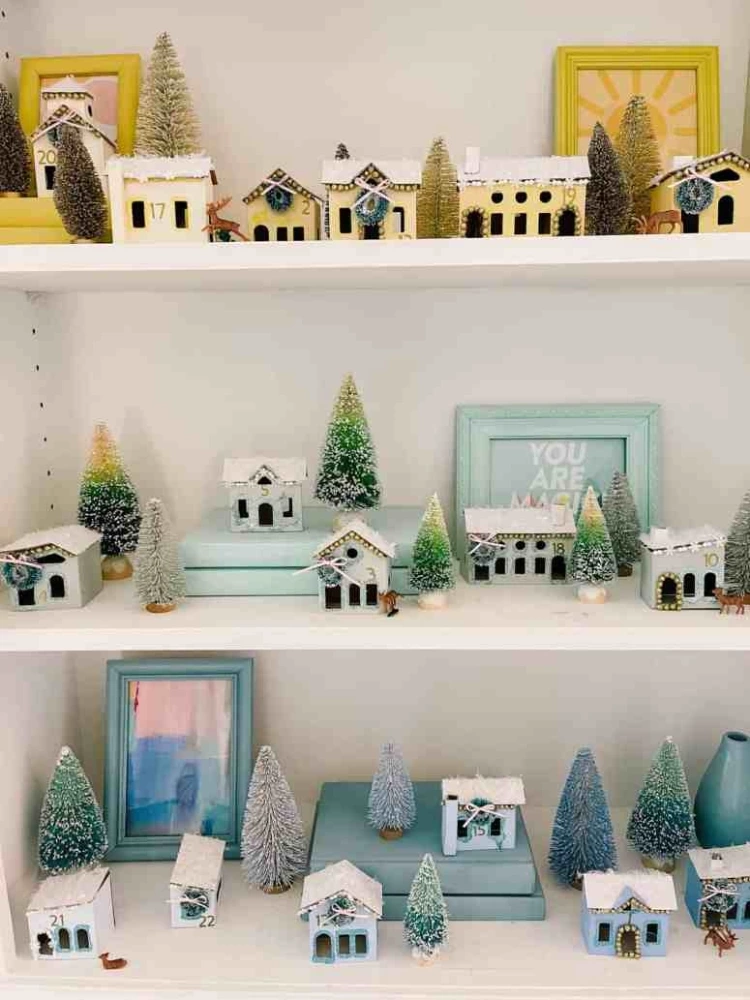 One of my favourite festive trends are Christmas villages. They're deeply adorable - and this next DIY advent calendar idea is no different!
3. Ladder Advent Idea - Link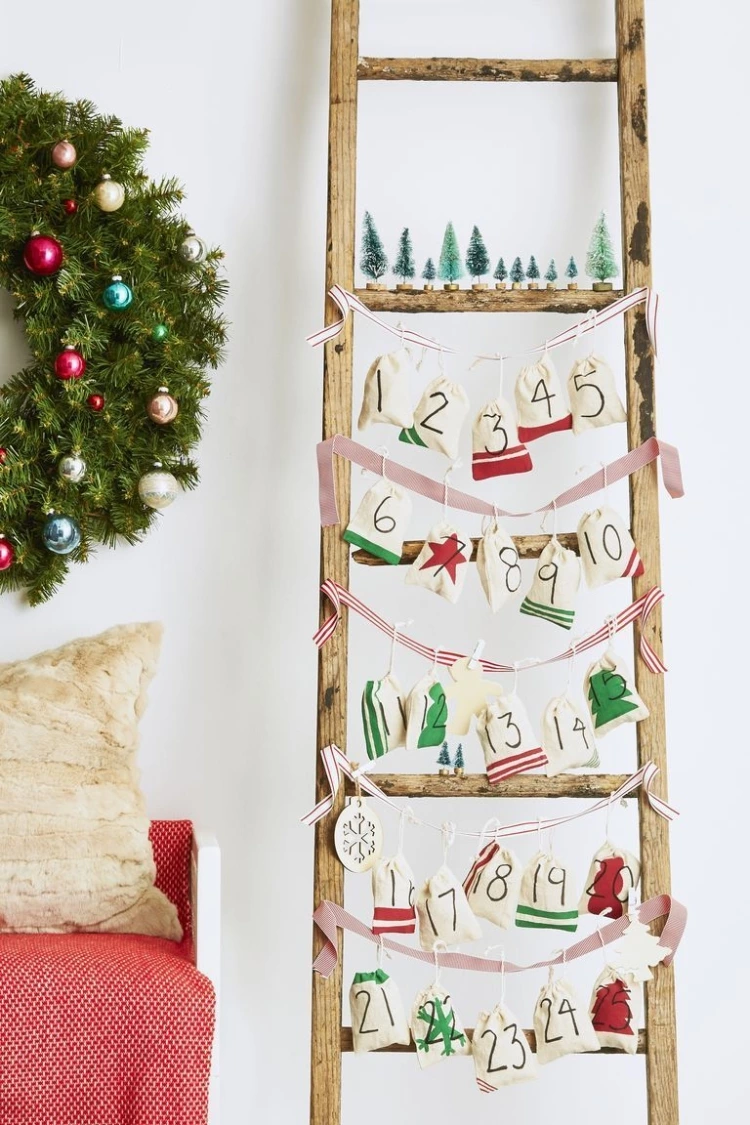 Ugh, how cute is this? I love that this ladder idea also works as a fabulous Christmas decoration too.
4. Pottery Barn Inspired Advent Calendar - Link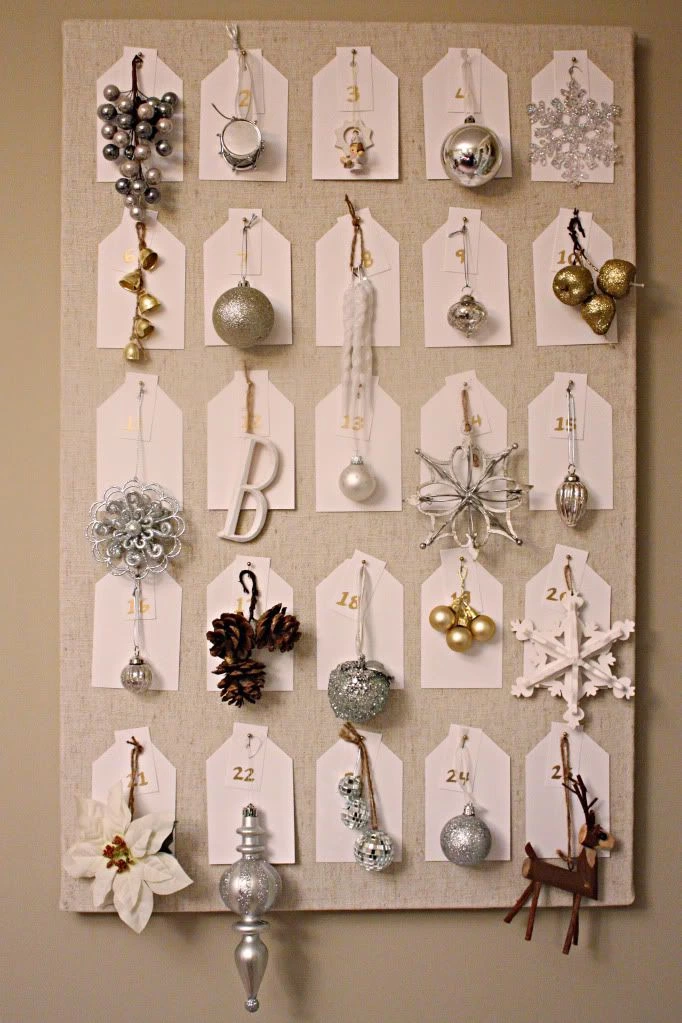 Guys, look - 2021 was the year I discovered pottery barn and I want a refund. Everything is so beautiful, yet painstakingly expensive. Forutnately, this DIY dupe comes in at under $10 - and is equally chic!
5. Boho Stocking DIY Advent Calendar - Link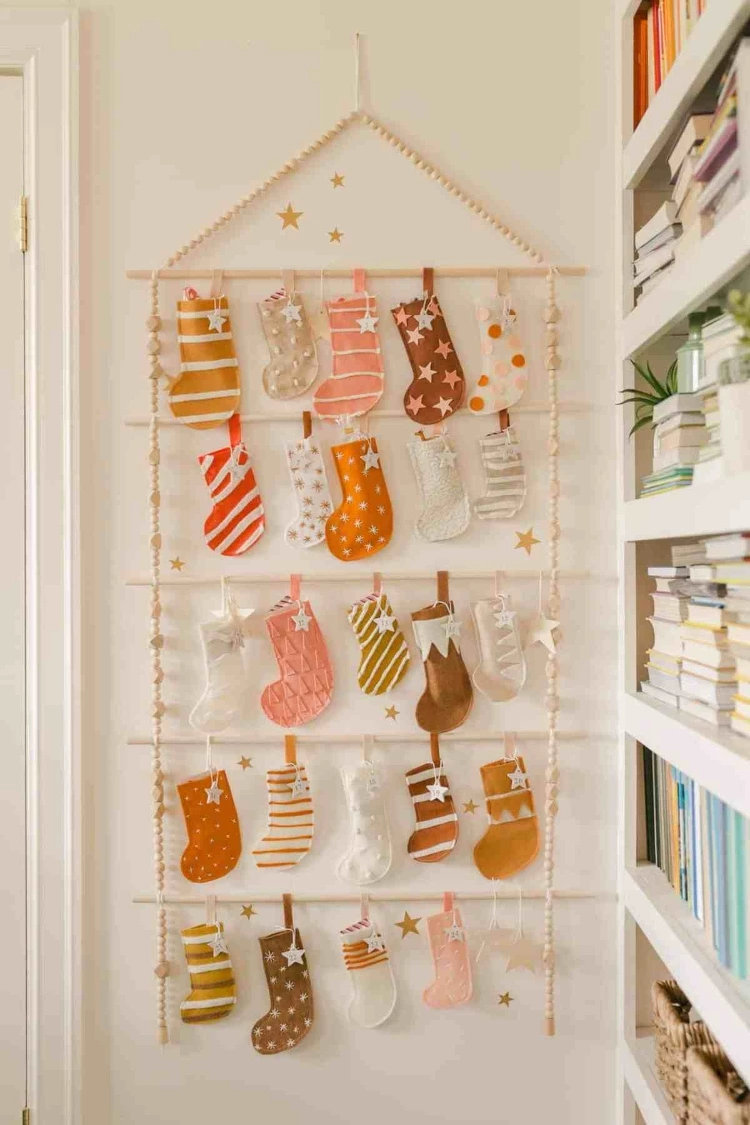 Over the past few years, the boho toned Christmas theme has popped up - and I'm here for it . I love that this stocking advent calendar gives you room for bigger gifts too.
6. Rustic Cardboard Village Advent Calendar - Link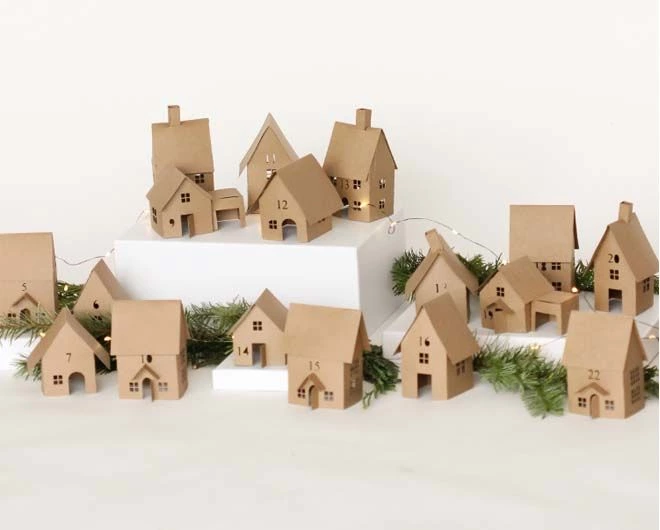 I told you guys that I love Christmas villages! This option is more rustic - but no less adorable.
Fancy DIY-Ing Without the Crafting? Here Are 6 "Fill Your Own Advent Calendars"
Love the idea of choosing your own advent calendar gifts... but not keen and crafting? Fair enough! Here are some fillable advent calendar options you don't need a hot glue gun for.
1. Fill-Your-Own Christmas House from Target - Link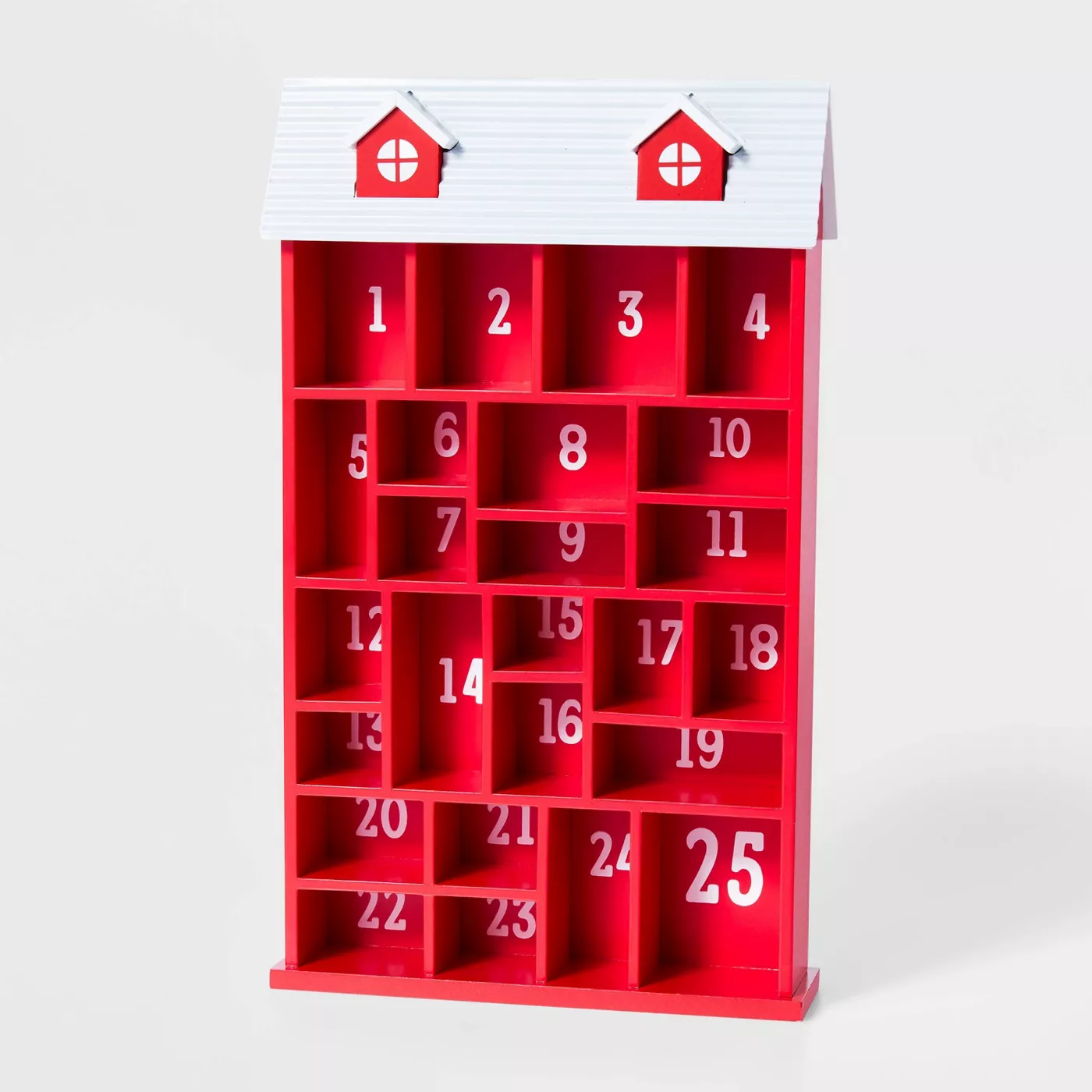 First up is a budget-friendly option from Target!
2. Light-Up Christmas Village Calendar from Pottery Barn - Link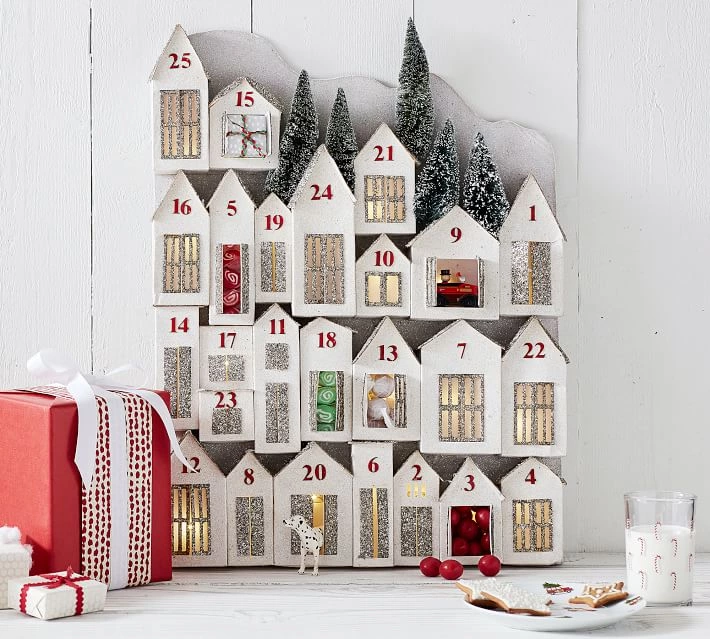 Oh, my heart. I'm deeply in love with anything PotteryBarn and this advent calendar is no exception. Just look at how beautiful and whimsical it is. It encapsulates everything that makes Christmas magic!
3. Fillable Christmas Boxes - Link
Our next addition to this list is another super affordable option from Amazon.
4. Kraft Houses from Etsy - Link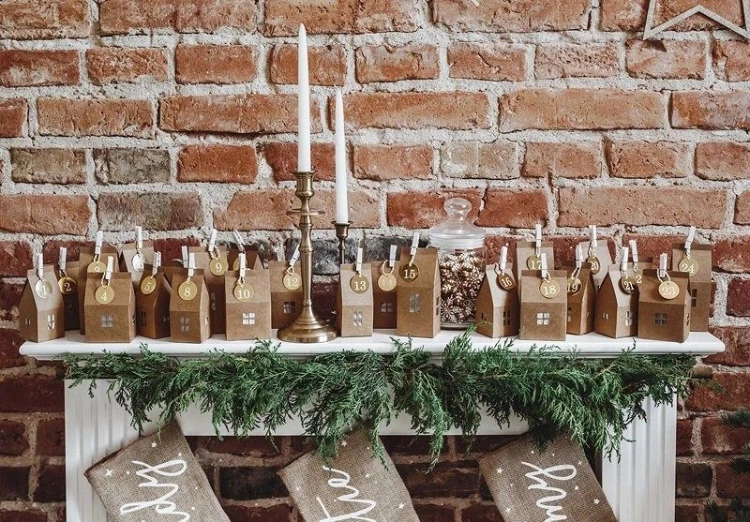 If you love the rustic, Scandinavian vibe for your holiday decor, these cardboard advent houses will be right up your alley!
5. Fillable Gingerbread Calendar - Link
This is all my childhood dreams wrapped into one gingerbread house!
6. Rustic Fabric Fillable Calendar - Link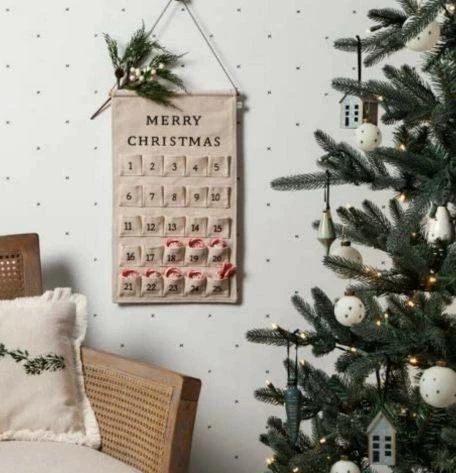 And our last addition to this list is a more minimal idea.
Ideas for What to Put Inside a DIY Advent Calendar
Now that we've looked at the DIY options, you may be needing some advent calendar filler ideas. Well, pals, let me help with that! Here are some things you could include in your calendars:
Chocolate
Beauty samples
Mini Christmas LEGO sets
Stationery, like washi tape and stickers
Crystals
Christmas ornaments
Alright, my loves, we shall end at the end! This post was hefty - but I hope you found some good ideas. I'm super excited to share some DIY advent calendars with you all next month, so make sure you stay tuned! Which of these was your favourite option? Let me know your thoughts down below!
What Is an Advent Calendar and Where Did It Come From?
The Advent calendar was first thought up in the 9th century by a writer and theologian named Odlric, who lived in France. He wanted to find a way to count down the days until Christmas in a community that started celebrating it much later than we do today.
So he made 25 wooden boxes and carved little doors in them. Each day, in turn, he would open up a new door to count down the days until Christmas. He was very excited about his idea and wanted everyone to get on board with it so much that he wrote letters to royalty all over Europe trying to convince them of its value, but nobody really got behind it except for one small town in eastern Germany called Lauscha. This small town is still home to the oldest and most advanced glass-blowing industry in the world.
It was here that an unknown glass blower realized how Odlric's idea could be made into a more permanent form, by using blown glass instead of carved wood, and painting the doors on instead of carving them. He made the first ever glass Christmas decoration with little doors, which you can open up each day to reveal a small bauble or trinket behind it.
Soon after, this idea started becoming popular all over Germany and Austria (where Lauscha is), but it really took off in England where the glass-blowers had adapted the idea with painted porcelain, instead of glass. Then in 1847, a British chocolate maker by the name of Samuel Cundey invented the first ever Advent calendar made out of cardboard and full of chocolates, which is where we get most advent calendars from today.
It wasn't until the early 20th century that the idea of an Advent calendar made with chocolate actually came to North America. We are now at a point where every culture all around the world has their own unique take on what you can do with an Advent calendar, but it started out as something really simple, which was just used to count down the days until Christmas.
The word "Advent" comes from Latin (and German) and means "arrival". It's part of the larger religious theme that was established after the Second Vatican Council in 1965, which is used to remind Catholics that Christmas is approaching.
How Do You Make Your Own Advent Calendar at Home for Christmas?
Christmas advent calendars are a great way to count down the time until December 25, and they can be fun for both kids and adults. It's like getting a little present every day. Some of these make great gifts for kids, spouses, or friends - but if you want one that's special - maybe personalized - then it's best to make your own advent calendar at home for Christmas.
There are as many different types of advent calendars as there are reasons to make them, but they mainly fall into two camps: homemade and store-bought. The homemade ones run the gamut from simple to complex; you can make one that counts down the days to Christmas with little trinkets and small gifts, or you can get a head start on your holiday baking and construct one that's filled with treats to eat each day.
For this project, we're making an advent calendar that counts down the days until Christmas using little doors constructed out of recycled cardboard. You can use eight ½" x 11" pieces for each door (four long sides and four shorter sides), but if you have a slightly larger box, just use more pieces of cardboard.
Here's what you'll need to make an advent calendar for Christmas:
Empty cereal boxes, other small cereal-type boxes, or other sturdy boxes Scissors Ruler Glue Marker Directions:
Cut out doors from the boxes.
When you're cutting out the doors, make sure that all of the doors are even with each other (same height and width) - or as equal as possible; 9" x 7" should work well for most boxes.
Using a ruler and marker, divide one side of each door into four sections: seven sections for the first seven days, and one for the day that contains Christmas (if you're using a 24-day calendar). Use your ruler to draw lines from corner to corner in each section.
The Advent Calendar is ready; all you have to do is use it!
Before December 1st: Put something small and fun (like a chocolate, piece of jewelry, etc.) behind each numbered door.
As December 1st arrives: Open the first door and enjoy the treat!
Continue to open all of the doors in numerical order through Christmas Eve. Then, on Christmas morning, open the last door to reveal the best surprise of all!
After Christmas: You can either start the calendar over again, or throw it away.
Tip: This is a great project for kids to do on their own - it's simple and fun!
Ideas for Different Types of Advent Calendars
Instead of buying a store-bought advent calendar, why not make your own crafty one at home? You could go all out and spend an entire day making it, or if you're strapped for time, you can whip up a quick calendar in just a few minutes. Whether you choose to buy supplies and create it yourself or use items around the house to make one, we've got some easy and fun ideas for you.
Just like other calendars, an advent calendar tells you what day it is and reminds you of upcoming events such as birthdays or holidays. It is usually opened little by little until all 24 pockets are open on December 25th, revealing a treat inside each pocket. There is no limit to what you can put inside your pockets, so get creative and have fun with it!
Here are some ideas of stuff you could put in each pocket:
Gummy candies such as worms or bears
Christmas-scented potpourri (or a single scented flower for each day)
A small ornament
A piece of flavored candy (such as wintergreen or peppermint)
Christmas-scented candles
A small trinket, charm, figurine, etc.
A holiday greeting card with a nice quote inside it for each pocket
Tape and glue the pockets together so the contents don't fall out during transport.
You can also decorate your pockets, or you could even use them to hold Christmas cards.
Spend some time with your family making this calendar together; it'll be a great project to work on while building memories!
If you're the creative type, take a look around the house for materials that could double as advent-calendar pockets.
Here are some things you could use to make an advent calendar out of:
Bread tags (cut them apart)
Small lidded jars, vases, etc.
Empty pill bottles (clean these thoroughly!)
Napkin rings or other similar decorative rings for the tabletop
Spools or wooden circles cut from dowel rods
Used Christmas cards (glue or tape them to a flat surface)
Cardboard shapes, such as circles and squares
Peace,

Instagram // Twitter // Bloglovin'// Youtube // Pinterest
Buy on Walmart, Ebay, or Etsy
Funko Pop! Advent Calendar: The Office - Etsy, eBay
Madelaine Chocolate A Holly Jolly Christmas Countdown Advent Calendar, Filled With (6oz - - Etsy, eBay
Funko Pop! Advent Calendar: Harry Potter - 2021 - Etsy, eBay
Madelaine Chocolate Advent Calendar With 24 Premium Milk Chocolates - 8 oz (226 grams) - Etsy, eBay
L'Occitane Signature Holiday Advent Calendar - Etsy, eBay
Bonne Maman 2021 Limited Edition Advent Calendar, with 24 mini fruit spreads and honey - Etsy, eBay
Hot Wheels 2021 Advent Calendar with 24 Surprises That Include 8 1:64 Scale Vehicles & - Etsy, eBay
Funko Advent Calendar: The Nightmare Before Christmas - 24 Pocket Pop! Vinyl Figures - Etsy, eBay
Trader Joe's 12 Days of Beauty Advent Calendar - Etsy, eBay
Play-Doh Advent Calendar Toy for Kids 3 Years and Up with Over 24 Surprise Accessories, - Etsy, eBay
LOL Surprise 2021 OOTD Advent Calendar with Limited Edition Collectible Doll and 25+ - Etsy, eBay
Christmas Cheer Advent Calendar (Countdown to Christmas) - Etsy, eBay
FLY2SKY Advent Calendar 2021 Christmas Countdown Calendar 24Pcs Mochi Squichy Toys Cute - Etsy, eBay
Paladone Friends TV Show Advent Calendar 2021, 24 Days Christmas Countdown - Etsy, eBay
Pukka Herbs | Tea Advent Calendar | The Perfect Non-Chocolate Christmas Countdown for Tea - Etsy, eBay
IMIKEYA Christmas Advent Calendar Includes 24Pcs Hanging Pendants Christmas Tree - Etsy, eBay
Lights4fun, Inc. Gingerbread House Pre-Lit Battery Operated LED Christmas Wooden Advent - Etsy, eBay
Roblox Action Collection - Advent Calendar [Includes 2 Exclusive Virtual Items] - Etsy, eBay
Christmas 24 Days Countdown Advent Calendar with 24 Pressure-Relief Toys with Mochi - Etsy, eBay
Funko Advent Calendar - Harry Potter - Etsy, eBay
NEW 2021 Advent Calendar MAGIC & TRICKS by The Purple Cow. 24 Magic Tricks for Kids age 8 - Etsy, eBay
Candy Land Chocolate Advent Calendar Christmas 2021, Holiday Countdown Calendars - Etsy, eBay
Komoo Christmas Fidget Advent Calendar, 24DAYS Countdown Calendar Sensory Fidget Toy - Etsy, eBay
FLY2SKY Advent Calendar 2021 Christmas Countdown Calendar Decoration 24pcs Magic Brain - Etsy, eBay
Lights4fun, Inc. Winter Wonderland Reindeer Pre-Lit Battery Operated LED Fold Out White - Etsy, eBay