Spoiler alert: I am fucking tired.
Hello, blog friends – how's it going? Sit down, tell me about your day. I'm now (mercifully) free of April and (less positively) back from Italy, so I have time.
Are you done yabbering on yet? Well, strap in for me to tell you about something. Don't look so confused – this is my blog after all. If I weren't talking, what would we even do? Stare at a blank page? Yeah, because that sounds like everyone's idea of a good time.
If you guys have been following me for . . . well, I mean any amount of time at all, you will know that in April I embarked on a sacred blogging quest of truth and knowledge. Or, more accurately, I decided to challenge myself to post nothing but collab posts for a whole month.
Why? Mainly because sometimes I get ideas and, for better or worse, I decide to give them a go. Also, I'm pretty sure I just wrote my wedding vows. Here's what I posted:
Looking back on it, I'm actually super freaking proud. All these collabs were organised and created in April – and I even got some videos in there too! (Finally.) However, that's not why you're here. No, you don't want to know about what I made . . . you want to know what happened.
So here are my findings. (And we're using infused water instead of tea because it's sunny in Britain and I'm celebrating!)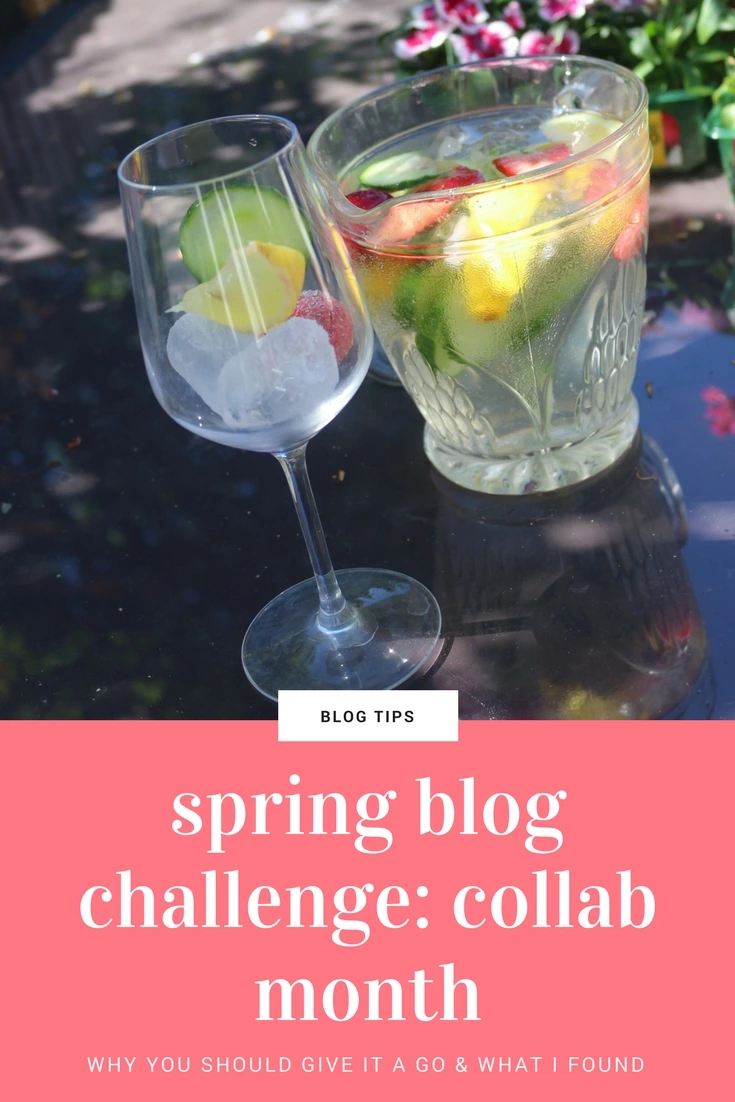 (Pin this for me lovelies!)
1. It was difficult.
Oh my God, was it hard work. Emailing, deadlines, scheduling conflicts . . . Organising collab posts, especially if you're on strict posting schedule, is damn hard.
One of the best things about blogging (in my opinion at least) is the ability to write around things that happen in my life. I don't know about you guys, but I tend to write a lot of complete posts that just need photographs. And then my plans fall through, or the weather doesn't co-operate, or (and this is what usually happens) I forget to take said photos.
When that happens . . . I blog about something else that happens instead. If a plan falls through, I can write a blogging tips post whilst consoling myself with ice cream. If the weather sucks, I can do a face mask and review it.
Collab posts are pre-organised and other people are relying on you, so there's a lot less flexibility.
Life inevitably happens – you get tired, you have work, you go out all weekend and forget to check your emails. And that's on your side; the person you're collabing with naturally has all these issues too. Collabs mean that you have none of the flexibility blogging usually affords you . . . and I missed it.
2. It was really inspiring
Honestly, I was so impressed (that feels like it sounds patronising; I don't know what the right word is here) with everyone's collab ideas. Mine were pretty boring, but people shared some absolutely fantastic post ideas. It was really fun to get a glimpse under the hood at other bloggers' inspirations.
3. I enjoyed working with other bloggers
Now, this was easily the biggest benefit to collab month: I really enjoyed working with other bloggers. I feel like it strengthened a lot of our inter-blogger bonds (they're a thing, fucking fight me on it) and I'm genuinely really excited to work together with people in the future. Before, I was a bit apprehensive about randomly hitting people up like "let's make content together!", but this challenge has definitely given me the confidence to.
4. It didn't rocket up views, engagement or follows
In terms of stats, mine grew a little bit in April, but that's because a. I posted more and b. my follower count grows month-on-month, which means every month more people see the content I post. Collabing with people didn't really help my engagement or my follow count, but I collabed with people within my community and with smaller followings. If you were to collab with bigger bloggers or those from outside your circle, this would likely change.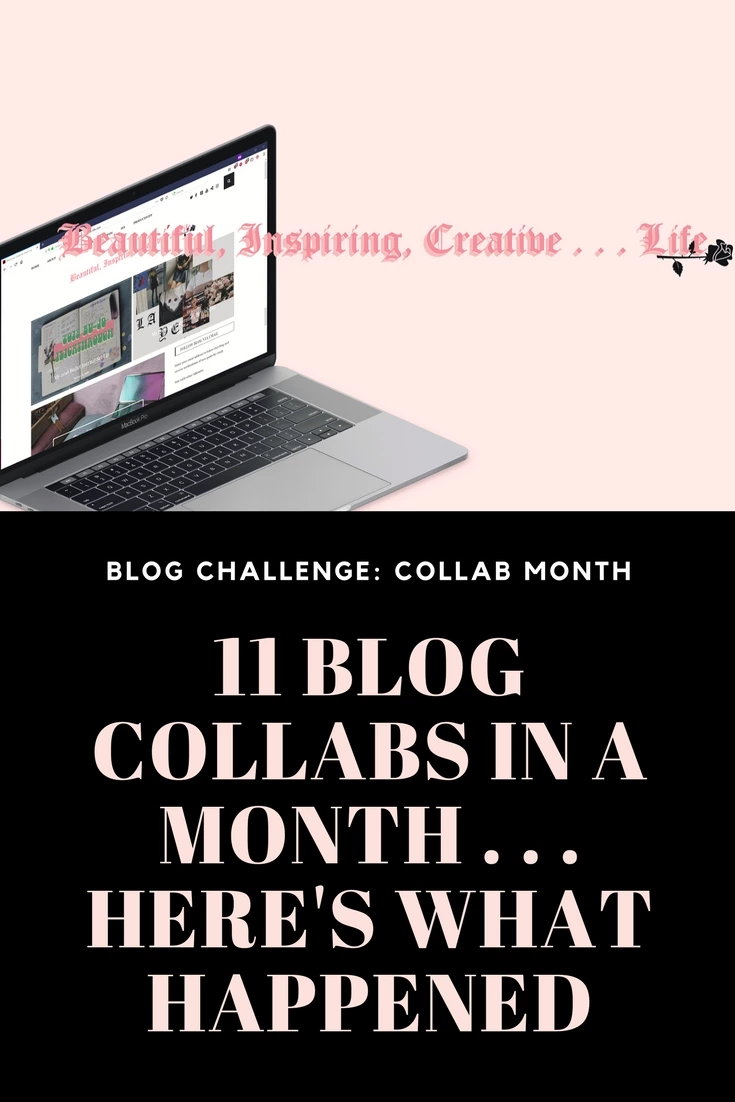 5. I think it boosted my SEO
If you remember my post about on-page SEO for bloggers, you may remember me talking about backlinks. Backlinks are essentially whenever another website points to your domain – and they are fantastic for SEO. They essentially tell Google "this content is high quality enough for me to recommend it".
The more (quality) backlinks you have, the better your overall website ranks. This means when you write new posts they rank quicker!
Collabing with people all month meant that my site was getting new backlinks – and I saw an overall little boost in my SEO views.
6. It really helped me create content consistently
While it may have been more difficult, having other people relying on me and inspiring me was a great kick up the ass and I managed to get content out way more consistently. A win? I think so.
7. My audience enjoyed it!
If I'm being completely honest, I was really worried people might not enjoy reading my collab month posts or they'd lose interest – but you guys really enjoyed it! I was so happy with all the lovely comments I got at the end of the month and I'm glad I got to share some cool creators with you all.
All in all, I genuinely really enjoyed this challenge – and it was a pleasure to work with you all. I'll definitely be collabing with people in the future; there are already some cool projects in the works! I'd really recommend giving this challenge a go. If you do attempt it . . . well, good luck firstly, but let me know so I can take a peek at your posts!
What did you think of my collab month? Did you enjoy it? What were your favourite posts? Would you try running a collab month? Let me know your thoughts down below!
Peace,

Instagram // Twitter // Bloglovin' // Youtube