Looking for advent calendar ideas for adults? Here are 18 of the best options the internet has to offer, from DIY options to storebought and fillable ones. Affiliate links in post.
Hello, beautiful people, and welcome back to my corner of the web! I hope you are all feeling fabulous today. And, if you're not, don't even stress about it. We're talking Christmas shopping – so that's sure to put you in a good mood.
One of my favourite things about Christmas? Advent calendars. The excitement of getting a little gift each day and having something to look forward to is unparalleled. It goes without saying that I like to prepare early. Advent calendars make great gift ideas, after all!
So let's do a little window shopping, my friends. Today, I'm going to share the internet's best advent calendar ideas for adults. And, because I'm your resident DIY queen, we will have some homemade options too!
TABLE OF CONTENTS:
6 ADULT ADVENT CALENDARS FOR HER
First up on this list? My top picks for the ladies. Let's be honest here – capitalism really spoils us when it comes to Christmas. We get the most luxurious advent calendar options, from high-end beauty brands to chic home decor pieces.
If you want to really treat yourself this year (can't blame you; 2021 has been rough), I have got some fabulous options below.
Adorable packaging? Check. High-quality products to love? Check! Available next-day delivery from Amazon Prime if you want this as a last-minute gift? Double check.
I am utterly obsessed with this calendar! For one, it's beautiful. (I would definitely keep the packaging to reuse year on year.) But also because RITUALS create really high-quality products, from fragrances to candles and skincare.
If you guys are familiar with my curation posts, you'll already know how much I adore Etsy! Supporting small businesses is much more rewarding than throwing your money at a capitalist juggernaut.
This self-care-themed advent calendar is just the pick-me-up you might need after this year!
If you're a beauty lover, the Charlotte Tilbury calendar is a must-see. Plus, I love the sustainability aspect of it too!
Rather than a strictly festive calendar full of tack you might end up throwing out, this is full of practical make-up that you will use throughout 2022.
After something a little more tasty? Well, I'm going back to my British roots with option number #5 on this list – it's a tea advent calendar!
I love that this is a fun little activity you can do every day in the lead-up to Christmas too.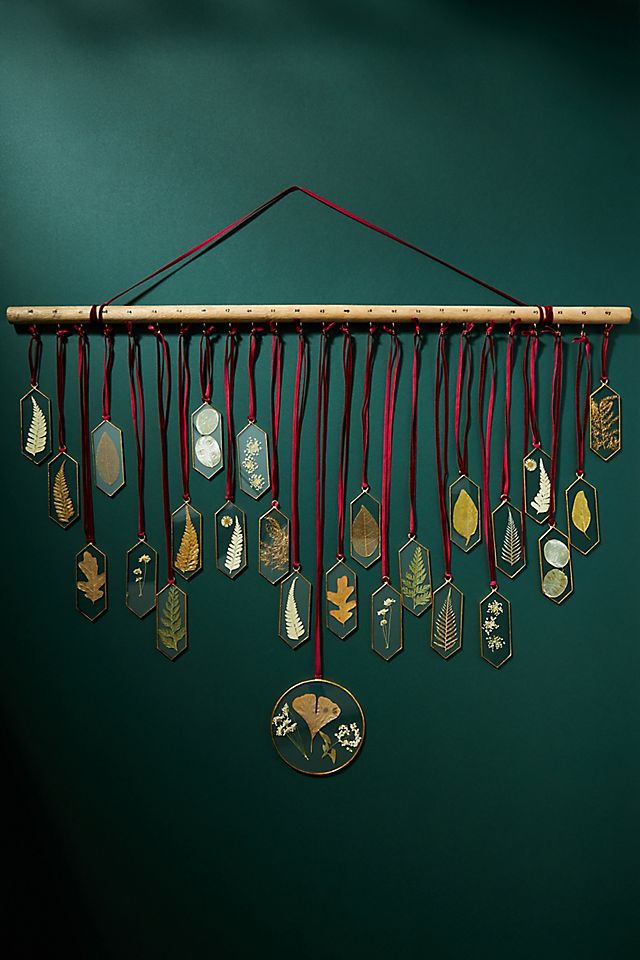 And our last option has to be this stunning Anthropologie calendar. These pressed flower ornaments are absolutely beautiful – but I love that you could totally keep them up year-round too. This is definitely one I'm planning to DIY-dupe, so stay tuned for that over the next month.
6 ADULT ADVENT CALENDARS FOR HIM
Now, onto part 2! Let's talk about some fun (and sometimes even practical) advent calendar ideas for men. Admittedly, they don't seem to get as much choice as us women do – but I've scoured the web high and low to find some great options.
Number one on this list has to be a bourbon advent calendar. In fact, any kind of alcoholic option would be a good choice for the men in my life!
Toiletries are always an easy gift idea – plus, we all know that boys tend to forget to buy their own! (I've caught my boyfriend using my expensive face washes before. And it cuts me deep every time.)
This is another Etsy find, so you're supporting a small business – and getting an incredibly practical calendar option!
Don't laugh me out of the room yet, okay? I know LEGO may seem juvenile – but I routinely buy my boyfriend sets for his birthday and he loves them.
5. 12 Days Of Socks Calendar – Amazon
And our last addition to this list has to be this adorable FUNKO calendar. You get 24 of the most popular Marvel figurines to add to your collection – so it's the perfect gift for any movie buff!
6 DIY ADVENT CALENDARS YOU'LL LOVE
The next addition to this list . . . well, you all knew it was coming! As your resident DIY-queen, I simply had to include some of my favourite crafty advent calendar ideas too.
First up is a cheeky self-promo. Last year, I created a DIY self-care advent calendar as a gift for my mother – and it turned out so beautifully!
One of my favourite festive trends are Christmas villages. They're deeply adorable – and this next DIY advent calendar idea is no different!
Ugh, how cute is this? I love that this ladder idea also works as a fabulous Christmas decoration too.
Guys, look – 2021 was the year I discovered pottery barn and I want a refund. Everything is so beautiful, yet painstakingly expensive. Forutnately, this DIY dupe comes in at under $10 – and is equally chic!
Over the past few years, the boho toned Christmas theme has popped up – and I'm here for it. I love that this stocking advent calendar gives you room for bigger gifts too.
I told you guys that I love Christmas villages! This option is more rustic – but no less adorable.
FANCY DIY-ING WITHOUT THE CRAFTING? HERE ARE 6 "FILL YOUR OWN ADVENT CALENDARS"
Love the idea of choosing your own advent calendar gifts . . . but not keen and crafting? Fair enough! Here are some fillable advent calendar options you don't need a hot glue gun for.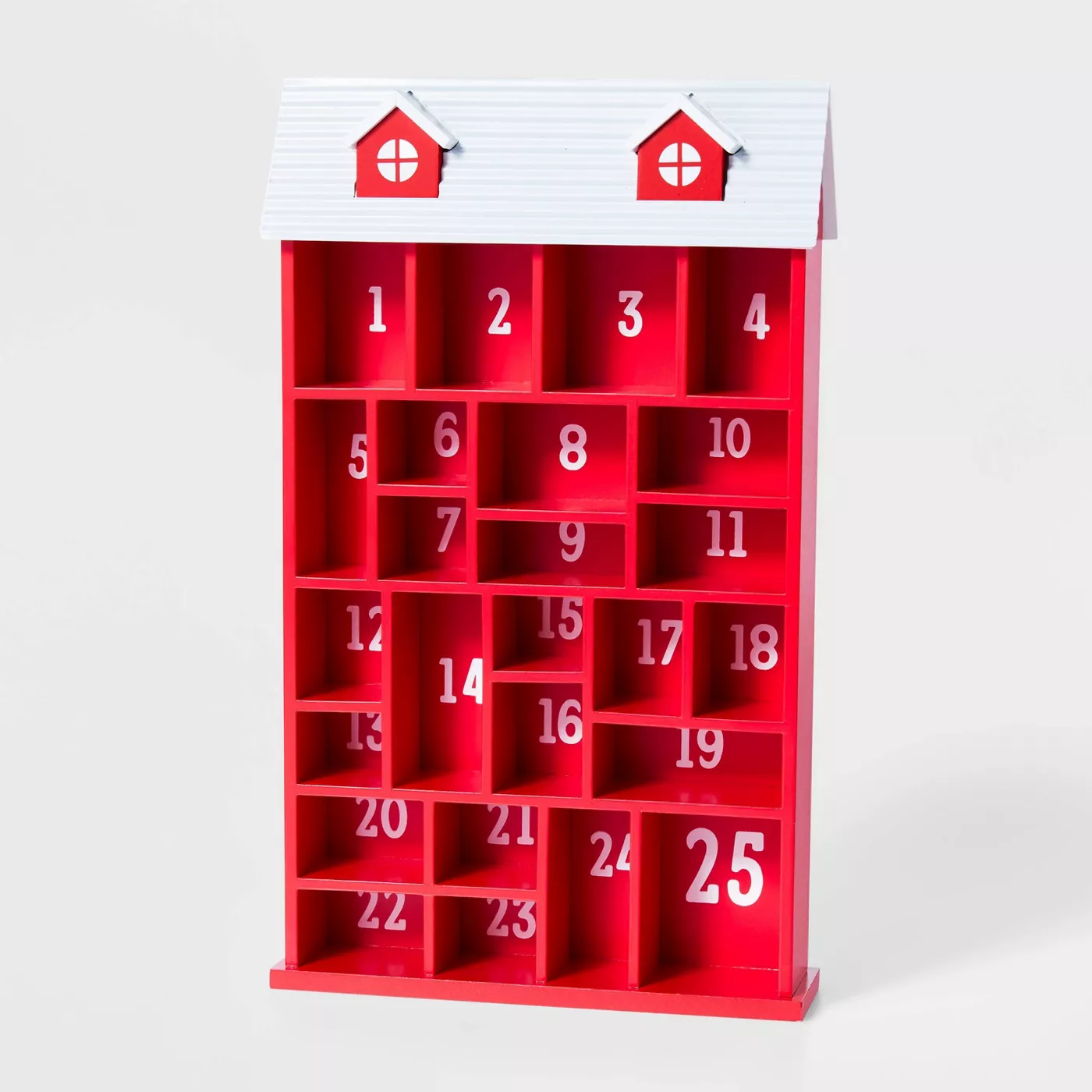 First up is a budget-friendly option from Target!
Oh, my heart. I'm deeply in love with anything PotteryBarn and this advent calendar is no exception. Just look at how beautiful and whimsical it is. It encapsulates everything that makes Christmas magic!
Our next addition to this list is another super affordable option from Amazon.
If you love the rustic, Scandinavian vibe for your holiday decor, these cardboard advent houses will be right up your alley!
This is all my childhood dreams wrapped into one gingerbread house!
And our last addition to this list is a more minimal idea.
IDEAS FOR WHAT TO PUT INSIDE A DIY ADVENT CALENDAR
Now that we've looked at the DIY options, you may be needing some advent calendar filler ideas. Well, pals, let me help with that! Here are some things you could include in your calendars:
Chocolate
Beauty samples
Mini Christmas LEGO sets
Stationery, like washi tape and stickers
Crystals
Christmas ornaments
Alright, my loves, we shall end at the end! This post was hefty – but I hope you found some good ideas. I'm super excited to share some DIY advent calendars with you all next month, so make sure you stay tuned! Which of these was your favourite option? Let me know your thoughts down below!
Peace,
Instagram // Twitter // Bloglovin' // Youtube // Pinterest // TikTok