Hello, gorgeous humans and welcome back to my corner of the web! If you guys are thinking "wow, Mia, you've really ramped up the DIY's recently, give me and my hot glue gun a break" . . . well, you don't need a hot glue gun for this craft. So there.
Today's project would've fit in really well with the DIY self care series I have coming up for you this month, but it's actually from back in September when I collaborated with Aimsy on a thrift flip post. (Definitely go check that craft out if you love plants!) It's a two minute hack that turns any plain, boring glass box into something way cuter.
(And organises your bathroom, so you don't have rampant skincare products leaking their way onto every surface! I swear to to god, 75% of our bathroom's clutter is just serums. They have legs of their own, I'm convinced.)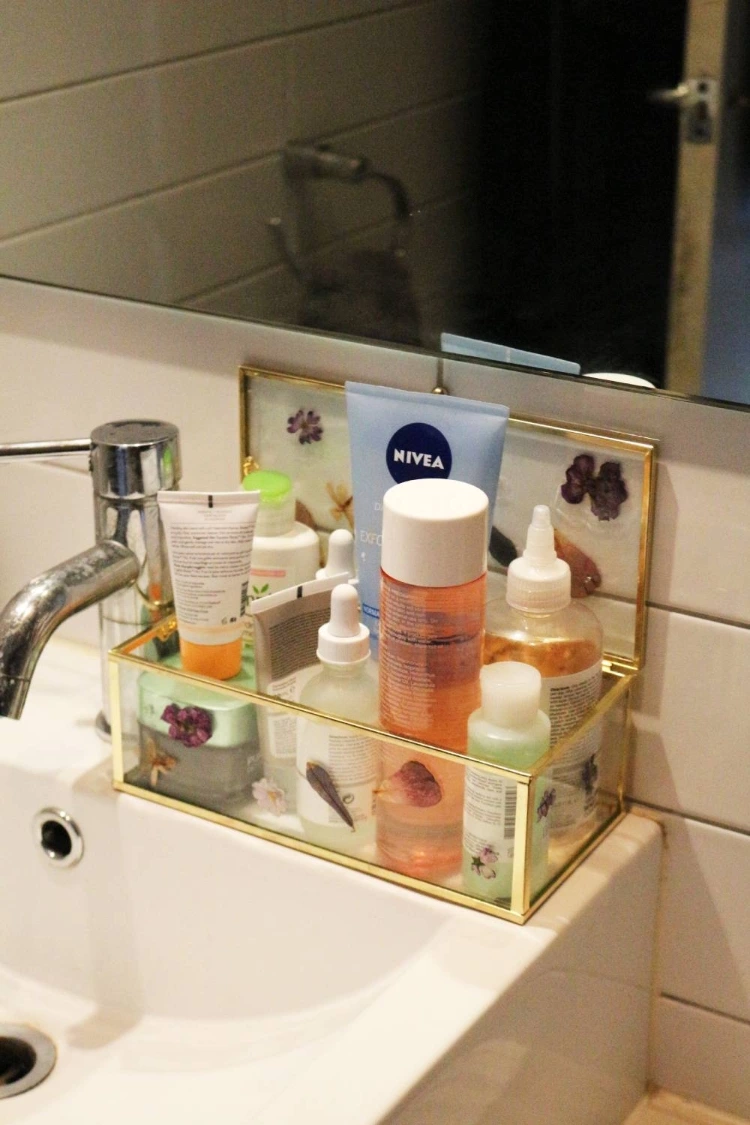 The fun thing about this craft is that you could really easily DIY a whole range of bathroom holders in the same way and create a set! My boyfriend would be thoroughly unimpressed by me making our bathroom into a bohemian, girly haven though, so I stopped with the skincare box. One of you shall have to live my dreams for me!
This actually wasn't the craft I had planned for you all today – but, alas, Melbourne's postal service is still royally fucked. Oh well, we'll get all our supplies eventually. I hope. That said, I do love this little cutie and I hope you guys do too!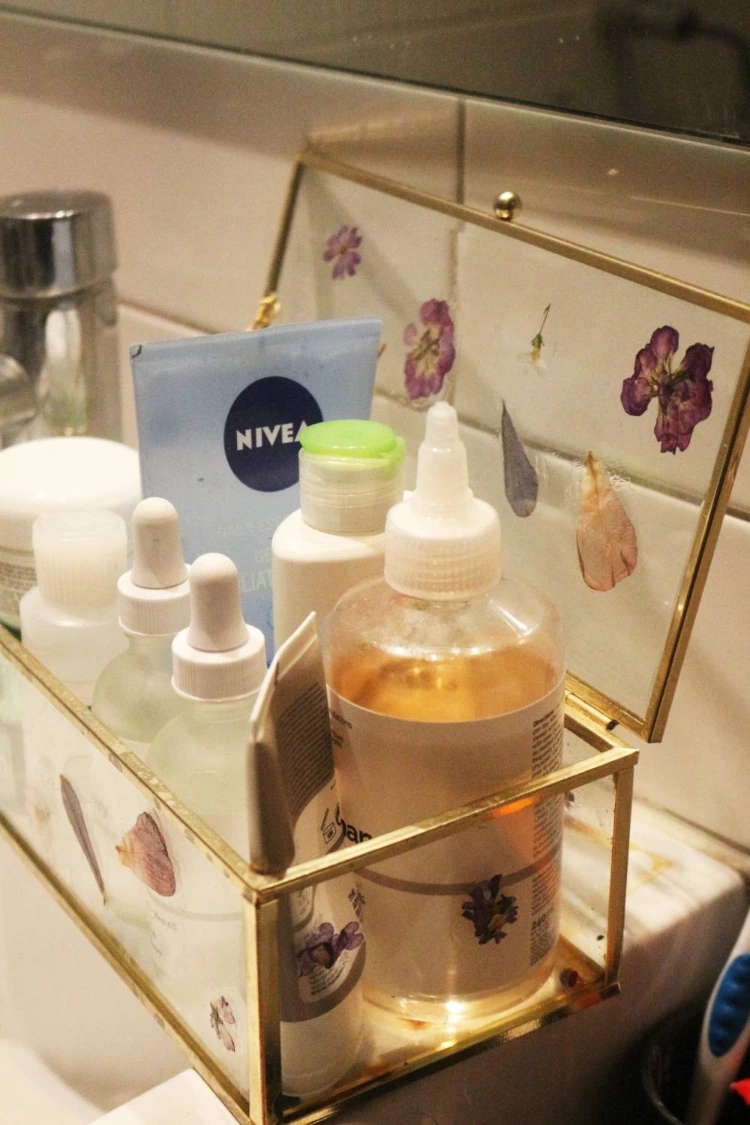 WHAT YOU NEED:
Guys, this is the most minimal craft of 2020. All you need are three things! (Affiliate links, of course.)
Pressed flowers – Etsy
And a glass box! I thrifted mine, but you can buy similar ones here: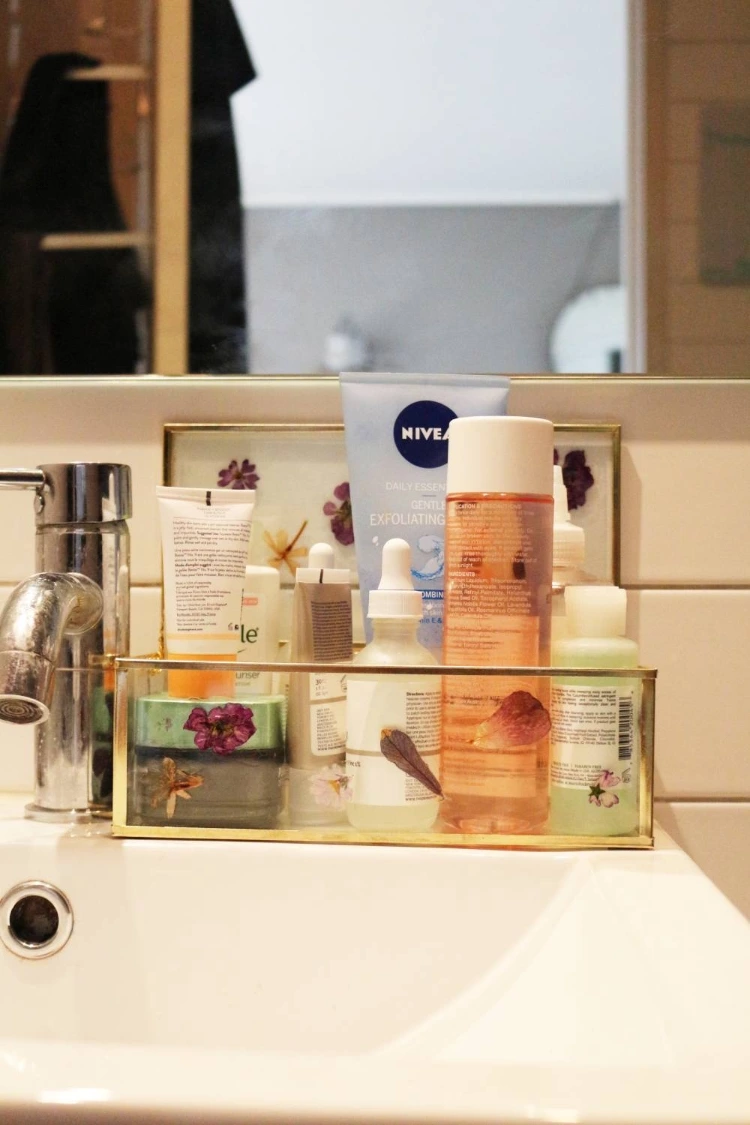 HOW TO MAKE:
I would love if you checked out this tutorial in video version and subscribed to me over on Youtube too! (Plus, the video has some fun bonus crafts too . . .)
Clean your glass box.
Decide where you'd like arrange your pressed flowers on the box.
Dab a small dot of Modge Podge wherever you want a flower.
Gently place your pressed flower on the Modge Podge.
Paint over the pressed flower with Modge Podge. (This dries clear, don't worry!)
Leave 2-4 hours to dry. And that's it!
TIP: When painting your flowers, try to keep as close to them as possible. Modge Podge dries clear, but is still noticeable.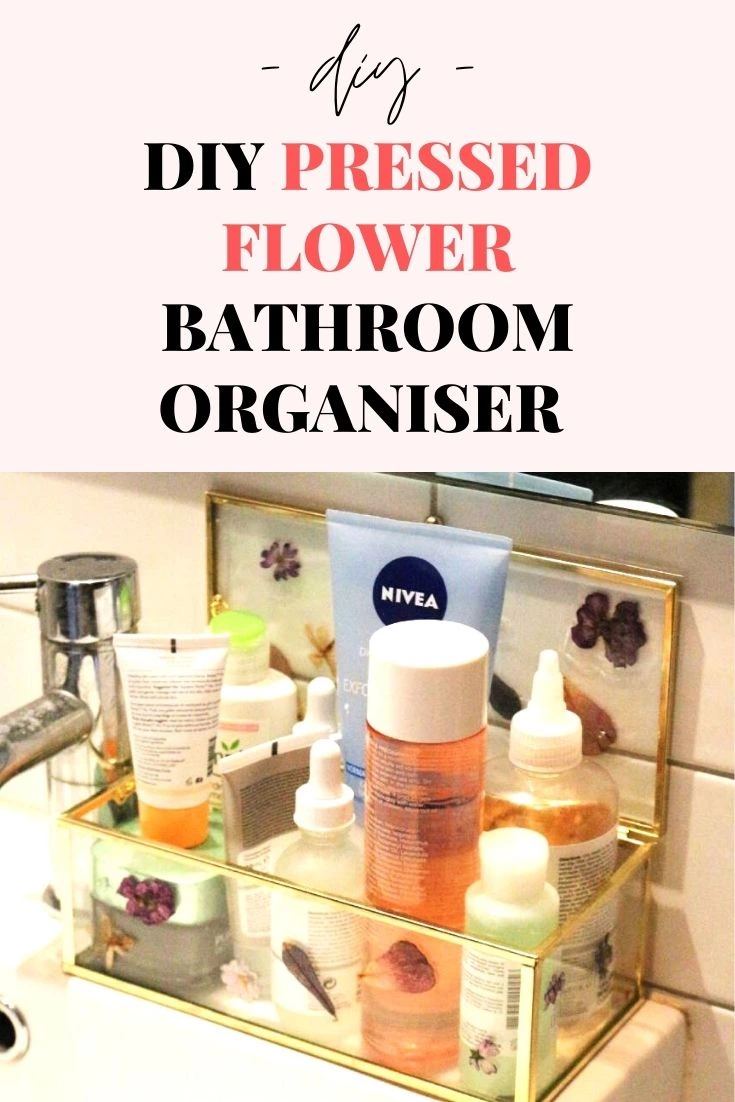 Urban Outfitters eat your heart out!
I love this 5-minute makeover method. If you guys remember, I actually showed it to you in my 2 Ways To Upcycle Glass Bottles post. It's cheap, quick and there's literally no way to go wrong with it! (Seriously – the worst you could do would be to stick something in the wrong place and even then you'd just . . . wipe it away!)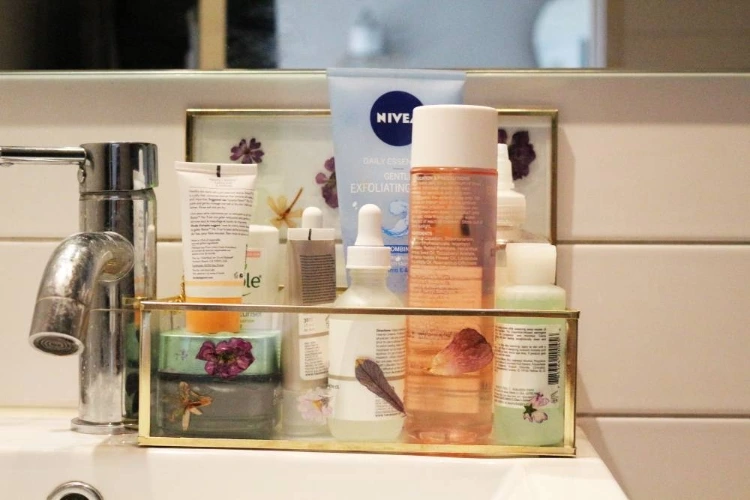 I hope you guys enjoyed this mini project. If you are an avid crafter, make sure to be following my DIY boards on Pinterest!
Would you make this box yourself? Do you guys like how it turned out? How do you keep your bathroom organised? Let me know your thoughts down below!
Peace,
Instagram // Twitter // Bloglovin' // Youtube // Pinterest