Want to try your hand at the DIY date night jar trend, but want a trendier version? Or maybe something a bit more gift worthy? Don't worry, I've got you covered. Here's how to make a DIY date night vending machine . . . and 100 awesome date ideas. Affiliate links in post.
Hello, beautiful people, and welcome back to my corner of the web! Today, I'm going to be sharing a fun (and useful!) DIY with you all . . . so get excited!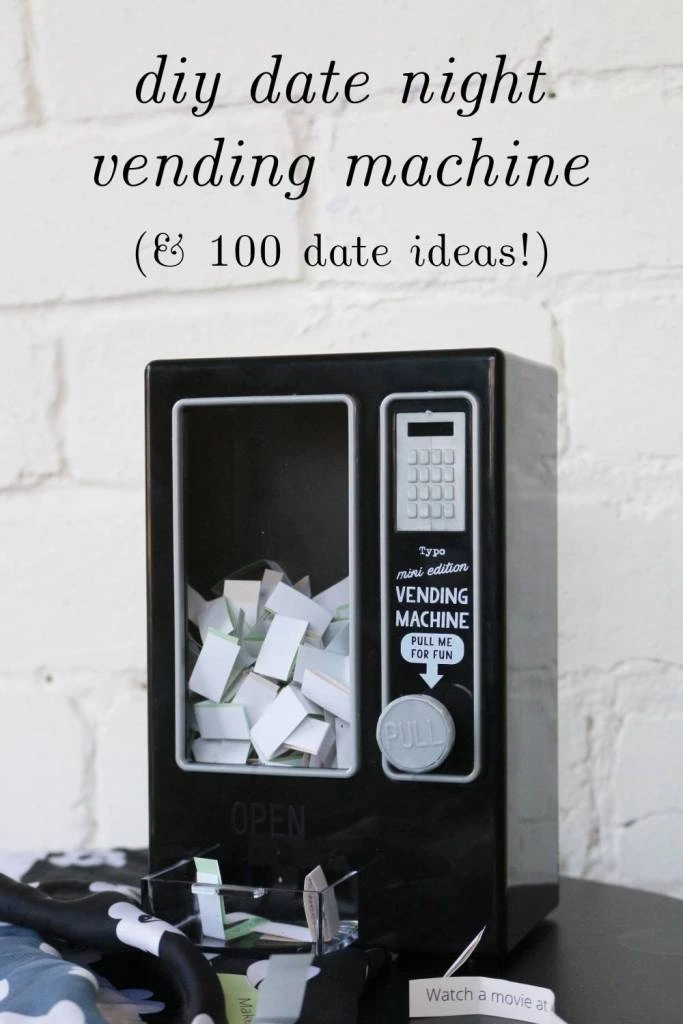 It's coming up to that time of year again: my boyfriend's birthday! Every year, I love to make Daryl some handmade gifts. He has enough money to buy himself whatever he wants and needs – but you can't buy time and effort!
Plus, you know, capitalism. Your girl runs a DIY blog – it helps to have content. My most viewed Youtube video is of my DIY gifts him. Oh, is it that a plug? Why, yes, you should watch it and subscribe.
And today's creation is keeping in that same vein! I'm slowly starting to make some of my partner's birthday presents . . . so allow me to share this with you!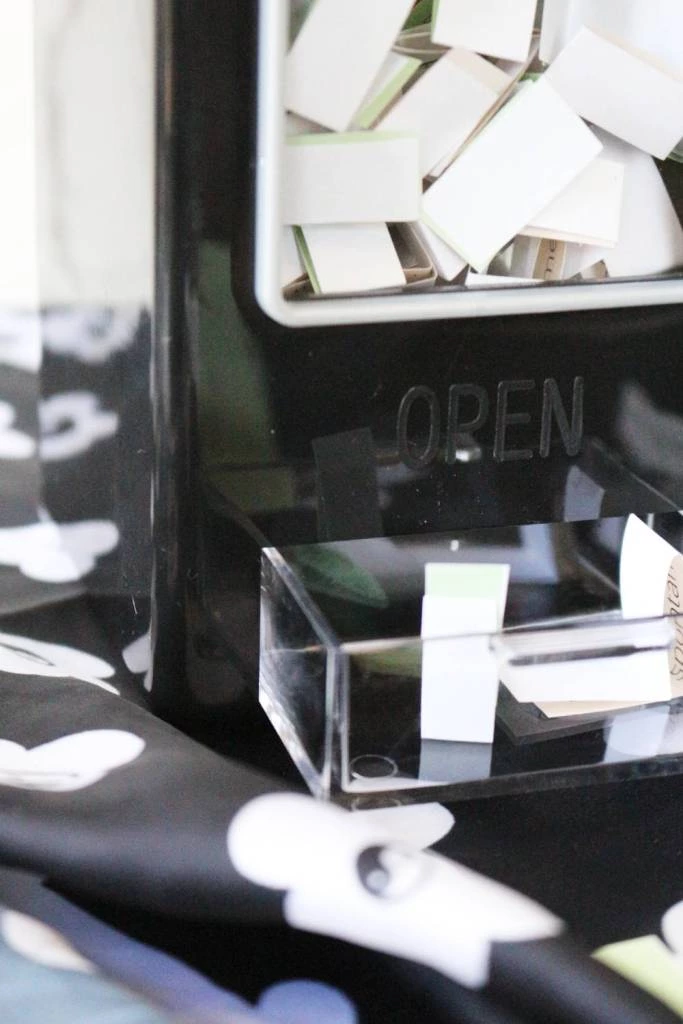 WHAT IS A DIY DATE NIGHT JAR
If you're a Pinterest user, you've undoubtedly seen DIY date night jar posts floating around. And for good reason! Coming up with fun date ideas is hard.
Picture this: it's Friday night, after a long week of work. You and your partner are super excited to spend some together, but – wait! What should you do?
"Ugh, how about dinner?"
"Yeah sure, where?"
"Uh, I don't know."
"Well, we went for dinner last weekend. Let's do something different!"
"Sounds great! What should we do?"
"Uh … I have no idea."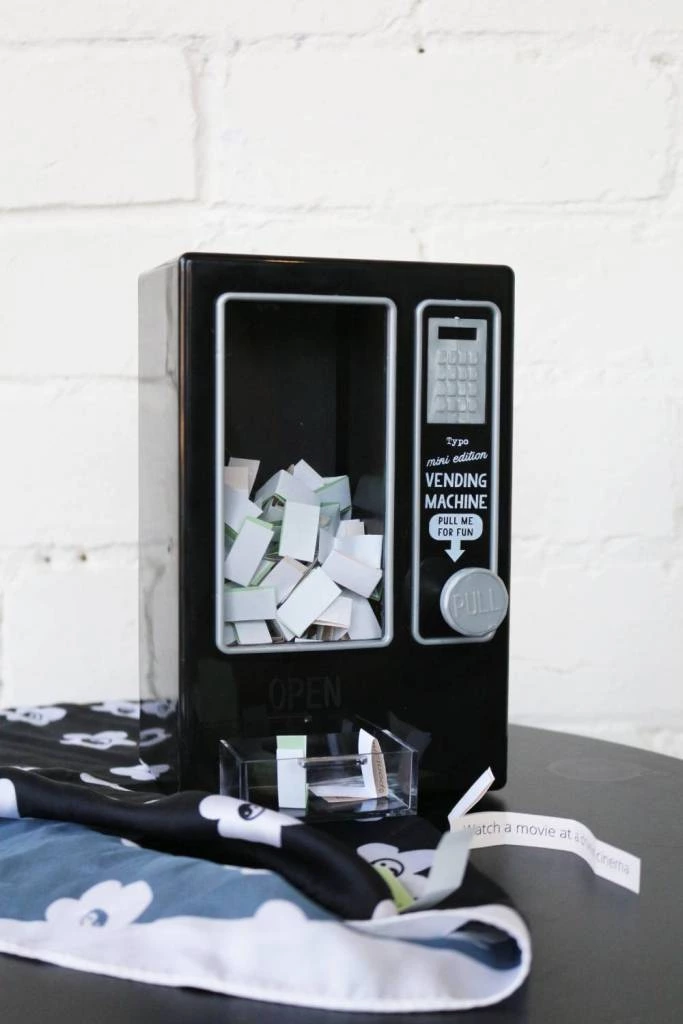 Does this sound familiar? It does to me! Creating a DIY date night jar helps you to store all your fun date ideas in one handy place. Then, when date night rolls around, you just whip one out and do it!
The only issue? While theoretically cute, date night jars are not actually cute. And I feel like my boyfriend would think I don't love him if I gave him an old jar and some paper as a birthday gift.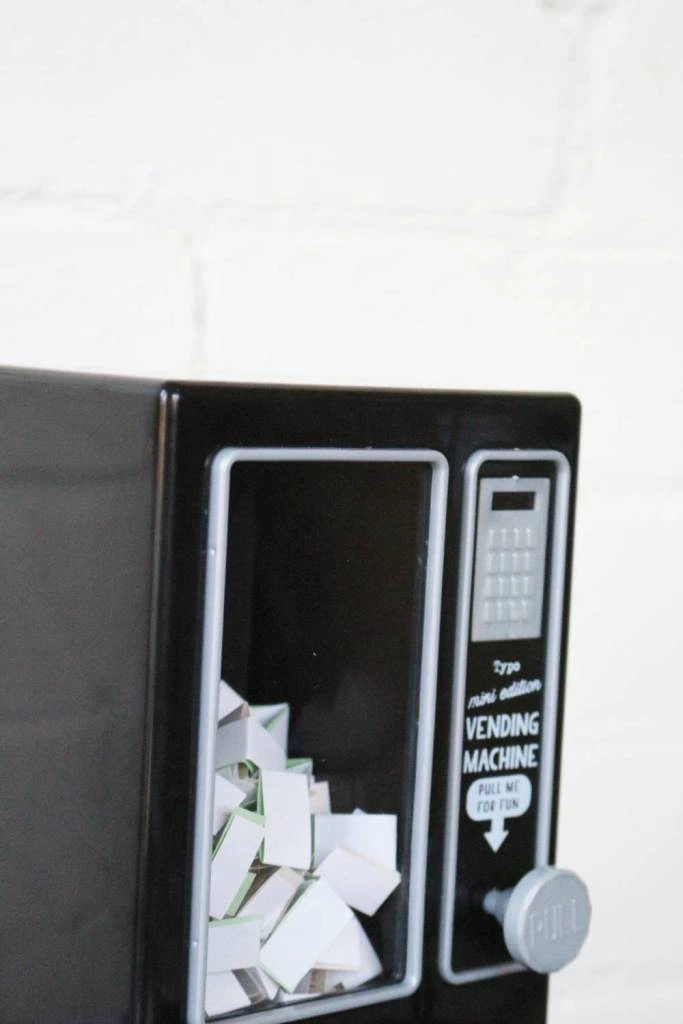 So today we're creating something different!
WHAT YOU NEED:
And that's it! If you don't want to buy a vending machine, this Youtube video shows you how to make a pretty funky one.
HOW TO MAKE A DIY DATE NIGHT VENDING MACHINE
Cut some paper strips out
Write a date night idea on each (check out my 100 date night ideas down below for inspiration!)
Roll the paper strips up and insert them into the vending machine
Alternatively, you can print out my 100 date night ideas labels, cut them up and use those!
And that's it! This is such an easy and stylish DIY gift idea.
100 FUN & EXCITING DATE NIGHT IDEAS (A MIX OF BUDGET FRIENDLY, STAY HOME AND BIG ROMANTIC IDEAS)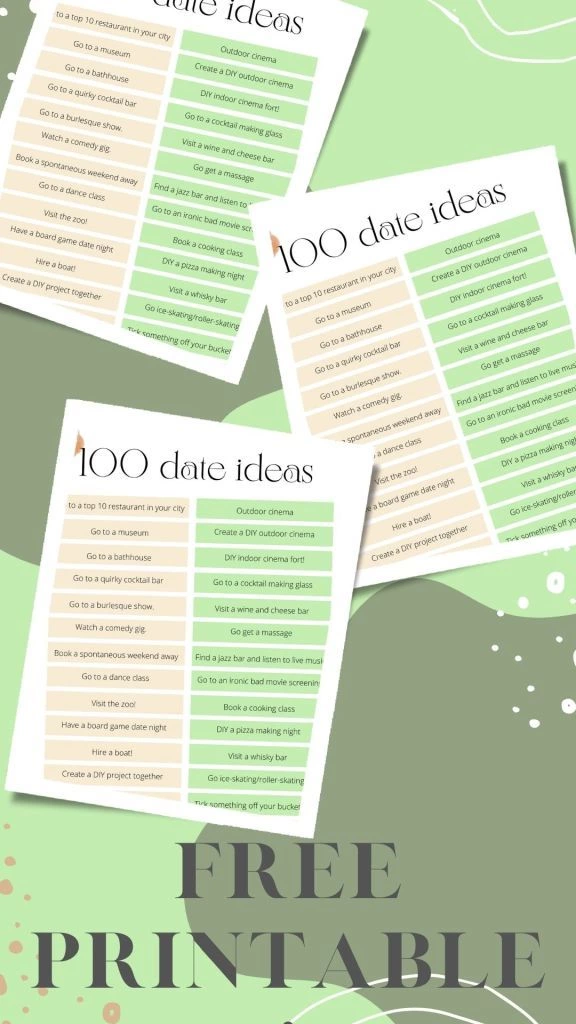 Remember – you can download the PDF version of this list. It's pre-formatted into little labels!
Go to a top 10 restaurant in your city
Watch something in an outdoor cinema
Create a DIY outdoor cinema
Or create a DIY indoor cinema fort!
Go to a cocktail making glass
Or have a DIY cocktail night – here are 6 of my favourite easy cocktail recipes
Go to a museum (and see if your local museums hosts any special events. For example NGV here in Melbourne does NGV Friday nights with DJs and drinks! It's fab.)
Visit a wine and cheese bar
Go get a massage
Visit a bath house (if you're a fellow Melbourne dweller, 110% recommend Sense of Self. So relaxing. And they have a sauna!)
Go to a quirky cocktail bar – tip: search hidden bars in your local area! You can usually find fun and weird options.
Go to a burlesque show.
Watch a comedy gig.
Find a jazz bar and listen to live music
Go to an ironic bad movie screening (they do tons of these for cult films like The Room!)
Book a spontaneous weekend away – WANT TO BOOK A TRIP ON A BUDGET? TRY GROUPON FOR AFFORDABLE PACKAGE HOLIDAYS – BONUS POINTS BECAUSE YOU GET 8% CASHBACK & A $30 SIGN UP BONUS WITH RAKUTEN.
Go to a dance class
Book a cooking class
DIY a pizza making night at home
Visit the zoo! (Some zoos have after dark programs too.)
Have a board game date night
Visit a whisky bar
Go ice-skating/roller-skating depending on the weather
Hire a boat! (This is so much fun on the Yarra in summer!)
Create a DIY project together
Tick something off your bucket lists!
Or, if you don't already have one, make a bucket list!
Go to a night market (or day market)
Try a boozy bottomless brunch
Go skiing
Play mini golf
Tackle an escape room together
Go on a hot air balloon ride
Go rock-climbing
Watch something at the theatre (I recommend Hamilton!)
Sing some karaoke!
Visit the planetarium
Go for a picnic (if you're local area has a botanic garden, these are always a dreamy date spot)
In summer, go berry picking!
Or flower picking (sunflower and lavender fields are so fun!)
Watch a movie at a drive-in cinema
Bounce at an adult trampoline playground
Create a bonfire and make smores!
Go camping
Go hiking
Splash around at a waterpark
Visit a vineyard and do a wine tour! (We did this earlier this year and it was so fun.)
Go for a walk along the beach
Play games at an arcade bar
Go book shopping and have a reading date!
Watch some live sports
Create vision boards and do some goal setting
Go skydiving!
Go glamping
Book a yoga class
(If it's warm) Have a water fight or get out the Nerf Guns!
Complete an adult Lego set together
Spend an evening doing a puzzle together
Rent an RV and go on a roadtrip
Go shopping together and pick each other out an outfit!
Taste beers at a craft brewery
Watch the sunset somewhere!
Go for a scenic bike ride
Download and play a semi short video game – ideally 2-4 hours as you can really make a night of it (Limbo, Inside, Journey and Firewatch are great for this!)
Learn a new skill together
Go on a double date with your friends
Buy an alcohol making kit and make some drinks!
Take a "drinks and painting" class
Cook a three course meal together
Listen through to an album together
Go clubbing/dancing
Work out together! There are tons of free Youtube videos you can watch from the comfort of your home, or you can go to a class
Walk round an affluent area of your city! (And moon over the gorgeous houses.)
Go to IKEA – it's basically an adult playground, let's be honest
Create a playlist for each other then listen to them together
Test out a new recipe
Go star-watching
Make DIY ice cream sundaes
Or go to a late-night dessert bar (my partner and I went to pancake parlour at 3am on one of our early dates and I still look back on that memory fondly!)
Have a card game night (or find a bar with games!)
Play some pool
Play tennis!
Go swimming
Watch the sunrise together
Go for a multiple day hike
Host a DIY spa night! (Here's one of my favourite DIY face mask recipes if you need inspiration.)
Go people watching!
Try a fancy set menu (if you're in Melbourne, Palermo has a delicious one for special occasions. Bar Edda in Brunswick has a super affordable and delicious set menu, with an optional paired wine tasting. Highly recommend both!)
Create a massive charcuterie board and nosh!
Have a movie-binge day
Do a pottery class!
Do a bar hop of the top 5 bars in your city
Book a fancy hotel for a night and take a mini break
Trawl a vintage marketplace, or big car boot sale
Go paintballing!
Spend a sunny day gardening together
Bowling!
Find any local festivals that are on and attend one
Explore a nearby local town
Hop on a train somewhere new with no plan!
Whew – that was a long one, but I think there are some stellar ideas in there!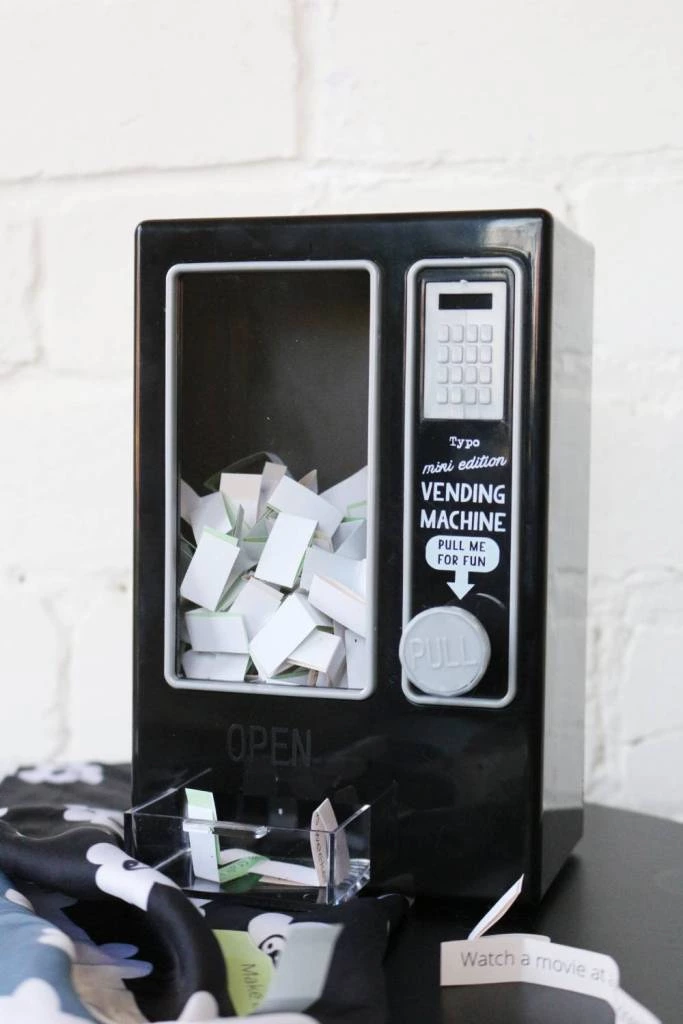 We're back in lockdown, so my partner and I may have had to hold off on using this. But still! You guys can get on out there and live for me.
I hope you all enjoyed this handy DIY gift idea. It's so inexpensive to make – but so practical! Would you guys try this out yourself? What were your favourite date ideas? Let me know your thoughts down below!
Peace,

Instagram // Twitter // Bloglovin' // Youtube // Pinterest // TikTok