Do you need a one-stop shop for all your accessories? Forever searching high and low for scrunchies and sunglasses? This is the craft for you! This easy to recreate accessories organizer and bow holder is perfect for any entry way . . . and forgetful person. Affiliate links in post.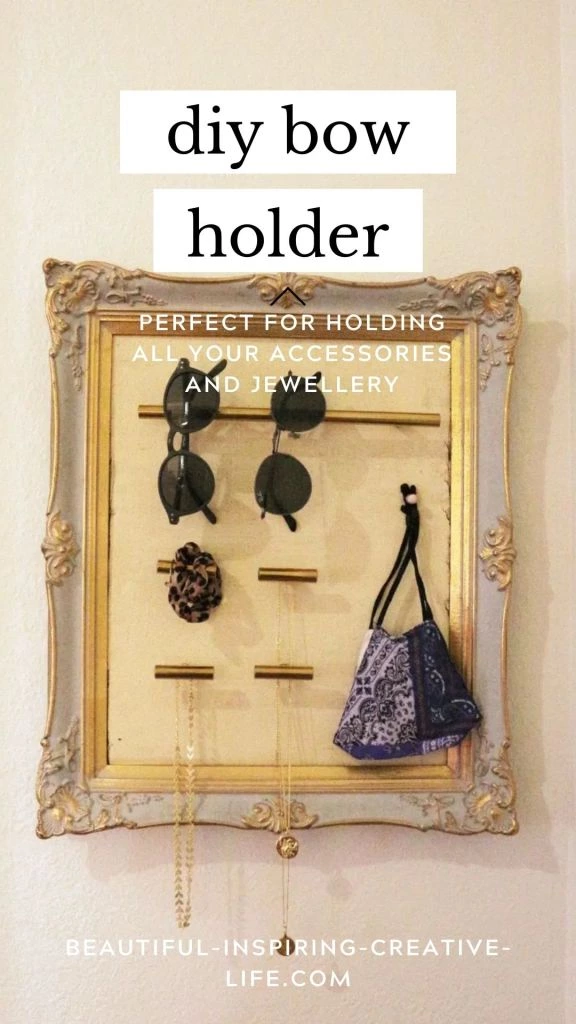 Hello, lovers, I hope you're all going well today! I've got a fun little DIY project coming your way . . . and it's as practical as it is cute.
I've crafted a hair bow board – made from an upcycled photo frame. So if you're looking for hair bow holder ideas, look no further. I've got just the thing!
Pretty early doors, I decided the theme of my office room was going to be old. Do I love bohemian décor? Yes. Do I want to be trendy and hipster with all the cool kids? Of course. But am I always attracted to old, slightly uncool vintage finds your grandma would love? Ultimately yes. That is, indeed, my cross to bear.
Grandma core, thy name is Mia.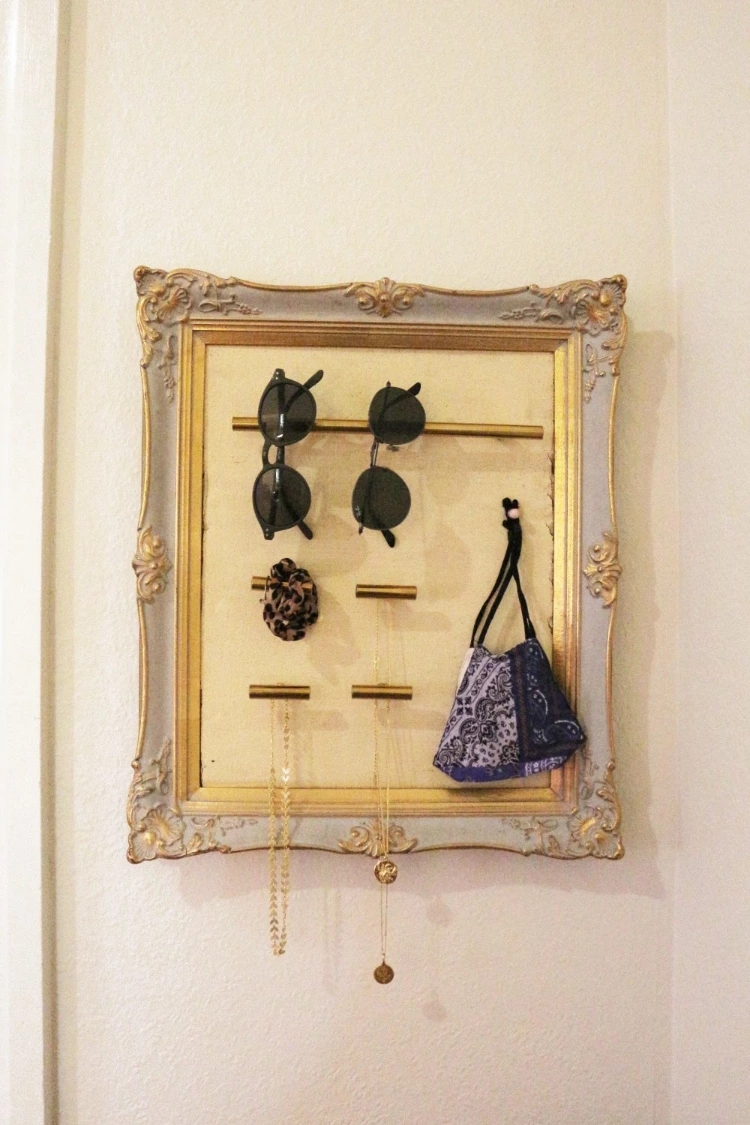 However, while I really can't fight against my natural taste, I can always attempt to modernise the old things I own. And that's what today's project partially is. Modernising an antique photo frame I had literally no need for . . . and turning it into something I have desperate need for:
Somewhere to dump my semi-important shit!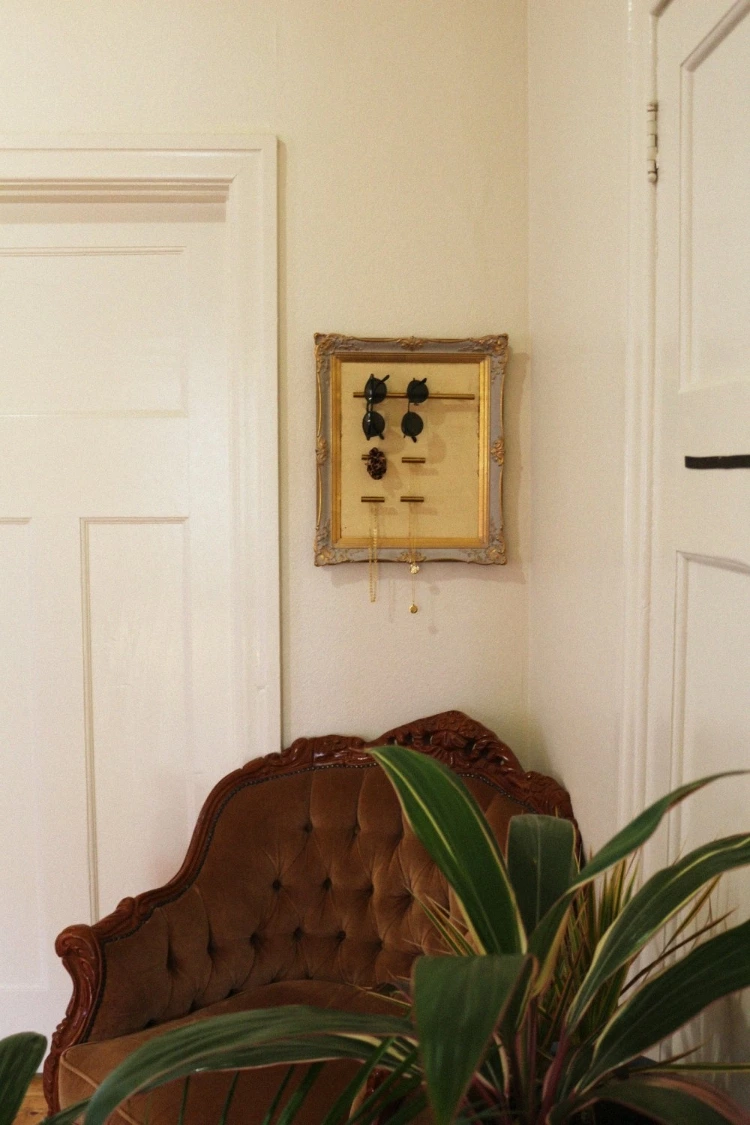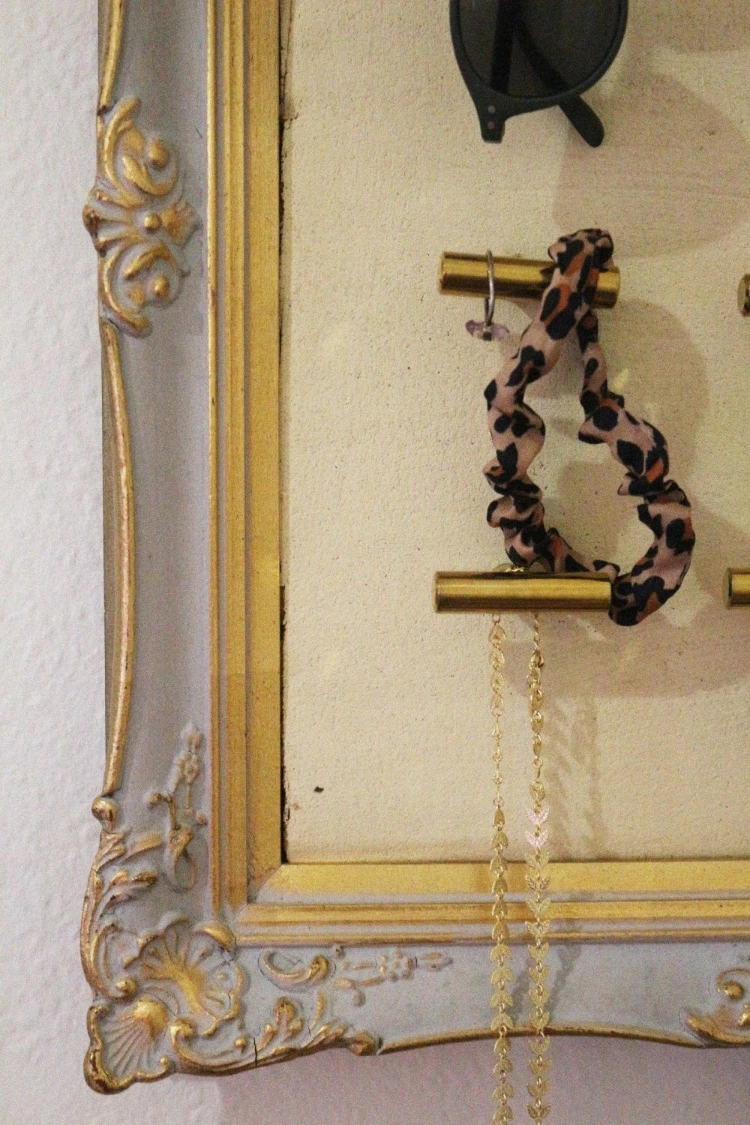 Because I'm always running around like a headless chicken looking for my scrunchies, or my favourite necklaces, or something else vaguely useful. But no more! Because now we have this beautiful and convenient one stop shop chilling on my wall!
I'd been thinking about bow holder ideas for ages before this sprung to mind. I mean, you guys have seen my curls. It's pretty easy to see how I go through a lot of hair bows! However, this picture frame upcycle craft is really the perfect DIY hair accessory storage solution . . . and the corkboard means there's space for the whole family to keep their important items too!
Plus, the lovely people from Rellery were generous enough to gift me with two more necklaces to hang up here! Aren't they gorgeous?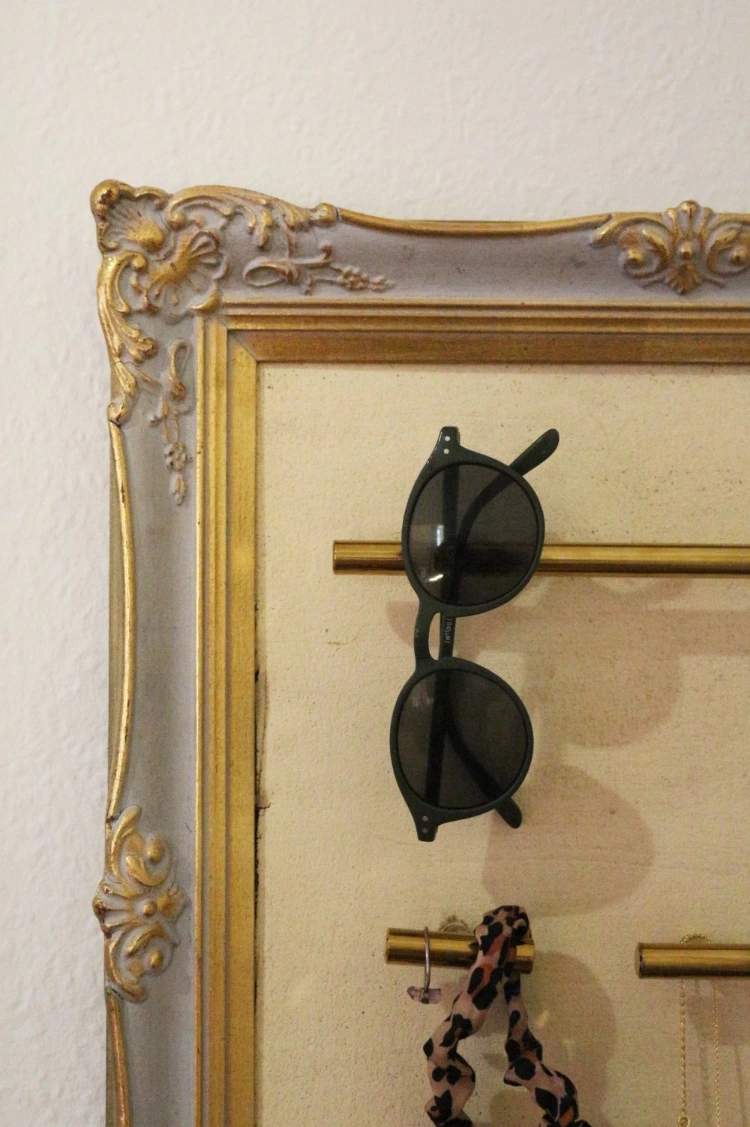 All of this combined leads to one of my favorite crafts of the year! I'm tempted to get more hair ribbons just to display them, to be totally honest.
Shall we get to making? Let's!
WHAT YOU NEED:
**Affiliate links**
Super glue
White acrylic paint
HOW TO MAKE:
As always, I would love if you watched my Youtube video for the full tutorial and subscribed to me over on there too!
Measure the size of your frame and, using a utility knife and scissors, cut your corkboard down to size. (Don't worry – corkboards are really thin and easy to cut!)
Using a foam roller, cover your cork board in a few layers of acrylic paint in a colour of your choice.
Once dry, use superglue to stick the cork board to your frame.
Position your handles and use superglue to secure them.
Use normal push pins to add any decorations you like!
And that's it! This craft is super easy and quick – not to mention inexpensive! You've probably got an old corkboard lying around your house and you can easily thrift a suitable photo frame.
While we're on the topic of repurposing old photo frames, make sure you check out some of my other DIY projects too!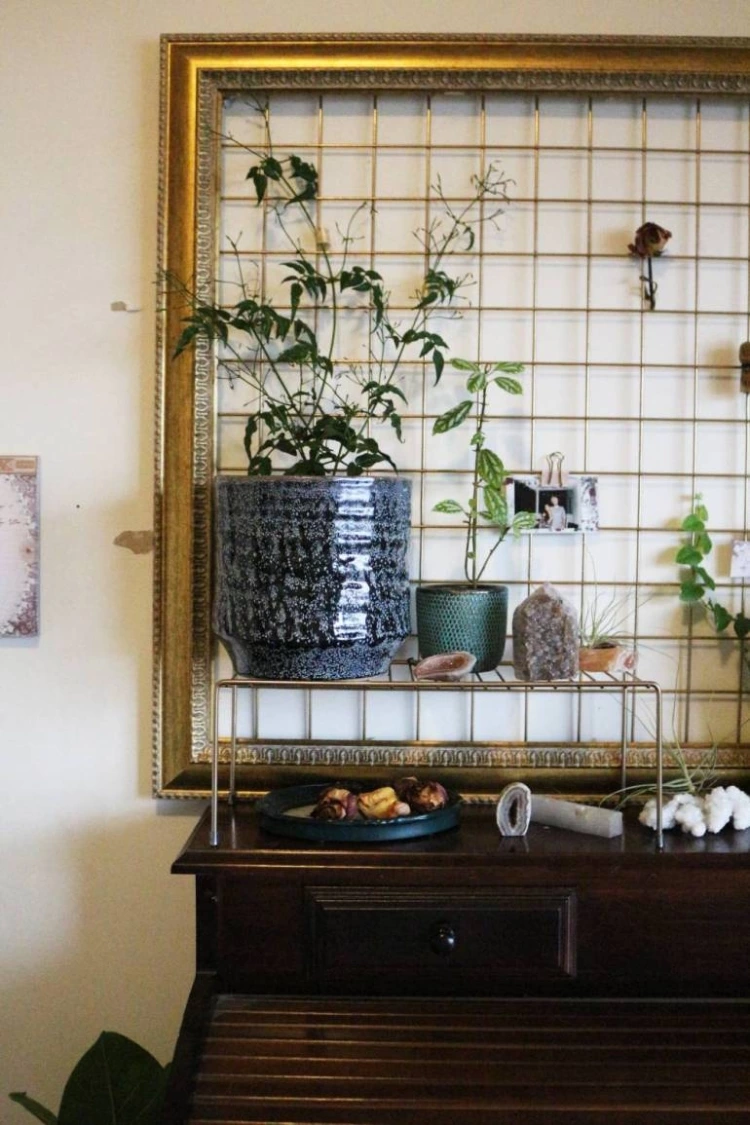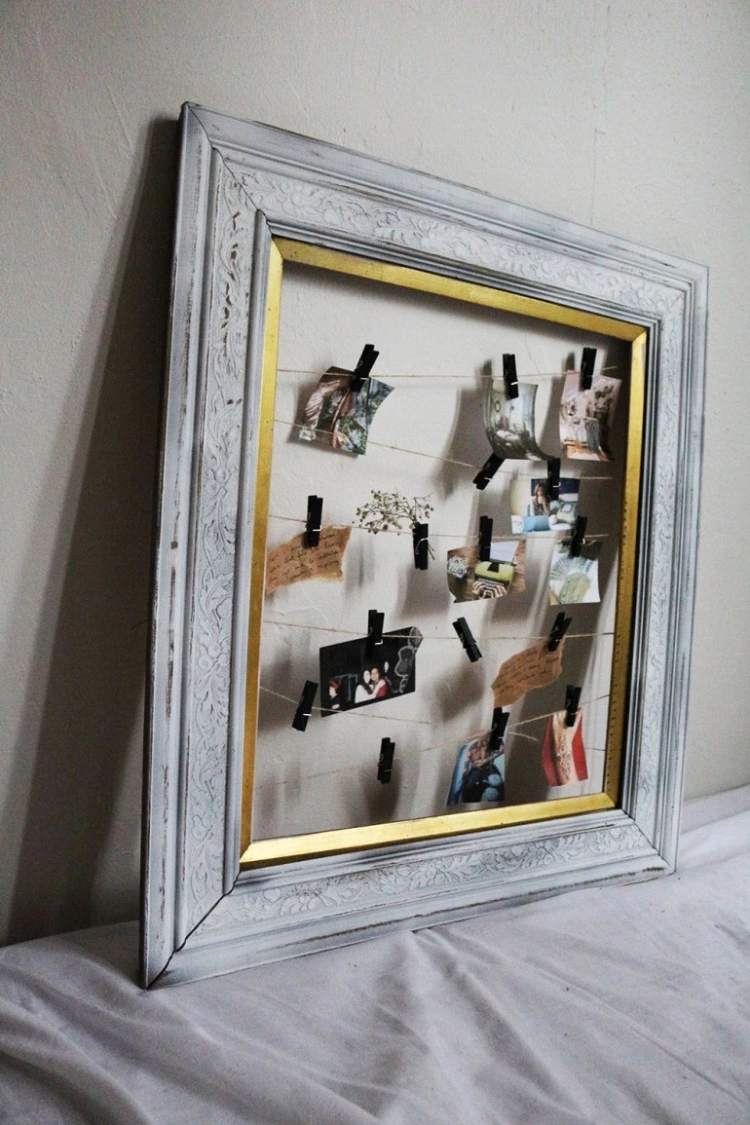 Have you guys stumbled across any other DIY bow holders you'd give a try? I definitely might have a crack at making some more – they're so practical! Not to mention the prospect of making them as a gift for little girls. If I still lived in the UK, I would totally make something like this for my cousins!
Lastly, I couldn't possibly not the mention the highlights of my entire accessories holder: my latest Rellery gifts. You guys may remember my review of the ethical jewellery brand Rellery. (If you don't, let me sum it up for you – they're great and I love them. Rellery produce ethical, high quality jewellery at reasonable prices . . . bonus points for it being super stylish too!)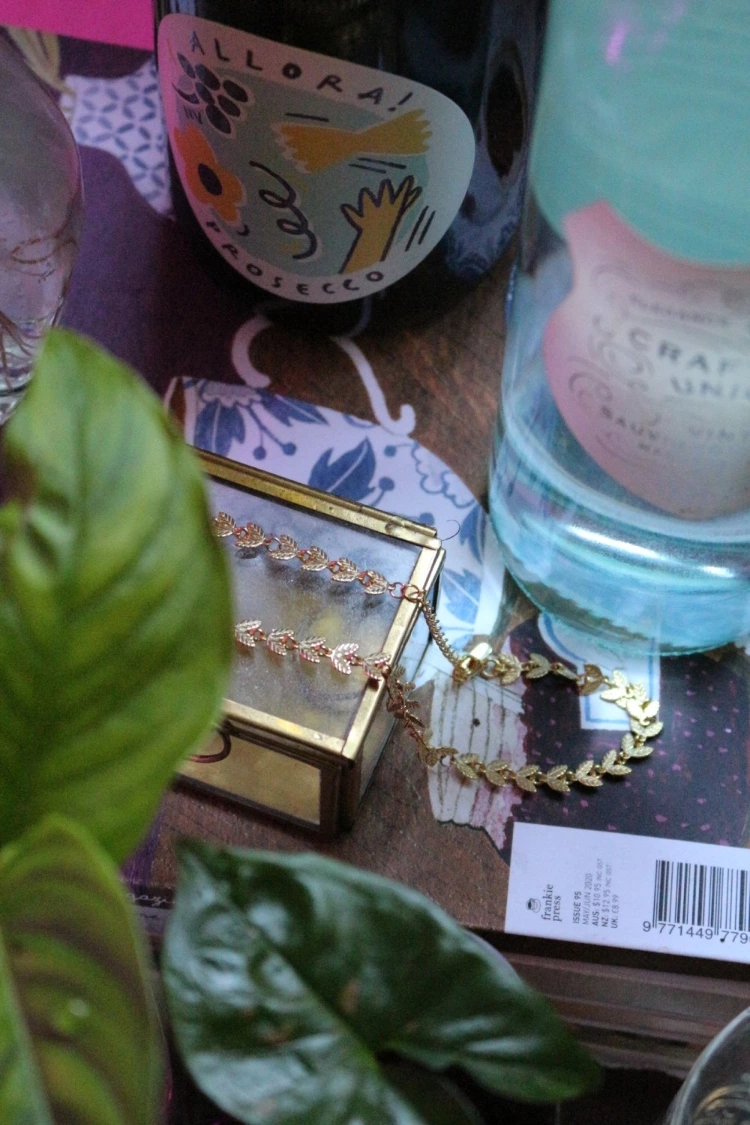 My first pick was for this versatile leaf-design necklace. I think this is so cute and . . . well, we all know about my extensive love of plants. How could I not want it, right?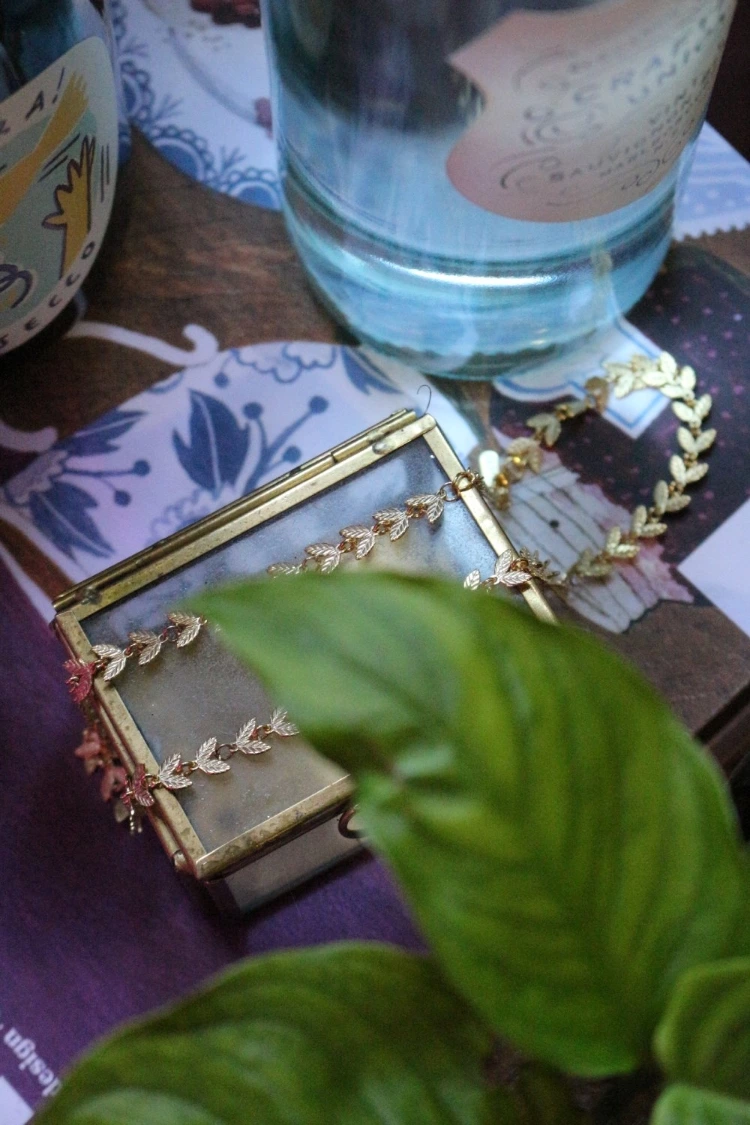 As I'm sure you can imagine, I find myself reaching for this simple necklace all the time. So its space on my DIY accessories holder is well earned!
And my second new addition is for a Scorpio necklace. Do I believe in astrology? No. Am I a Scorpio? Also no. But I thought the design was really cute and I've been after a statement necklace for ages. So I regret nothing! (FYI – Rellery also offer super cute anklets you should check out!)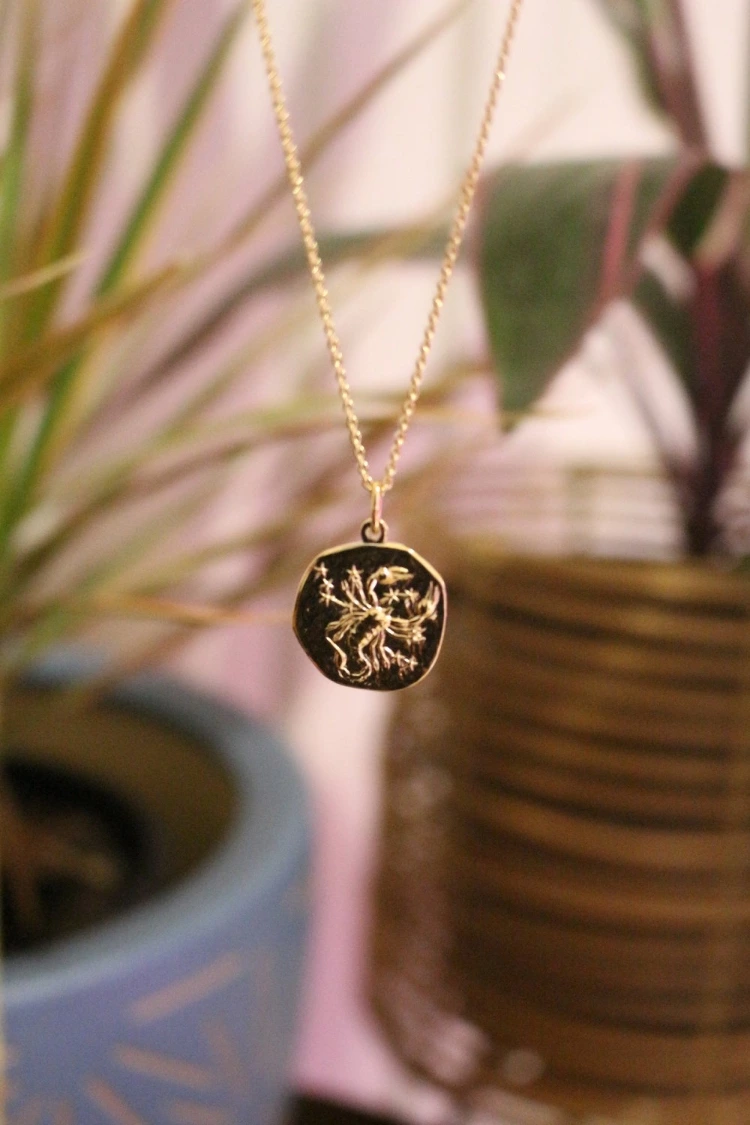 Alright lovers, we'll end at the end! I hope you guys enjoyed this craft as much I enjoyed making it. It's definitely been a handy addition to my household. Would you make this yourself? Did you like the finished product? Have you got any crafty ways you display your scrunchies? And which of the Rellery necklaces was your favourite? Let me know your thoughts down below!
Peace,

Instagram // Twitter // Bloglovin' // Youtube // Pinterest