Are you looking for some stylish DIY plant stand ideas? You're in the right place! Today, I'm going to be sharing my favourite handmade indoor plant stand tutorial with you all (which is a convenient IKEA hack) – plus 16 other easy DIY projects for other stands. Affiliate links in post.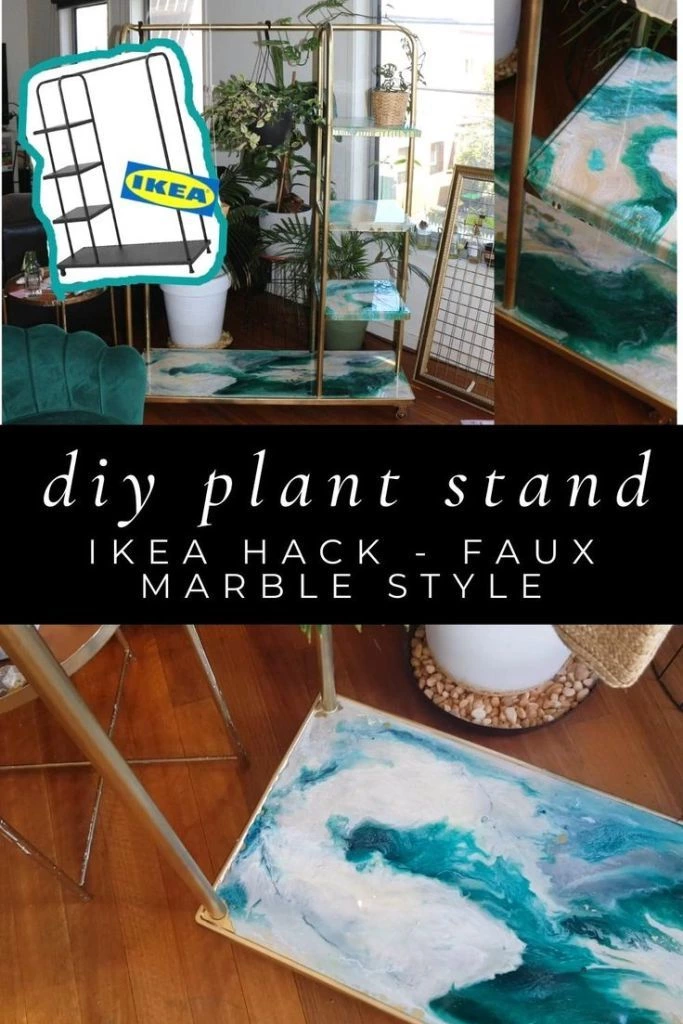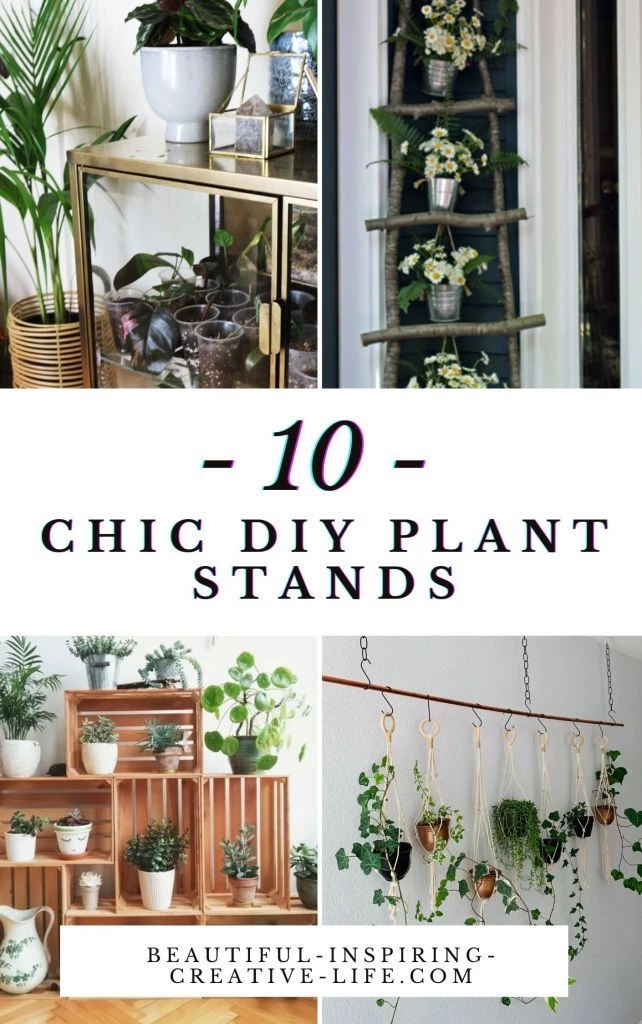 Pin this post!
Hello, gorgeous people and welcome to my favourite craft of 2021. And, yes, I know I'm early to the party here. But once you see how beautifully this DIY plant stand turned out, I'm sure you'll agree with me. I'm going to hibernate for the rest of the year because your girl has peaked.
WANT TO WATCH THIS POST IN VIDEO FORMAT? CHECK OUT MY YOUTUBE TUTORIAL
Now, my deep and unending love of plants isn't news to anyone. I've shared DIY plant pots and tours of my office jungle on here before. But in case you've missed all of that: I adore plants. Tending to my apartment garden and watching my babies grow day to day . . . it's deeply satisfying and, in amongst the mess that was 2020, cathartic.
(In fact, my 2021 side hustle is propagating and selling rare plants! But more on that in another post . . . )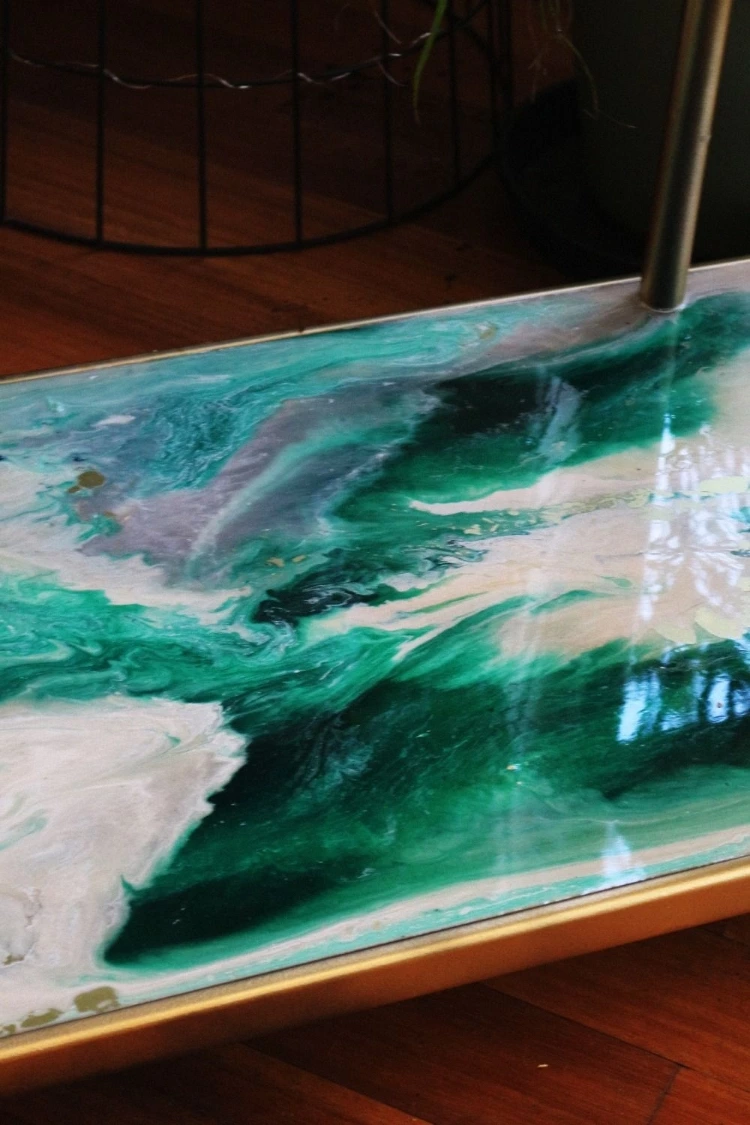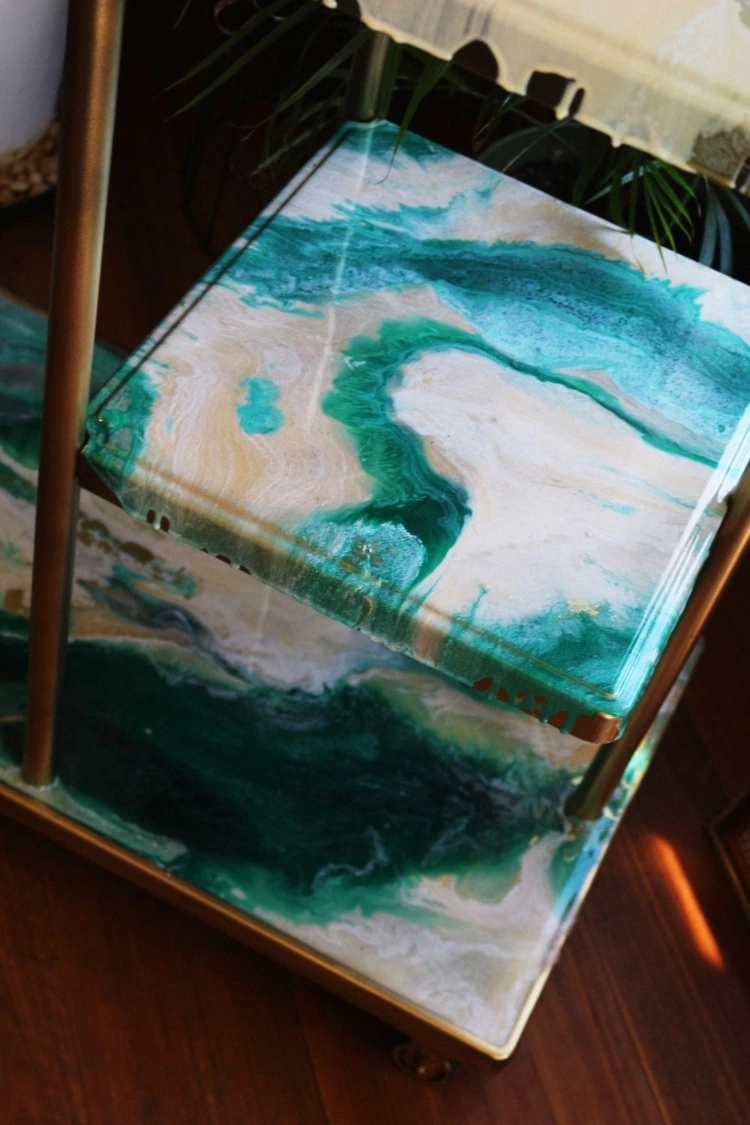 The only thing about houseplants? Well, once you start collecting them . . . you start collecting them fast. And then they start growing. And then suddenly what fit on one shelf in your living room has spread to the entire apartment. Which is why Instagrammable plant shelves and trendy propagation walls have taken the world by storm!
If you like the look of those propagation walls, let me share one of my recent home decor crafts! My post shares the easiest way to create totally renter friendly DIY propagation walls you will love.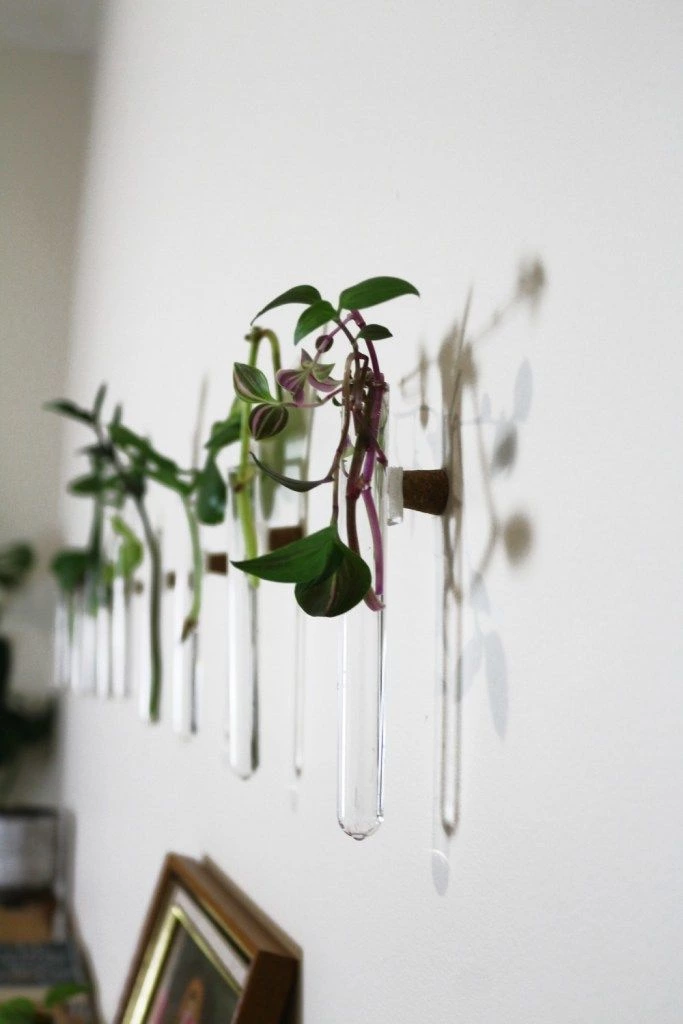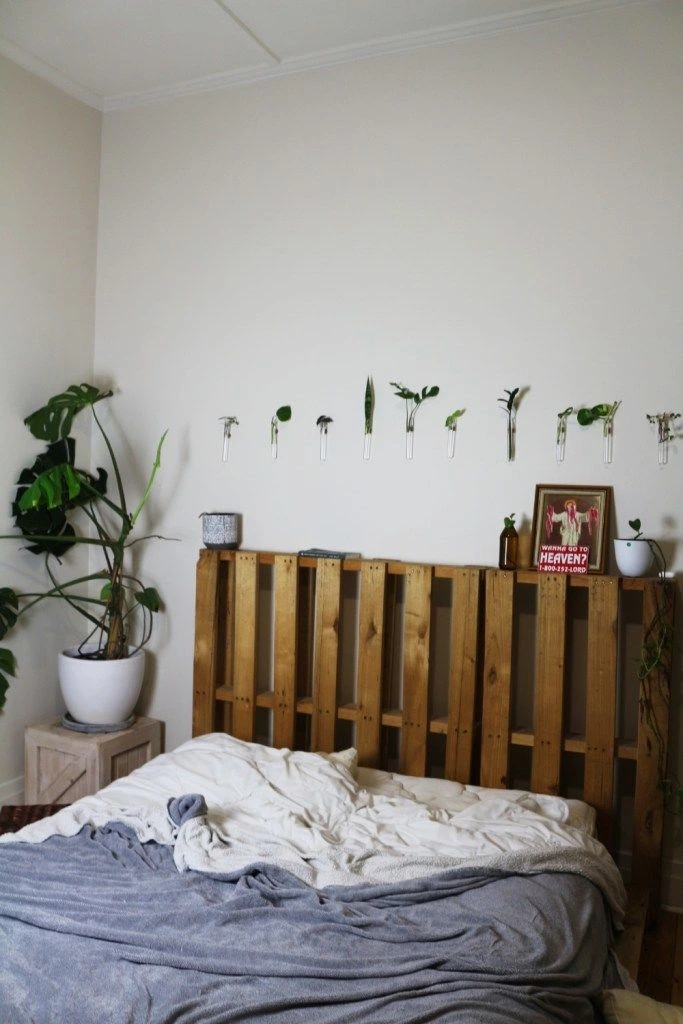 Unfortunately, there were a few issues with those for me. The biggest one? We have a cat and pretty much all fun plants are toxic for cats. (And the ones we make money off? Those most of all because of course they are.) Due to the lighting in our apartment, the main room is honestly the best place for our plants in terms of growing . . . So I had to find a solution.
Or, as your resident DIY queen, I had to make a solution. Enter this KORNSJÖ IKEA hack.
PROJECT 1 – FAUX MARBLE IKEA PLANT STAND HACK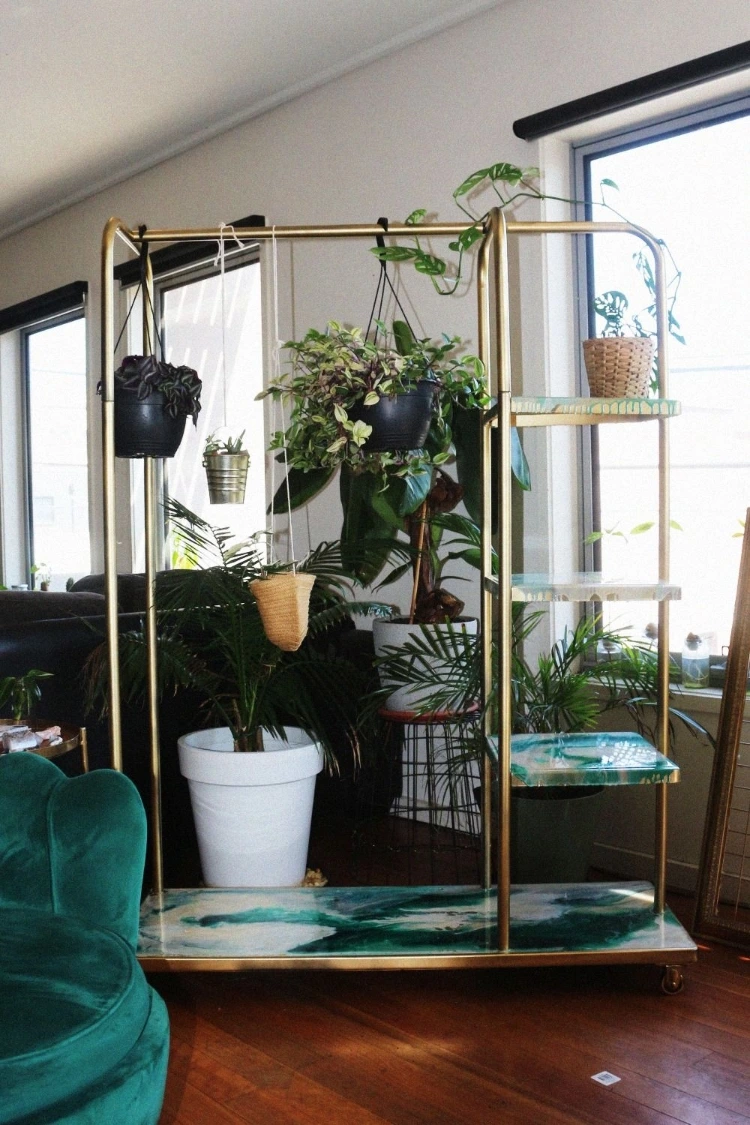 Originally a basic black clothing rack, I managed to mod this into something way more retro and all round stunning. The shelves are perfect for keeping the poisonous plants up high – and the clothing rail means I can have my hanging plants on display too!
(I won't lie – this rail was more on the pricier side than my normal IKEA flips. However, it's really nice and sturdy . . . and I chose it specifically for this idea. The bottom panel and shelving panels are all solid and easy to pour resin onto, which none of their other clothing rails had.)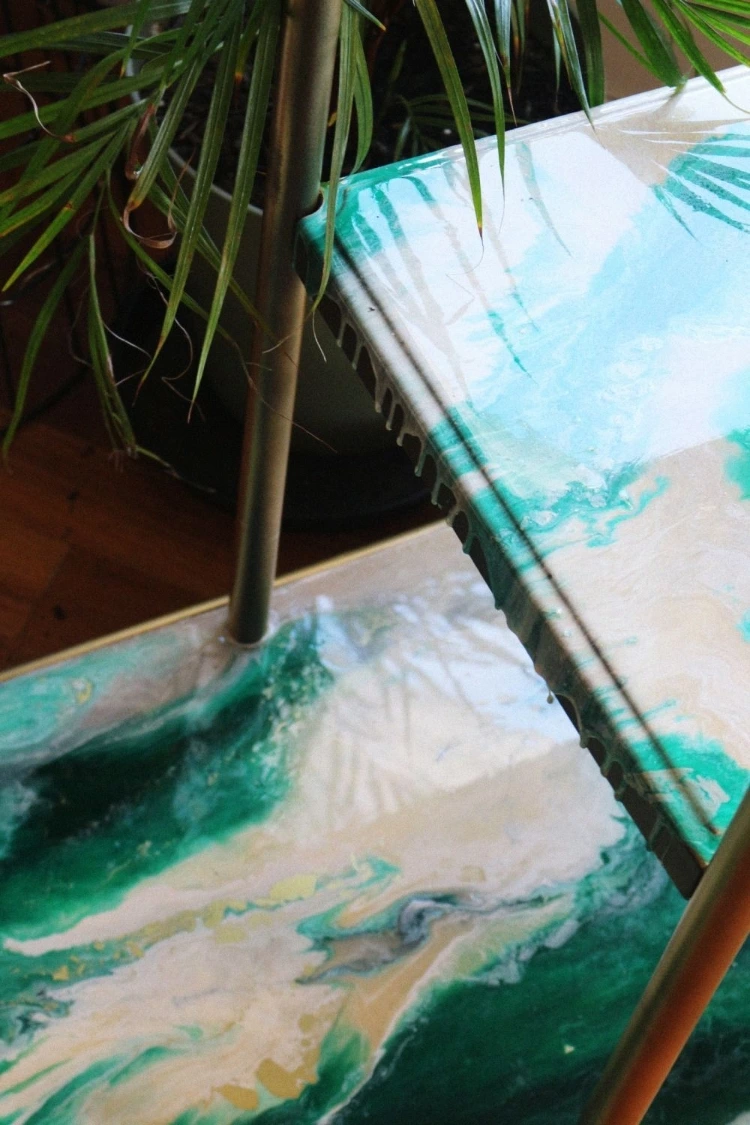 A layer of gold spray paint makes anything look 20x better, but I think the true highlight of this IKEA hack has to be the faux marble. I tried a similar technique with my IKEA Gladom Table Hack and it turned out really pretty, so have a read of that post too!
The bonus of how I created this faux marble effect is that you can customise this to any colour palette. I wanted an agate/marble finish so I chose green, gold and white paint – but you can pick whichever colours suit your theme. To be honest, I think a black and white plant stand would be gorgeous!
Overall, I love how this turned out and I think it fits with my vintage-style office space really well! So if you want to learn how to recreate this yourself . . . well, read on my friends!
WHAT YOU NEED:
2 x gold spray paint cans
White spray paint
Acrylic paint in your chosen colours (mine were white, green and gold)
Gloves
A mask (resin fumes = bad)
Something to cover your surface!
Some paper cups
OPTIONAL: Alcohol ink and white spray paint. I say optional because I had these at home already, but they're really not necessary for this craft. So if you don't have them, there's really no need to spend money on them.
HOW TO MAKE:
On a covered surface, spray paint all the parts of the disassembled IKEA KORNSJÖ wardrobe in gold paint. Do a couple of light coats of paint until you've got a nice opaque finish. (For the shelves and bottom panel, make sure the edges and bottom are spray painted gold, but don't worry too much about the top.)
Once everything's dry, use four paper cups to suspend one of the shelf panels.
Mix your epoxy resin to your kit's specification (mine was 1:1).
Split your resin up into two containers; one for cream and one smaller for green.
In the container you've put aside for white, add a few drops of acrylic paint and stir until the resin is an opaque cream.
Spray some gold and white paint into your resin cups and stir it. Make sure you stir it enough that there's a good amount of each colour showing, but not so much that it blends.
Pour your cream resin from one side of the panel to the other, creating a semi-natural wavy flow. You should see some pretty cool patterns showing!
Then follow that same line with your green resin. And enough of each colour to completely cover the shelving top. TIP: Resin is self-levelling and will spread to make one even layer. All you need to worry about here is creating a design you love!
Leave resin to set for 12-24 hours.
Repeat for all three shelving units.


Ultimate DIY Plant Stand + 16 Plant Stand Ideas (IKEA Plant Stand Hack)

Once everything has dried, assemble the rack according to the instructions.
Repeat steps 3-9 with on the bottom panel and leave to set.
Arrange your plants artfully and enjoy!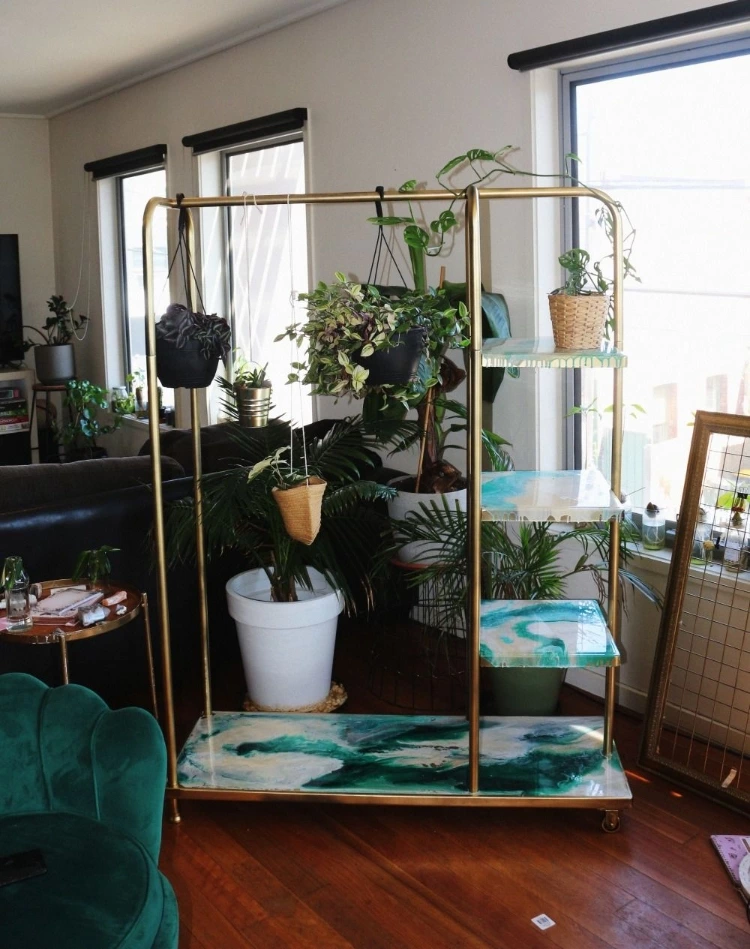 Okay, this is a little more of a project than some of my other DIYs . . . but I hope you guys love it as much as I do! I think it makes such a beautiful addition to our living space and is a really vintage twist on a super functional piece.
And now let's get into some of the other handmade plant stand projects I'm loving. But first . . .
RELATED POSTS YOU'LL LOVE:
2 – One of my favourite indoor plant stand ideas posts
Next up is a real winner! I know this isn't just one planter . . . but if you want to save money and display plants at the same time, I think these dollar tree plant stands are the way to go!
Plus, there are so many modern plant holder ideas in this one video – so you can find something to fit any style of home decor. I'm definitely inspired!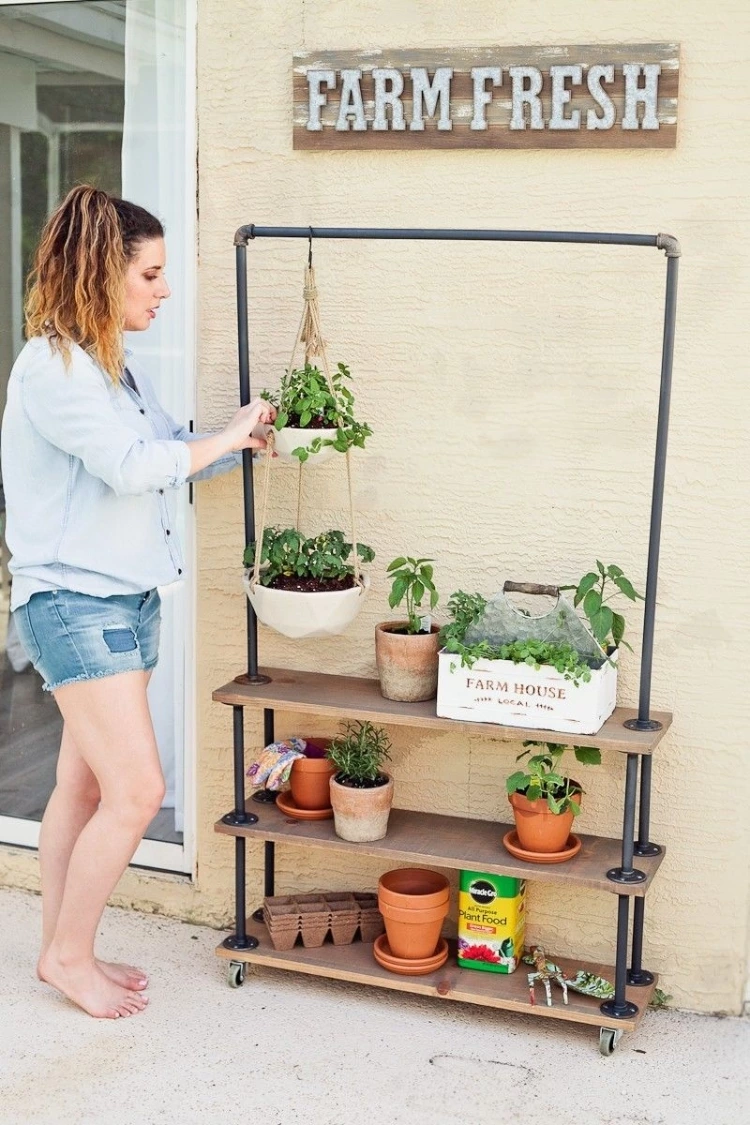 I am so obsessed with this easy wooden plant stand. It's so stylish and a great way to use up scrap wood. Plus, I love a good DIY tiered plant stand because you can fit tons of extra plants in the sheves.
Wooden plant stands have such a classy look to them. As someone who loves vintage decor (check out my office tour for a glimpse of what I mean) I'm utterly obsessed with the earthy, rustic finish wooden planters have.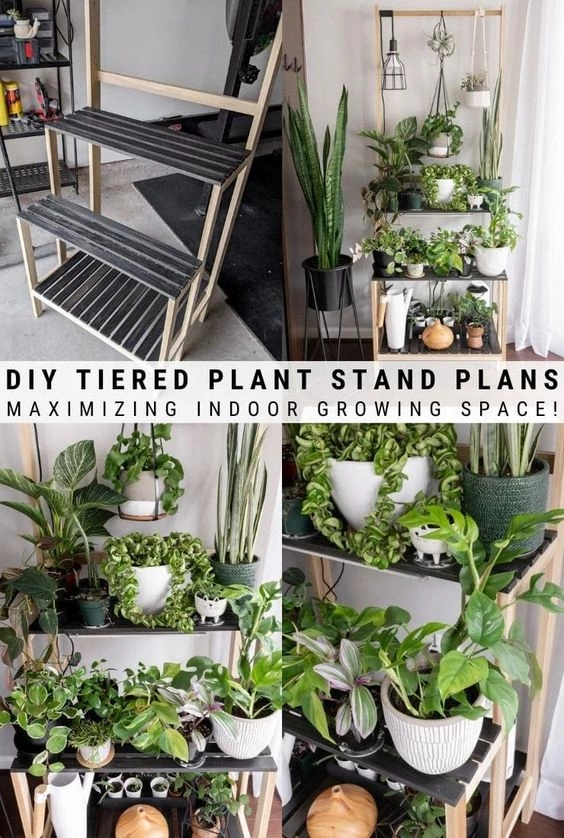 This modern plant stand is the best of both worlds: functional and cute! I love a good DIY indoor plant solution (because I'm forever running out of room for my babies) and this is a great way to make use of a small space.
Hey – do you love to propagate your plant babies? Check out my list of 25 DIY propagation station ideas!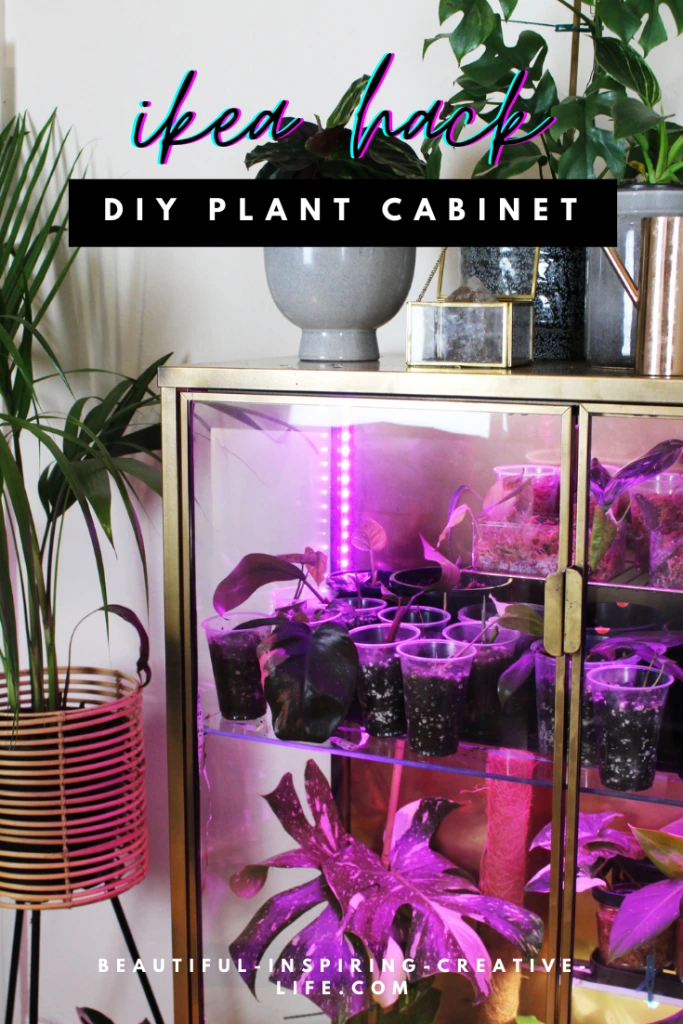 Is it time for another cheeky self promo? I think so! Next we have one of my favourite recent DIY projects: an IKEA hacked plant cabinet. Not only is this a stunning addition to any home – but it's also super practical.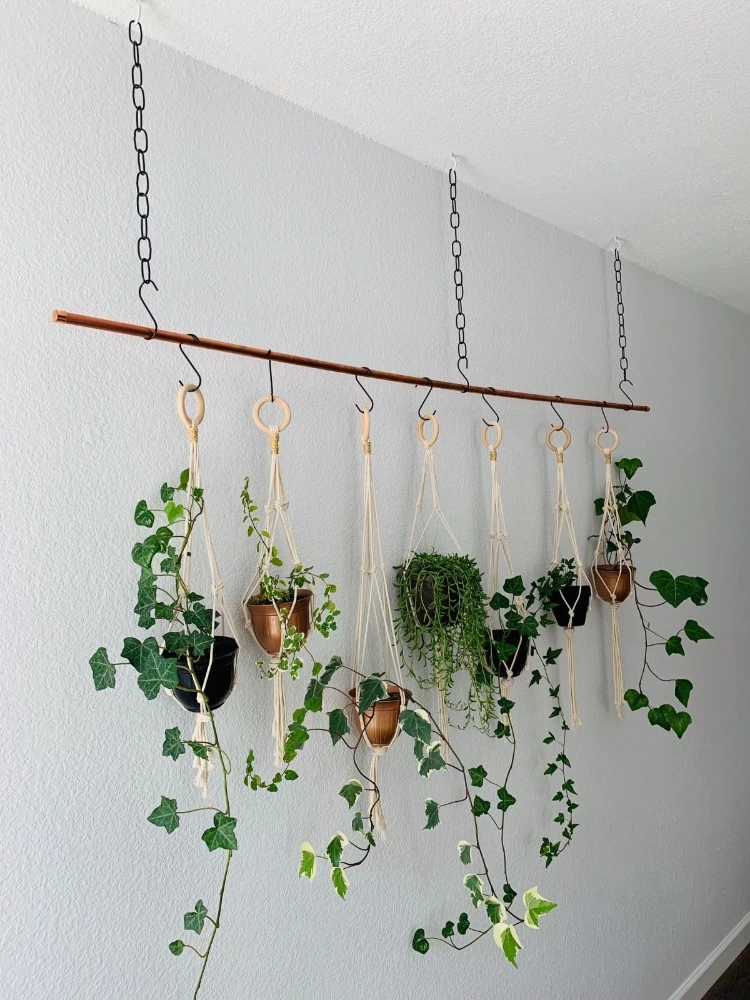 Of all the DIY plant stands I've mentioned in this post, number 6 takes the cake for easiest! (Plus, it's super cute!) A simple wood plant hanger made with only a few supplies, this is good for the bank . . . and the eyes.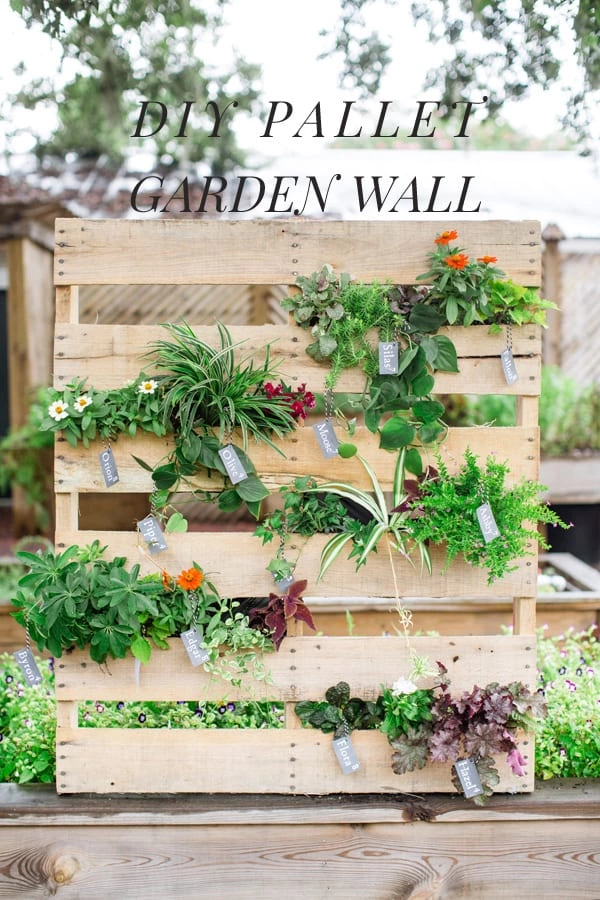 Next we have a total beauty! This planter stand can be made entirely for free if you upcycle old pallets! Again, I'm a sucker for the rustic look of a wood plant stand and I think this is such a cute, cottage-vibes planter.
Oh – and on the topic of cottage vibes. If you like plants and cute home décor, definitely check out my cottage-core inspired DIYs!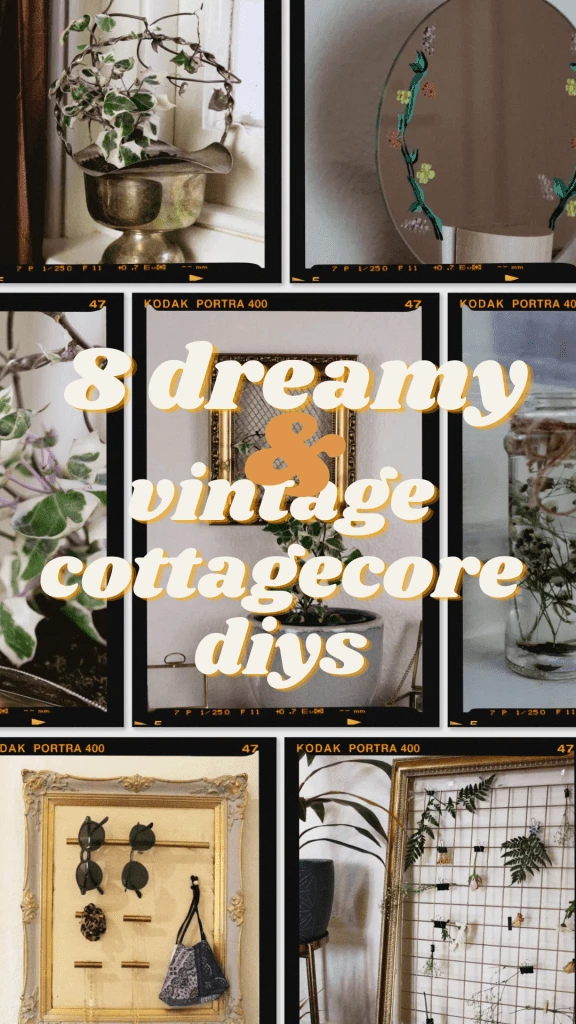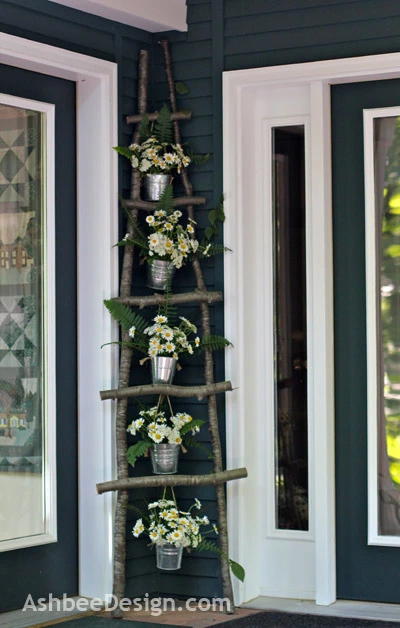 I love that this tiny ladder planter is one of those plant rack ideas that would work equally well indoors or out. (Plus, you could train ivy up it and how witchy and beautiful would that look?)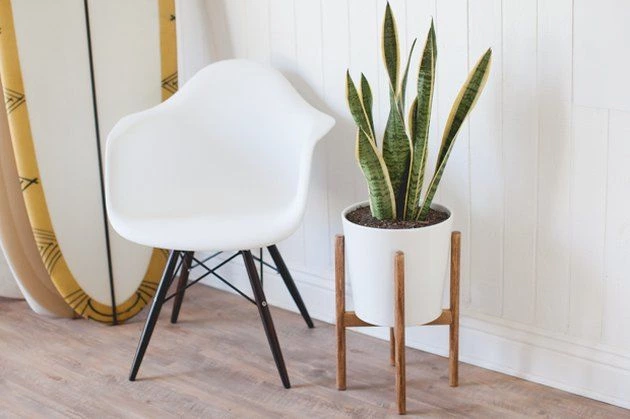 This is such a chic West Elm inspired wooden plant stand . . . And I'm obsessed! I want to learn to work with wood at some point and this easy project is a great starting point.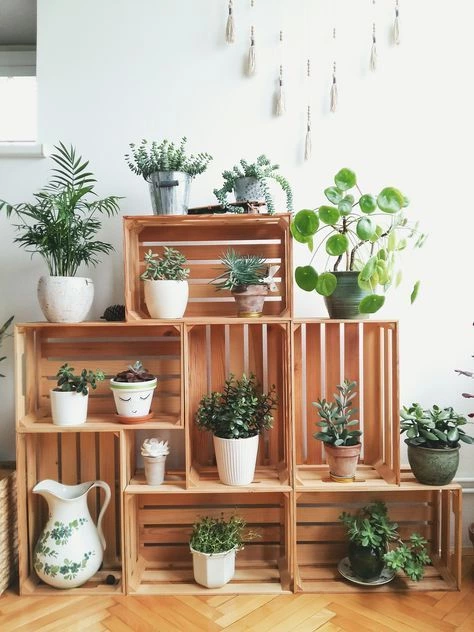 If your search for ideas for plant stands is showing up nothing but difficult and expensive projects . . . . look no further! This DIY indoor plant stand is so incredibly easy to make, even a complete novice crafter will love it.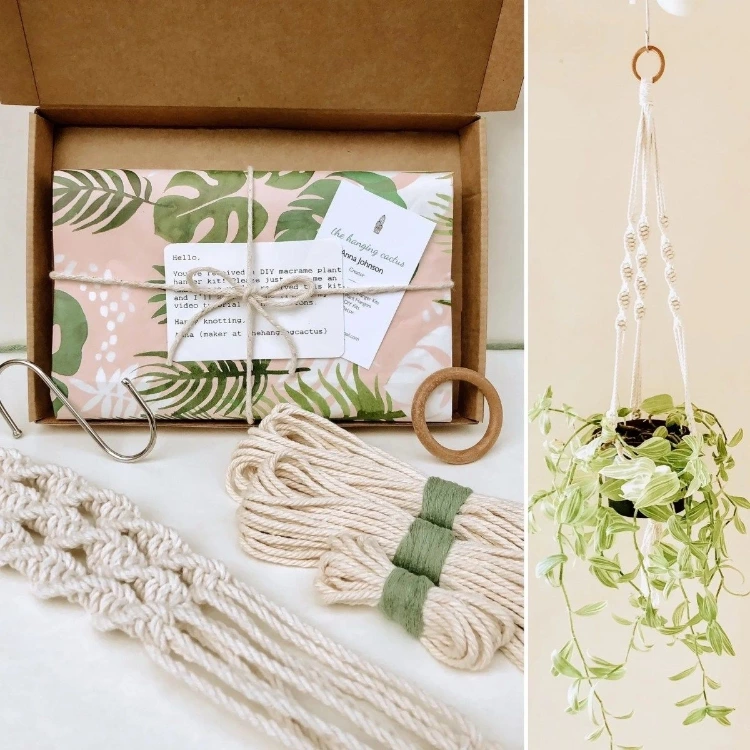 This handy all-in-one kit is the perfect way to make your own plant hanger from scratch! If you love the boho home décor, I'm sure you'll have seen these macramé hangers floating around. However, did you know how easy it is to recreate the look for yourself? No? Well, now's the time to find out!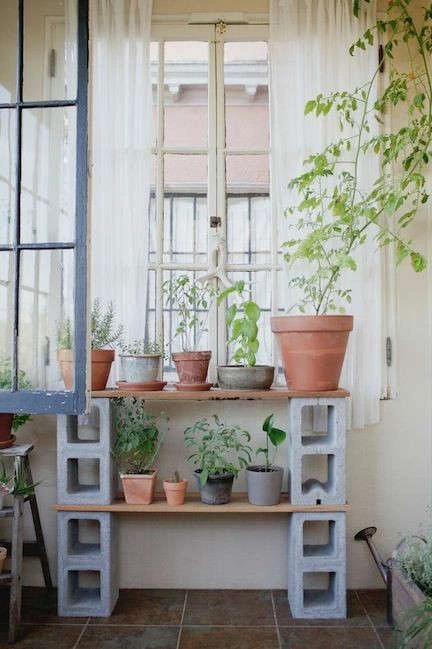 Crafting stands for indoor plants doesn't have to be difficult! This is a super chic plant bench made with cinder blocks (we love affordable craft supplies here) – it's perfect for the modern home aesthetic.
13 – Home Depot DIY Plant Stand
Hope Depot has a range of handy guides on making plant stands for indoors. From hanging herb garden to minimal indoor plant stands, you can find pretty much anything you need. (Then order the supplies directly from the website, which is all very convenient!)
14 – Cute IKEA Plant Stand Idea
I've featured this popular IKEA hack on my blog before! (In fact, you should totally go and check out my post on 20 genius & practical IKEA plant hacks. Go on, it's a good read.)
This is a fantastic DIY wood plant stand . . . mostly because you don't have to do too much work! Plus, you can easily customise this to fit any design scheme. You could always paint it!
15 – DIY Plant Shelf
This easy DIY plant shelf project is an absolute must try! It's so practical and easy – you can easily make it in an afternoon. Personally, I think I'd paint the shelving panels. However, that's the beauty with this project . . . you can customise it to fit your space!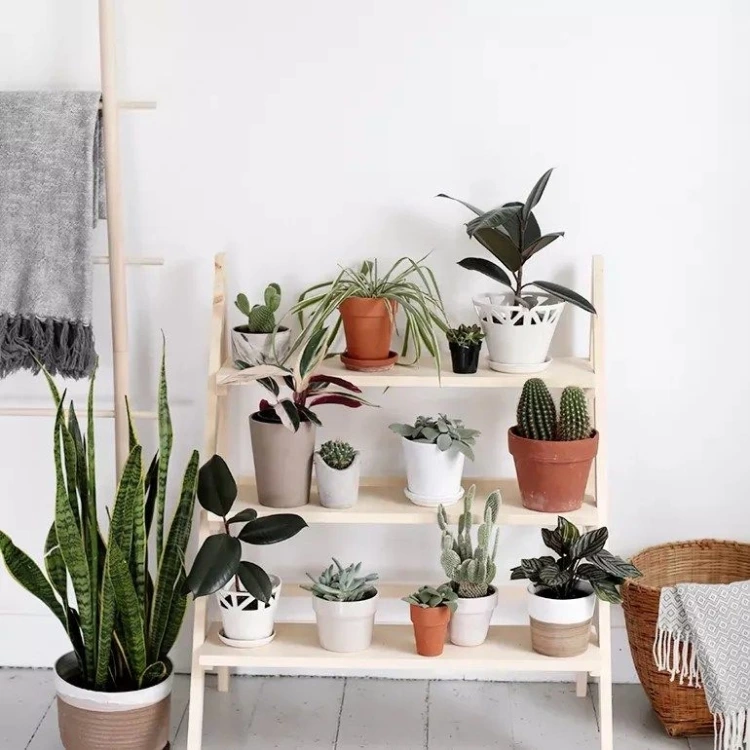 And lastly, I shall leave you with a wonderful post to check out! This compilation features 12 completely free DIY plant stand projects you will absolutely love. My favourite has to be the small ladder stand I've used above – but, through curating this post, I think I've realised that I just really like ladder planters!
I'm definitely going to give that branch ladder a try – so watch this space.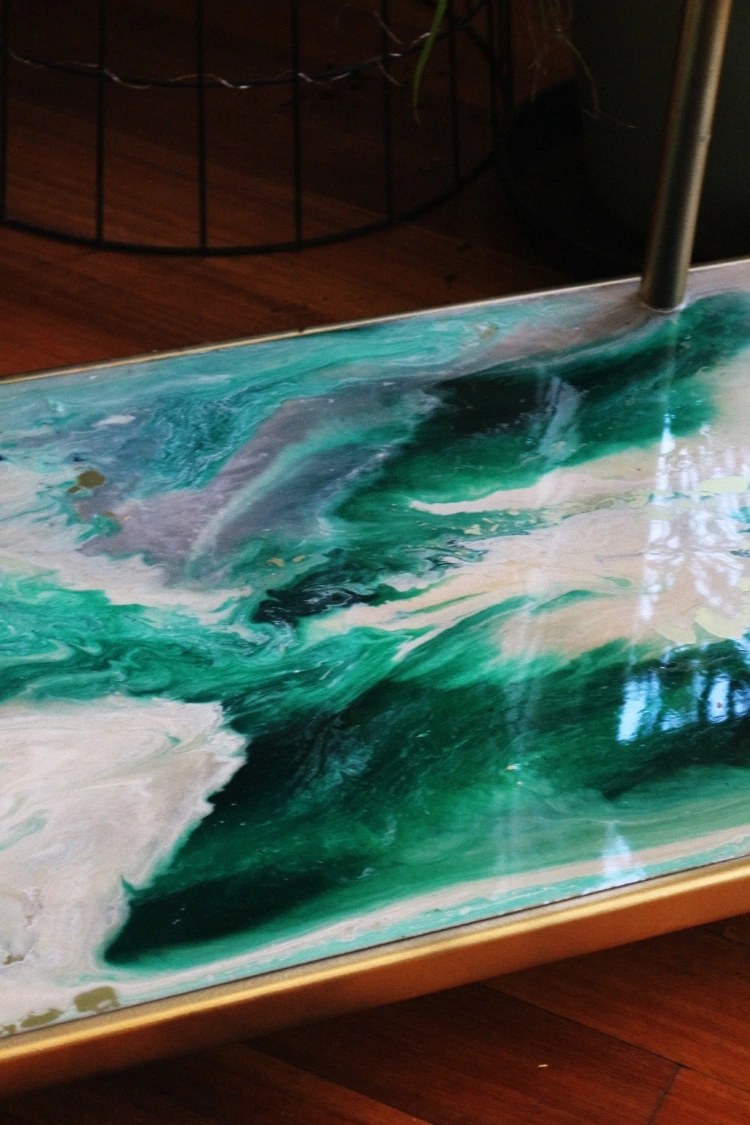 Don't forget to share this post if you enjoyed it!
Side note: sorry I've been absent for the past few weeks. There's a whole lot of dramas with our renting situation (housemate stuck in Peru, if you needed a refresher there) so my partner and I have been house-hunting and just generally stressing. I think I've got my shit together now!
What did you guys think of this DIY plant stand? Would you try it out yourself? Are you a plant lover? Let me know your thoughts down below!
Peace,

Instagram // Twitter // Bloglovin' // Youtube // Pinterest