A curated list of 25 homemade gifts for girlfriends – that she'll love! Enjoy.
Hello, beautiful people, and welcome back to my corner of the web! I hope you're all feeling fabulous today. Now, this may sound insane to the rest of you – but I am so excited for Christmas. I'm prepping already; we have DIY gift ideas, handmade ornaments and even some recipes coming up!
(Coming up in December. I'm not completely insane; there's a scheduling tool in WordPress for a reason.)
That being said, gifts are not simply for Christmas – and you can make homemade gifts for girlfriends at any time of year. Birthdays, anniversaries – hell, I'm a big fan of the "just because" gift myself!
So without further ado, let's get into the 25 homemade gift ideas for girlfriends – that she will absolutely love.
Our first gift idea is a cheeky self-promo. Spoiler alert: like 95% of this list is a self-promo. I am a girl who likes to craft – ergo, a lot of the things I make other women would probably love.
These stylish wall art pieces are made from resin and can be totally customised to fit your girlfriend. Bonus points because this craft is super easy to make.
One of the easiest (and cheapest!) DIY gift for girlfriends is to convert a pressed glass frame into a memory box. Take some polaroid pictures of the two of you, add some pressed flowers – maybe a handwritten note! – and you've got something truly special.
Our next idea is wonderfully simple to create – and super cheap! All you need is some acrylic paint, a mirror and five minutes. Check out my tutorial below if you need more inspo!
Hair accessories are equal parts cute and practical – so why not DIY some as a gift? This clip is incredibly easy to recreate with the help of some acrylic pour paints, plus the total project clocks in at under $10!
I love herbariums! They're such a fun way to preserve flowers – and they make a super sweet homemade gift for girlfriends. If you want to make this super romantic, you could even buy some dried rose heads and use those instead!
This is another gift idea that's wonderfully affordable. You could even upcycle old spice jars!
If you've been following my blog over the past month, I'm sure our next DIY gift idea for her will come as no surprise! I made this date night vending machine for my boyfriend's birthday and he loved it.
Who doesn't love a good candle? This crystal candle looks like it could have been bought from Anthropologie – but you can make it at home in a few easy steps. Personally, I thrift-flipped some bric-a-brac at the charity store and that made this gift even more affordable.
Mirror painting is a trend that's getting increasingly popular – and for good reason! You can create all kinds of quirky and fun creations.
I particularly love this option because it's totally beginner-friendly. All you need are some acrylic pour paints in your chosen colour, a mirror . . . and that's it! Check out my tutorial below to see for yourself.
This gift idea looks like it could be storebought – but is still crazily easy to recreate at home! All you need is a special mould and some candle wax.
Is your girlfriend a self care and relaxation junkie? Why not try making her some luxurious bath bombs? This quick project can be completed in an afternoon – and the cost per bath bomb is way cheaper than buying them from somewhere like LUSH.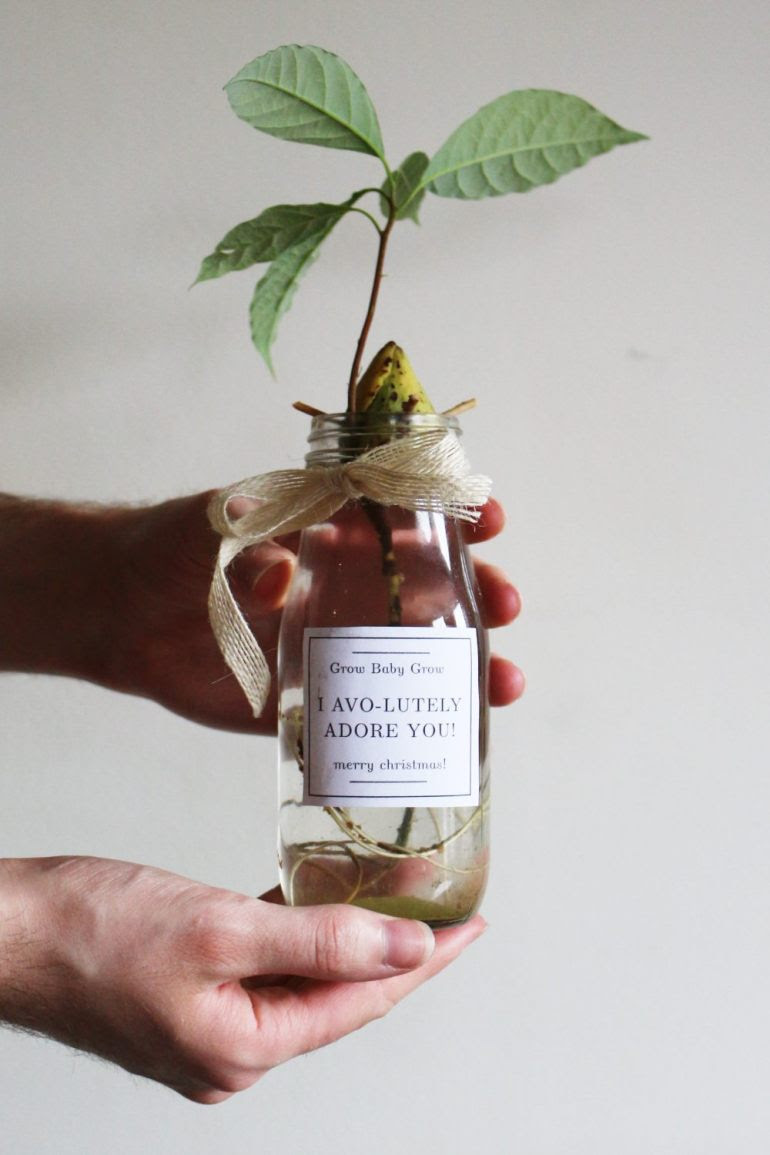 Are you making homemade gifts for your girlfriend because you're on a budget? This next suggestion may be for you! You can grow a mini avocado tree completely free, using a recycled jar and an old avocado pit.
On the theme of keeping costs down, our next suggestion is another thrift flip! You could easily rework a thrift store box into a stylish skincare box with pressed flowers.
Does your girlfriend love crystals or boho home decor? Try these air plant holders!
Trinket dishes are a wonderfully practical homemade gift for girlfriends – and this project is one of my faves! It looks like it could've come straight off the shelf at Urban Outfitters.
Bath salts are an incredibly easy and cost-effective DIY gift idea. Plus, you tend to buy the supplies in bulk so, once you've made some for your girlfriend, you could make more for friends and family!
Mindful colouring has had a boom in recent years – if your other half enjoys the trend, why not make her a colouring book?
This is an old tutorial of mine – but I totally stand by it! I love how boho chic these crystal rings are . . . but you know what I love more? That you can create them in one easy step. You still get all the props of putting effort into a homemade gift, with none of the stress.
On the topic of handmade jewellery, this bar necklace is another easy and adorable project you could tackle.
My recent experiments with air dry clay turned out beautifully – and these flower holders are one of the simplest things I've ever made! I definitely think these would make adorable gifts too.
Hello, Anthropologie dupe! These faux crystal cheeseboards are insanely stylish – and they come in at fraction of the cost of the original.
If you don't want to tackle resin, a great alternative is to make trinket dishes out of clay! It's an easy medium to pick up and you can create all kinds of wonderful things. Like these Autumnal trinket dishes.
Ugh, how beautiful is this pressed flower candle? I know I'd love to be gifted one!
This five-minute craft is perfect for you if you're a crafting beginner. Hell, you could even make some of the jewellery projects mentioned in this list and pop them in here!
Our penultimate idea is a super practical gift idea – and, if you get tired of your girlfriend's jewellery everywhere, it'll benefit you as well!
And our last idea is so quirky, I'm obsessed. If your girlfriend is a fellow beer lover, why not make her a beer garden?
Alright, my loves, we shall end at the end! I hope you enjoyed these ideas for homemade gifts for girlfriends. Don't forget to share if you found this handy! Which of these would you try? Would you be happy to receive any of those? Let me know your thoughts down below!
Peace,
Instagram // Twitter // Bloglovin' // Youtube // Pinterest // TikTok