Hello, gorgeous humans and welcome to the first post of collab month! For all of September, every one of my posts is going to be a collaboration with another fabulous blogger I think you'd all benefit from checking out . . . and today we're collaborating with Em from PlanningWithEm! Em is a bullet journal blogger, so if you like my journal posts you've got to give her a read too!
Today, we're going to be tackling 10 fun and easy ways to spruce up your bullet journal. The first five are over on here . . . and then Em is going to be sharing 5 more!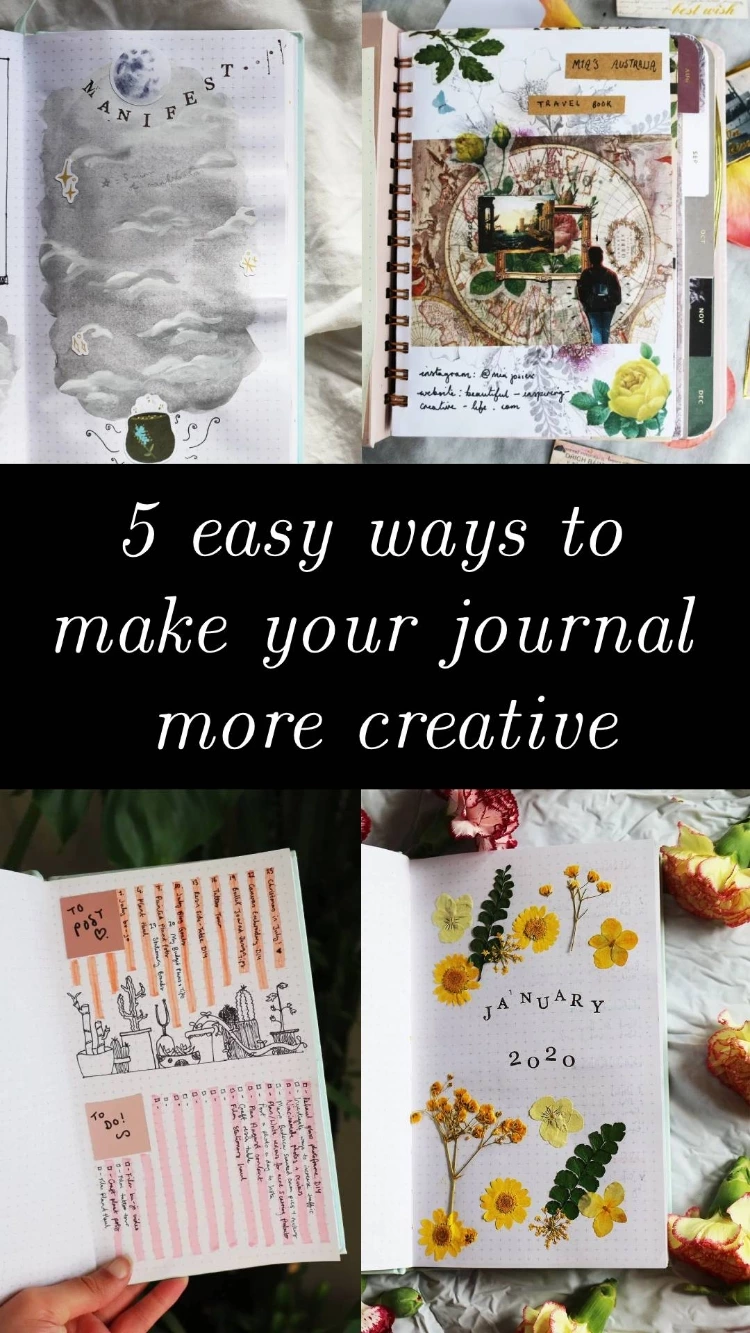 (Pin this image for me, loves!)
I'm not going to lie, this was quite a challenging post! My normal tricks are things like stickers, dutch doors and washi tape, which the lovely Em is covering, so I really had to think outside the box. But we all know how much I enjoy a challenge, so here we go . . .
(All images are of my journal – so if you'd like to check out the posts they originally featured in, just give em a click.)
1. Watercolours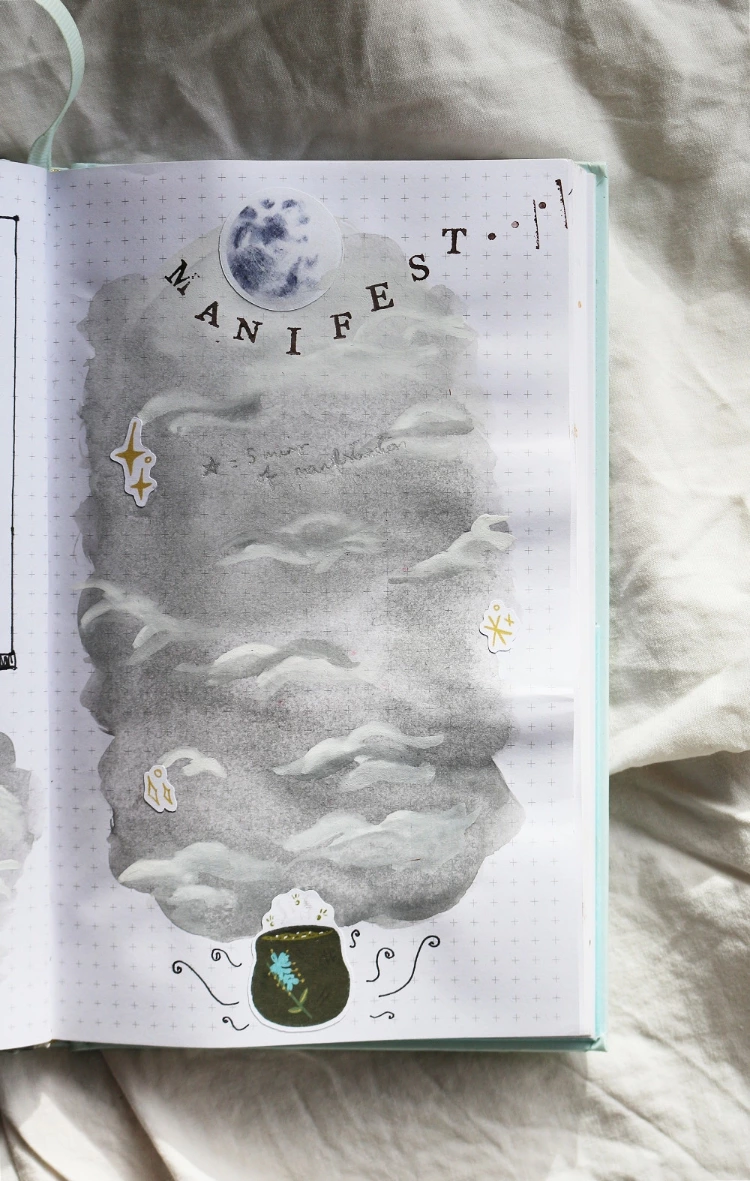 WHAT I USED:
Watercolour paints are such a fun (and easy!) way to add some colour to a journal spread. I'm by no means a talented painter – but that just goes to show that you don't need to be!
As much as I wish I could paint actual stuff, my watercolours are pretty much reserved for cute backgrounds.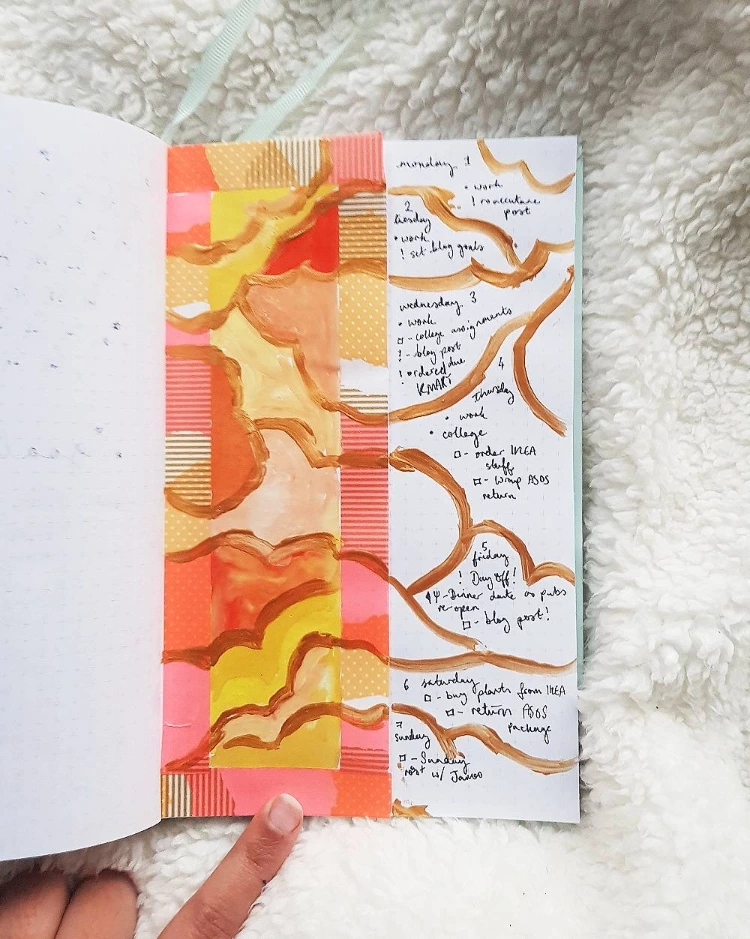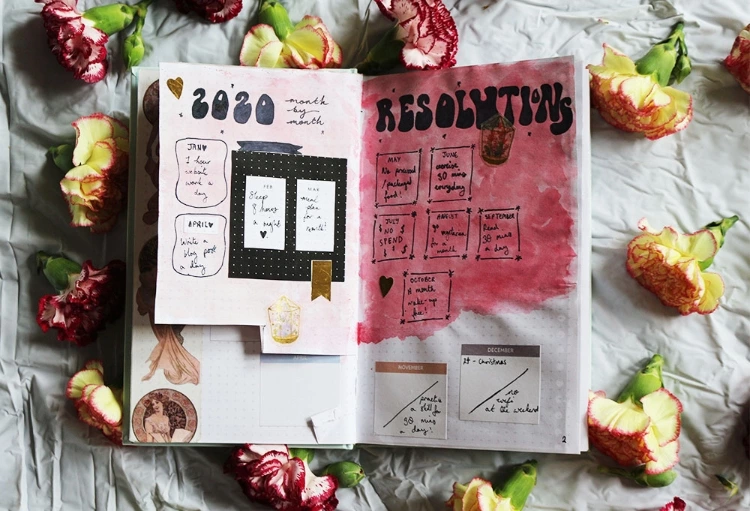 I didn't actually realise how frequently I feature paint in my journal until collecting images for this post!
2. Dried flowers
WHAT I USED:
Another one of my deep, deep loves is for dried flowers. I use them in crystals, I use them in crafts . . . and you can bet your bottom dollar I use them in my bullet journal too! You can press your own flowers or buy them online (now that I have a little office-garden, I've been enjoying pressing my own!) and they make literally anything 100x cuter.
3. Black paper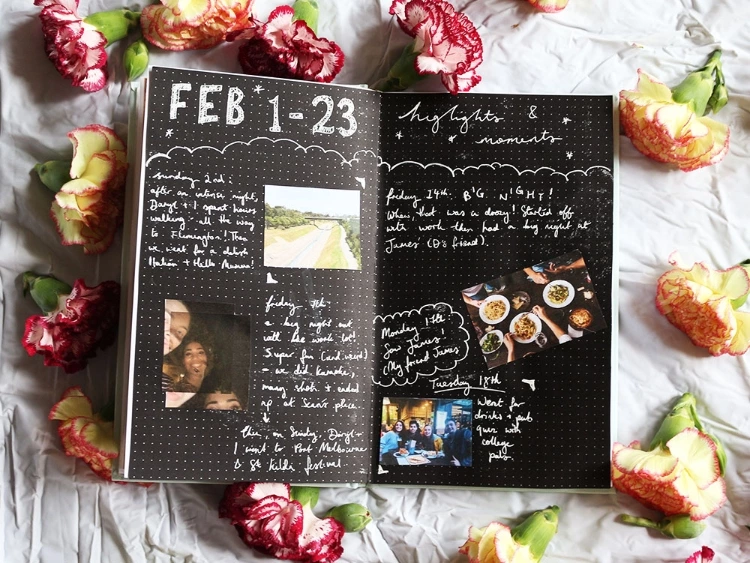 WHAT I USED: Black dot grid journal – Amazon US – $7.98 // Amazon UK – £6.49
Black paper is a relatively new addition to my journalling repertoire, but damn if it isn't cute. As you can see from that spread, I did all of nothing . . . but the contrast of black and white makes everything pop!
I'd love to branch out with this and get some coloured gel paints and play with acrylic paints . . . ideas for next month, perhaps?
4. Collages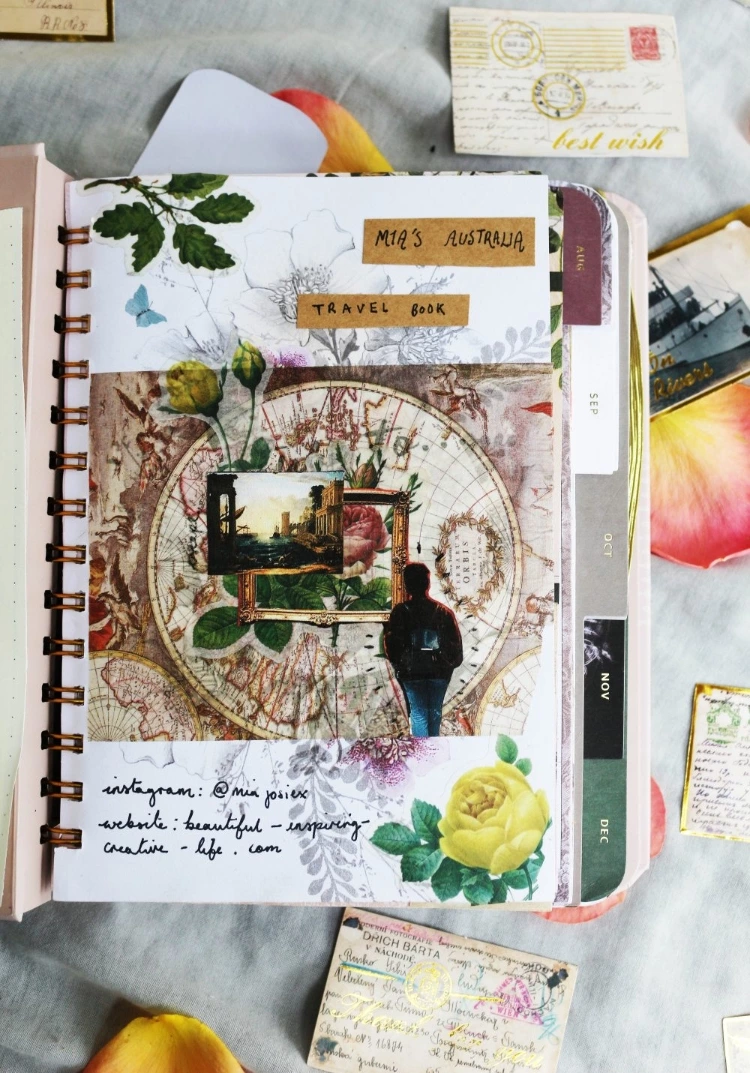 WHAT I USED
Well, if you're familiar with my journalling posts, you all knew this was going to crop up! Collages are probably one of my favourite things to do artistically; they feature in every one of my (many, many) journals.
One of the things I love about them is that they're a great way to use up old paper scraps and materials. Magazine scraps, the awkward end of a washi roll or old birthday cards always make for a great addition to a collage.
(Plus – and this is the real draw – they look super creative even if you have the artistic ability of a spoon. Have you noticed yet how none of my spreads feature any drawing whatsoever?)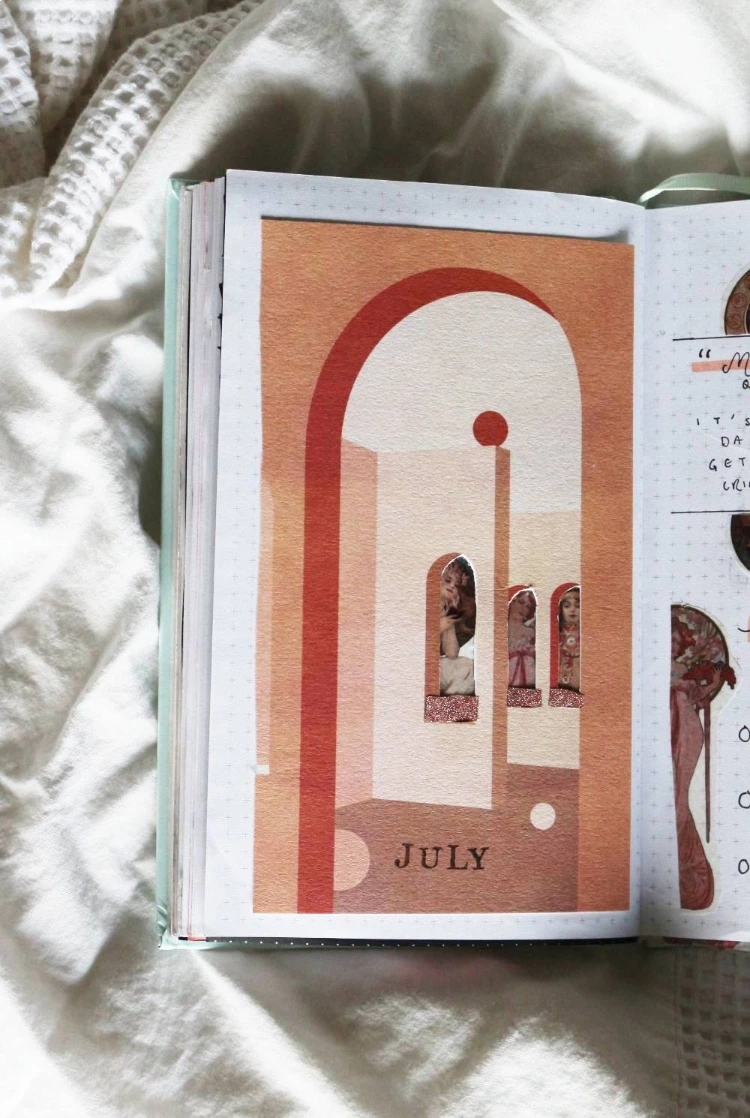 WHAT I USED:
5. Highlighters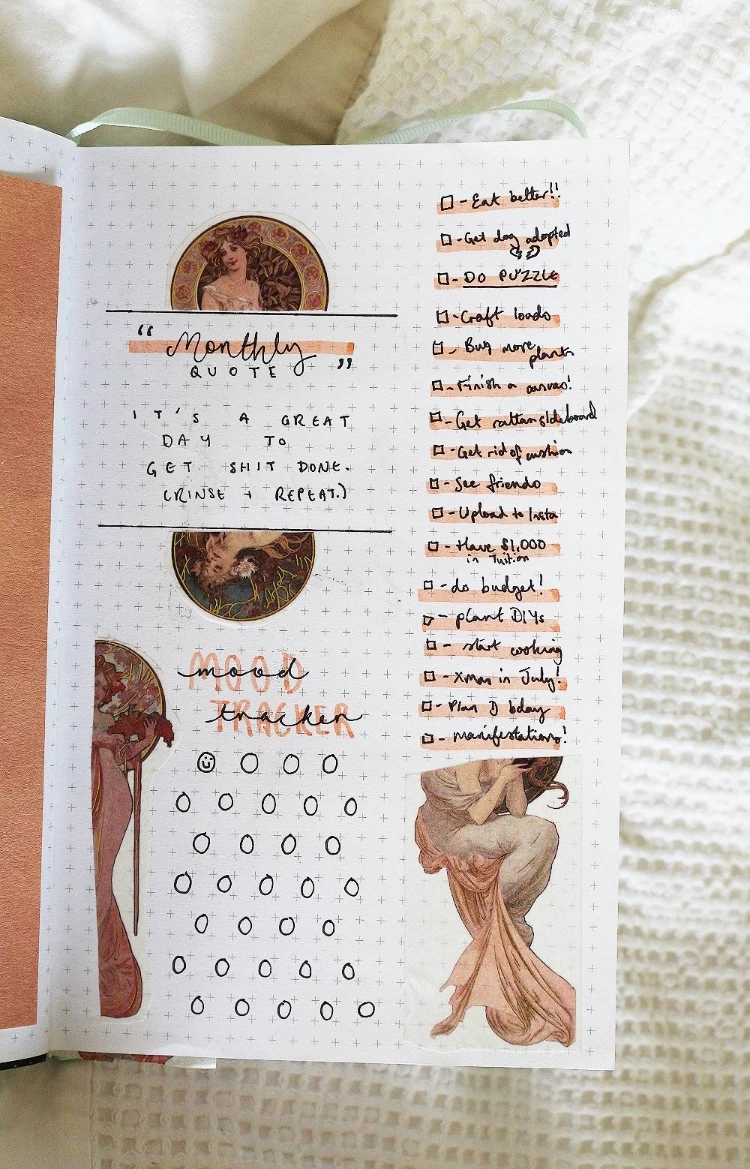 WHAT I USED:
And my last addition to this list has to be my tried and true highlighters! Some may say basic . . . I say classic! There is not a single spread that goes by where my pastel highlighters aren't whipped out to play – and for good reason.
Highlighters are an easy way to add a pop of colour to a spread and give even the least artistic pages a face lift.
If you're like me and can't hand-letter to save your life, highlighters are a great way to fake it til you make it. One of my favourite ways to make myself look far more creatively accomplished than I am is to write in cursive with a highlighter and then in block caps with a fine liner on top.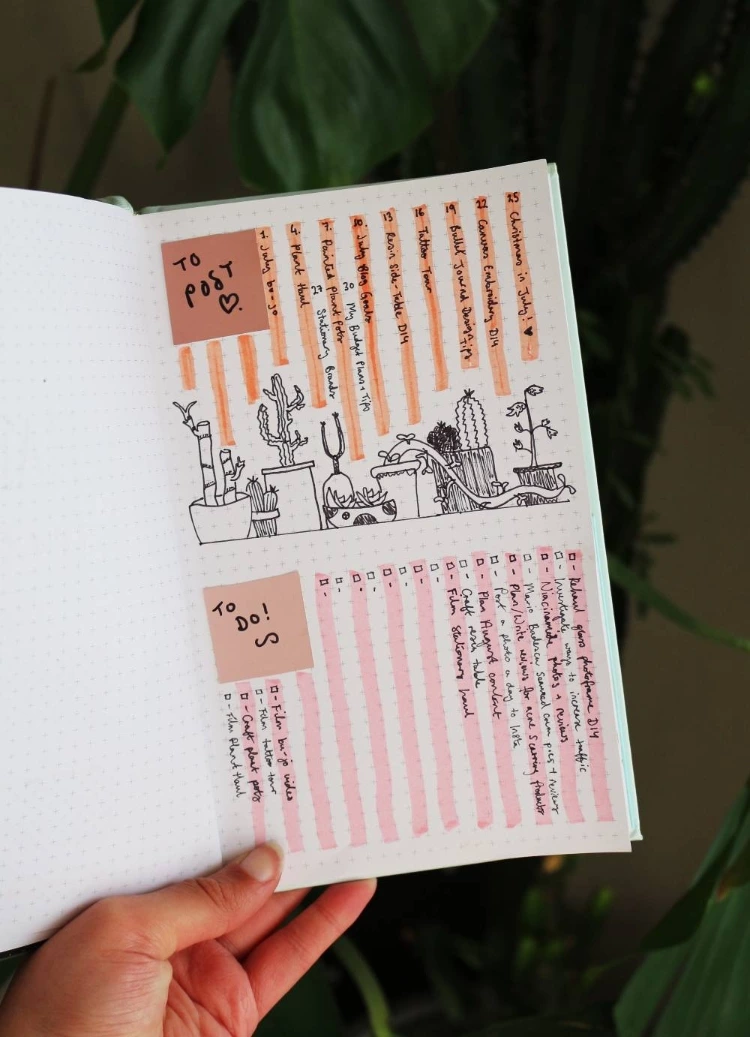 Alright lovers, I'm going to wrap this up here. I hope you guys enjoyed my 5 creative ways to add some flair to your bullet journal – now go and check out Em's! We're going to have your journals looking all kinds of cute by the time we're done. Which of these was your favourite tool of the trade? Would you try any of these methods yourself? Let me know your thoughts down below!
Peace,
Instagram // Twitter // Bloglovin' // Youtube // Pinterest