Hey, beautiful people!
Is anyone else just completely shocked by how quickly this year is flying by? It's already August . . . I'm not ready. Anyways, with so little of the year left, it's really time to knuckle down and start getting to work on all those goals.
Something that I will be writing about on the blog is the amazingness that is bullet journalling.
If there's one thing I know about myself and what I need to be happy, it's that I need to be productive. Things like blogging aren't just hobbies; they're something I almost feel compelled to do or else I just feel unfulfilled. I feel like I'm wasting my life away and being useless and I just . . . I don't enjoy it.
So I'm always kind of looking for that next thing to help me be more productive – and, I swear to God, bullet journalling has actually made a really big impact on my life. I've only been doing it for a few months, but those few months have been insanely productive. One of the things that actually came about from bullet journalling was this new blog! Because you end up spending at least five-ten minutes everyday just thinking about you need and want to be doing and setting yourself goals and tasks.
You'd be surprised by the ideas and motivation you get by spending 10 minutes a day thinking ahead.
A brilliant by-product of bullet journalling is the almost sub-conscious planning that's constantly happening. At the beginning of every month, you sit down and you create your monthly layout. You set up habit trackers, a little calendar, whatever you want really . . . and it forces you to think the up-coming month and what you want from it.
While I was setting up August's bullet journal pages I just started to think about all my August goals and the things that I want to get done – and I thought "hey – maybe this would make a good blog post!". At the very least, you'll get to see some the content that I've got going up on the blog in August and some pretty stationery pictures. At the most, you might even be inspired to try bullet journalling yourself! (And, if you do bullet journal already, I have a few free printables you might like.)
So . . . let's go.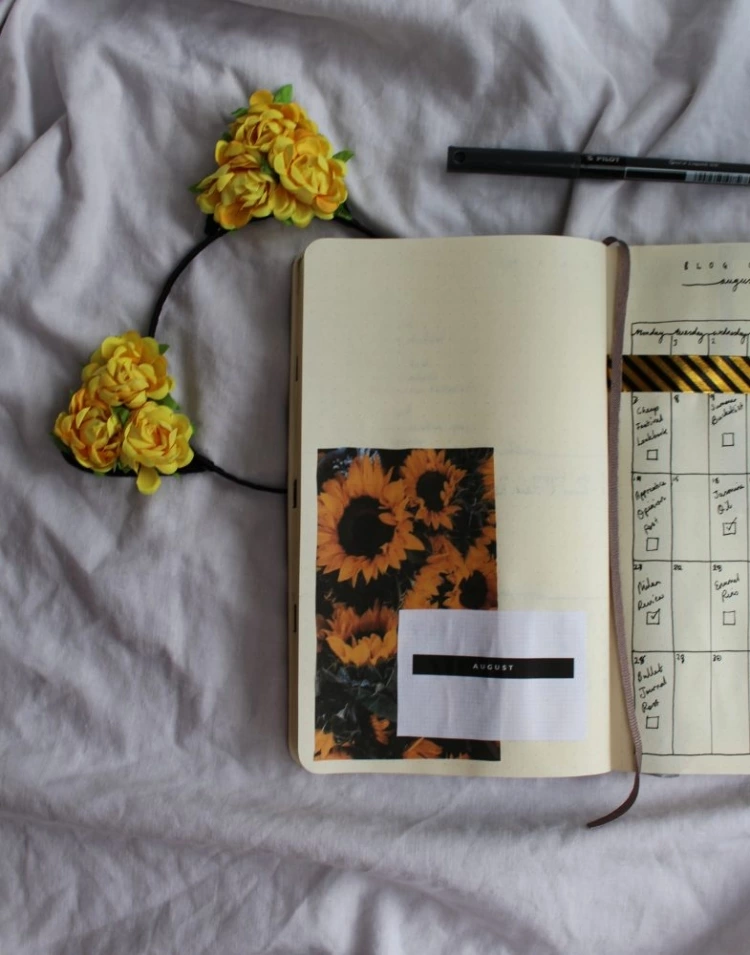 My August Layout
I keep my journal pretty minimal so that I don't get bogged down worrying about how it looks constantly – the whole point is that bullet journalling is quick, easy and that you'll actually do it. This means that, for me, I can't have crazily beautiful layouts constantly or I'll feel that pressure every time I go to write in it and I'll end up never using it. So everything is simple – but cute enough that it's encouraging to write in!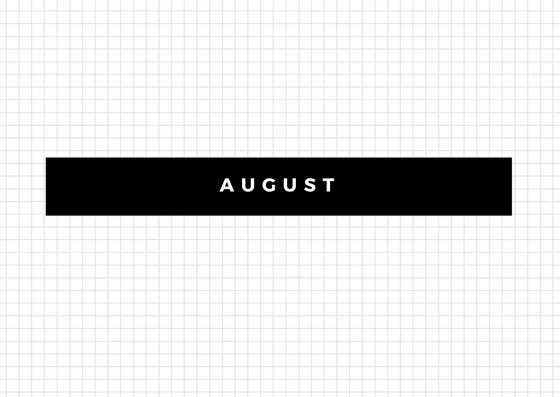 At the beginning of my month, I always like to include a monthly overview and a to-do/goals list of big events and things that need to get done in that month. This month, however, I realised that I needed to include . . . a blog calendar!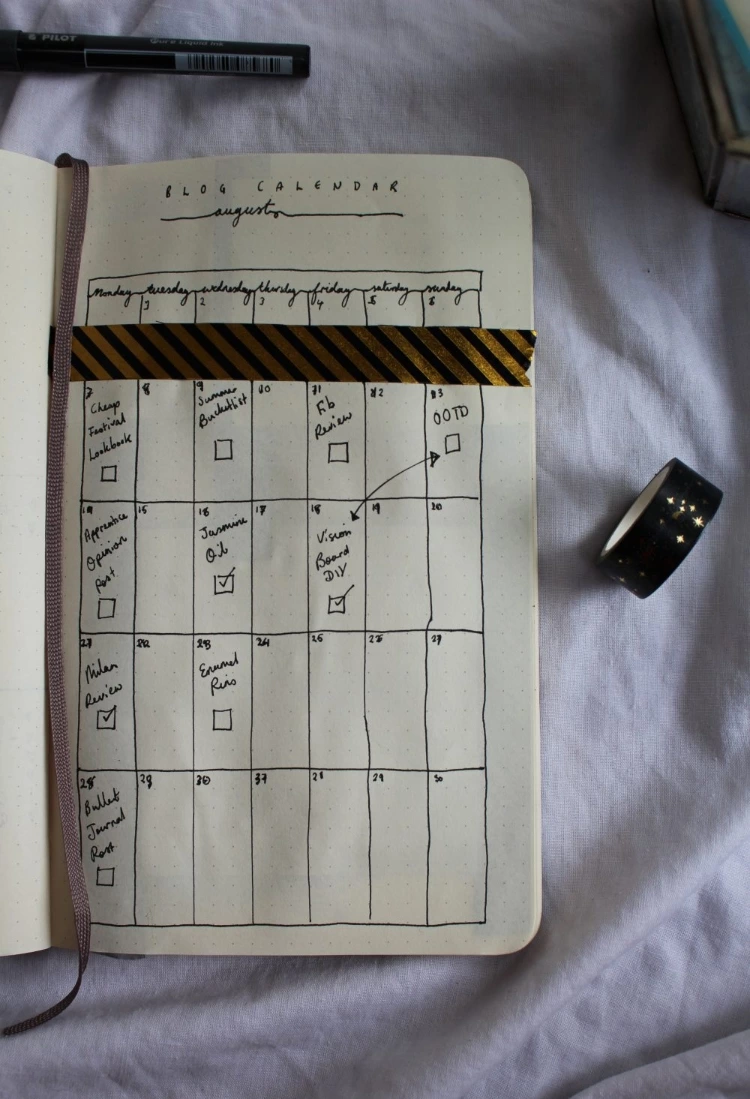 Fuck yeah! I'm so excited about this blog; I hope you can tell how much I'm enjoying creating content and engaging with all of you. I slightly fucked up when creating the calendar (yeah, I know – you're so suprised) but it's good enough for now. It helps me to plan out my content and see what I need to be working on, so it does its job.
Next up are my habit trackers.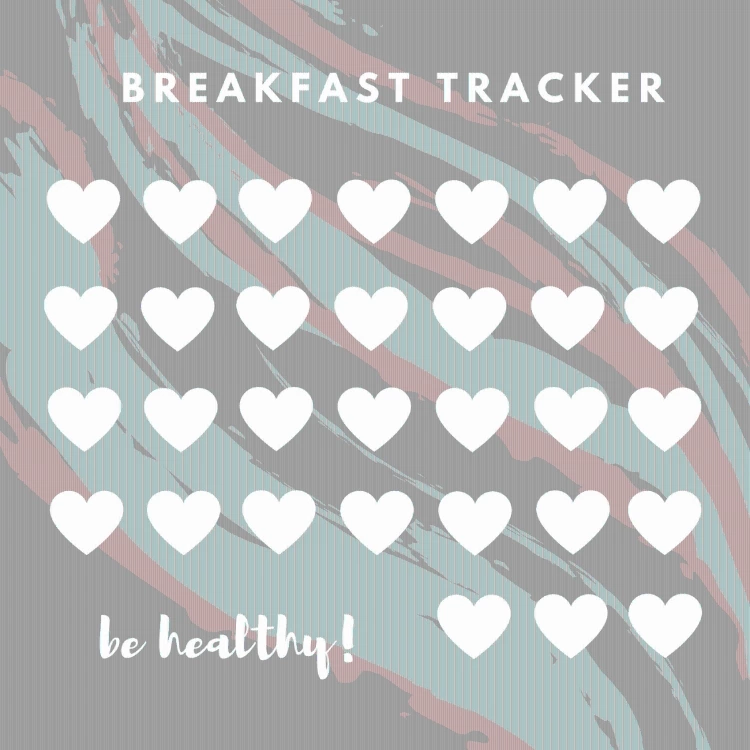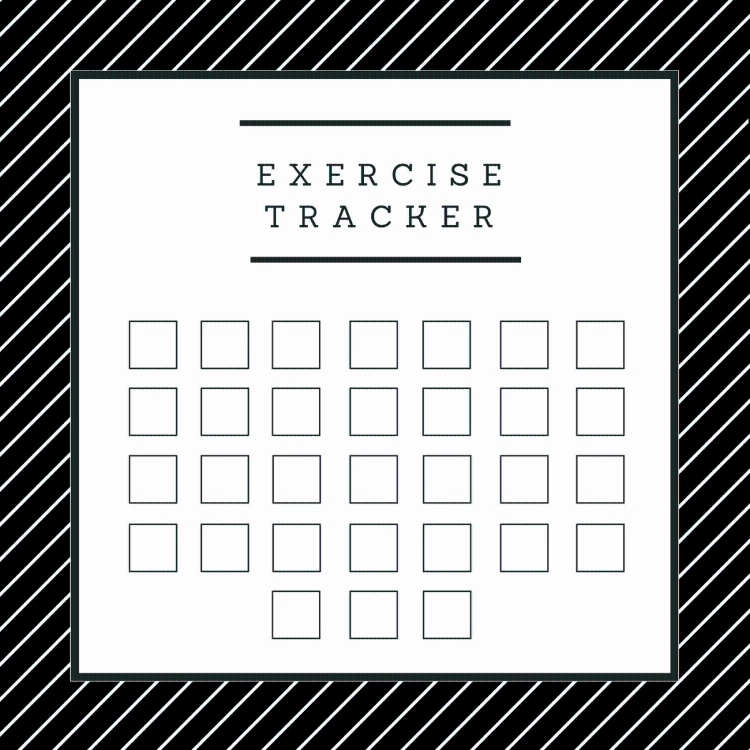 Here are the printable versions for you, if you are in the market for some bullet journal habit trackers.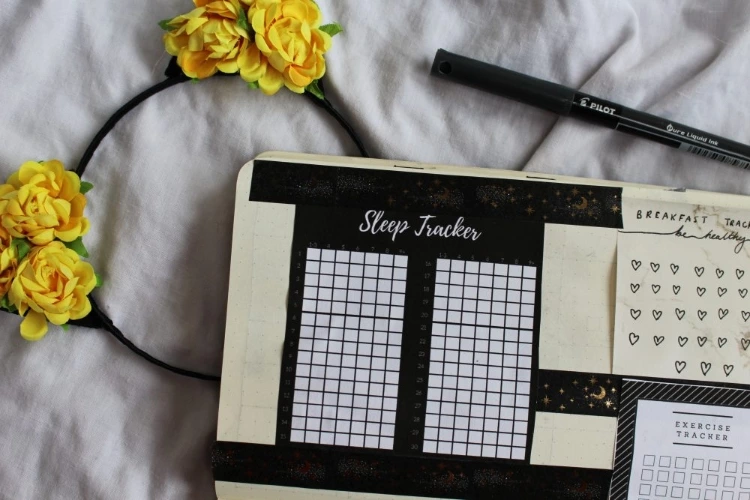 Okay, so I admittedly didn't do great with these last month, but it's something that I am trying to get in the habit of recording. I've set trackers up for 3 things that all tie into my goals.
Did I eat breakfast?
How many hours did I sleep?
Did I exercise?
I don't do my weekly layouts in advance because I'm very prone to adding random things in or wanting extra space, so that's pretty much all I do to set up my month. Here's are my August goals: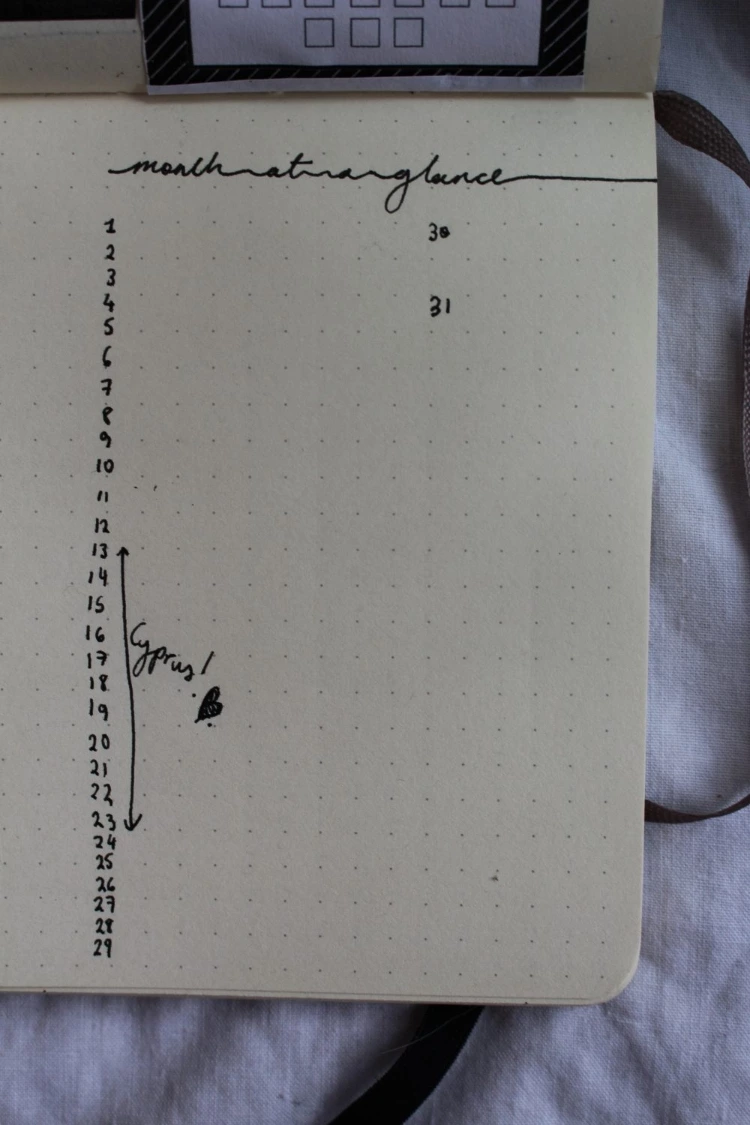 Create a lookbook! I have been desperate to do this for ages.
Return to the gym! I actually went through a stage where I was a really good gym person a couple of months ago; I loved it, I went with two of my friends almost every night . . . but then I went on holiday, my friends switched gyms and a whole lot of inconvenient things happened, which just led to me not going to the gym. This month, I've recommitted, signed up to the new gym and am going to get back into it!
Eat my smoothies again!
Eat breakfast! I'm terrible for this; breakfast is genuinely not a word in my dictionary but it absolutely needs to be.
Get 10 blog posts out! I'm trying to figure out a blogging schedule that works me and all of you guys, but I think around once every few days is cool? Mondays seem like a good day, so I was thinking: Monday, Wednesday, Friday and Sunday? Possibly not Friday because Friday nights seem like going out nights, so I can't imagine readership would be good. I D O N ' T K N O W.
Actually use my sleep tracker. My sleeping pattern is horrific and I want to sort it out – which is difficult when I haven't been tracking it. So, note to self, do that shit.
Reach 300 followers! I'll be honest here – I don't know if it's possible for me to reach this goal . . . but I'm gonna try!
Reach 2,000 views on the blog! I currently haven't even hit 1,000 hits yet, but I'm going to be aggresive in my targeting and try to get 2,000 views by August! Wish me luck, kids.
Finish blog branding.
And that's my bullet journal for August set up! I hope August is going to be a great month . . . June and July have been non-stop amazing, so it's got a lot to live up to. Do you have any goals for August? Any fellow bullet-journal addicts in the house? Let me know your thoughts below!
Peace,