Why, hello there my beautiful blog family – fancy seeing you here. Today is yet another bullet journalling post because, let's face it, I'm an addict and I need some way to justify my ever-expanding stationery collection.
One of the things people always say to me on my posts about bullet journalling? "Oh, Mia, I really want to start a journal it's just that I'm just not that creative – I couldn't make a journal pretty". Two truth bombs for you, kids:
Your journal doesn't have to be pretty, it has to be functional. If you aren't wildly creative and your bu-jo isn't Instagram worthy . . . who cares? What does it matter?
After today's post, you will have zero excuse because I am sharing ten ways to make your bujo super cute with absolutely zero art skills. None. Nada.
No, but seriously though guys I want you to internalise that your journal doesn't have to be pretty. Take a look at my January-June bullet journal flickthrough video below. (Stick it on 1080px.)
Half of my weekly spreads are the most plain things ever. Why?
Because they're there to help me organise and record my week, not to look pretty.
I love being able to spend time creating pretty spreads, sure; it's a great outlet and I love the crafting part of it. However, I don't feel pressure to. If it needs to be quick and plain, it needs to be quick and plain. Okay? We all got that? I don't want you pretty people to feel like every page has to be a work of art.
That being said . . . I mean, we're visual creatures. Your pages don't need to be art, but it's pretty damn cool when they turn out to be, right? So this post is for my fellow lazy girls; my fellow "I can't draw for shit, but I want my bu-jo to look like a sketchbook" girls. Here are my top hacks to make your bullet journal instantly cuter – with absolutely zero artistic skill.
1. Washi tape
First and foremost is the heavy-hitter: washi tape. I warn you, my friends, this is not for the faint of heart or mental strength – once you buy one roll, you will buy 3 more. It is inevitable. However, washi tape is fantastic at making a spread instantly cuter. You can use it to stick notes down, to separate up pages or to just look damn cute.
Let's look at one of my bu-jo spreads that washi tape has saved: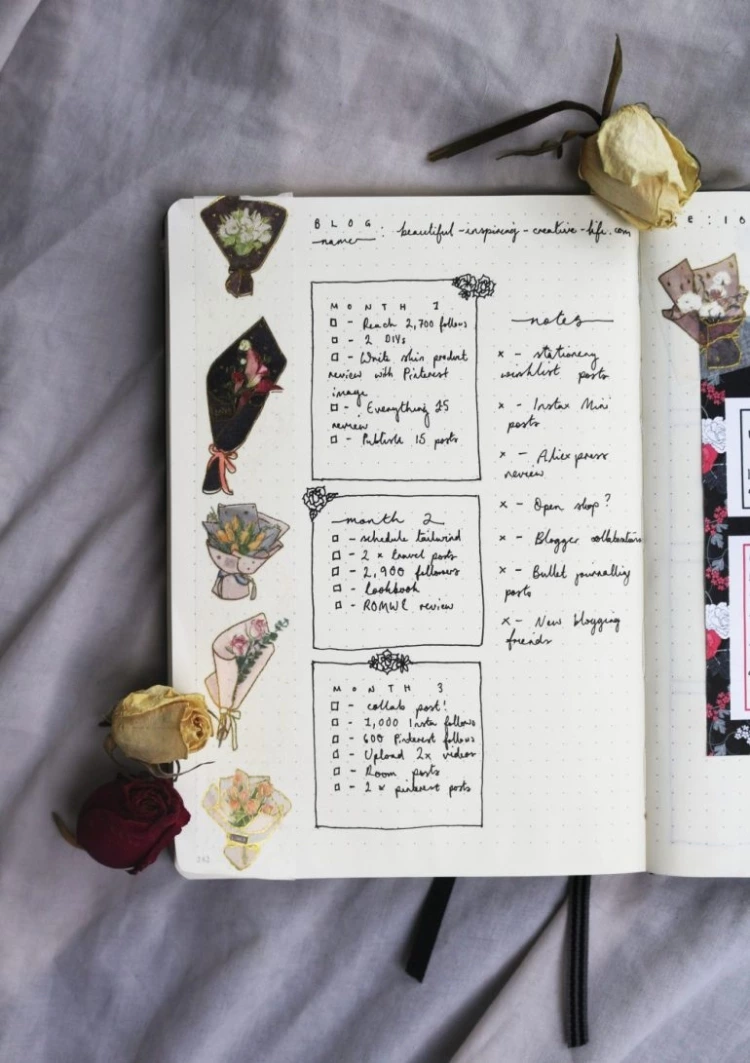 See? Nothing fancy, just a 'lil border running up the page. Now imagine it without the tape. So bland, so painfully bland.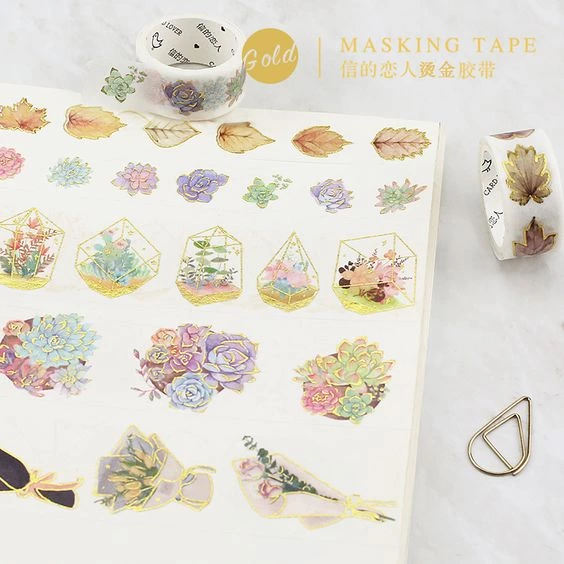 Gold Foil Floral Washi Tape – £0.96 each
Want to know where I get my cheap and super cute washi tape? Take a read of my Washi Tape Collection + Where To Buy Them Post!
2. Polaroids
My next favourite way to make your bullet journal cute – and more of a memory-trove too! – is polaroids. I actually have a whole post dedicated to how to take cute as fuck polaroid pictures coming up (and it's a fun one ie I had loads of fun taking all the pictures ready for it) but they're a great way to literally trap memories in your journal!
One of my favourite spreads that used a polaroid? The title has to go to my Summer 2018 Bucketlist spread – that's one of the funniest polaroid photos I've ever snapped.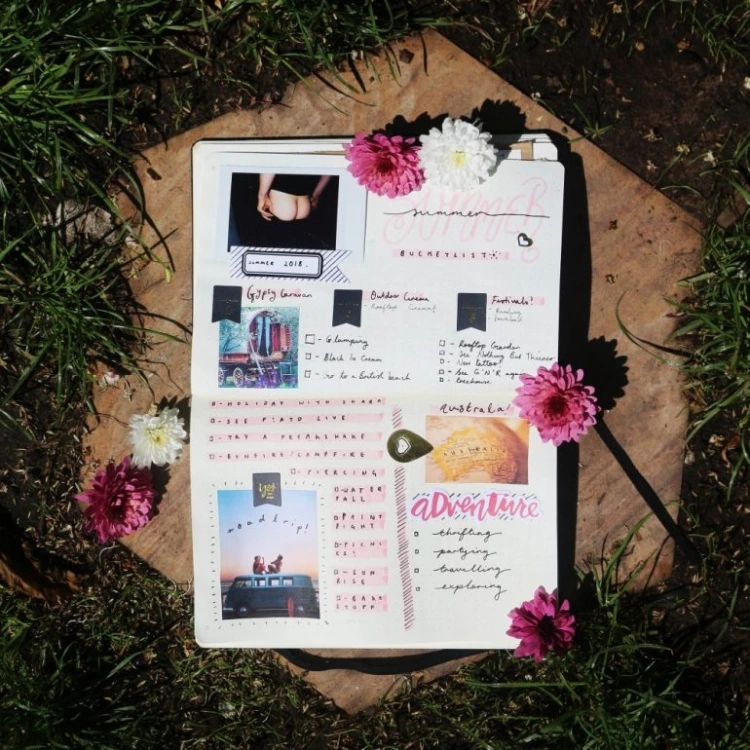 If you don't already have a polaroid camera, my friends, what are you waiting for? They're so cute and fun!


3. Dried flowers
You guys already knew this was coming. I hold my hands up; I love dried flowers. If I could find a way to encorporate them into my makeup routine, I would. I've used flowers in many of my bullet journal spreads, but the most recent example? My June spread!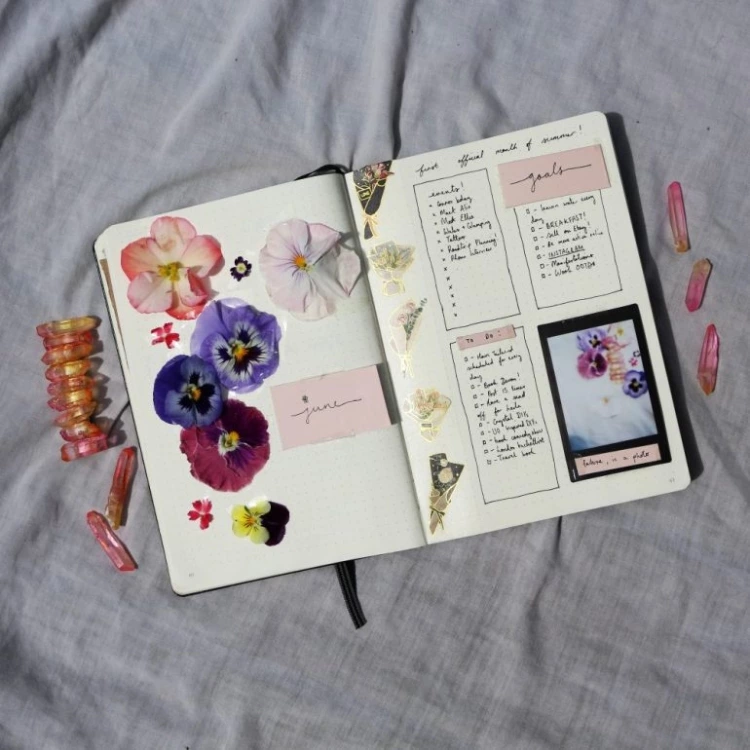 4. Stickers
Number four has to be our trusty stickers . . . oh where would we be without stickers? Don't answer that question, guys, I just don't want to know. It's not a world worth imagining.
Stickers are so cute (and easy) that they are present in probably 90% of my journalling spreads. But I'm picking 1 – so let's take a quick peek at my July Bullet Journal Spread.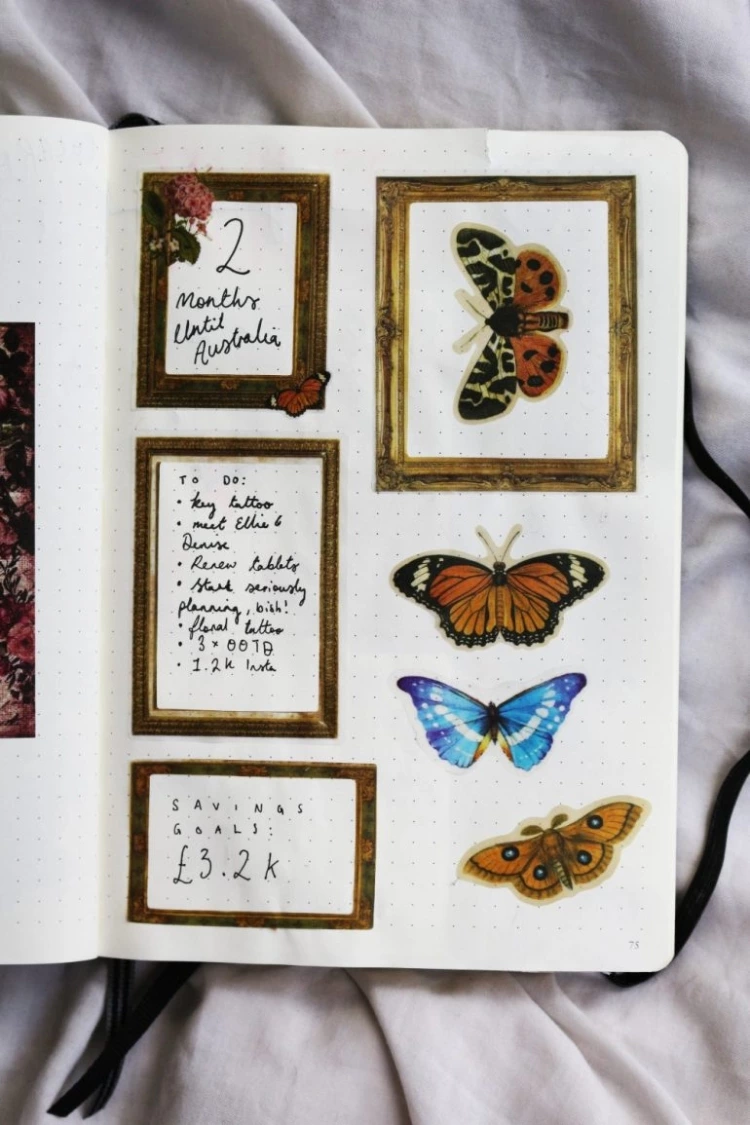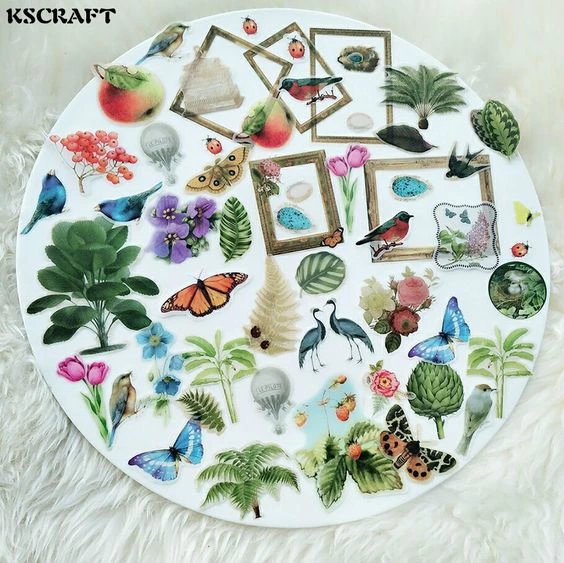 If you want to know my favourite stores for cheap and unbelievably beautiful stickers, check out my post here!
5. Pastel Highlighters!
While the other additions to this list may be somewhat fancier, pastel highlighters are the real MVP. They are there for you, whatever you're trying to create. They can add some joy and life to any bullet journal spread. And they can do it quickly.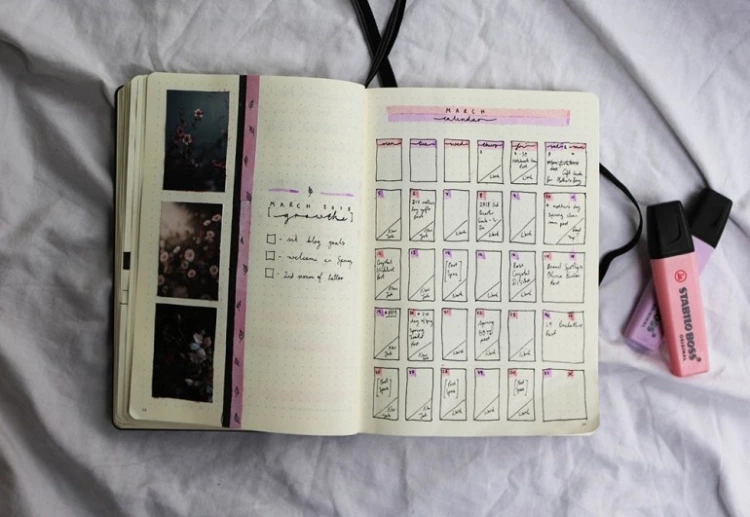 Just take a look at some of the pages from my March Bu-Jo Spread!


6. Coloured fineliners
Another really fun and easy way to add some colour and depth to your journal? Write (or annotate, or doodle, or circle, or underline, or anything you damn well want) with some coloured fineliners! One of my favourite journal spreads of all time (who am I kidding with "one of"? Definitely my favourite journal spread) is my New Year Goals and Resolutions spread.


7. Sticky notes!
This is a new favourite of mine, but we will be seeing more of it in the coming months, have no doubts.
8. Adding backgrounds to your pages
With the recent purchases of a bunch of pretty sticker backgrounds, your girl has slowly but surely become obsessed with having backgrounds on her bullet journal spreads (especially for title pages). They're a great way to just add some contrast and make everything look like it was so much more artistic than it really was.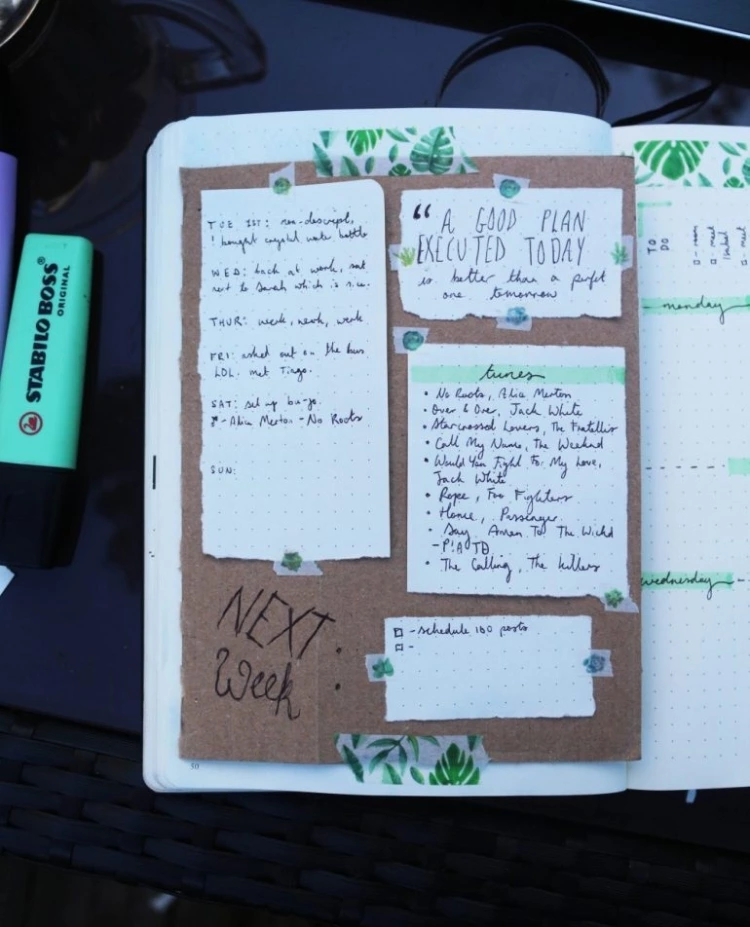 9. Using different handwriting styles
A big tip of mine? Change your handwriting up – and no, I'm not talking bloody calligraphy. I mean, I acknowledge that yes calligraphy is awesome, but us mere mortals can't actually do it. However, just switching between all capital letters, thinner or thicker pens, cursive writing and even letter sizes can create great contrast.
Take a look at my blog goals bullet journal spread.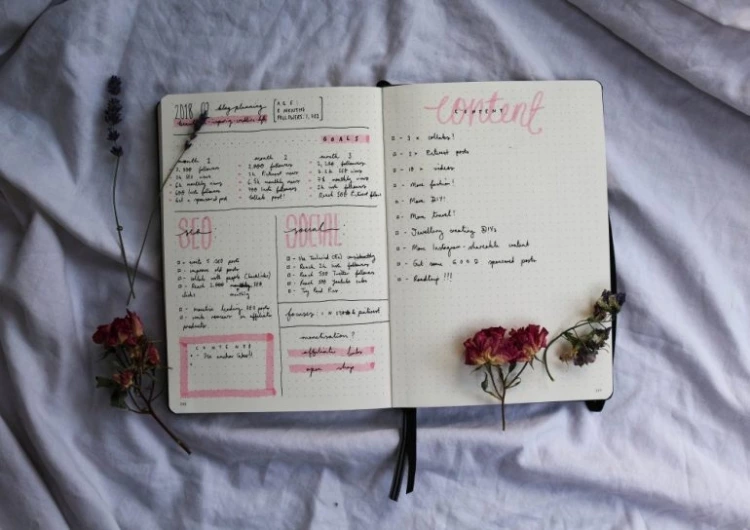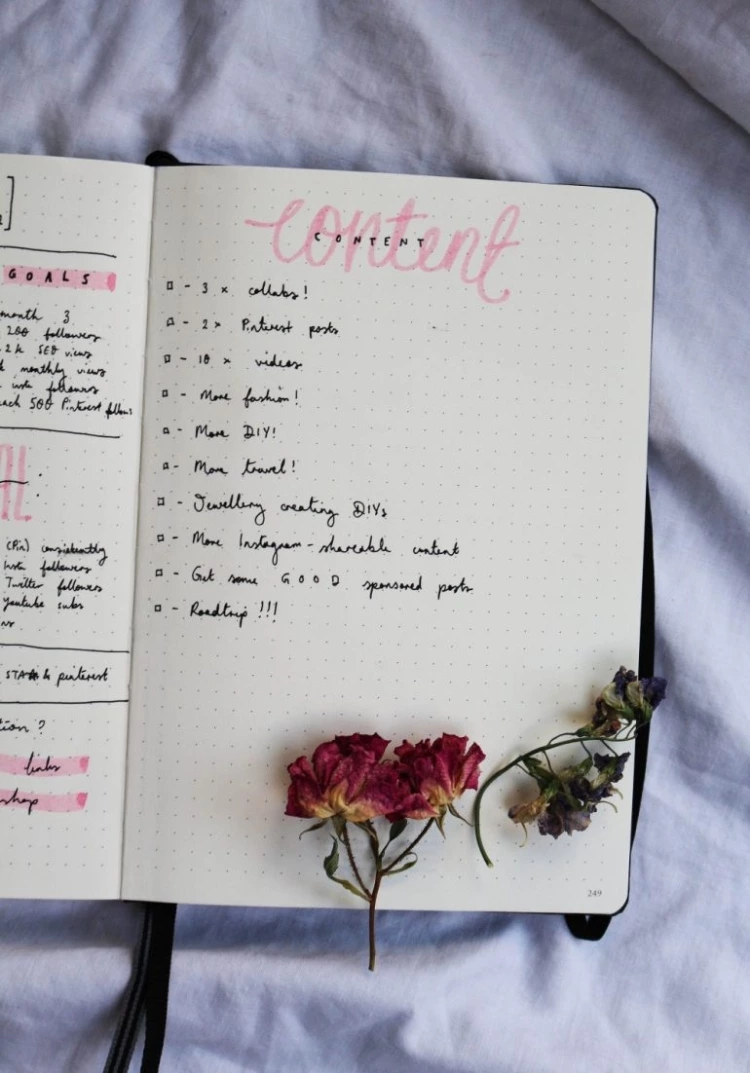 It's the most simple spread ever – but just using different font styles and colours changes it up massively.
10. Collages!
My last tip, I confess, requires a little more artistic skill than the others – but only in that you need to own glue. Collages are a quick and easy way to make everything look so much more put together and artistic. Plus, unlike drawings, it doesn't matter if they don't turn out right because you can just stick something on top of them and call it "art."
In fact, I shall share with you a sneak peek at one of my upcoming posts that shares a collage spread . . .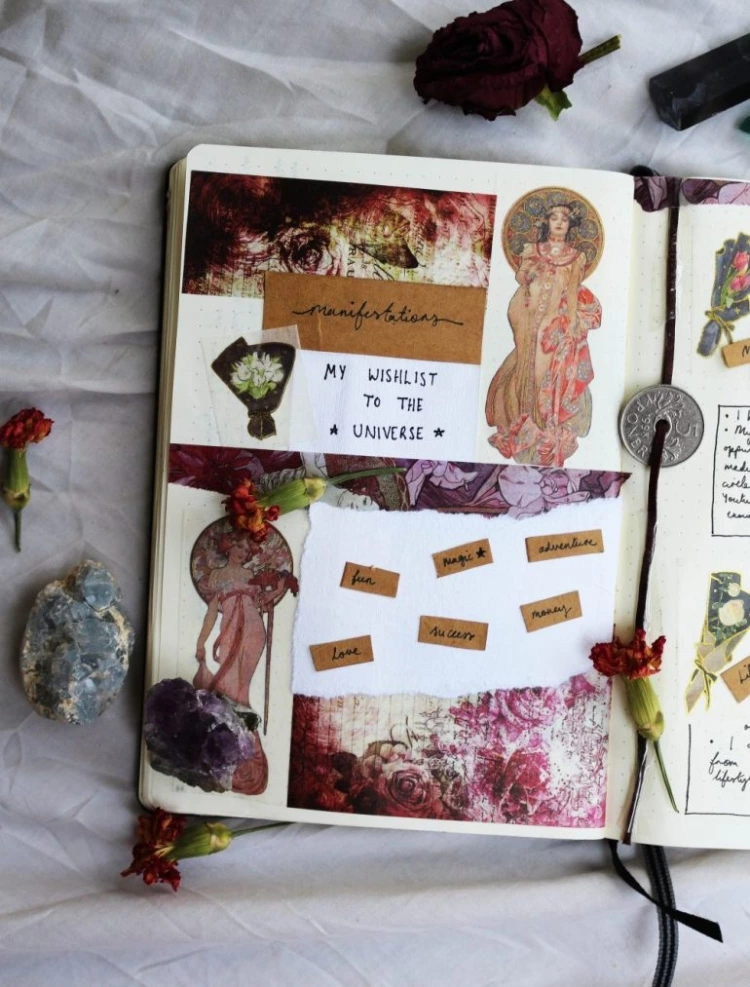 I'm so excited to share that post with you guys – I think you're going to love it. Anyways, my friends, those are my top 10 ways to instantly make your bullet journal 1,000xs cuter with zero artistic ability done! If you found any of them useful, give this post a pin!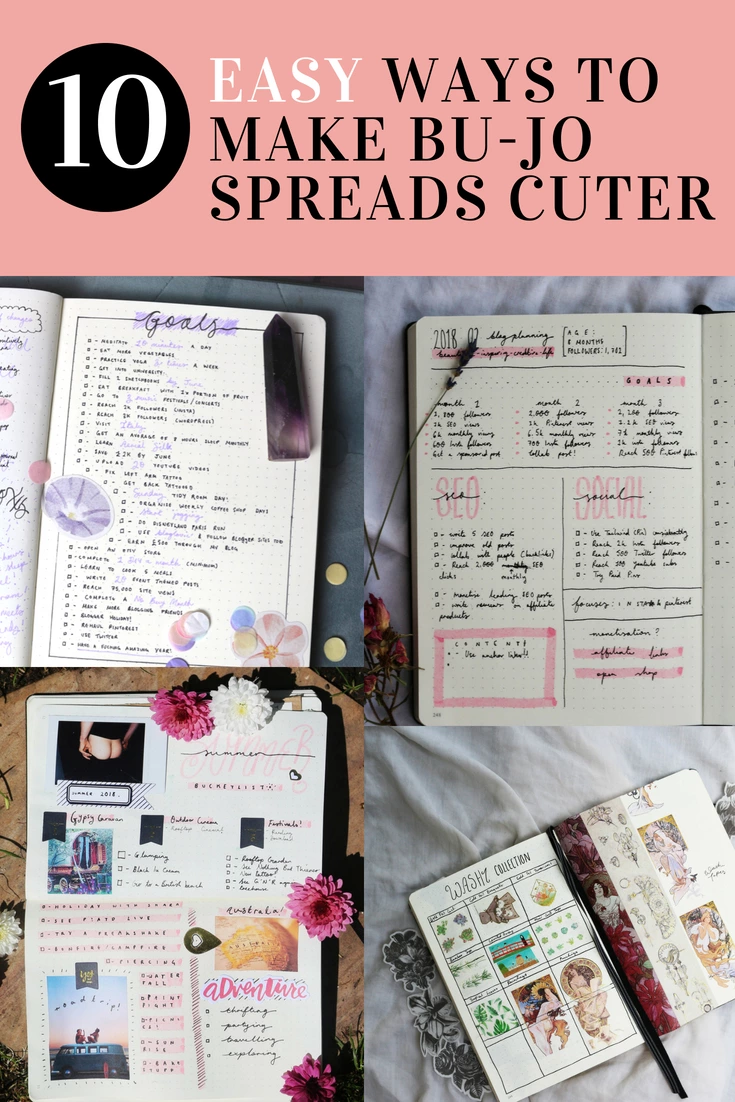 And, if you enjoyed this and are a fellow bullet-journalling addict, have a follow of my Bullet Journalling Pinterest board for a shit-ton of inspiration!
Which of these was your favourite hack? Have you tried any? Did you watch my bullet journal flickthrough – which spread was your favourite? Let me know your thoughts down below!
Peace,

Instagram // Twitter // Bloglovin' // Youtube // Pinterest