Hello, gorgeous people and welcome back to me making things I could easily just buy! Today's DIY is something I am beyond excited for. And I know I say this every time, but that's because I've been in lockdown for six months so my bar for excitement is real low.

That said . . . this DIY is worth the excitement of those of you that can roam free and don't have to be at home at 8pm.
You'd have to be living under a rock to have not seen the boom mindful colouring has had in recent years. It's great – you can find all kinds of beautiful colouring books with designs ranging from mandalas to swear words. If you cast your mind back to my recent post about mindful hobbies, you may remember my hobby of choice was puzzling.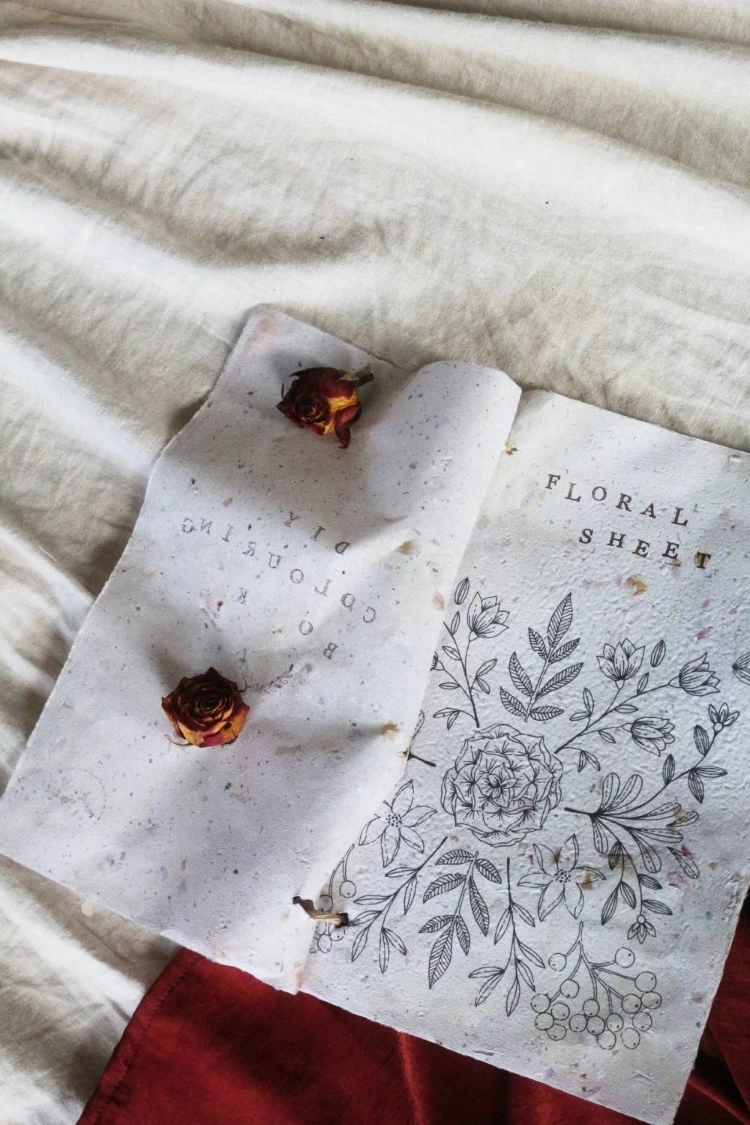 Well, a few comments under that post mentioned mindful colouring and I thought . . . hmm, I can't bring my puzzle in the bath with me. But with a cleverly placed bath tray and a handtowel, I could probably tackle colouring. And then I created my thrift flip trellis memo board post, tried some new crafting techniques and learnt how to make paper.
And somehow those two posts blended to create this. Now let's get to making it!
WHAT YOU NEED:
And that's it! I know, this is super affordable and cute? I really spoil you guys.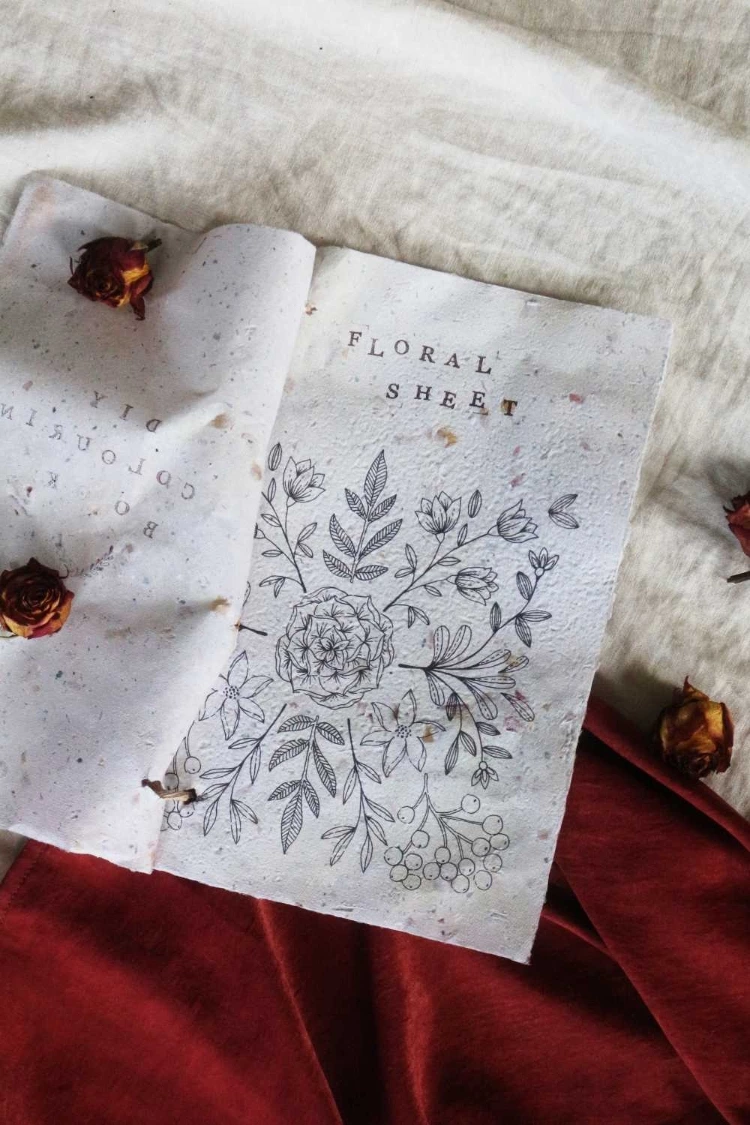 HOW TO MAKE:
I would love it if you watched the tutorial in Youtube version and subscribed to me over on there too!
Rip your old paper scraps into small 1″ pieces. Leave to soak for a few hours or overnight.
Fill your blender flask with water and blend the paper scraps until you have a thick pulp. (I added some rose petals into my blender too!)
Pour your pulp into a large tub and add water, until there's enough liquid to cover your mould.
Push your mould into the liquid. Pulp particles will come through the mould. Gently shift your mould from side to use, using the water to spread the paper pulp across the mesh.
Once the pulp is covering the mesh in a thin, fully covered layer, remove the mould from your tub and move into direct sunlight.
Leave for a couple of hours to dry. Once the edges start to curl, you can remove your paper from the mould.
Choose a design for your colouring paper sheet. I chose this one from Etsy.
Put your handmade paper in the printer and print your designs onto it.


Punch holes in your paper and use twine to secure the book together.
And decorate! I used my vintage stamp letter set to decorate the front of my book!
This is such a fun (and cheap!) craft – I actually think it would make a great DIY gift idea too!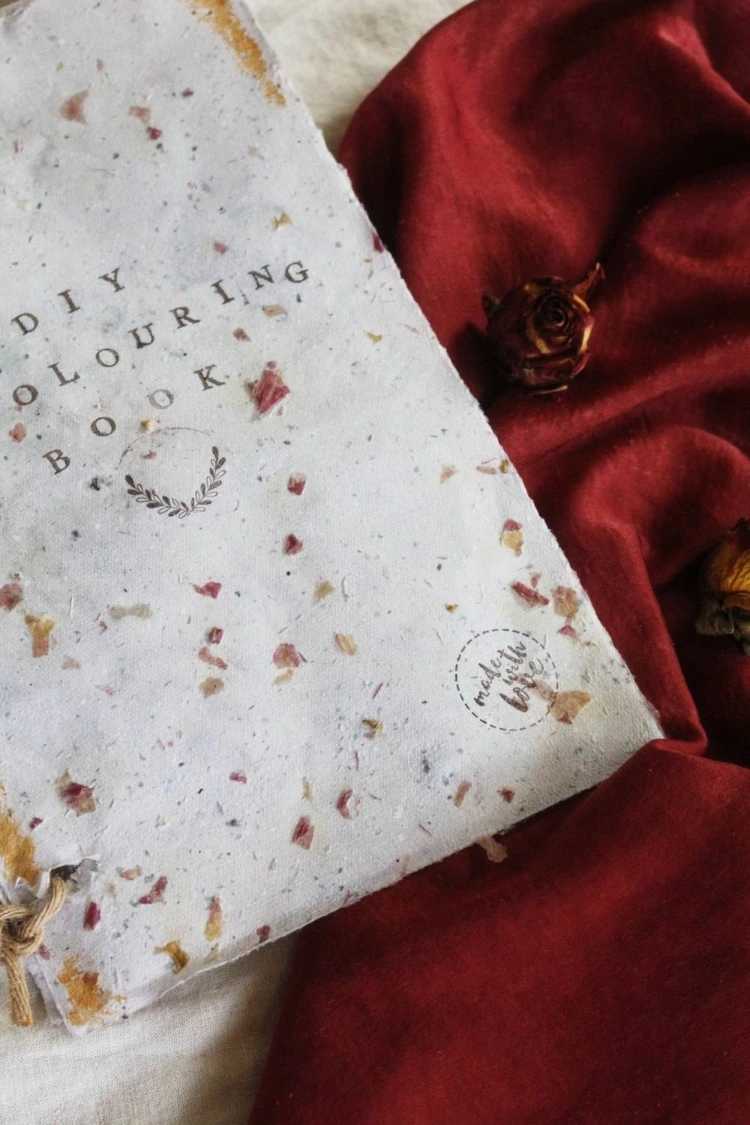 I'm trying to get better at painting, so I chose designs that I could easily paint rather than use pencil for. That's also one of the biggest draws of handmade paper; it has that lovely, thick texture that's perfect for paints!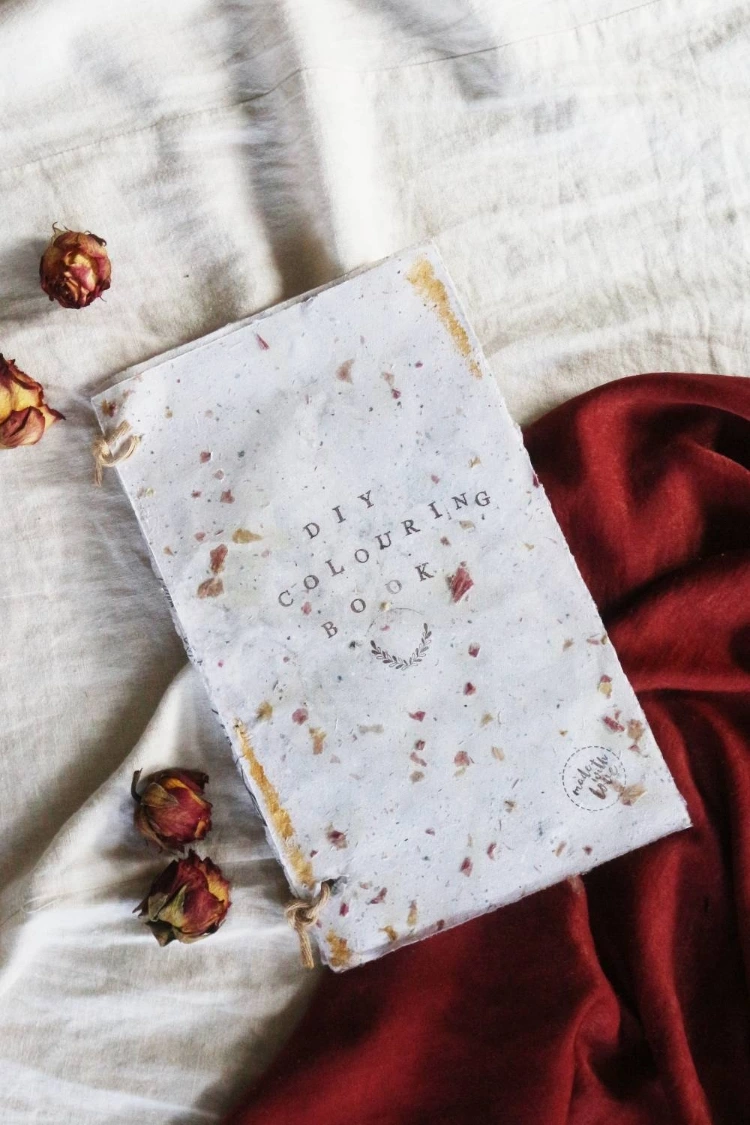 As I know most of my audience are moving into their colder months, I made this little craft as part of a mini-DIY-self-care series. You can sneak peek the other crafts in my video – but make sure to check back throughout October. I'll have some fun luxurious treats you can create for yourself up on the blog!
And, since it is October after all, all these crafts have a tinge of magic to them! (Or, in this case, a tinge of vintage witchy vibes. Close enough, am I right?)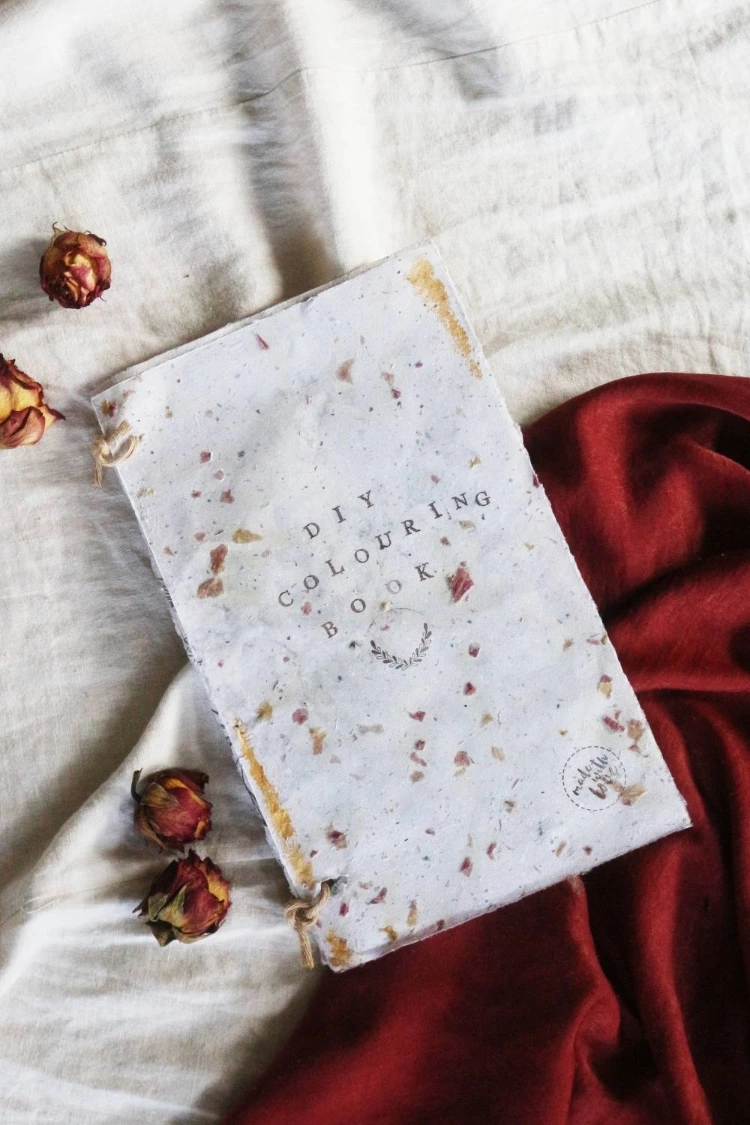 As always, if you enjoyed this DIY, please do give a share on Pinterest! And if you like DIYs overall, well, make sure you're following my DIY boards too. They're a fun time!
Alright loves, this was just a nice quick project today. Do you guys enjoy mindful colouring? Would you try this DIY out yourself? And do you think it would make a good gift? Let me know your thoughts down below!
Peace,
Instagram // Twitter // Bloglovin' // Youtube // Pinterest