Hi, internet friends – fancy seeing you here.
So I think we can all agree that here in the Western part of the world summer is now in full swing. And if for some reason you haven't got a plan to take full advantage of this weather, take a read of my 2018 Ultimate Summer Bucketlist and get some ideas! I need you people to be living for me, I'm saving up until September.
Today, I'm going to be sharing one of my go-to casual OOTDs for this warmer weather.
No, that's really it. No real useful information; no moral story behind it. Just a bunch of OOTD pictures, maybe some snarky comments and in all likelihood an affiliate link or two.
I know, you're all so proud of your decision to follow my blog.
My go to outfit for summer is pretty simple: a cami and boyfriend jeans. Or maybe they're mom jeans, I genuinely can't tell the difference between the two. #FashionBloggerSkillz
Dear God, I just wrote "Skillz". With a Z. After a hashtag. Is this where my literacy skills go to die?
It's the perfect outfit for pretty much anything. It's super comfy and casual, but if you accessorise it enough you still look cute and like you put some effort in.
By the way, if you're as obsessed with this cute little cami top as I am, it's from Urban Outfitters and is pretty offensively expensive for what it is. But it's high-quality, versatile and really fucking cute. It also comes in a bunch of other cute colours.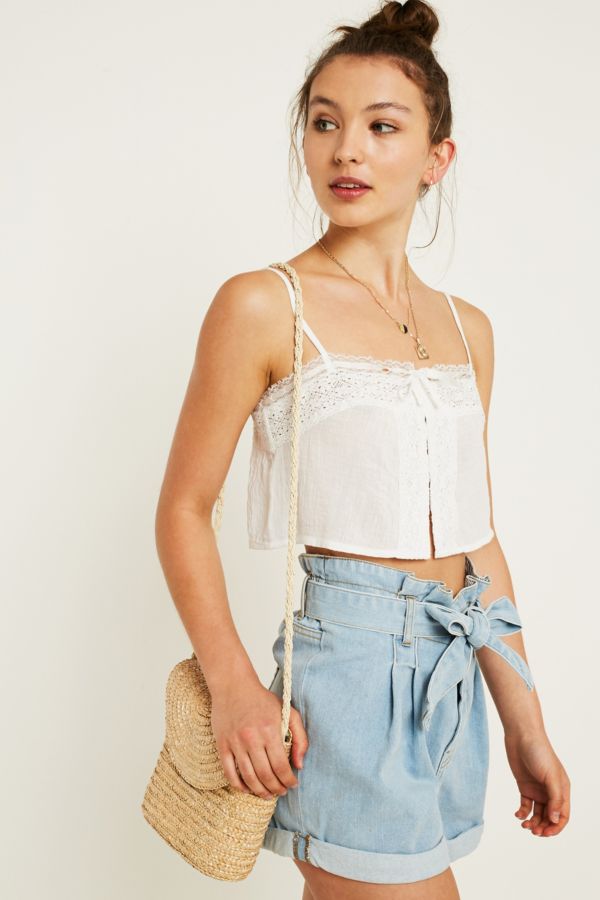 Urban Outfitters White Crop Cami – £29
(Yes, I am totally going to steal the model's outfit too. It's cute as hell.)
The jeans are my much beloved Ragged Priest "Truth Hurts" jeans – which I actually featured in this ole' haul. They were a total steal at £35 on sale and there is no brand that I love more for jeans than Ragged Priest. Not even Topshop.
Unfortunately, these jeans are out of stock . . . but here are some lovely alternatives! Click on the photos for the links. (Affiliate links, naturally.)
Honestly, I love that this look is made up of two basics; both the jeans and the cami are super versatile and can be mixed and matched with loads of other outfits. As I like to be able to actually get wear out of my clothing, this is a big plus for me!
As for accessories, I kept it real simple with two of my most recent jewellery purchases.
And you guys thought you'd managed to avoid an Instagram plug. Not today, sweetie, not today. But seriously, follow me on the 'gram; I have social media goals to hit here.
Missguided Double Layer Necklaces – £8
Missguided Honey Necklace – £6
Before we wrap this post up, I just want to say a big thank you to Alix for taking these photos for me! She's a small Youtuber who is building her portfolio and, while she is, she's taking photos of bloggers for free – which is just the most lovely thing ever! Honestly, she's such a sweetheart and a really lovely girl, so if you live near London/South England, make sure you take a look at her Twitter and send her a message!
And with that obnoxiously large photo of my face I think we can conclude this post! (Although, let's not lie, the real focal point of that photo is my freaking hair. There's so much of it, sometimes I forget, see photos and am shocked. This is one of those times.)
Now, if you like fashion, make sure you're following my Fashion Pinterest board so you aren't missing out on any outfit inspiration. Cool? Cool.
What's your go to outfit for summer? Do you like mine? How do you feel about this cami? Let me know your thoughts down below!
Peace,
Instagram // Twitter // Bloglovin' // Youtube // Pinterest