Hello, beautiful people and welcome to the first post of 2020! Yes, I'm aware we're now in March and that I'm a piece of garbage . . . What else is new? I thought we'd dive straight in with one of my favourite post types: a bullet journalling post!
Is it because I've stopped writing for so long that I don't know how to jump back in? Is it because bullet journal posts are almost entirely pictures and I'm lazy? Or is it because I love the creative pursuit of journalling and enjoy all the pretty stationery? Pick whichever answer makes me look best.
Today, I'm just going to show you my 2020 bullet journal so far! As I'm sure you can tell from my lack of posting, I've not been the most productive human in 2020 – which is good news for you because this post isn't going to be too painfully long! Sneak preview at what we've got coming up . . .
If you guys use Pinterest, give these images a share for me! And if you do use it, why don't you also follow my bullet journal board . . . which is conveniently dropped down below.
I know, I just make it so easy. First and foremost, your girl has got multiple options for you today. If you like it quick'n'dirty, I have a minute-and-a-half flickthrough video, which features background music from my boyfriend's new EP! (And you should definitely check that out here, by the way.)
If you prefer things to last a little longer, I have a 4 minute version where I talk you guys through the spreads more.
And if videos just aren't your thing . . . well, don't you worry, honey – I got a little write up waiting right here for you.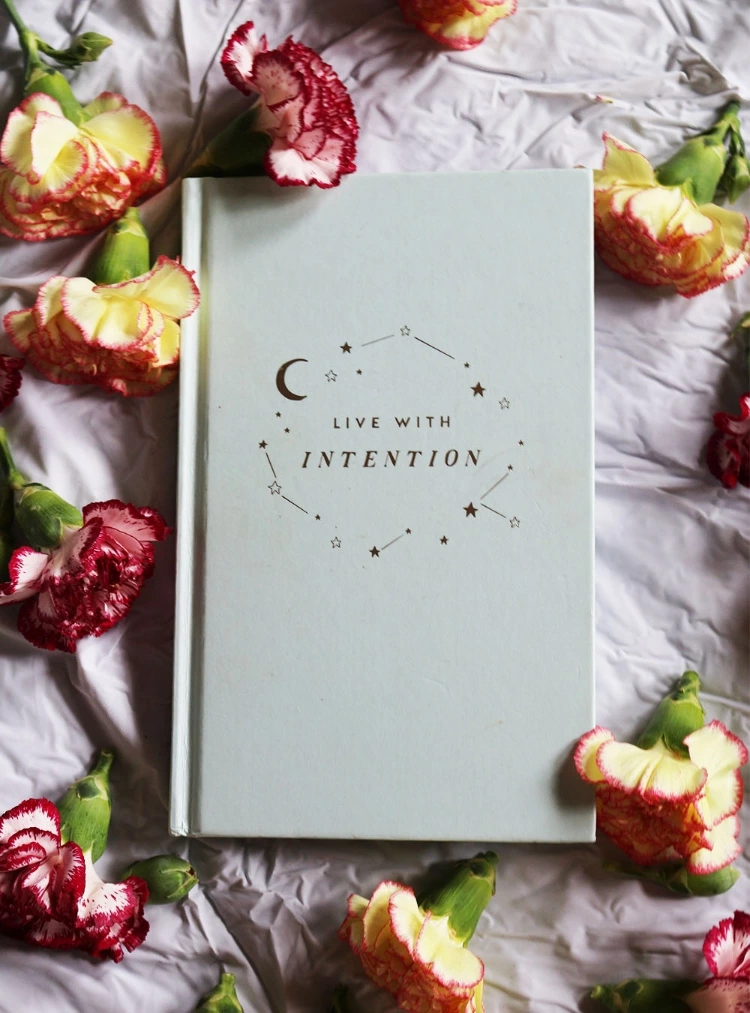 Kikki.K Dot Grid Journal – $19.99 AUD (Australia)
First off, let's talk about this beautiful journal – and let our good friend capitalism say hi. This bad boy is from Kikki.K, a stationery brand I discovered completely by accident. The design's cute AF, the paper quality less so – but a percentage of each sale goes to Dr Tererai Trent's Awakened Woman LLC (which is an Oprah foundation!), so that's pretty cool.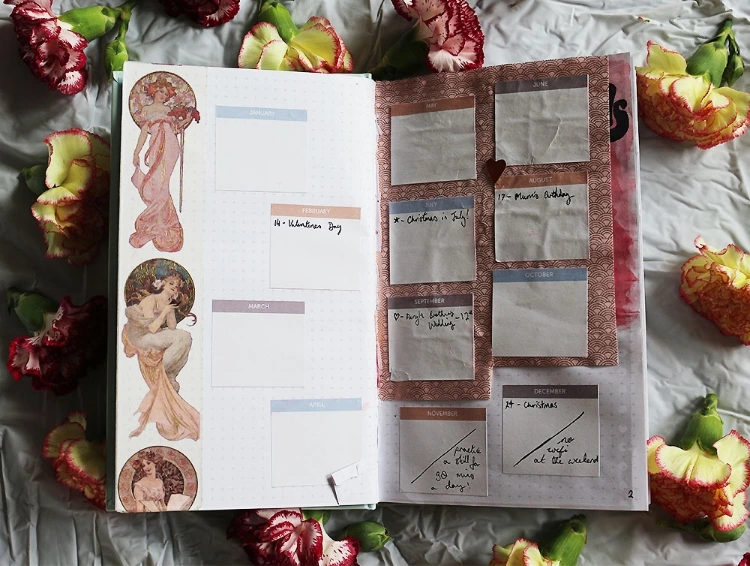 As with any new journal, my first spread was just a months of the year kinda gig. I used one of my favourite washi tapes of all time up on the left. (I know, I know – you've seen it 100 times before. Well, you're gonna see it again, so suck it up Susan). On the right, I used a Kmart washi tape as a background to keep everything with a nice colour scheme.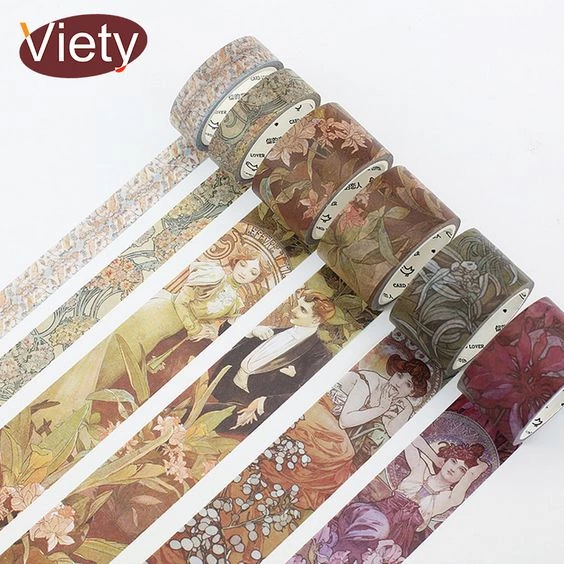 Renaissance Paintings Washi Tape – £0.71 – £2.50 – Aliexpress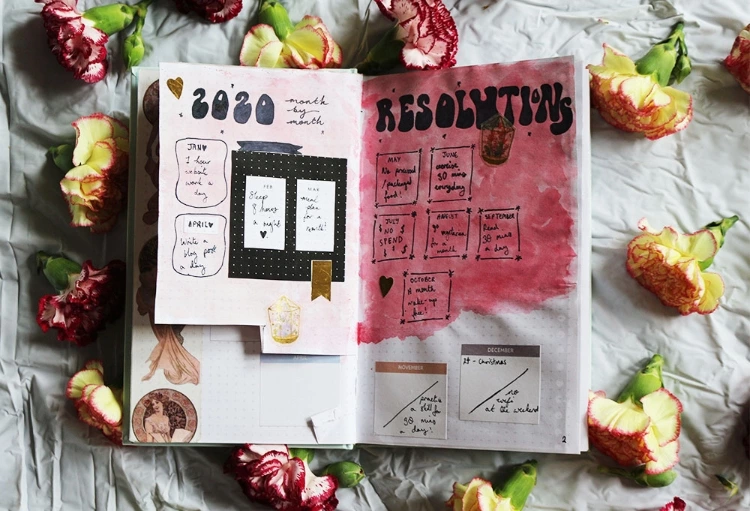 For this next spread, you might need to watch one of the videos up top to understand what I fully mean. I basically created dutch doors out the left side of the page, so on both spreads hints of the other pages are visible and the colour scheme also continues. This was just to tie the two together thematically as this next page is a kind of calendar itself.
For 2020, I wanted to push myself to improve across different aspects of my life; I set month by month challenges and resolutions and kept track of 'em in this spread!
Gold Foil Floral Washi Tape – £0.96 each – Aliexpress (Worldwide)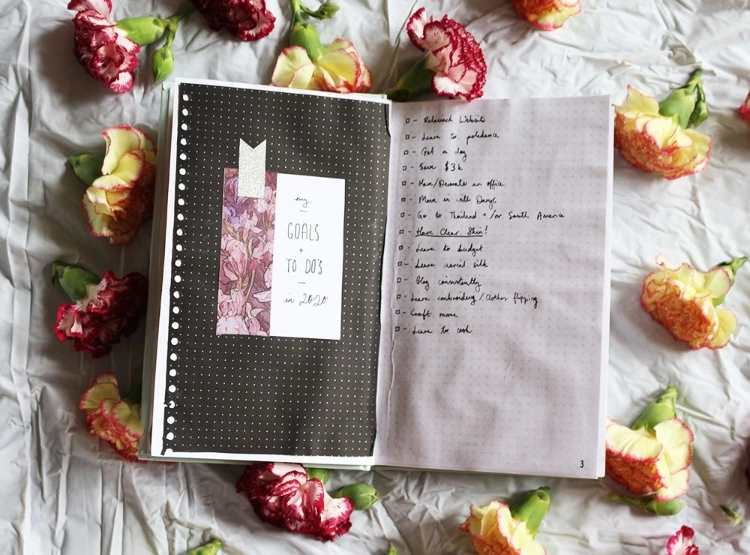 And then we just have the year's "to do" list. Pretty self-explanatory, but I really like the look of the black dot grid paper – it's pretty sleek, right?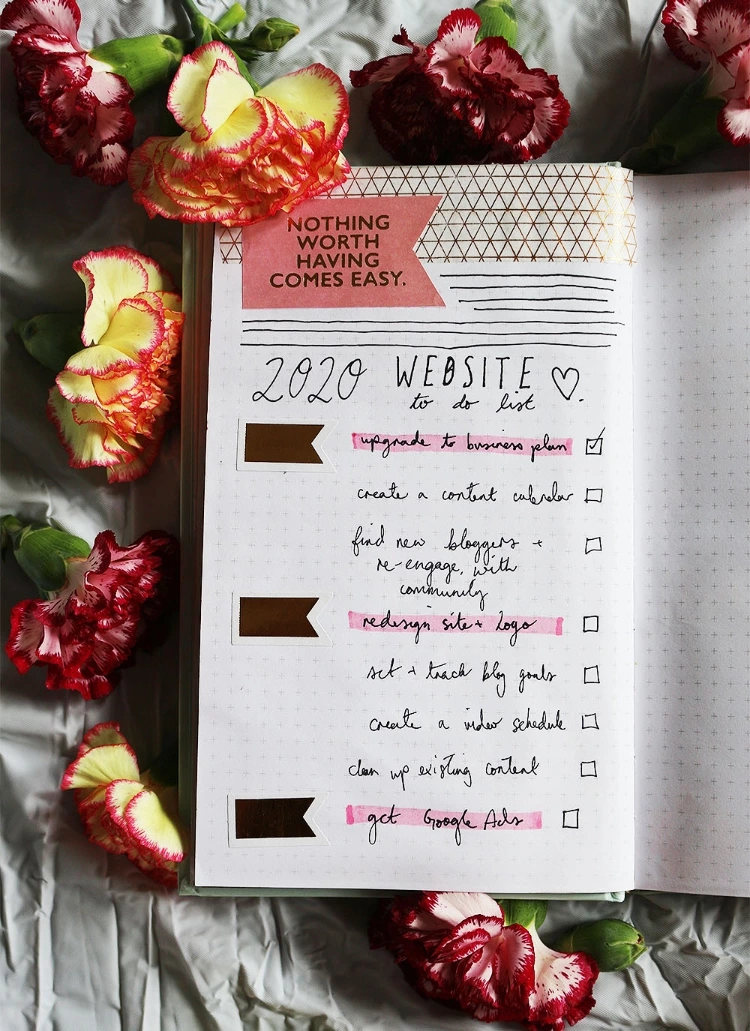 See, I didn't totally forget about this blog!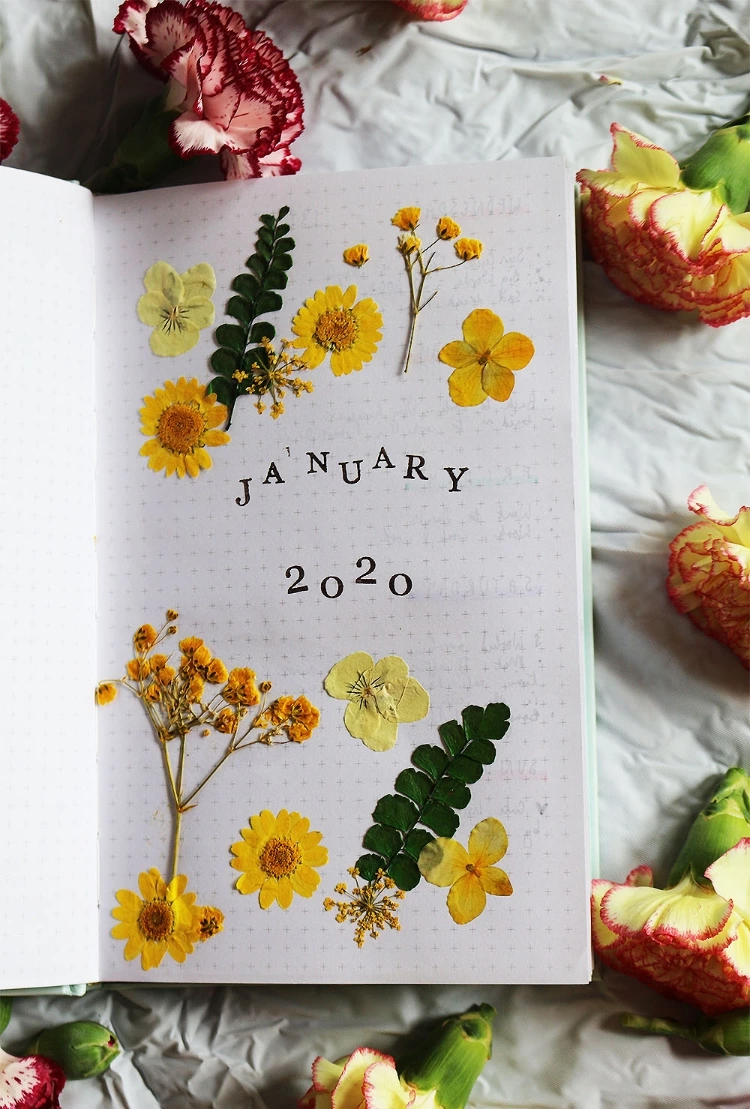 January's title page has to go down as the spread I've done the most dirty. It's so pretty and optimistic – it includes two of my favourite crafty things at the moment; pressed flowers and and stamps! And how did I repay it? By never touching it again. I know, rude.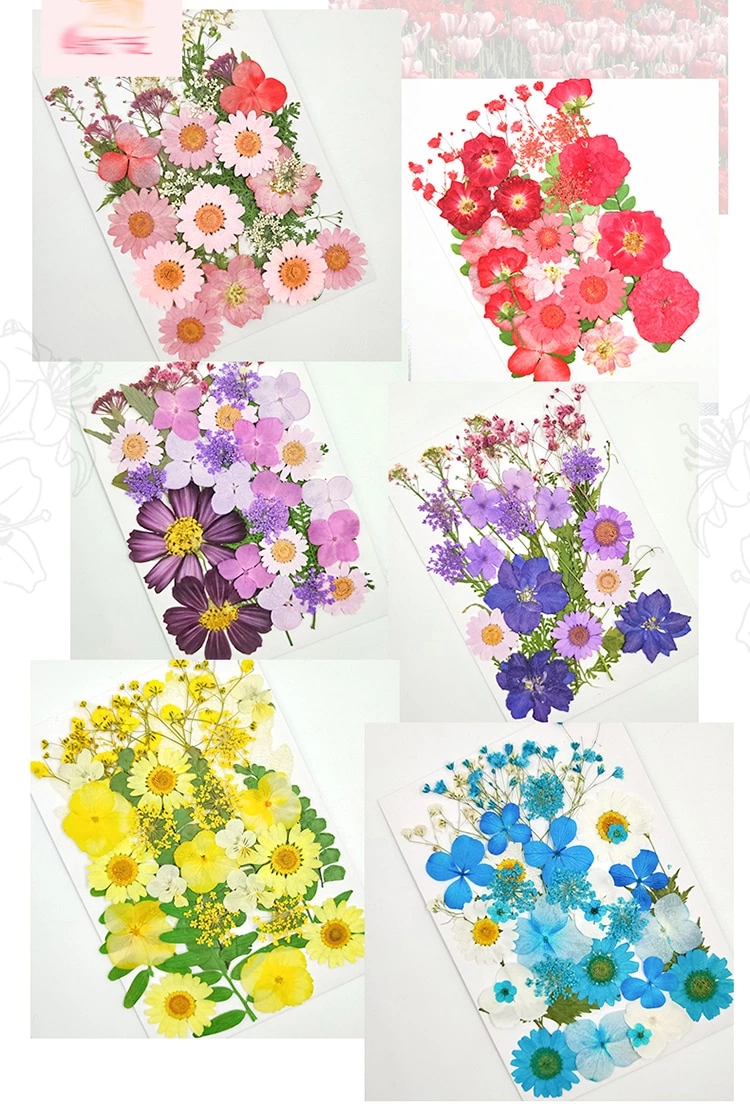 Pressed Flowers – Aliexpress – (Free Worldwide Delivery) – $1.68-$4.99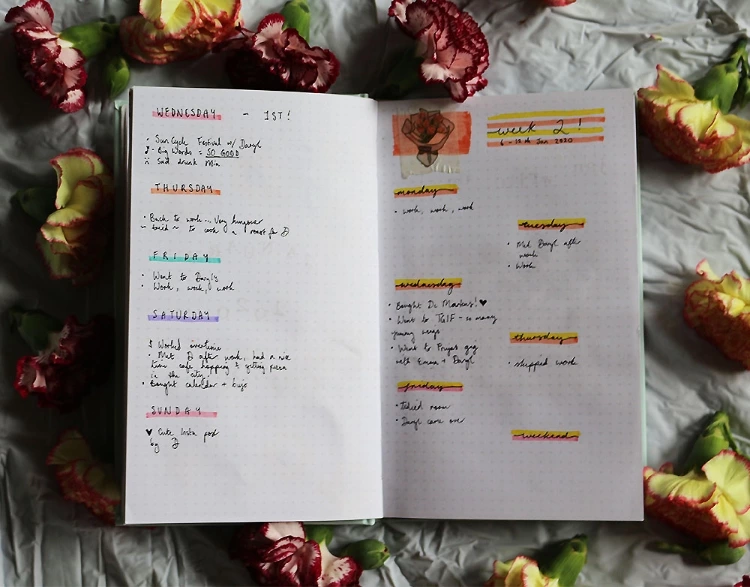 Like I said . . . I really didn't do my Jan title page any justice.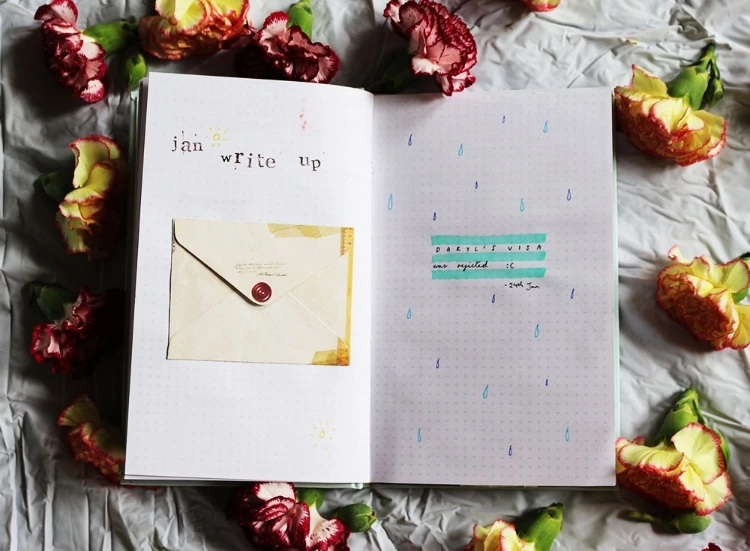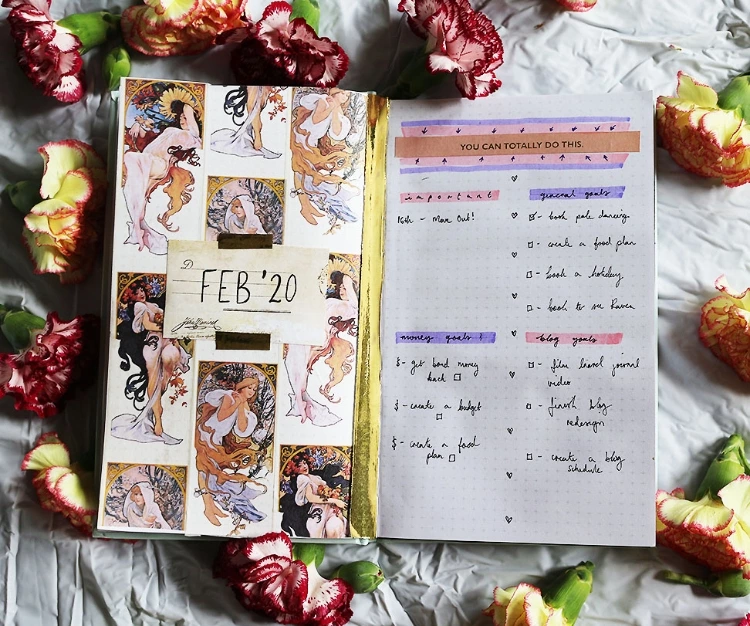 Guess I forgot how much I struggle to find anything interesting to say about my journal spreads after a while.
Can I just leave you to look at pretty pictures and be entertained? I'm off doing something else super important, promise.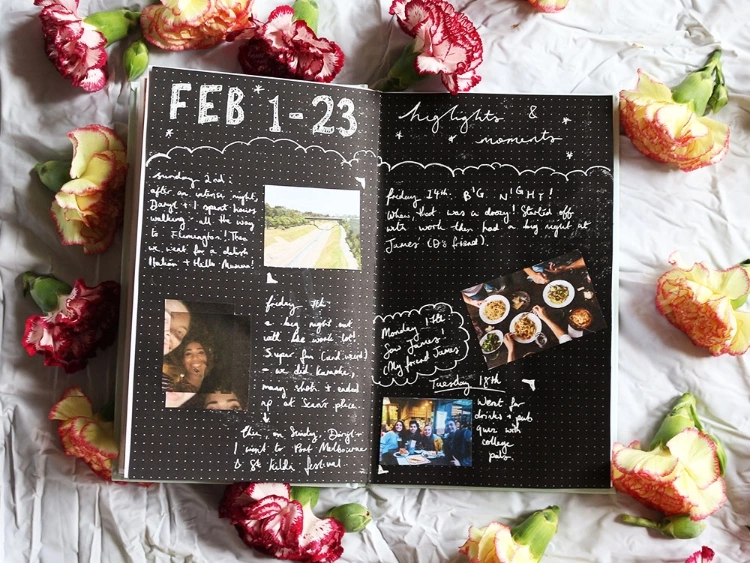 Okay, my beauties, I hope this post wasn't too painful for you all! I have to admit, it feels a bit weird sitting back down to play pretend at being productive – I like it. I've missed it! How has everyone been; is 2020 settling in well with you all? And what did you think of my journal? Let me know your thoughts down below!
Peace,

Instagram // Twitter // Bloglovin' // Youtube // Pinterest